Peanut Butter Cup Pumpkin Rice Crispy Treats made with no marshmallows! An easy and healthy rice crispy treat recipe with a fun fall twist.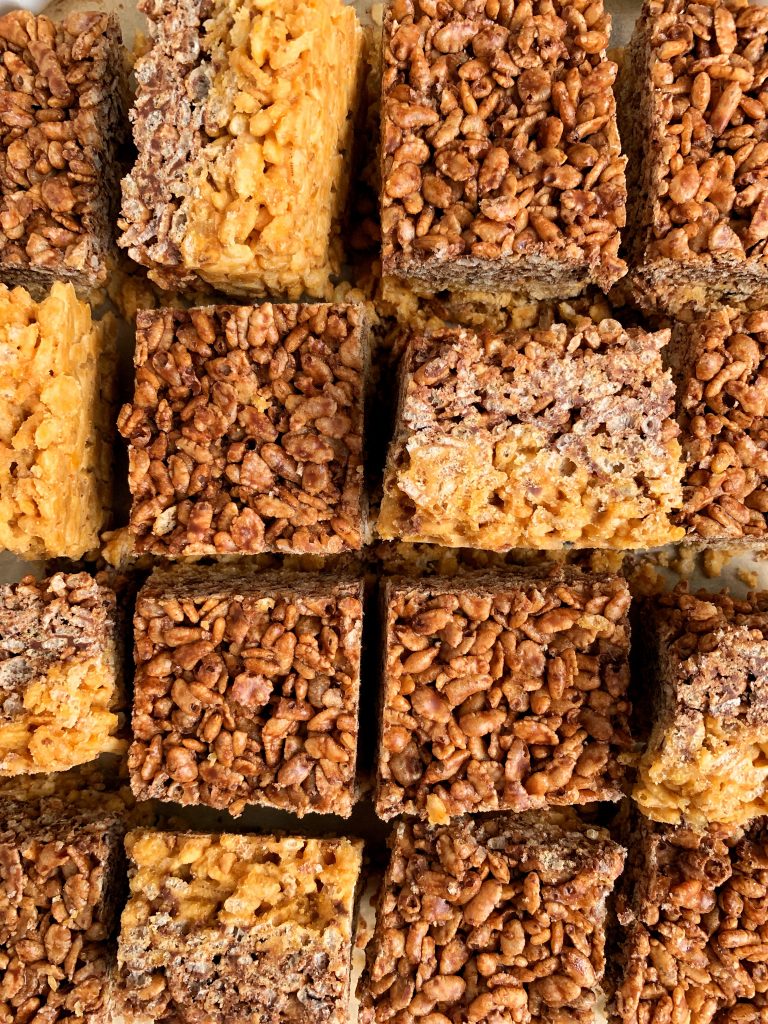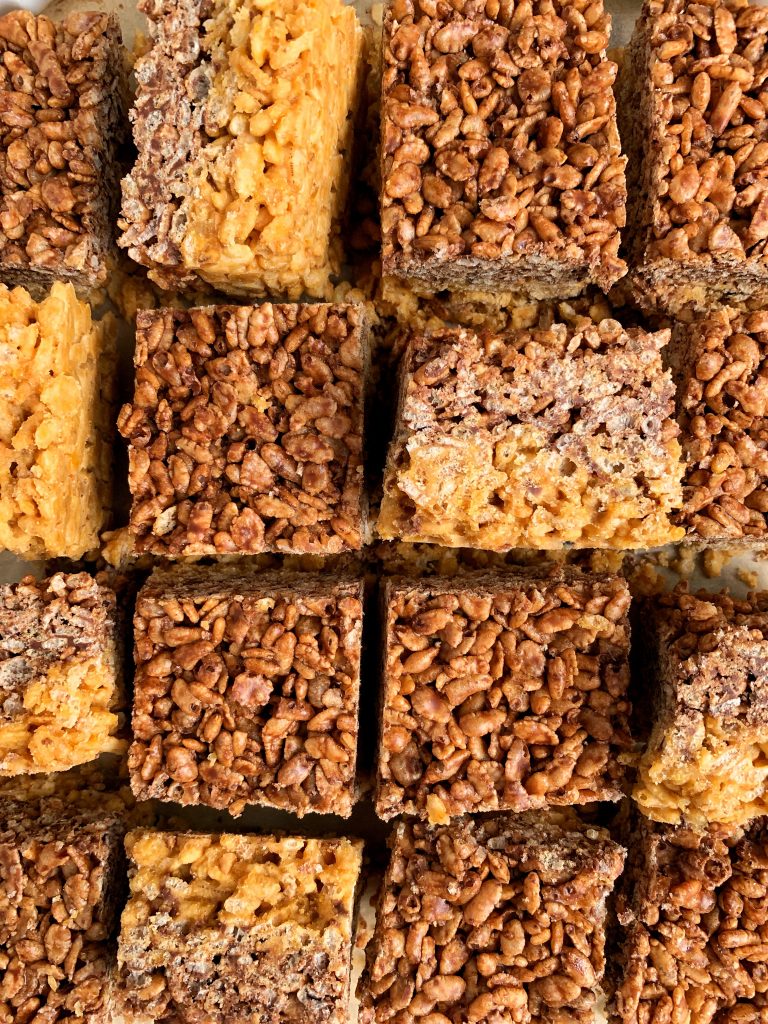 Fun fact about me that you likely don't know.
Homemade rice crispy treats are my absolute favorite dessert in the whole wide world. They triumph any banana bread in my book and you know that means business.
In college, I used to microwave a huge rice crispy treat that my cafeteria sold. I'm not talking the blue wrapper kind of rice crispy either. A homemade one with marshmallows, butter and extra chunks of marshmallows. Pop it into the microwave for 30 seconds and OMG!
My best friend's mom actually made a huge rice crispy treat for my bachelorette party – that is how much I love them. Plus they are always a crowd pleaser. And in fact, they are surprisingly so much easier to make than most think.
Today we are making healthy homemade rice crispy treats with a twist.
There are are no marshmallows in these bad boys either. We'll get to the ingredients in a moment, but let's first talk about the run down of flavors happening here..
First off there is a peanut butter pumpkin bottom layer (the orange part). Then we add a dark chocolate crispy layer right on top and it is like a pumpkin peanut butter cup you guys! The flavors together are absolutely insane. Maybe it is the mom in me now that wants to make fun treats like this. But all I have to say is that when Ezra and his friends are able to eat fun treats like this, I will be making these on repeat.
Gluten-free Pumpkin Peanut Butter Cup Rice Crispy Treats made with all healthy ingredients.
Let's go through what we need to make these now..
Organic brown rice crisps cereal. Surprisingly easy to find at the grocery store. Sure you can use any rice crisp cereal, but rice is one of the dirtiest foods to not buy organic. If you can find it, definitely buy it!
Creamy peanut butter. The creamier the better here! It helps keep the rice crisps cereal together.
Wedderspoon Manuka Honey. My beloved sweetener for all of my no-baking goods. Wedderspoon makes quality honey for us. It is also Kfactor honey, meaning that they go above and beyond the MPI regulations for Manuka Honey. They don't add anything or take anything away from the honey and it is straight from the hive to your home! Plus using their honey adds the perfect sticky consistency to it.
Organic pumpkin puree. A must to make these babies pumpkin-y with the pumpkin pie spice.
Coconut oil. Use liquid coconut oil or melt coconut oil and let it cool for a bit. This is instead of butter.
Cacao powder. To help make the top layer extra chocolate-y.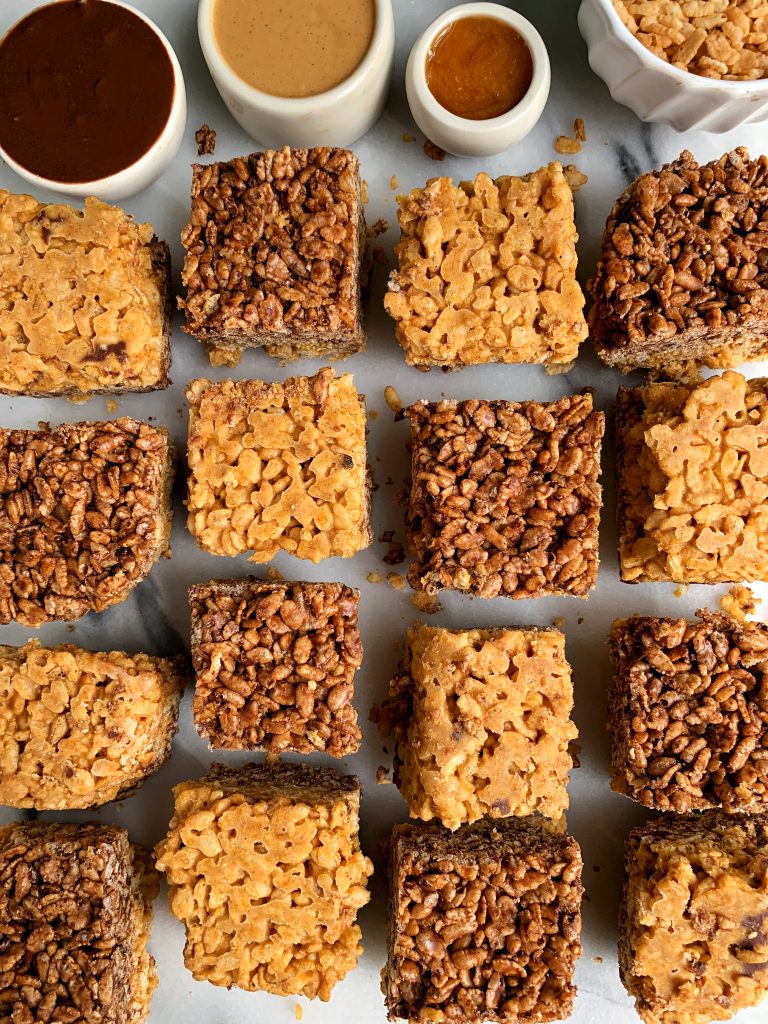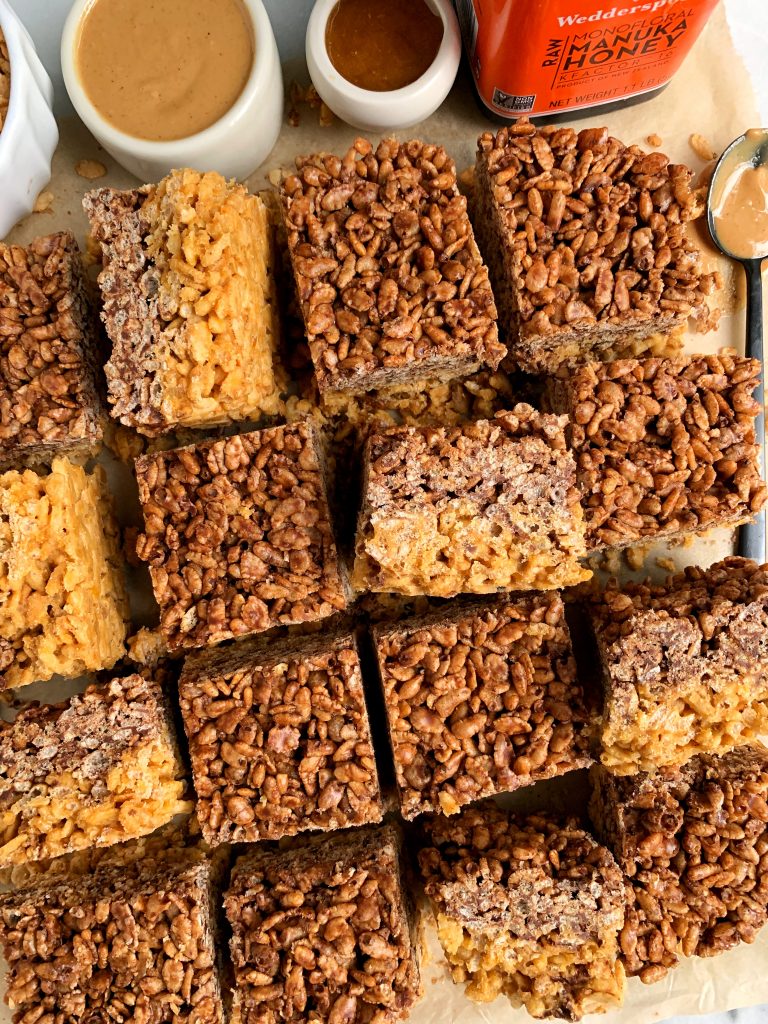 Print
Peanut Butter Cup Pumpkin Rice Crispy Treats
Peanut Butter Cup Pumpkin Rice Crispy Treats made with no marshmallows! An easy and healthy rice crispy treat recipe with a fun fall twist.
Prep Time:

10 mins

Cook Time:

1 hour

Total Time:

1 hour 10 minutes
Instructions
Line a 9×9 baking dish with parchment paper (this is key for easy removal!)
In a large bowl, mix all of the ingredients together for the bottom layer
Make sure to stir well until the cereal is fully coated
Add bottom layer to baking dish and firmly press down with spatula into the dish
Begin making the top layer in same bowl then press down firmly onto the bottom layer
Add to freezer for 1 hour to set, then slice and enjoy
Notes
*Store leftovers in fridge or freezer
**You can sub any nut butter if you have a peanut allergy
**I have not tested anything besides honey
xx, Rachel
Thank you Wedderspoon for sponsoring this post! It means so much to me to partner with brands I love and use everyday!