Flourless Peanut Butter & Jelly Banana Bread for an easy gluten & dairy-free recipe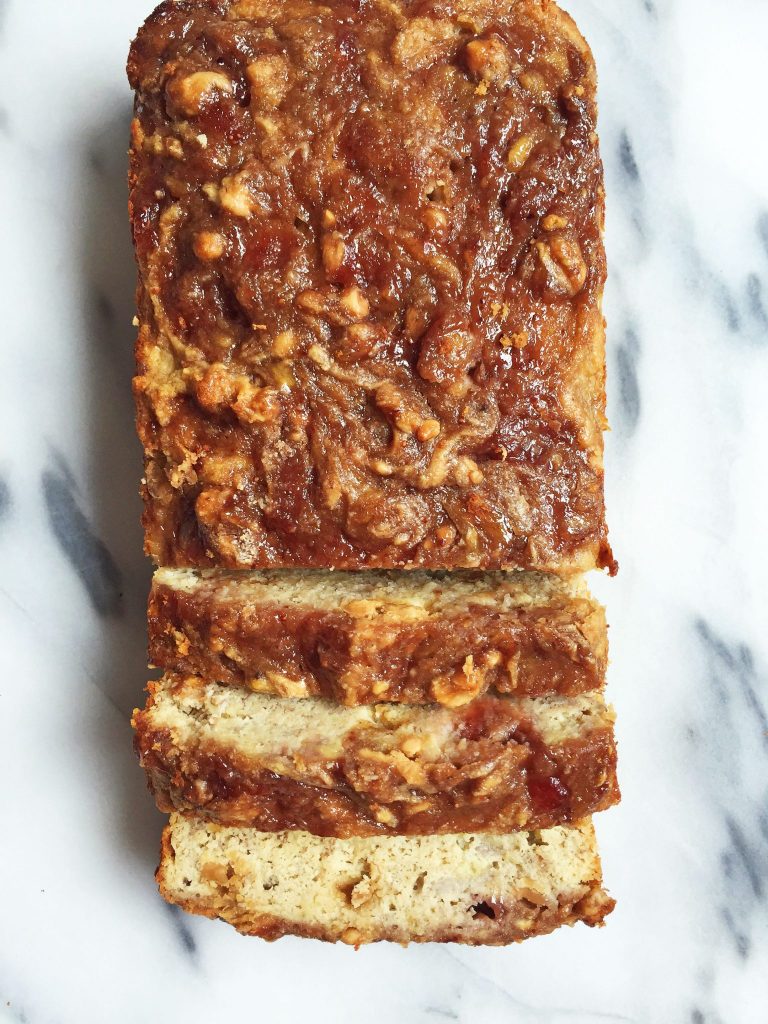 Well friends, it does not get any better than this right here. Because Peanut Butter & Jelly BANANA BREAD is happening right here, right now.
It was only a matter of time into these two collided. Peanut Butter & Jelly, my go-to lunch option since I could swallow real food. The best sandwich for the non-meat eater, sweets-craving girl who basically just looks for a reason it eat more peanut butter daily. I mean, I know I am not alone in this people, come on. And now, Banana Bread, the recipe category that is slowly but surely taking over my blog. Hence why we have a ton of banana bread recipes recently 🙂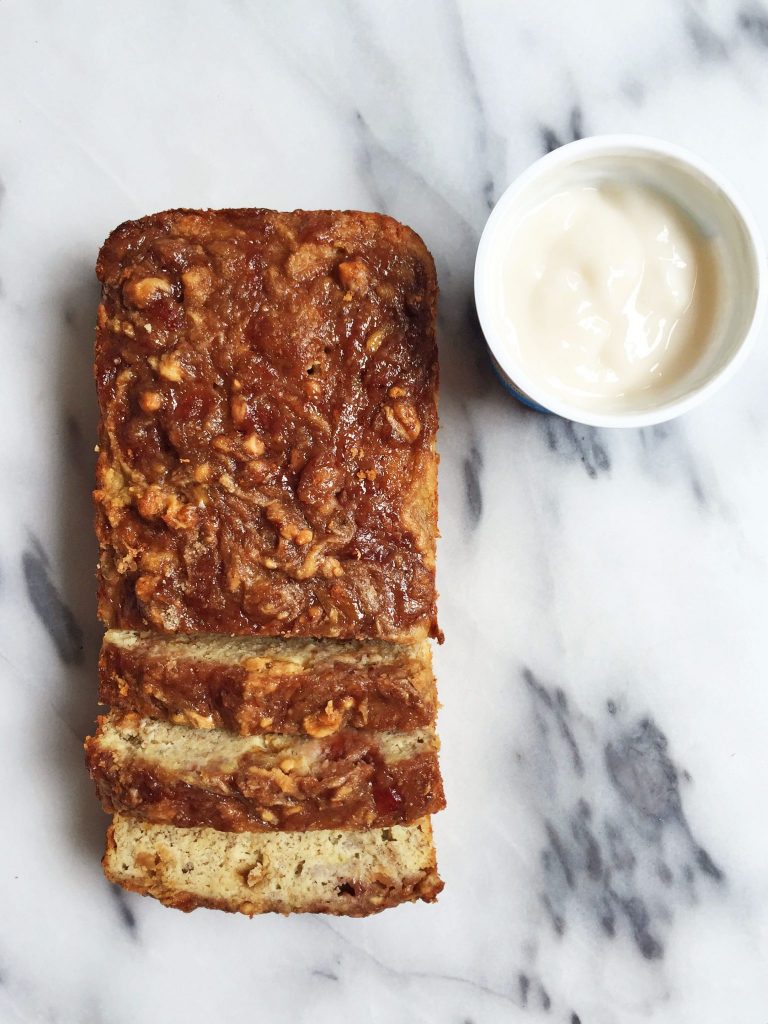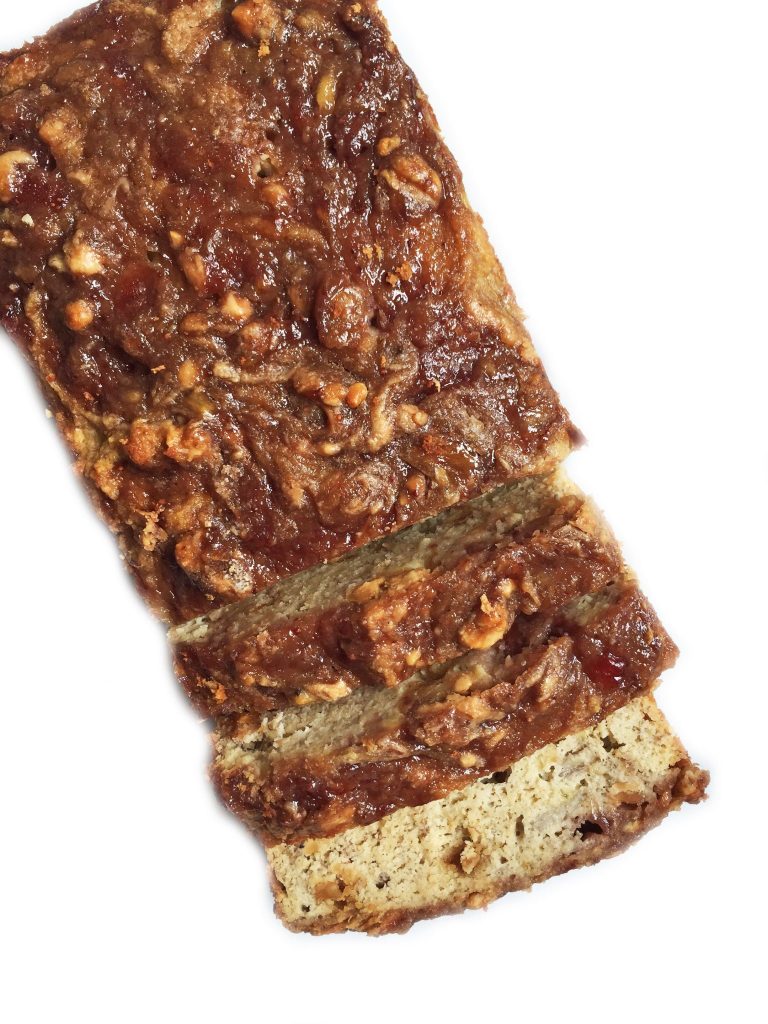 First of all, this Flourless Peanut Butter & Jelly Banana Bread is one of the most flavorful banana breads I have ever made. Being that is even gluten & dairy-free, I am pretty sure this loaf is a game changer.
There are many words that I can use to describe this recipe but I am also about to say a word that many of you probably get grossed out by (hope you still love me).
This banana bread is seriously so moist. Yup, I said it. Do you hate me now? Sorry but there is no better word to describe the consistency of this bread. It is fluffy and has this extra moist texture to it thanks to a special ingredient. I used coconut milk yogurt in it for a little extra oomph.
For those of you who are scratching your heads asking "what the beep is coconut milk yogurt?", well your lives are about to change people. Because coconut milk and almond milk yogurt are the best dairy-free yogurts. Whether you eat dairy or not, you will love these yogurts.
I used Coconut DREAM yogurt in this banana bread. DREAM is a plant-based company that offers a variety of yogurts in addition to dairy-free milks and frozen products. The best part? They are all dairy-free! Amazing, I know. But for this post we are focusing on their plant-based yogurts. I have been eating the Almond DREAM and Coconut DREAM yogurts and am obsessed. Also they come in a variety of flavors like plain, vanilla and various fruits. Another reason why I love them.
At first I was hesitant on adding yogurt to a banana bread recipe. Because this banana bread is made with coconut flour, the coconut yogurt compliments it really well and the consistency is on point. As a result we have some deliciously soft, moist and healthy Flourless Peanut Butter & Jelly Banana Bread.
Finally, if you make this recipe or any of my banana bread recipes, please don't forget to share it on Instagram or your favorite social media channel. So many of you have been tagging me and sharing your favorite recipes from the blog and it makes me so happy!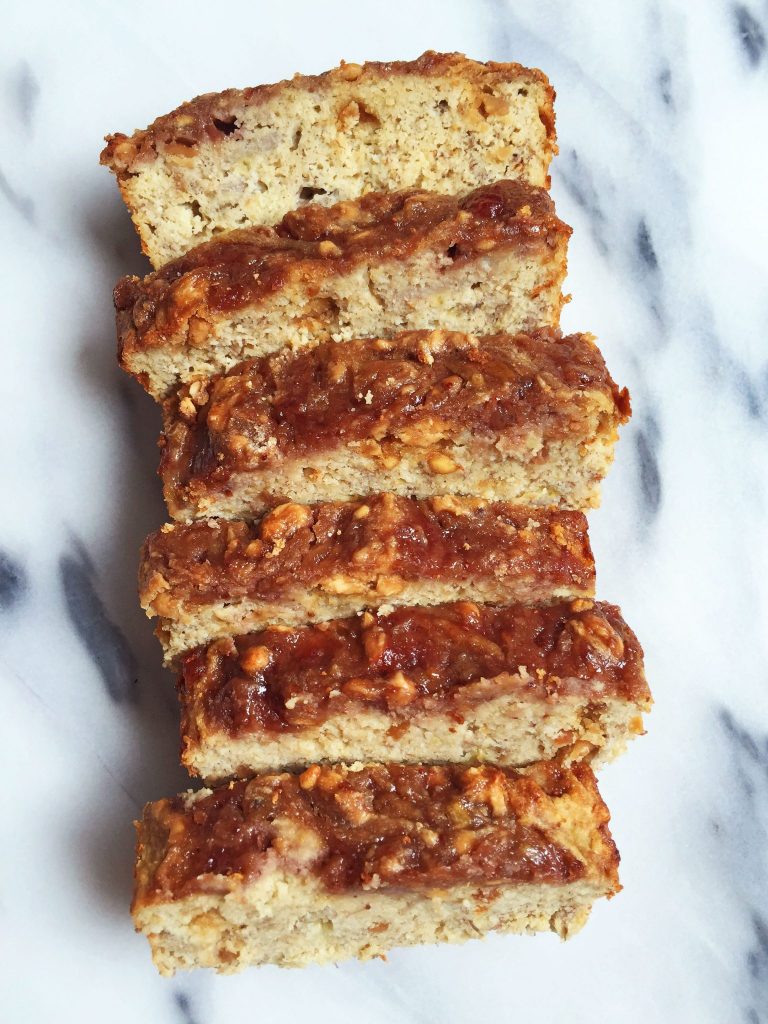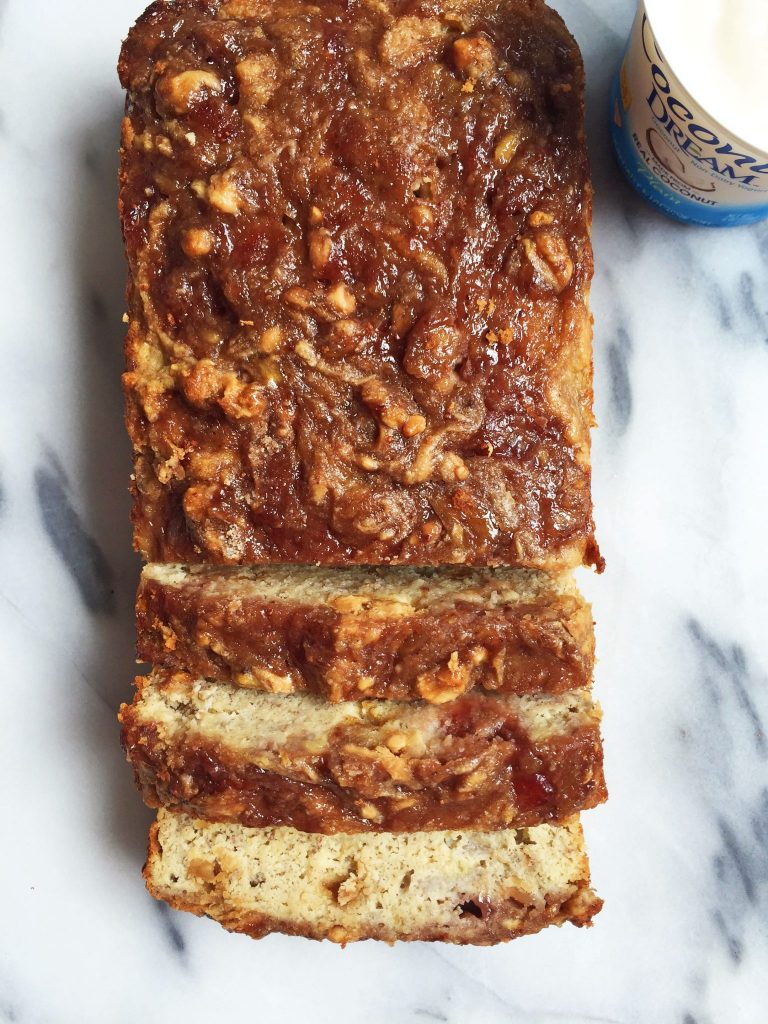 Print
Flourless Peanut Butter & Jelly Banana Bread
Wet ingredients:

2

medium/large ripe bananas mashed

1/2 cup

peanut butter (or your nut butter of choice)

3

eggs at room temperature

1/4 cup

Coconut Dream Yogurt (I used vanilla flavor, you can also use any yogurt you wish but I have only tested with Dream)

1 tablespoon

melted & cooled coconut oil

Splash of vanilla extract

Dry ingredients:

1/3 cup

+ 2 tablespoons coconut flour (I do not recommend subbing another flour here)

½ teaspoon

of baking powder

Sprinkle of cinnamon

Mix-in's:

1/3 cup

unsalted peanuts

1/4 cup

strawberries chopped

1/4 cup

strawberry jam

2 tablespoons

peanut butter
Instructions
Preheat oven to 350 degrees and line or spray a loaf pan with parchment paper (I used 8.5 x 4.5 x 2.5)
Mix together wet ingredients with Kitchen Aid or hand mixer
Add dry ingredients to wet and mix with spatula
Fold in unsalted peanuts and chopped strawberries
Pour into a bread dish into pan
Add dollops of strawberry jam and peanut butter on top of loaf and swirl together using skewer end or toothpick
Bake for 35-40 minutes (stick tooth pick in and should come out clean)
Finally, let cool for a few minutes and enjoy!
Will stay good for 5-7 days or you freeze for 2-3 months
Author:
Category:

gluten-free, dairy-free

Cuisine:

breakfast, snack
xx, Rach

Thank you DREAM for sponsoring this post. It means so much to me to work with brands that I love and who support rachLmansfield!