Plant Based Taco Salad with Walnut Taco Meat & Cashew Sour Cream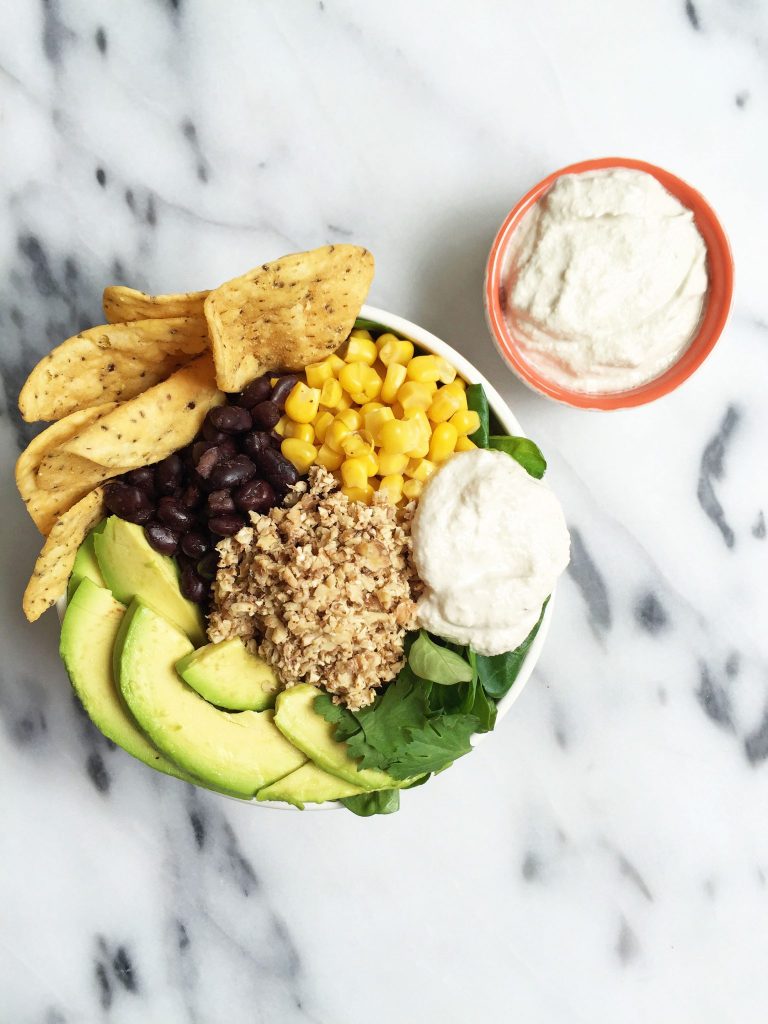 I am pretty sure we eat Mexican food in our home 2-3x a week. It is seriously one of our favorites and go-to meals.
We make various tacos, fajitas, huevos rancheros, you name it. And obviously we make guacamole, all the guacamole PLEASE! Plus I love how diverse Mexican food is and how you can really get creative when cooking it. That way we don't get bored too easily.
Up until about 5 years ago, I used to eat taco meat a lot when I ate tacos or burrito bowls of sorts. I remember my Mom used to make it all the time for us with hard shell tacos (I hated soft shell tacos back in the day) and I would literally top it with iceberg lettuce and that is it. How times have changed since now it's all the 'cado, tons of veggies, fish or now this plant-based taco meat made out of walnuts.
Making walnut taco meat is seriously underrated and since Jord even loved it (the carnivore), I knew I had to share with you. We were both pretty shocked how the walnuts seriously can make some sort of delicious crumbly meat to put on your tacos and taco bowls.
Next I combined a bunch of our favorite Mexican ingredients like corn, black beans, avocado in the bowl. As soon as I stared at it, I knew that Jord was going to ask for the sour cream. And in case you aren't aware, I have a legitimate phobia of sour cream. The smell and consistency scare the crap out of me and I won't keep it in the house. Since this is a plant-based meal, I didn't want to add real sour cream. Because it felt pretty hypocritical if you ask me. So after making a frosting out of cashews, I knew they would be able to make a sour cream-ish consistency too.
As a result, we have cashew sour cream in this dreamy bowl for us to enjoy!
Once you make this taco bowl, you will be obsessed and crave it regularly. I used organicgirl much rosette greens in this bowl because they are mild in flavor. I also love using them for various salad creations. Plus they come triple washed, which is golden. I bought some local greens at farmer's marketing and had to seriously scrub them to get the dirt out! Needless to say I have a whole new appreciation for organicgirl.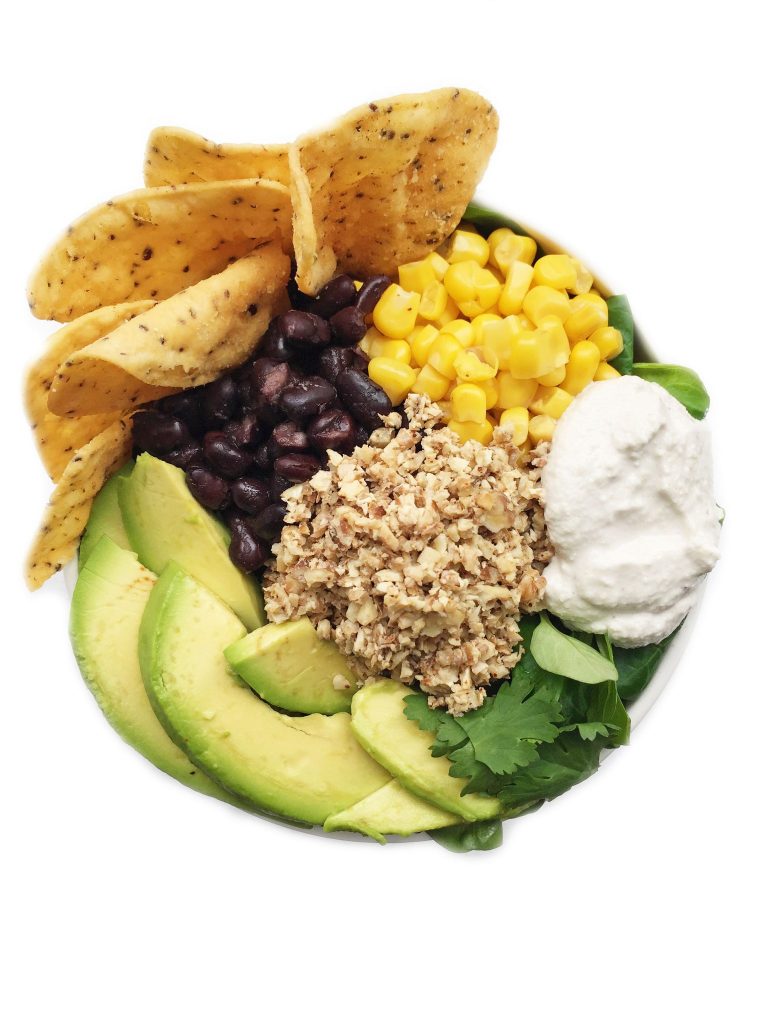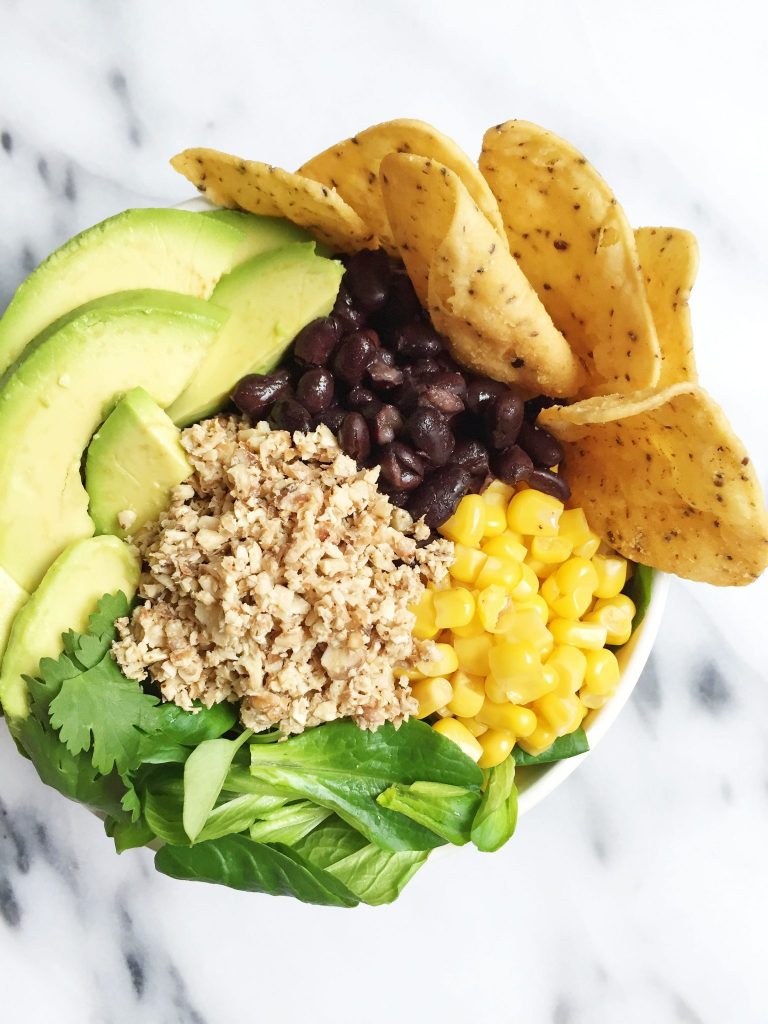 Print
Plant Based Taco Salad with Walnut Meat & Cashew Sour Cream
Salad:

3 cups

of organicgirl greens (I used màche rosette)

1

ripe avocado

1/2 cup

black beans, drained and rinsed (I used no salt added, organic)

1/2 cup

corn, drained and rinsed (I used no salted adde, organic)

2 tablespoons

cilantro, rinsed and chopped

Walnut Taco Meat:

3/4 cup

walnuts soaked overnight in warm water

1/4 teaspoon

chili powder

1/4 teaspoon

cumin

Cashew Sour Cream:

1 cup

cashews soaked overnight in warmed water

1/2 cup

water

1/2

lemon juice

Optional: tortilla chips, salsa, etc
Instructions
First assemble 2 bowls with organicgirl greens, corn, black beans, avocado and cilantro and set the 2 bowls aside
Next, in your food processor, pulse together soaked/drained walnuts, cumin and chili powder
Next, pulse together until walnuts are in crumble form, similar to taco meat
Split walnut taco meat across the 2 bowls
Next wipe out the food processor and pulse together soaked/drained cashews, lemon juice and water
Pulse together until it is a creamy consistency
Finally add desired amount to each bowl
Enjoy!
*Walnut meat & Cashew sour cream will stay good for 5-7 days*
Author:
Category:

vegan, gluten free

Cuisine:

lunch, dinner
xx, Rach