Slow-Cooked Mushroom Tacos with an easy Spicy Slaw for a vegan and gluten-free meal!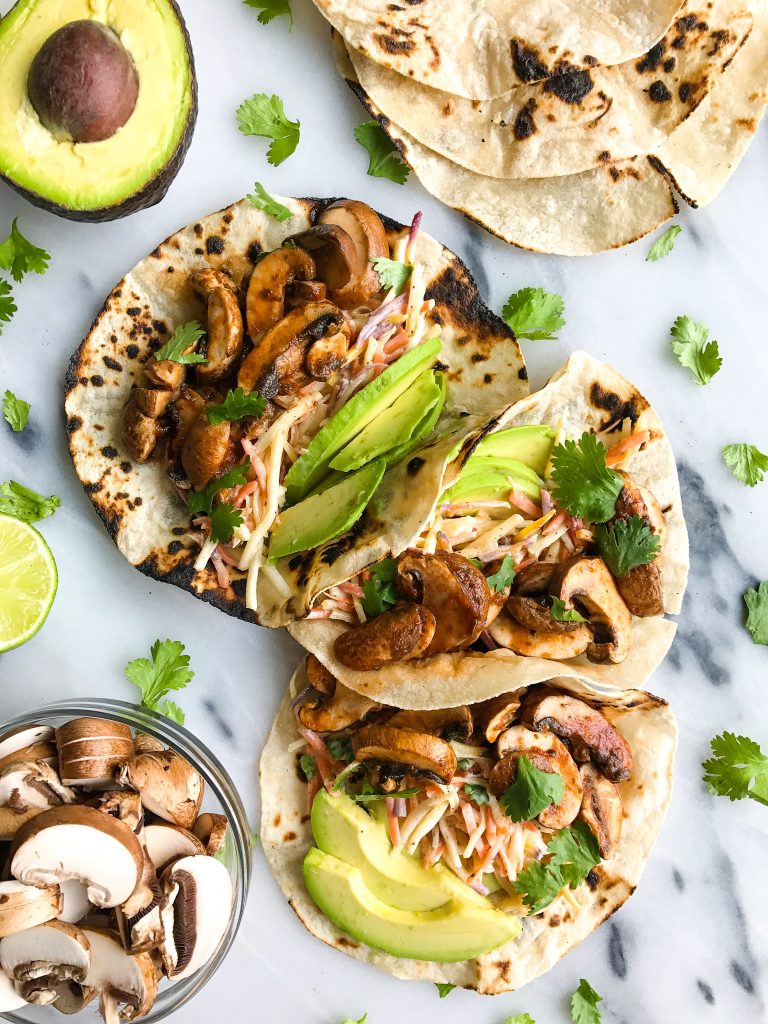 It has been a hot minute since we have made tacos on the blog.
Tacos are a weekly staple in our kitchen and I pretty much eat them about 4-5x a week. Anything from meat-based tacos to breakfast tacos and the dreamy avocado tacos. I love how easy and versatile tacos are and how creative you can get.
Today's Slow-Cooked Mushroom Tacos with Spicy Slaw are such an easy and delicious plant-based and gluten-free taco recipe. They are featuring Simply Organic's New Simmer Sauces that have just launched this month. They are deeply flavored, richly seasoned Southwest entree sauces made with 100% organic ingredients. Simply Organic pretty much packaged the flavors of those dreamy tacos you can get at an authentic Mexican restaurant, except it is all organic and now you don't need to leave your kitchen!
The new simmer sauces come in four varieties: Classic Fajita Simmer Sauce, Red Enchilada Simmer Sauce (Jord's favorite), Southwestern Taco Simmer Sauce and the Mild Taco Simmer Sauce that we are using today.
Each flavor is delicious but my favorite so far has been the Mild Taco Simmer Sauce. It is vibrant and tangy with cilantro and lime flavors and has a little bit of chilies flavor to it. It is perfect for chicken tacos, fish tacos or to dress up any veggie like we are with these mushroom tacos.
These Slow-Cooked Mushroom Tacos + Spicy Slaw are such a simple and easy taco recipe that anyone will love. It is vegan and gluten-free and pairs deliciously with the Spicy Slaw, which I also use Simply Organic spices in!
WHAT YOU NEED
Mushrooms
Simply Organic Mild Tacos Simmer Sauce
Tortillas
Shredded cabbage
Apple cider vinegar
Simply Organic chipotle powder
Avocado oil (I used this one)
Avocado mayo (I used this one)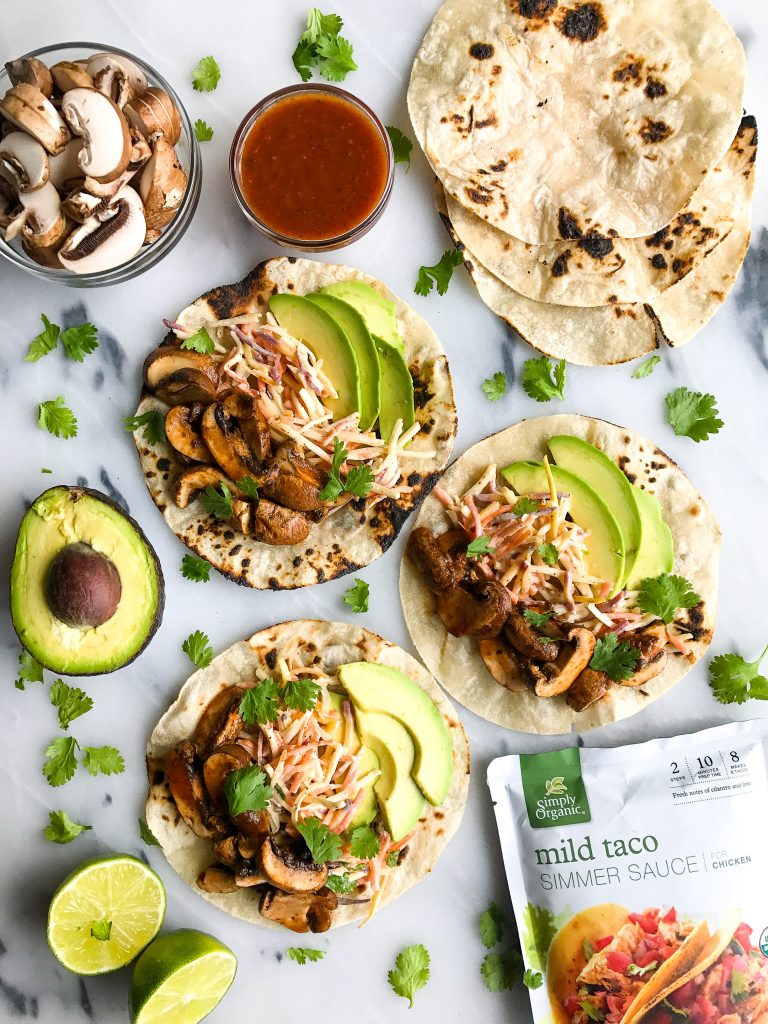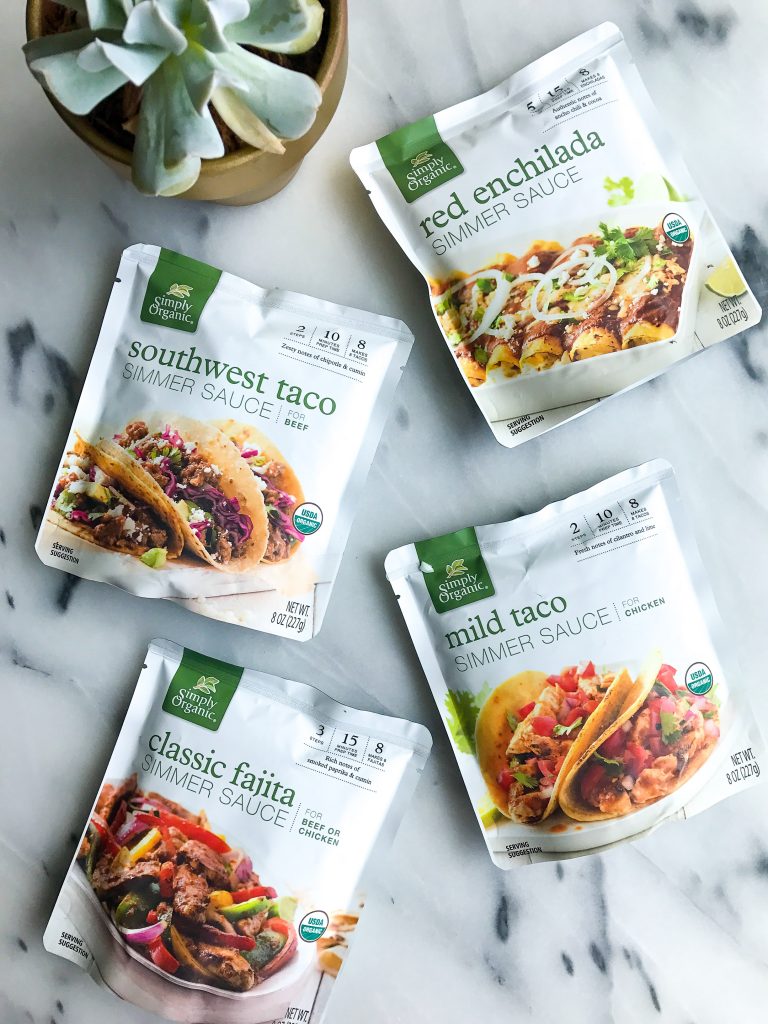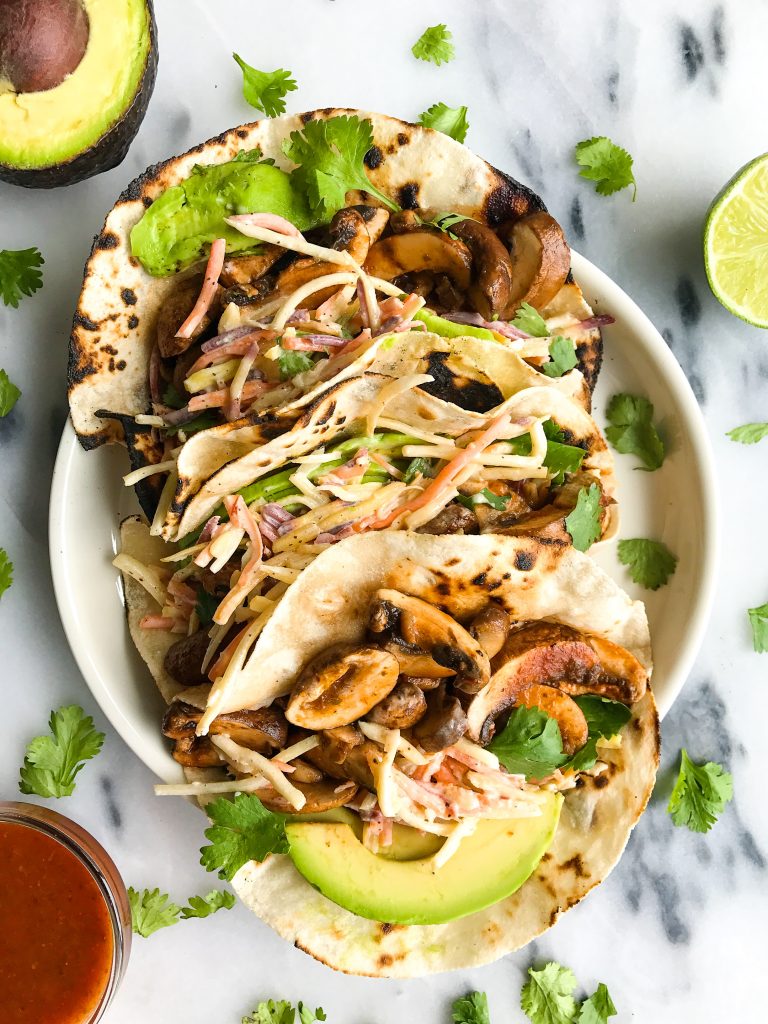 Slow-Cooked Mushroom Tacos + Spicy Slaw
Recipe Type
:
vegetarian, vegan-friendly, gluten-free
Author:
Prep time:
Cook time:
Total time:
Ingredients
Spicy slaw:
1 cup shredded cabbage or your preferred slaw mix (I get mine pre-cut at the grocery store)
2 tablespoons avocado mayo (or any mayo, vegan if needed)
1 tablespoon avocado oil (or any oil)
1/2 tablespoon apple cider vinegar
1/4 teaspoon Simply Organic chipotle powder
1/4 teaspoon Simply Organic garlic powder
14 teaspoon Simply Organic black pepper
Mushroom tacos:
3 cups sliced mushrooms
1 package of Simply Organic Mild Taco Simmer Sauce, Organic
Tortillas of choice
Instructions
In a large bowl, add the cabbage, mayo, oil, apple cider vinegar and spices
Mix well so the cabbage is evenly coated with the seasonings, etc.
Place cabbage in fridge (I like to make mine a few hours ahead of time so the flavors marinate)
Heat a large skillet or pan on medium/high heat and add sliced mushrooms
Pour Simply Organic Mild Taco Simmer Sauce onto the pan, cover and reduce heat to a simmer
Let the mushrooms cook for about 20-30 minutes so the mushrooms can really soak in the sauce
Remove from heat and serve with tortillas of choice and spicy slaw! Avocado and fresh greens also go very well with this
*Spicy slaw and mushrooms will stay good in fridge for up to 5 days in airtight container
xx, Rach
Thank you Simply Organic for sponsoring this post. It means so much to me to work with brands that I love and who support rachLmansfield!