These Sweet Potato Hash Brown Waffles are an easy hash brown-like waffle fritter packed with veggies and made with all gluten-free, paleo and nut-free ingredients.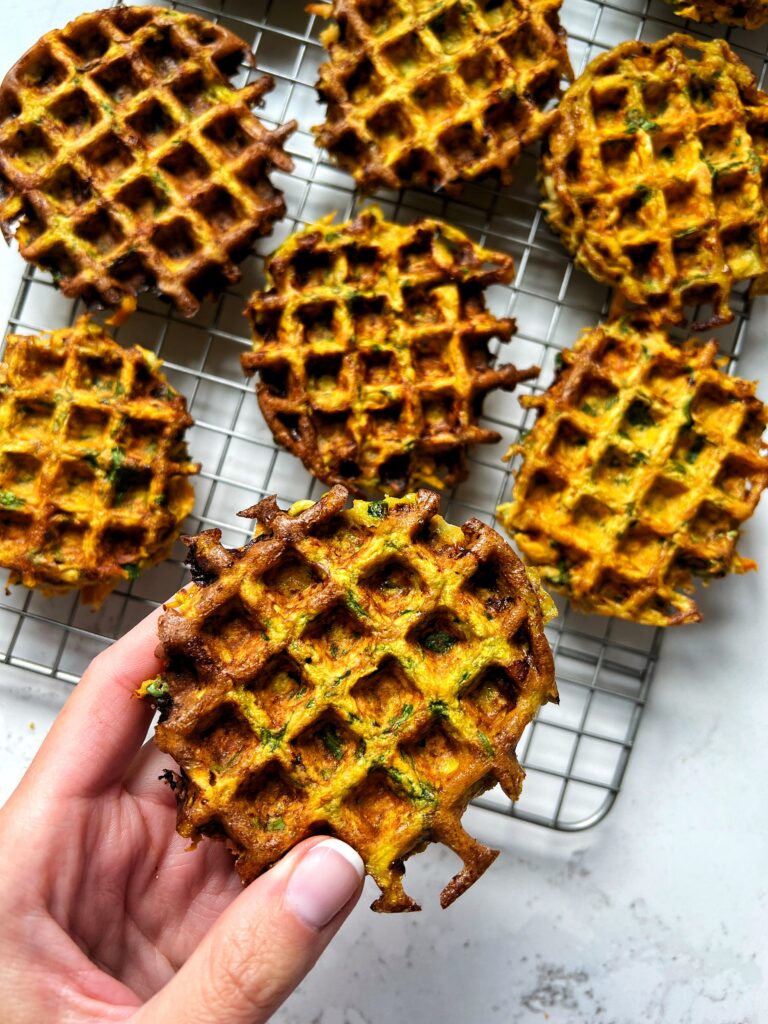 The excitement over the zucchini tortillas had me itching to try even more different kind of veggie recipes in the kitchen. And these sweet potato spinach waffles are SO GOOD you guys! And 100% kid and adult approved.
They are so underrated and so flavorful and easy to make! I love making the zucchini tortillas for my tacos and such, but also am loving these sweet potato waffles to add some fried eggs on top of or serve as a side dish with dinner. They are also amazing to make a waffle sandwich with too if you're feeling fancy.
They are paleo so no grain, gluten or dairy in them! I use coconut flour, eggs, and even snuck in some greens in there. And these waffles also turned out extra crispy because I greased the waffle maker with avocado oil. This obviously optional but I like a little extra crisp with these to make them more fritter-like from the waffle make.
Make sure that you use sweet potatoes that are not roasted! I just used grated sweet potato from washed and uncooked sweet potatoes. I have not tested these with cook potatoes and I do not think they will work as nicely!
Tip: These stay fresh in the fridge for 5 days and they are great to freeze and reheat whenever you want! I even put mine in the toaster to warm up.
What ingredients are in these sweet potato hash brown waffles:
Grated sweet potatoes – not roasted! You'll want uncooked sweet potato for these. A sweet potato puree wouldn't work. Just peel and grate potatoes like you would for latkes/potato pancakes.
Eggs – I haven't tried this recipe with an egg substitute or egg whites only
Spinach – fresh spinach or really any leafy green can work here! I use raw greens, not cooked
Coconut flour – I haven't tested another flour for this recipe
Scallion – optional but I love adding some for flavor
How to make sweet potato waffle fritters:
In a medium bowl, add grated sweet potatoes, eggs, spinach, coconut flour, scallion and garlic powder and mix well with spoon
Heat waffle iron per directions and grease well (this is key with mine for crispiness)
Add 1/4 cup of waffle water to the waffle iron and heat on medium setting
Once ready remove and add to plate then repeat directions until all batter is used
Top with eggs or pair with breakfast (makes a fun latke variety too!)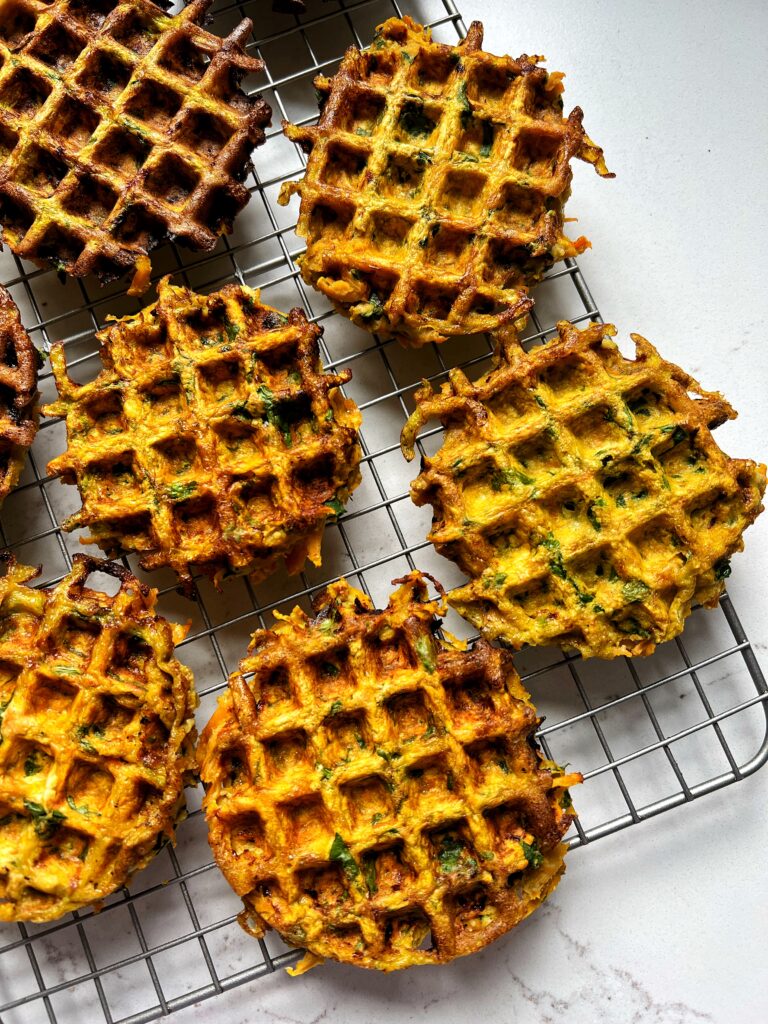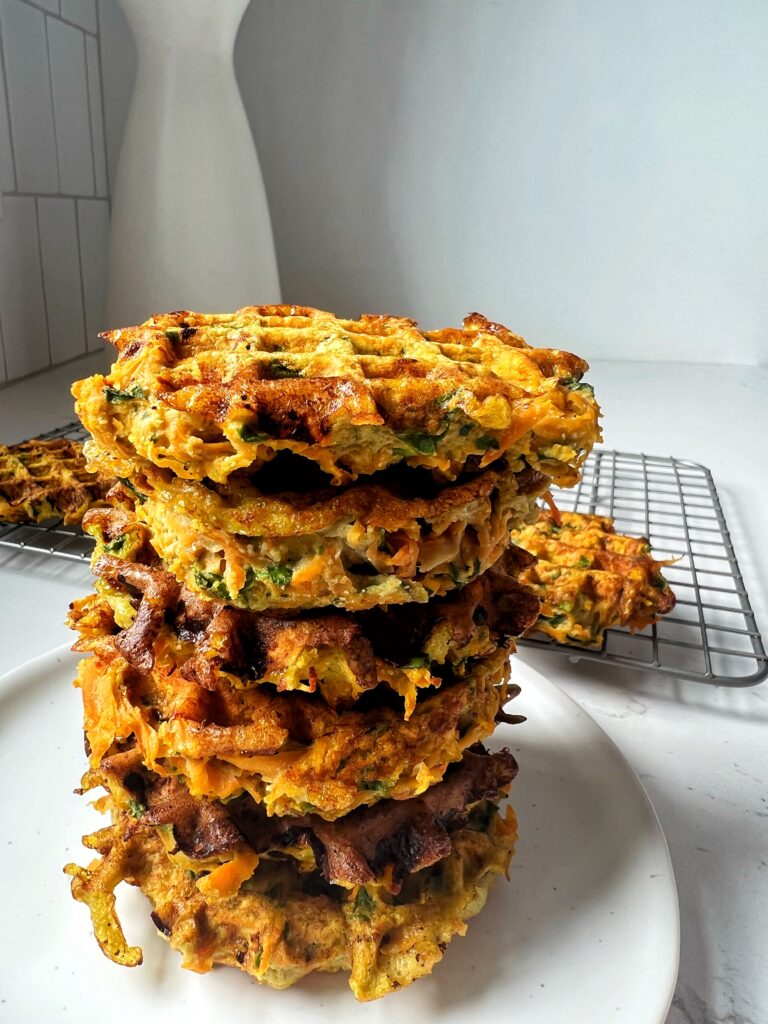 Tips for success:
These are a great recipe to make for kids AND adults. My toddlers devoured them. Especially with some ketchup to tip
If you want to make these and freeze some for later – that is a great idea. I keep them in the freezer and pop them into the toaster as needed. They reheat really well! you can also use microwave, oven or stovetop
You can use any sweet potato variety you are craving. I typically use orange sweet potatoes in these
I love serving these waffle fritters with fried eggs on top. It's the ultimate breakfast for dinner move. Or a waffle sandwich is my other go-to
A few other delicious veggie-loaded recipes to make:
Gluten-free Veggie Frittata Sticks
20-minute Healthy Veggie Rice Pilaf
The Easiest Savory Veggie Grain-free Biscuits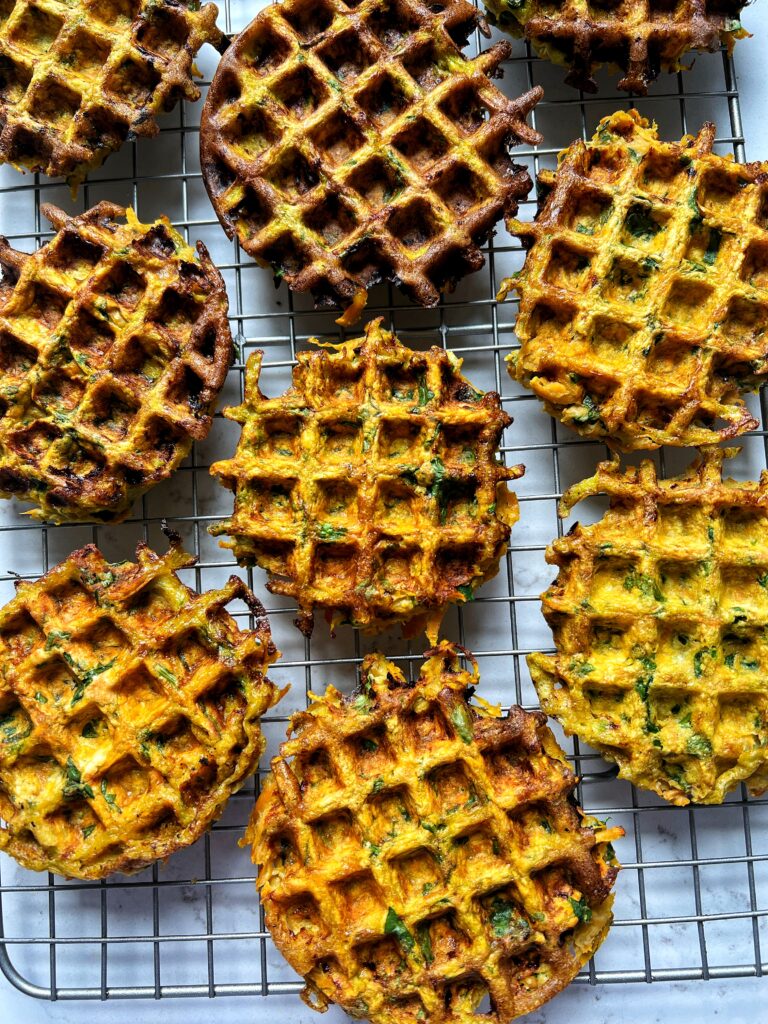 Print
Sweet Potato Hash Brown Waffles
These Sweet Potato Hash Brown Waffles are an easy hash brown-like waffle fritter packed with veggies and made with all gluten-free, paleo and nut-free ingredients.
Prep Time:

5 mins

Cook Time:

10 mins

Total Time:

15 mins
3 cups

grated sweet potatoes (not roasted)

4

eggs, whisked

3/4 cup

chopped spinach

3 tablespoons

coconut flour

1/4 cup

chopped scallion

1/2 teaspoon

garlic powder
Instructions
In a medium bowl, add grated sweet potatoes, eggs, spinach, coconut flour, scallion and garlic powder and mix well with spoon
Heat waffle iron per directions and grease well (this is key with mine for crispiness)
Add 1/4 cup of waffle water to the waffle iron and heat on medium setting
Once ready remove and add to plate then repeat directions until all batter is used
Top with eggs or pair with breakfast (makes a fun latke variety too!)
Author:
Category:

paleo, grain-free, gluten-free, dairy-free

Cuisine:

waffles, breakfast, side dish
xx, Rach