Vegan Peanut Butter Chocolate Chip Cookies with Sea Salt made with gluten-free and grain-free ingredients.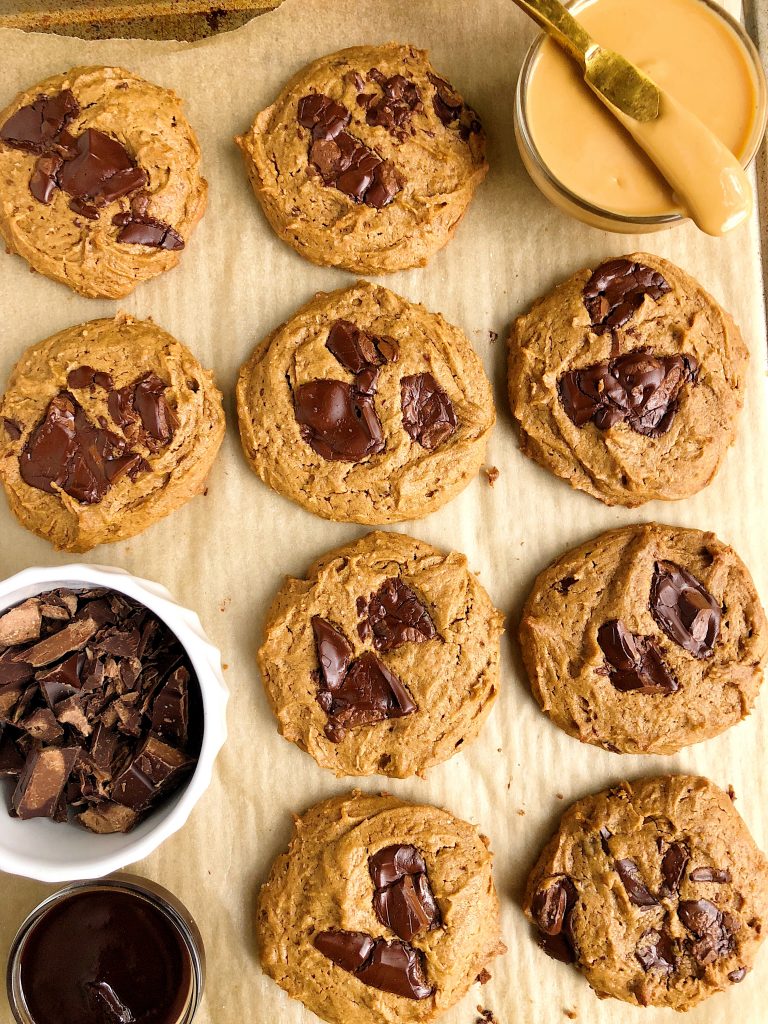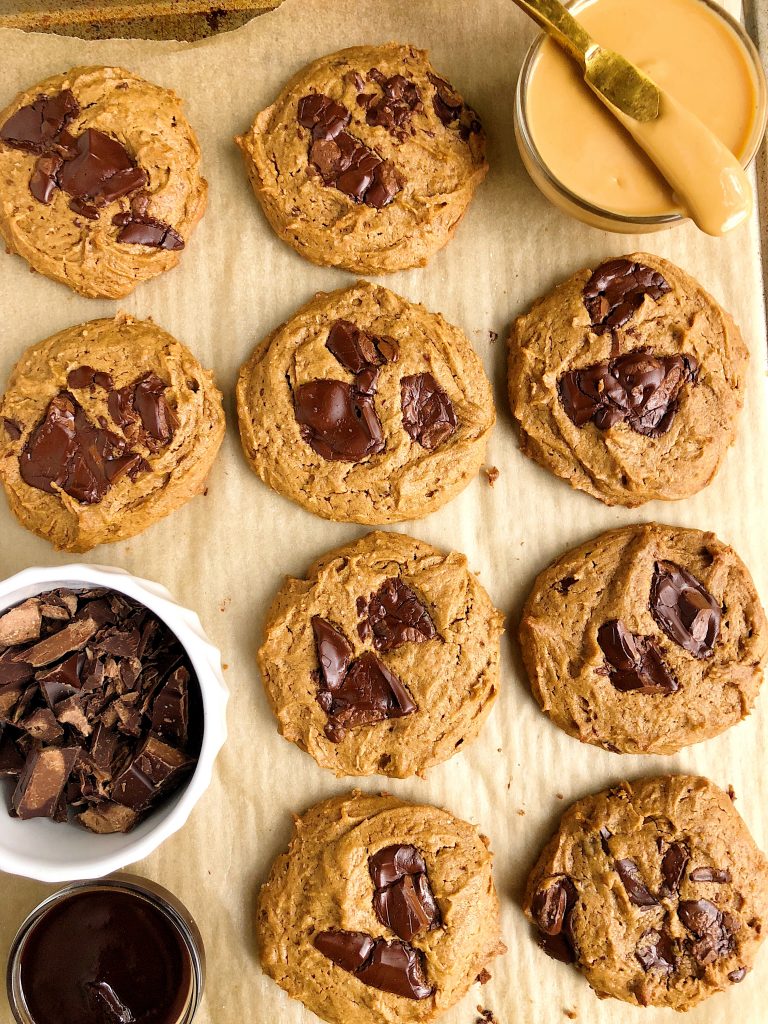 These cookies are MAGIC. Pure flipping magic you guys.
I have been craving a peanut butter cookie for what feels like months. I have yet to find somewhere around here that bakes one that is soft on the inside and a little crispy on the outside. Which is just how I like my peanut buttah cookies. There are somethings that are better off being done in the kitchen and these cookies are one of them.
Allow me to present to you The Best Vegan Peanut Butter Chocolate Chip Cookies with a sprinkle of Sea Salt.
A mouthful to say and true story my mouth is full of one right now as I am eating dessert and typing about my love affair with these cookies.
I wanted to make a cookie that was vegan, gluten-free and uses barely any ingredients so that way they are easy enough to bake after dinner when you want something quick and sweet and perfect.
These Vegan Peanut Butter Chocolate Chip Cookies with Sea Salt are made with creamy peanut butter, sweetened with coconut sugar and use tapioca flour as the flour.
These cookies are egg-free, dairy-free and grain-free and have no refined sugar (I promise they still taste real good!).
I use my go-to dark chocolate bar from Hu Kitchen and cut it up into pieces as the rich chocolatey addition to the cookie. I love baking with the cashew butter bar because it adds the best flavor when it gets all melty in the oven. I had to practice crazy self control when they came out of the oven because if you remove them from the tray while hot, they will break. Gotta let them cool a bit so they stay together and get that crisp on the outside.
You guys know my love affair with Hu Kitchen and baking with their coconut sugar-sweetened dark chocolate. And also my obsession with the NYC location where I eat about 4x a week (yes, I am insane). I love how many of you I meet in there as I'm stocking up on their paleo brownies, crack bars and the epic breakfasts they serve. But for those not in NYC, you can find their chocolates online and in most retailers. Once you stock up, here are a few of my other fave blog recipes using their dark chocolate bars: Paleo Dark Chocolate Brownie Bread, Double Chocolate Pumpkin Cupcakes and Paleo Chocolate Sheet Cake.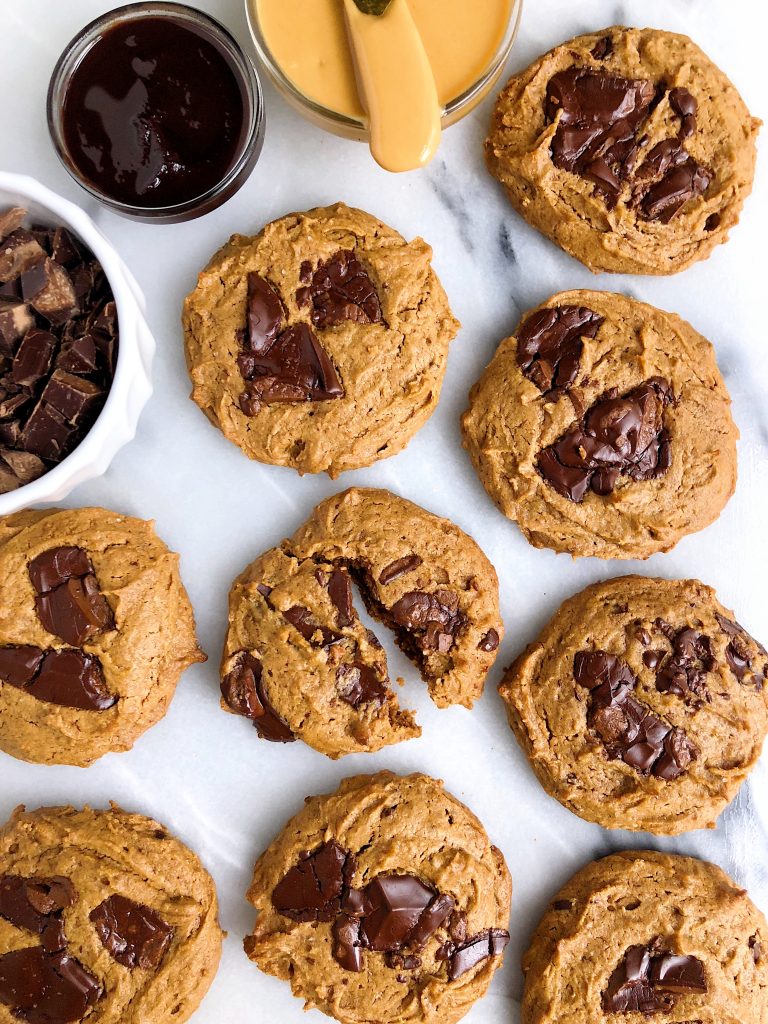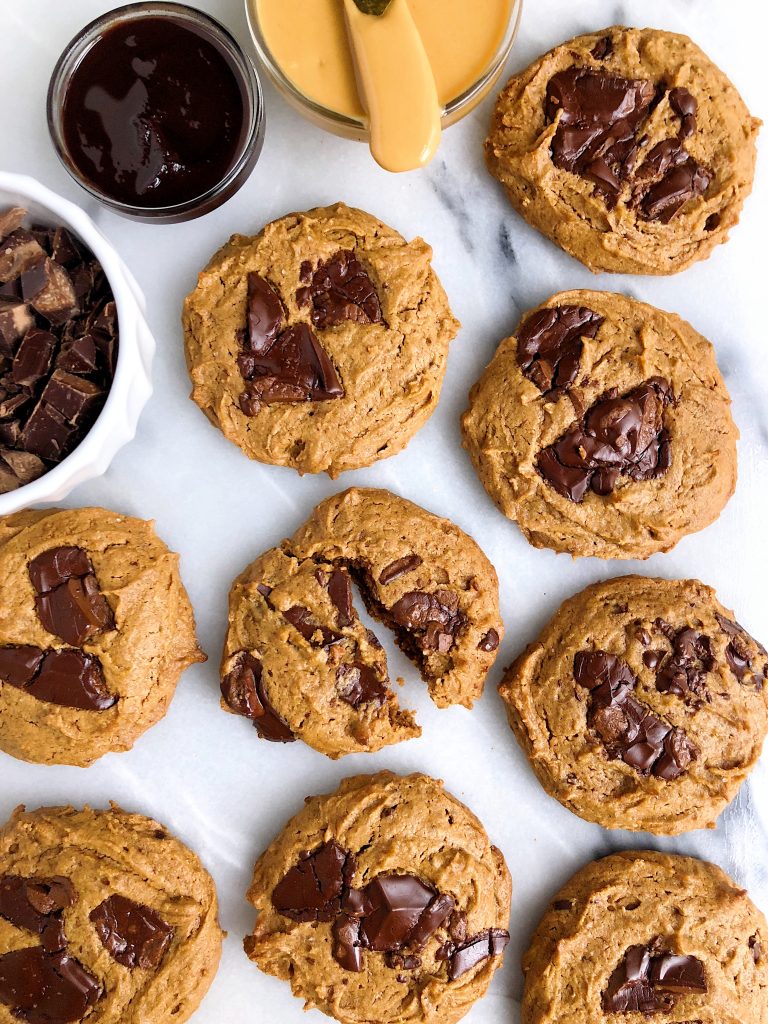 Print
The Best Vegan Peanut Butter Chocolate Chip Cookies with Sea Salt
The Best Vegan Peanut Butter Chocolate Chip Cookies with Sea Salt made with gluten-free, grain-free and plant-based ingredients and ready in less than 15 minutes!
Prep Time:

5 mins

Cook Time:

12 mins

Total Time:

17 minutes
1 cup

creamy peanut butter

1/2 cup

coconut sugar (do not sub maple syrup or honey!)

1 teaspoon

vanilla extract

1/4 cup

unsweetened non-dairy milk

1/4 cup

tapioca flour or arrowroot flour (haven't tested other flours)

3 teaspoons

baking powder

1/2 teaspoon

sea salt

1/2 cup

dark chocolate chunks (I cut up a Hu Kitchen Cashew Butter Dark Chocolate Bar – code RACHL for free shipping)
Instructions
Preheat oven to 350 degrees and line a large baking sheet with parchment paper
Mix together the peanut butter, coconut sugar, vanilla extract and milk until a wet dough forms
Mix in the tapioca flour and baking powder and mix again well
Fold in the dark chocolate chunks then using a spoon (dough is sticky!) add about 2-3 tablespoons of dough into the tray per cookie, leaving space in-between as they spread a bit
Sprinkle the sea salt across the cookies then bake for 12 minutes
Allow the cookies to cool for 5-10 minutes before removing from tray (if you remove too soon they break!)
Notes
Store leftovers in airtight container for about 5 days or freeze for 2 months
xx, Rach
Thank you Hu Kitchen for sponsoring this post! It means so much to me to collaborate with brands I love and believe in on the blog!
SaveSave
SaveSave