10-minute Greek Tortellini Salad made with gluten-free ingredients for an easy and quick vegetarian meal or side dish to whip up.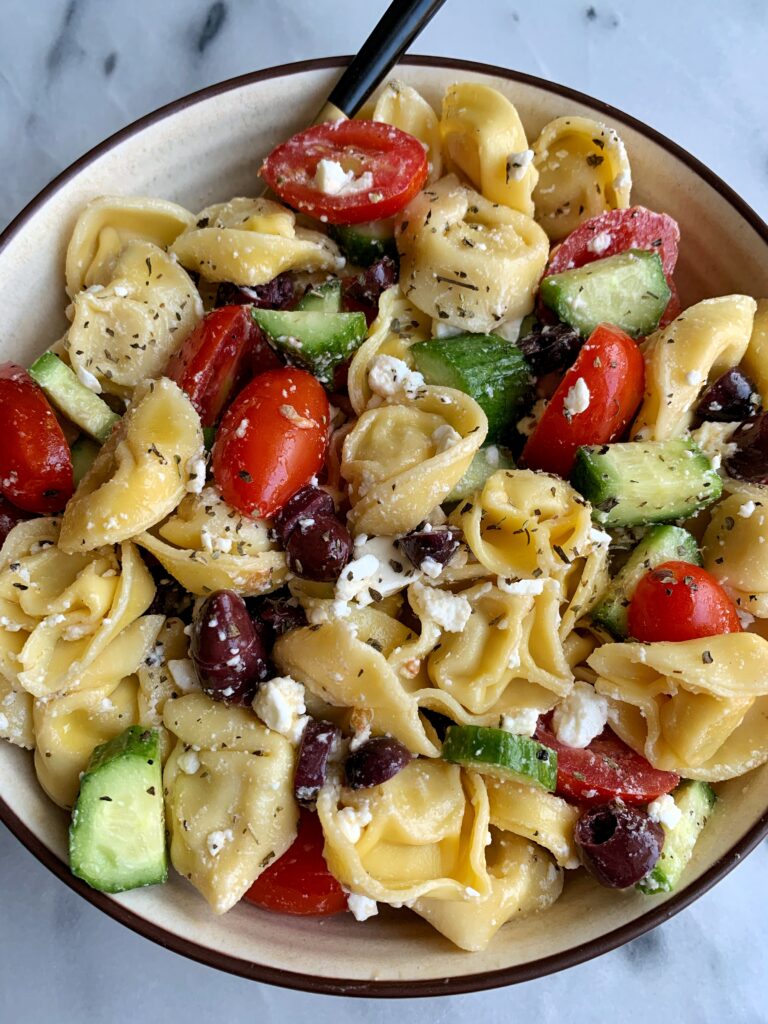 Anyone else craving all the pasta salads right now?!
We are obsessed with this new Greek Tortellini Salad here on the blog today. I have been making it on repeat for us and our kids devour it. I didn't think my boys even liked cherry tomatoes until they started eating this salad and now they can't stop.
This is the perfect dish to make for the summer BBQs headed our way or for an easy lunch or dinner recipe. I usually add some grilled chicken or lamb meatballs (the ones in my cookbook pair so well with it) to make it a heartier meal of sorts too. Otherwise this makes a great vegetarian dish or side dish to enjoy!
Let us know if you make this and what you think! I hope you guys enjoy it as much as we do over here.
What ingredients you need to make Greek Tortellini Salad:
Tortellini of choice – I love using a gluten-free one if I can find. I also used a spinach based one last time.
Kalamata olives – my kids would eat an entire jar of olives if they could. They devour these in this recipe.
Cucumber – another fan favorite in the Carpenter household.
Cherry tomatoes – I love leaving these out when I want to eat it but most love tomatoes.
Feta cheese – I like to rinse off my feta before using too (makes it less salty).
Extra virgin olive oil – there is no dressing here besides the oil and acv and oregano
How to make this easy pasta salad:
Cook tortellini according to instructions on the package
Strain and rinse in cold water once cooked
Add tortellini to a large bowl with olives, cucumber, tomatoes and feta cheese and toss
In a small bowl, whisk together oil, vinegar and spices to make dressing
Dress tortellini salad and serve cool or at room temperature. I love adding some grilled chicken or lamb burgers to make it a meal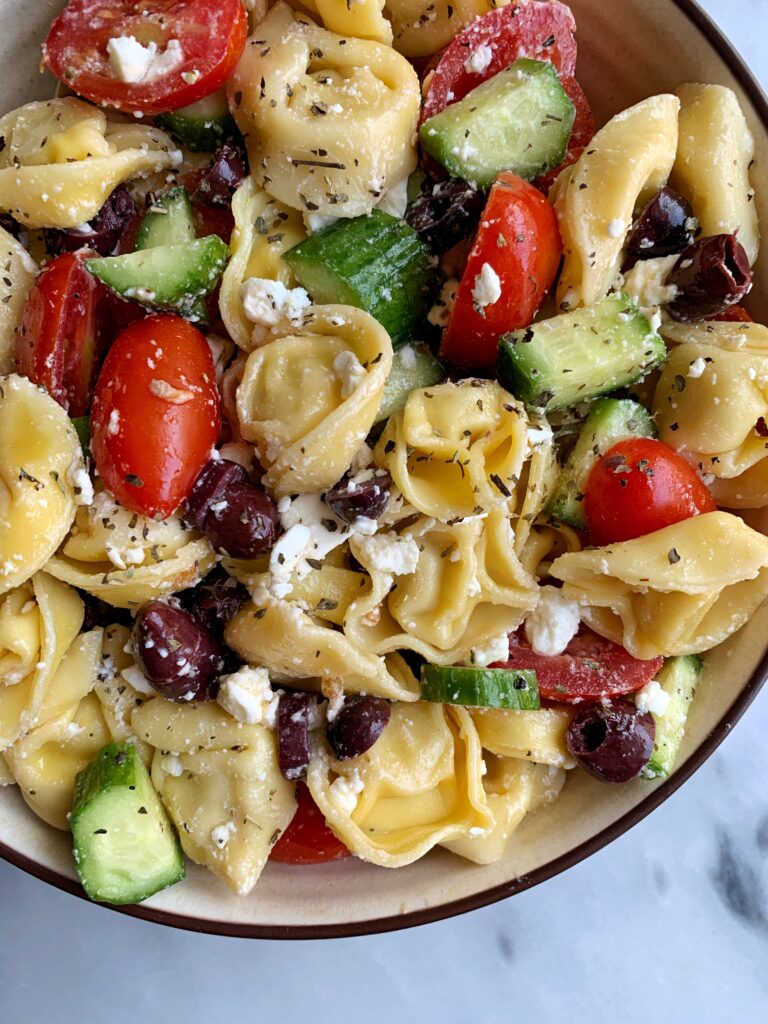 FAQs on making tortellini salad:
Can you serve tortellini cold? YES. I personally love eating tortellini cold and I prefer it over warm. This also makes it easier to prep in advance. Or just rinse it in cold water after making.
What can I serve with us? I love adding in some chicken, shrimp or salmon into this dish to make it a heartier entree. Or you can pair this with some grilled steak, roasted chicken, or any protein to round out the meal. Feel free to add some fresh leafy greens if you'd like as well.
How long does this tortellini salad stay good for? I live by the 5 day rule. Pop it in the fridge for 5 days and enjoy cool or at room temp.
A few of our other favorite salads recipe to make:
The Best Healthy Classic Caesar Salad
The Easiest Healthy BLT Pasta Salad (gluten-free)
Chicken Caesar Pasta Salad with Gluten-free Croutons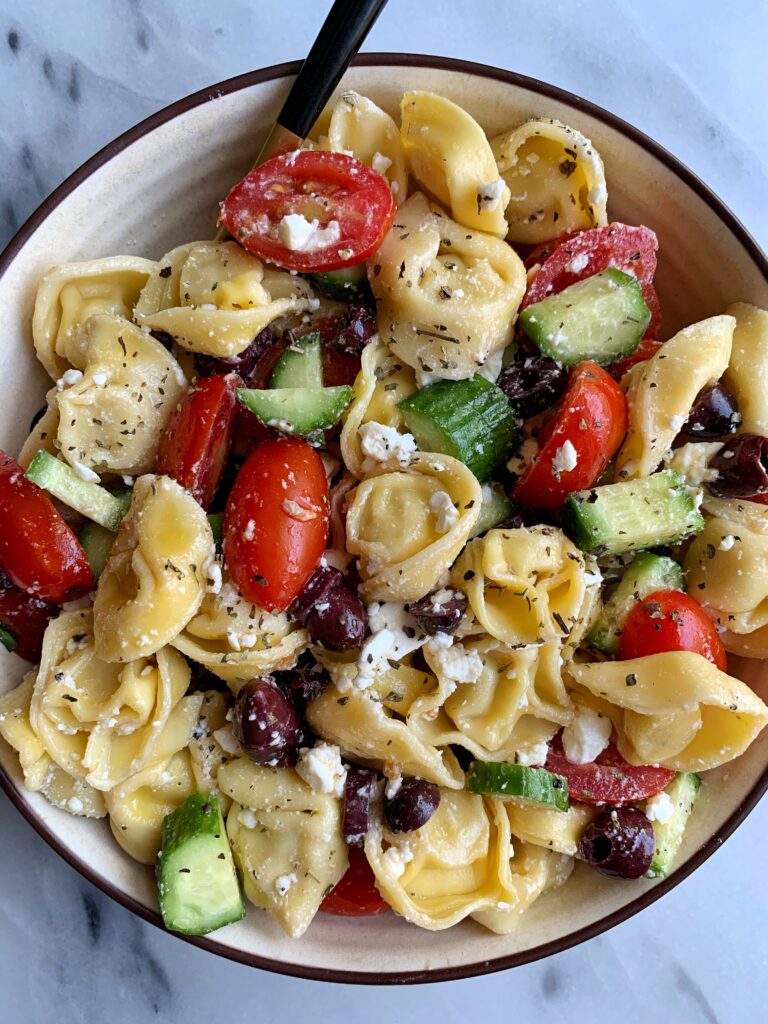 Print
10-minute Greek Tortellini Salad (gluten-free)
10-minute Greek Tortellini Salad made with gluten-free ingredients for an easy and quick meal or side dish to whip up.
Prep Time:

5 mins

Cook Time:

5 mins

Total Time:

10 mins
1

9-ounce package tortellini of choice (I use a gluten-free

one

but any works!)

1/2 cup

kalamata olives, chopped

1

large cucumber, chopped

1/2 cup

cherry tomatoes, cut in halves

1/2 cup

feta cheese

4 tablespoons

extra virgin olive oil

1 tablespoon

apple cider vinegar

1/2 teaspoon

dried oregano

Sea salt and black pepper to taste
Instructions
Cook tortellini according to instructions on the package
Strain and rinse in cold water once cooked
Add tortellini to a large bowl with olives, cucumber, tomatoes and feta cheese and toss
In a small bowl, whisk together oil, vinegar and spices to make dressing
Dress tortellini salad and serve cool or at room temperature. I love adding some grilled chicken or lamb burgers to make it a meal
Notes
*Store leftovers in fridge for 5 days
**You can add red onion here too