10-minute Vegan Almond Butter Cookies for a quick and easy dessert recipe!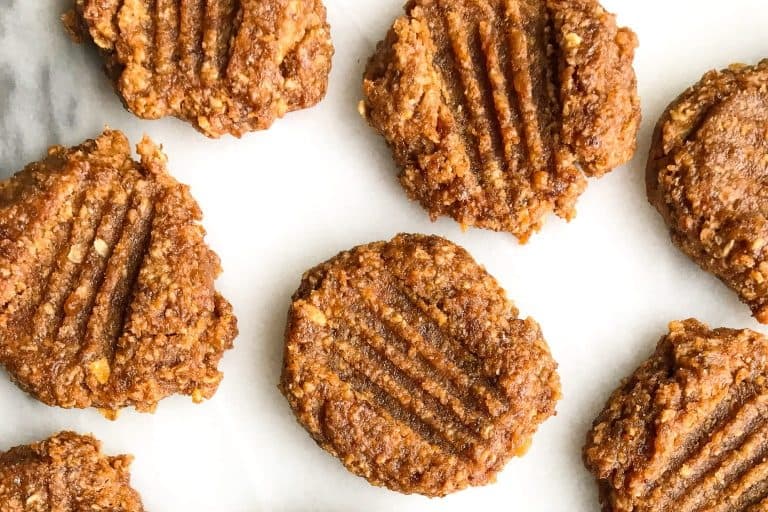 It's 8pm.
You just ate dinner.
You look around the kitchen and see nothing resembling any sort of a dessert (luckily this has never happened to me) and you need a dessert. You need it fast.
These Vegan Almond Butter Cookies are ready in just 10 minutes! They are so quick, so simple and so easy to make. Plus they all started as a complete accident. I was trying to make some no-bake balls (duh) but in the middle of it, my stomach and mind were all like "gimme da cookies".
Naturally I had to listen to my body and cookies it what we went with. Cookies win 99% of the time over here though.
Jord is acting like a champ over here having no cookies, no chocolate, no NADA for the past couple of weeks. Meanwhile I am shoving every baked good I can find and make into my mouth. I am trying not to make too many new recipes during his Whole30 because I am only one person and there is only so much I can eat, HA!
That is one thing I realized. I could not be a food blogger completely solo. J helps me with the eating part too much. Between taste testing over a dozen recipes a month and trying out new products, there is a crap load of food over here.
I was face timing with my mom last week opening packages and showed her what I had received that day. I then proceeded to hysterically cry because I was on overload! I think of all those in need and who are starving in the world. Meanwhile I am opening packages of insane amounts of food everyday. I give a lot of it away but I need to find a go-to place in NYC to donate food to weekly..like ASAP.
I am of course grateful for what I do and being able to try all of these amazing products, but it definitely is overwhelming at times.
Thanks for listening to me vent 🙂 Now for these 10-minute Vegan Almond Butter Cookies! Let's do this…
WHAT YOU NEED:
almond butter (I used Meet Eat Paleo – code RACHL for 10% off!)
oatmeal
pitted dates (I used medjool)
almond milk
baking powder
vanilla extract
QUICK NOTES:
These cookies can easily be subbed with any other nut butter if almond butter isn't your thing
You can also likely pop them in the fridge or freezer instead of an oven if "no-bake" is more your style
These cookies freeze really well so make a stash and keep them on hand, then defrost as you want to eat!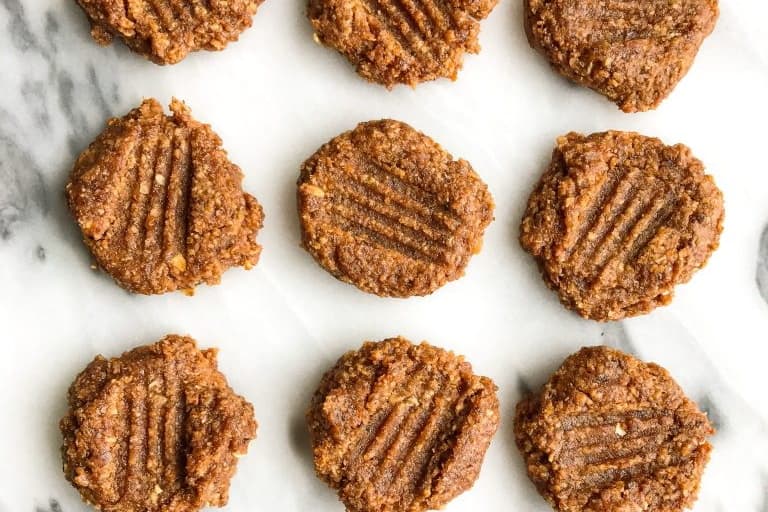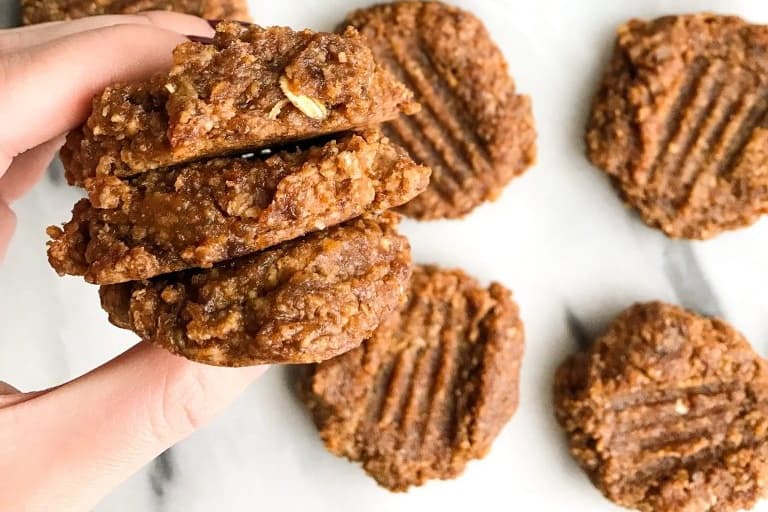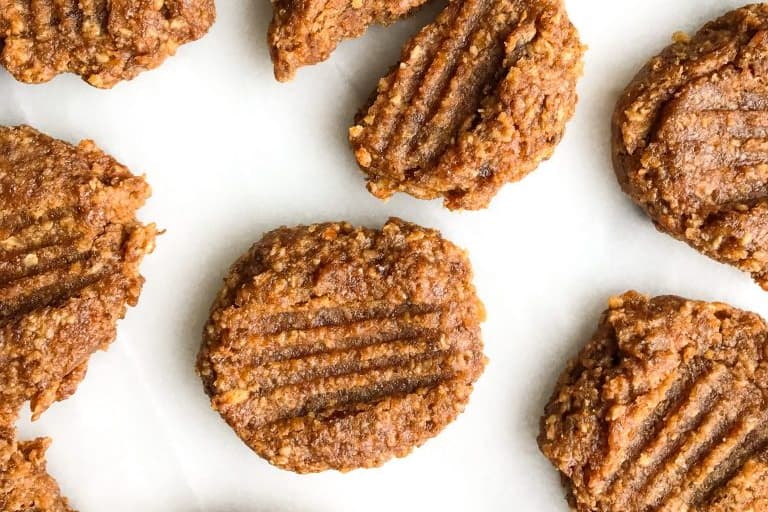 Print
10-minute Vegan Almond Butter Cookies
Prep Time:

2 mins

Cook Time:

10 mins

Total Time:

12 mins
1/2 cup

creamy almond butter

1 cup

oats (any will work, I used old fashioned)

8

pitted medjool dates

5 tablespoons

unsweetened almond milk

1/2 teaspoon

baking powder

1/2 teaspoon

vanilla extract

preheat oven to 325 bake for 10 minutes
Instructions
Preheat oven to 325 degrees and line a baking tray with parchment paper
In a food processor, add almond butter, oats and dates and pulse a few times
Add in almond milk, baking powder and vanilla and pulse until a dough is formed (my rolled into a big ball of dough)
Add about 2 tablespoons of dough per cookie and line across the tray
Press down a little gently and bake for 10 minutes
Once out of oven, use a fork to press down a bit more
Let cookies cool for a few minutes, then enjoy!
*Will stay good in tupperware for 2-3 days at room temp or you can freezer for 2 months!
Author:
Category:

gluten-free, vegan

Cuisine:

cookies, snack, dessert
xx, Rach