Paleo Pumpkin Chocolate Chip Pancakes for a deliciously healthy gluten-free and grain-free breakfast!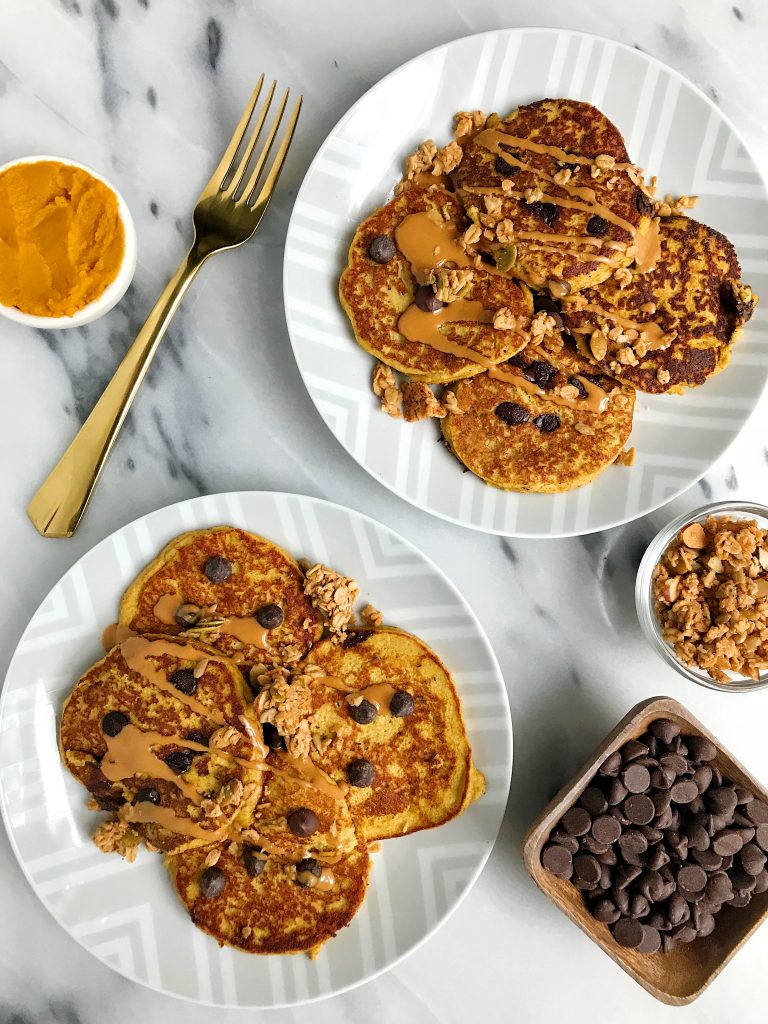 You ask for pumpkin and you get yourself some pumpkin friends!
Looking at my most recent recipes here on the blog, there has been a pretty reoccurring theme of fall-inspired recipes happening on the blog. Pumpkin truffles, granola, cheesecake and more. Oh and don't forget that pumpkin round up..
Pancakes have been an absolute hit in our home and over on Instagram these days. And I am so excited to be sharing these pumpkin protein pancakes with you guys today! They have been my favorite fall breakfast I have been making and they are so simple to make, it is unreal.
These pancakes are pretty much Jord's biggest nightmare because he cannot stand anything pumpkin-flavored. HA! Stinks to be him during the fall season. More pancakes for us, right?
Or more like more pumpkin pancakes for me!
Now let's make some almond flour pumpkin CAKES!
So I have found that leftovers of these pancakes stay very well. Just in case you are a pumpkin pancake party of one (like me), you can make the batch and save the rest in the fridge for later! I heat mine up on the skillet over the stove or even in the oven. I have found microwaving them makes them a bit chewy/rubbery but that also can work if it's the only option.
Now I do use protein powder in them for an extra boost too. But you can probably add more almond flour if you prefer!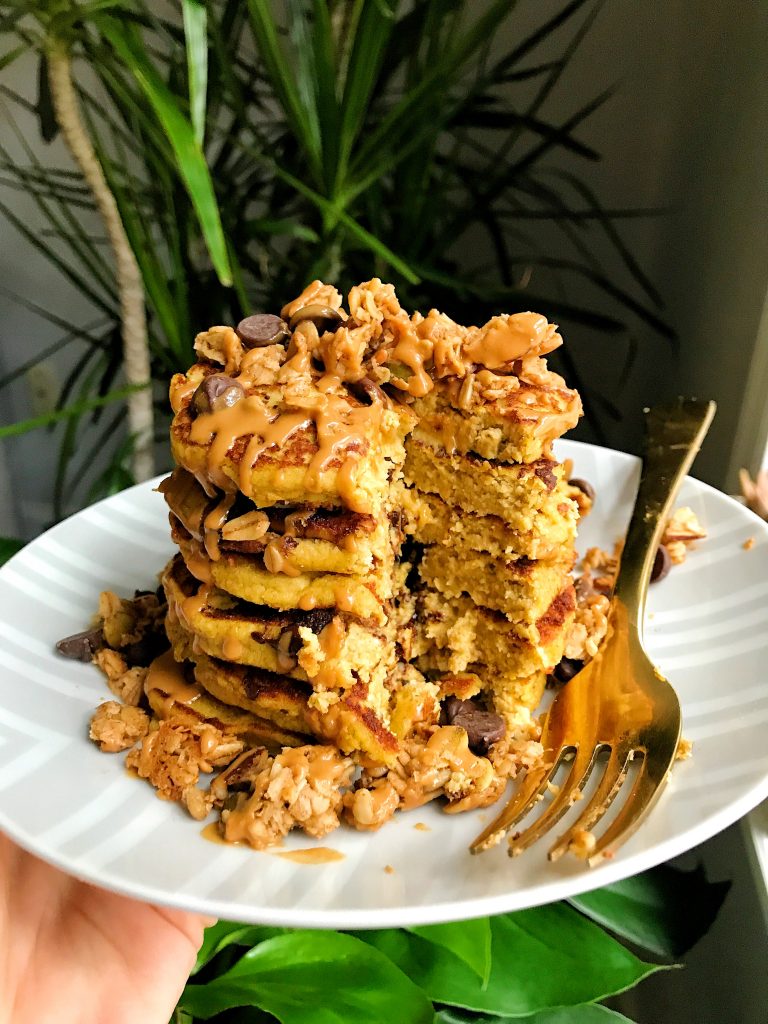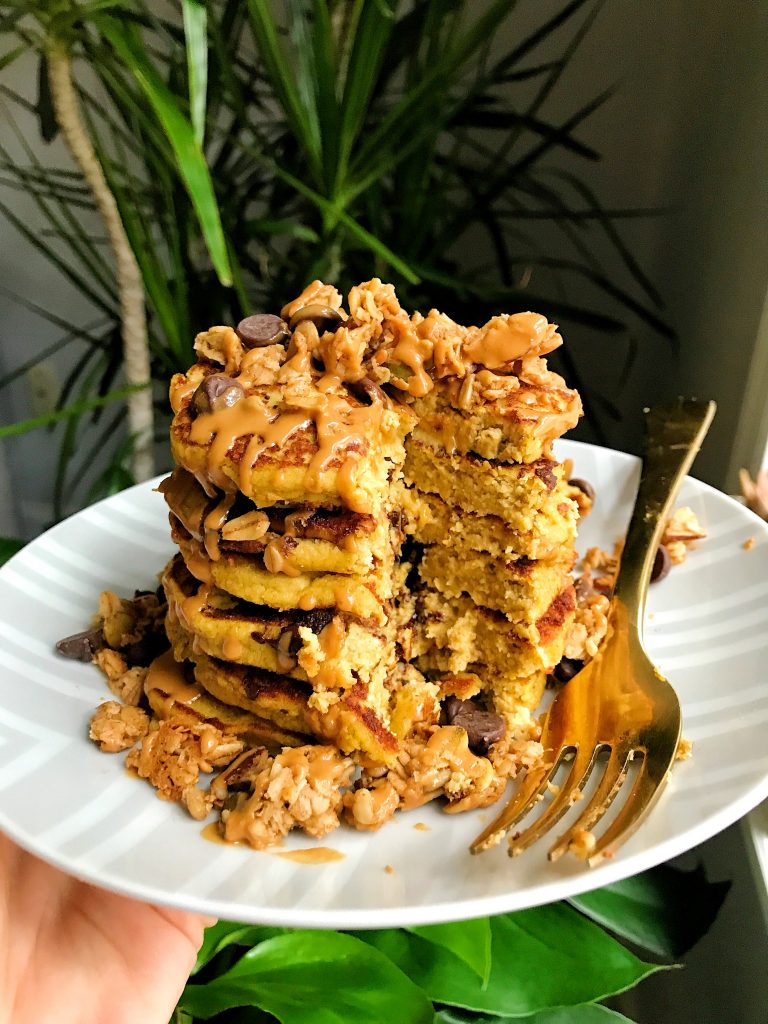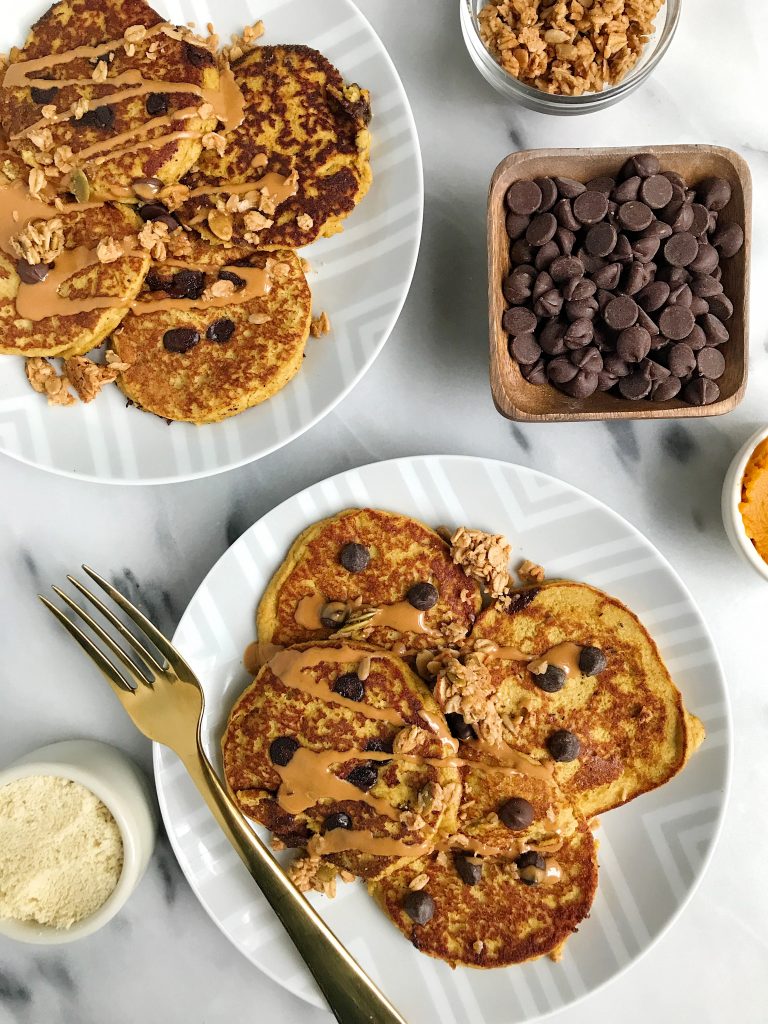 Print
Almond Flour Pumpkin Chocolate Chip Protein Pancakes
Yield: About 10 small pancakes 1x
1/2 cup

pumpkin puree

2

eggs

3/4 cup

unsweetened almond milk

1 cup

almond flour

1/3 cup

ALOHA Vanilla Protein Powder (code RACHL for 20% off!)

¼ teaspoon

baking soda (or baking powder if not paleo)

Sprinkle of cinnamon

Mix in's: ¼ cup dark chocolate chips
Instructions
Grease pan of choice (I used a medium pan) with a little coconut oil
Whisk together pumpkin, eggs and milk in medium/large bowl
Add almond flour, protein powder, cinnamon and baking soda and mix well
Fold in chocolate chips
Heat up the pan to medium-high heat and let batter sit for 5 minutes or so (if too liquidy sprinkle some more flour in the bowl and mix)
Using tablespoon pour batter onto pan (about 2- tablespoons per pancake)
Flip over once the pancake starts to bubble a little (or about 2-3 minutes)
Serve immediately with maple syrup or toppings of your choice
Author:
Category:

grain-free, dairy-free, gluten-free

Cuisine:

breakfast, pancakes
xx, Rach
SaveSave