Blended Crunchy Chocolate Cookie "Freeze" Ice Cream for a plant-based cold treat!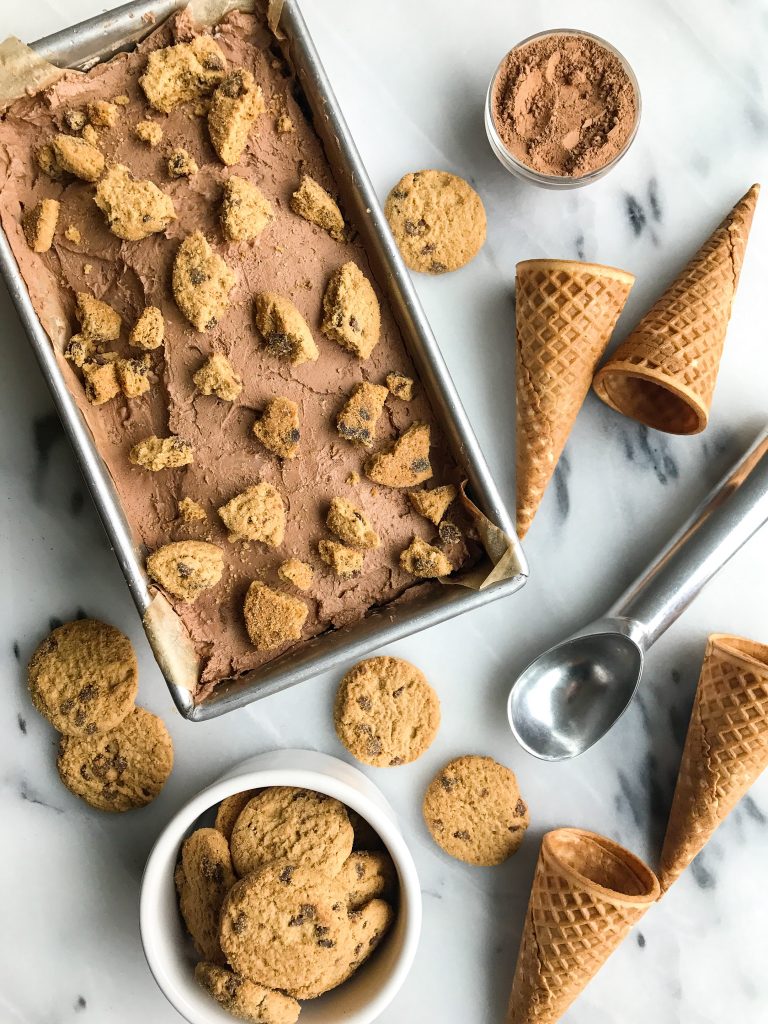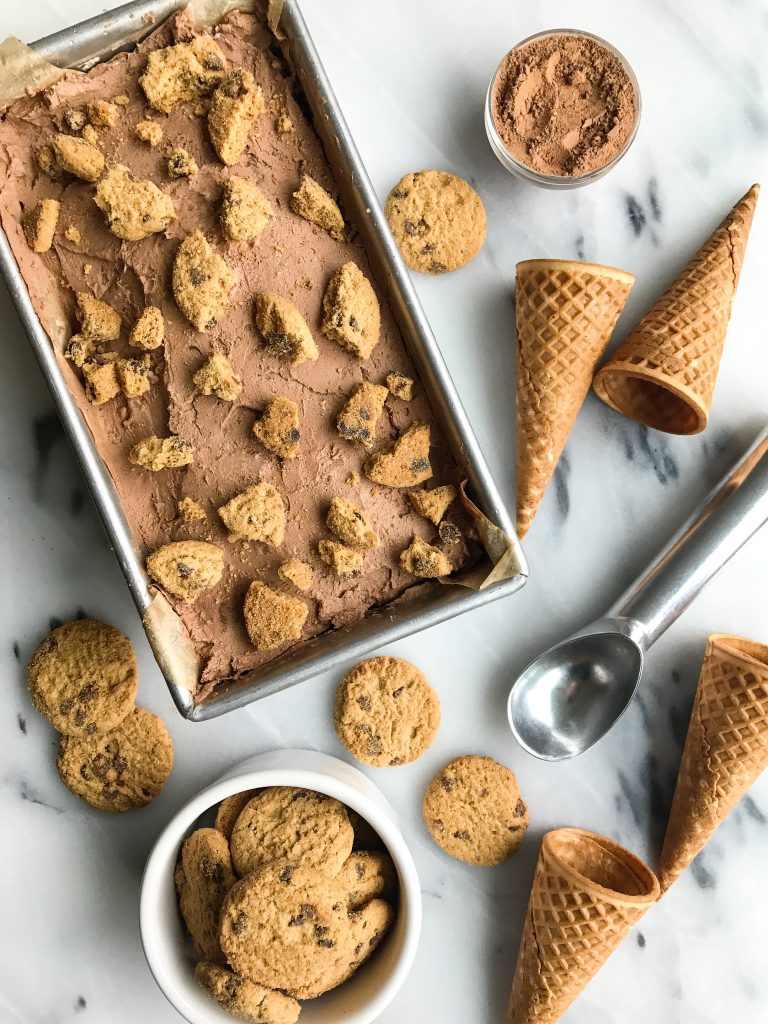 It is here friends. My homemade wanna-be Pressed Freeze recipe and I am pumped about it. It is also my 27th birthday so that's pretty crazy.
I used to countdown the days until my birthday growing up. It was pretty much a national holiday if you asked me and my family, which is comical because now I am meh about it. When I was growing up we had homemade cake, balloons and a flipping awesome birthday party each year. Cinderella did make a appearance once year too.. just sayin'. I had tea parties, ceramic making parties, Britney Spears concert (LOL), pretty much anything I wanted to do my parent's gave me. I feel so damn grateful for that. They always and still do go above and beyond to make sure my birthday is the best day.
This year my Mom and Dad are coming into the city to spend the day with me since Jord has work all day. The new tradition my Mom started last year when she came in. We are going to go out for lunch, walk around and enjoy the day. I have so much to be grateful for this year it really makes me feel so emotional. I am tearing up just thinking about it.
26 was a beyond magical year. I feel so grateful that I wake up and get to do what I love everyday. A lot has happened in the last year and a half. I was fired from my job and started my own brand. I finally started eating meat again, found a sense of peace and body love. Jord and I moved to a new neighborhood in NYC. I got to travel to California twice. I calmed the f down and learned how to relax a bit more and not stress so easily.
I can't even imagine topping 26 because it honestly was a my favorite year yet. I am still in that "newlywed" phase with J and I am surrounded by so many amazing friends and my family. What more could a girl want?
Let's talk about one of the best things I ate though in the past year. Pressed flipping Juicery FREEZE. I tried it for the first time last August when my parents and I headed out to LA. I made my Mom head right there with me from the plane and I salivated the whole way there.
My first order ever was chocolate freezer, almond butter, chocolate drizzle and chocolate chips. Ya, I don't mess around.
I am so lucky to have access to freeze in NYC now but I truly do feel bad for anyone who cannot get it by them. And in case you are like "wtf is she talking about?". Pressed freeze is a life-changing dessert. It is made with an almond and date base and put through this fancy machine to make ice cream. I love getting the vanilla and chocolate twist, which has vanilla, cacao and sea salt in it too. Then you get to top your freeze with a few different options they have (berries, chocolate, granola, nuts, etc.)
While this homemade recipe isn't as perfect as the real thing, it hits the spot when I make it and don't have time to make it over there. Plus it is the best way for anyone to enjoy a lighter "ice cream" option without having dairy and without using an ice cream maker.
The best part of this ice cream are the blended chocolate chip cookies inside. I used Simple Mills Ready-to-Eat Chocolate Chip Crunchy Cookies. Yup, they are already made and ready to eat, no mix or baking involved. These cookies pretty much changed my life the second I bit into one. I used to be a huge Chips Ahoy gal and TBH they remind me of them. Except they are made with REAL FOOD like all of Simple Mills products. They are sweetened with coconut sugar and have a nut blend mix. They are c-r-a-c-k and you are going to love them solo and in this Blended Crunchy Chocolate Cookie "Freeze" Ice Cream.
WHAT YOU NEED
Full fat coconut milk or cream
Cacao powder
Dates
Nut milk
Simple Mills Ready-to-Eat Chocolate Chip Crunchy Cookies
Cacao nibs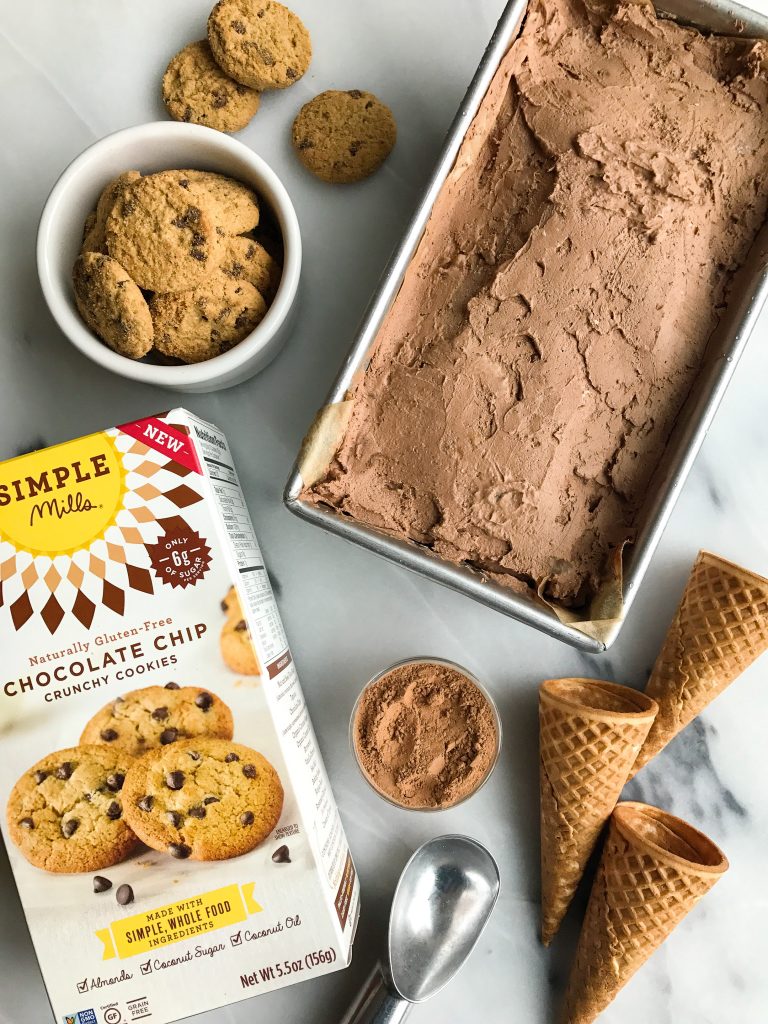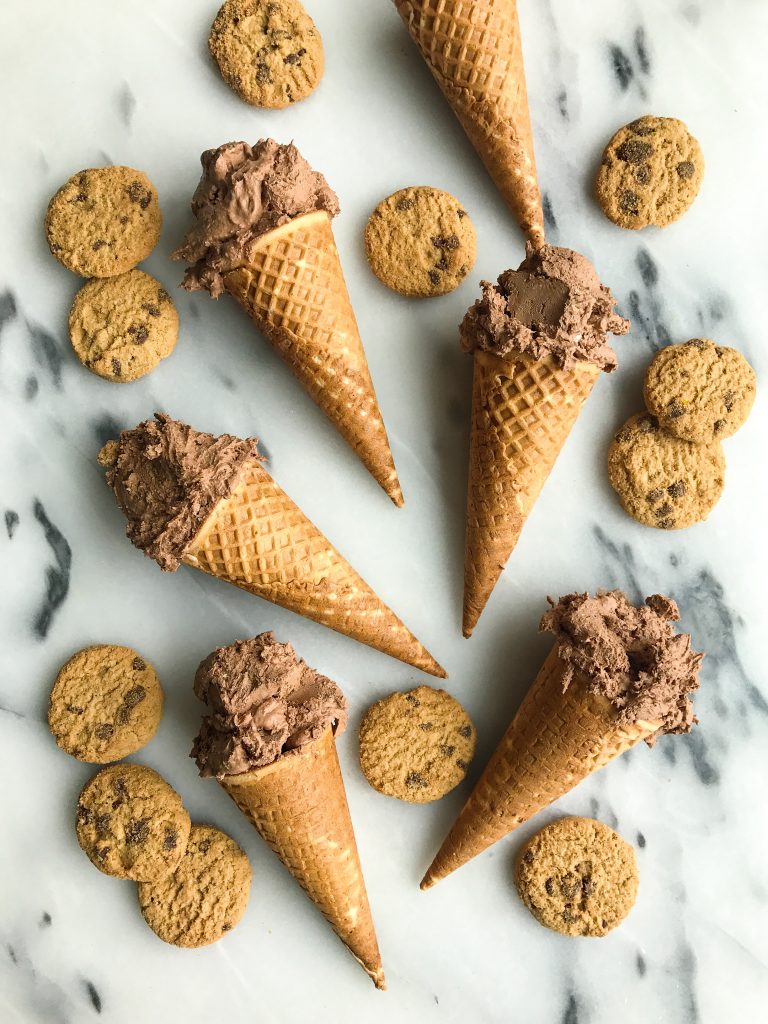 Print
Blended Crunchy Chocolate Cookie "Freeze" Ice Cream (vegan)
2

13.5-ounce cans full fat coconut milk, chilled overnight in the fridge

1/2 cup

unsweetened cacao powder

6

pitted dates

1/3 cup

unsweetened nut milk

1

box of Simple Mills Chocolate Chip Cookies

4 tablespoons

cacao nibs
Instructions
Place a large mixing bowl in the freezer to chill for 30 minutes
While the bowl is in freezer, soak the dates in boiling hot water for 15 minutes then strain
Pulse the dates in a food processor until they are smooth and jelly-like (it's okay if there are some chunks!)
Take the bowl out of the freezer and add the coconut cream from each can to the mixing bowl, do not use the liquid for this save for a smoothie later 🙂
Using your hand mixer, whip until it is smooth and the chunks are gone, it should be pretty creamy
Add in the cacao powder, nut milk, and the pulsed dates and using hand mixer to mix well
Next add about 10-12 Simple Mills Chocolate Chip Cookies to food processor and pulse until they are in crumbles
Fold into the ice cream and mix with a spatula
Add ice cream to a parchment lined container (I used my banana bread pan!) and cover before freezing (I used plastic wrap as I didn't have anything else eco-friendly)
Freezer overnight then enjoy! You may want to let it thaw out on counter for 10-20 minutes before eating
Author:
Category:

gluten-free, vegan

Cuisine:

ice cream, dessert
xx, Rach


Thank you Simple Mills for sponsoring this post. It means so much to me to work with brands that I love and who support rachLmansfield!