Sharing my 11 month old's schedule – Sleeping, Eating, Everything he is up to lately.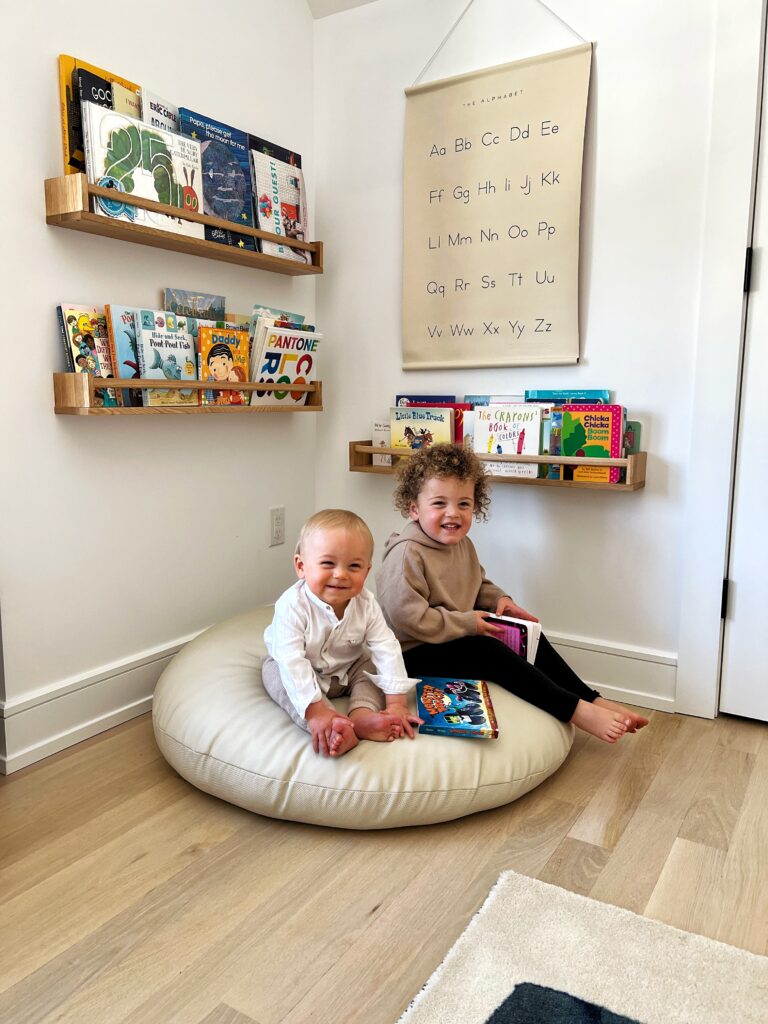 My baby boo!!! Brody is officially 11.5 months. Where in the world did the last year go?!
He is truly the happiest bubba who loves getting himself into basically everything he shouldn't. But he does it with such a smile on his face that you can't even get mad at him. This includes: putting his fingers in electrical outlets despite them being locked and licking Ezra's potty (not kidding – so door is kept shut now). B is a complete 180 of a baby compared to Ezra. It is true when they say that no two children are the same. I birthed one child who has been a bat out of hell since day 1 and is the most loving, passionate and energetic kid (hey Ez). But Brody is much more calm, zen and just happy to be alive.
I promise I would do more updates like this and totally failed (sorry about that!). But I put together an overview all about Brody and what we have been up to lately. He is just shy of turning 1 and these are his favorite toys/activities, his loose schedule and the foods he sometimes likes to eat.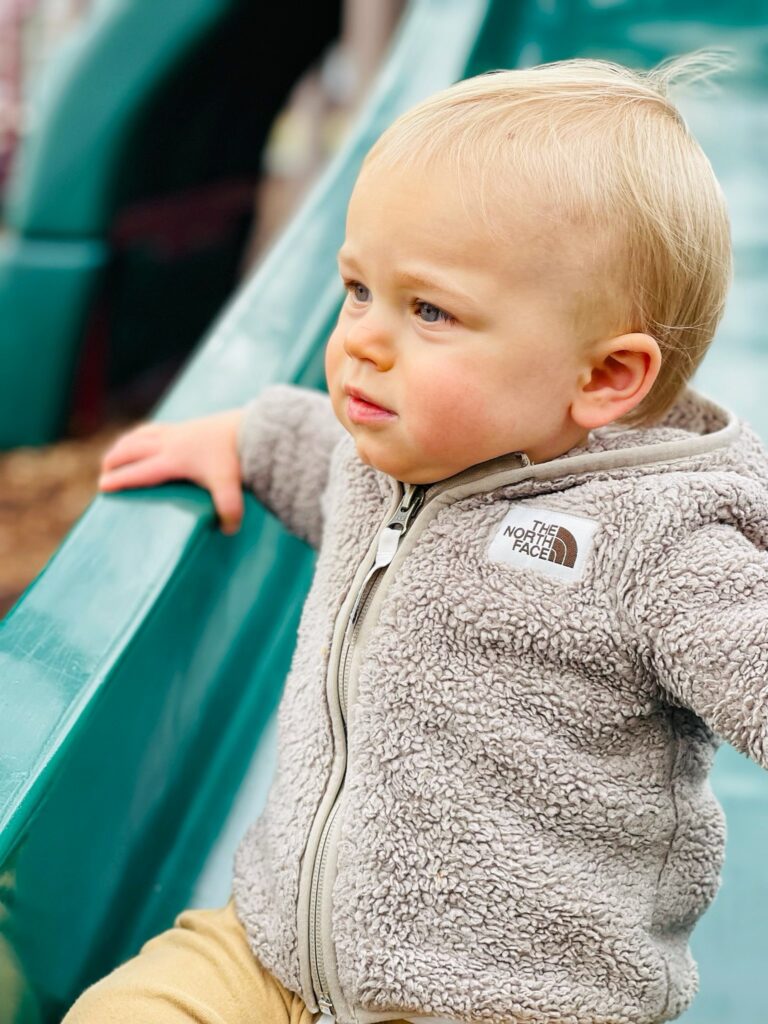 My 11 month old's *loose* schedule:
I am not the most regimented with a schedule. But this is an overview on what Brody's day current looks like.
5am-6am: awake and nursing. Unfortunately he just won't sleep in. No matter how early or late we put him to bed. We tried it all and he is just ready to rock before the sun. Because of this he doesn't sleep with Ezra as planned (more on sleep below)
7:30am: breakfast. Usually oatmeal, yogurt or an egg. We put in a nut butter too for the oatmeal/yogurt with water
9am: snack of sorts like a pouch (code RACHL for 15% off)
9:30am: nap which varies from 40 minutes to 2 hours! Usually it is an hour or so.
11am: snack with water
1pm: lunch
1:30pm: bath with Ezra
2pm: bottle of non-dairy milk (code RACHL for 15% off our favorite) or pumped breast milk
2:30pm: nap which is usually 40 minutes to an hour
4pm: snack with water
5:30pm: dinner
6:30pm: bottle of pumped milk and sometimes more food like a pouch, yogurt or nut butter depending on if he actually ate his dinner or not.
7pm: BED!
*I will share more on weaning from nursing as soon as I am officially done!!
Favorite foods:
Brody is SO particular with food. He goes through waves where one day he loves food then the next day he is over it and wants nothing. It is very annoying at times because he throws everything and spits it out, but I have a feeling that it is because of teething since it comes in waves. I try to feed him whatever we are eating to keep things simple but it isn't always that easy. Here are a few of his favorite things he eats (when he is in the mood!). This is the highchair we use.
Breakfast foods: oatmeal with non-dairy milk (code RACHL for 15% off), yogurt with nut butter or a scrambled eggs
Snacks: pouch (code RACHL 15% off), string cheese, apple with nut butter, veggie crackers, banana with mashed flax seeds, smoothies (when he is in the mood!)
Lunch/dinner: pasta of sorts (I like using lentil or chickpea based for protein), roasted chicken, lamb chops, avocado, usually ground, eggs
Go-to blog recipes for Brody: Penne Vodka Sauce(his favorite), Chicken Meatballs, Broccoli Cheddar Noodle Cups
Go-to milk:
I exclusively breastfed Brody for the last 11+ months. I am currently weaning (more to come on that). So either he has pumped milk that it is the freezer or he has some of the non-dairy milk we love (code RACHL for 15% off).
Sleeping:
We did sleep training for Ezra and Brody. And no matter what we do – B just isn't a big sleeper when it comes to sleep in. We put him down at 7pm and he gets up between 5-6am. And he sleeps through the night, which is amazing!! But we were spoiled with Ezra who would sleep 7pm-7am. But what is amazing with B is that he goes down on his own for naps too. So he goes to sleep at night and for naps no rocking, no nada!
We also were planning to have Ezra and Brody share a room. But unfortunately it didn't go as planned yet. So Brody sleeps in the spare room in a pack and play. Even for naps – he is obsessed with his pack and play!
Favorite toys and activities:
He honestly loves everything – anything Ezra lets him play with hah! But a few hits:
An actual TV remote but with no batteries
Balloons (LOVES balloons)
Play table – him and Ez sit there and color for forever it is so cute. And by color – B just puts everything in his mouth but he sits up so nicely!
Balls – Brody basically uses all of Ezra's sports toys that Ez doesn't like yet.
Golf clubs – Ezra's too..
Hockey sticks – these are Ezra's but B loves them
Empty water bottles – what is it about kids and water bottles?!
Playing with Ezra – him and Ez are FULL on obsessed with each other. Their bond is absolutely beautiful and they keep each other entertained a lot, which is so helpful!
Music – he loves dancing and listening to music!
What else do you want to know?!