The Best Homemade Chicken Meatballs in the world! Of course we are biased but these really are the best healthier chicken meatballs and they're gluten-free, can be whole30 and the best way to sneak in veggies!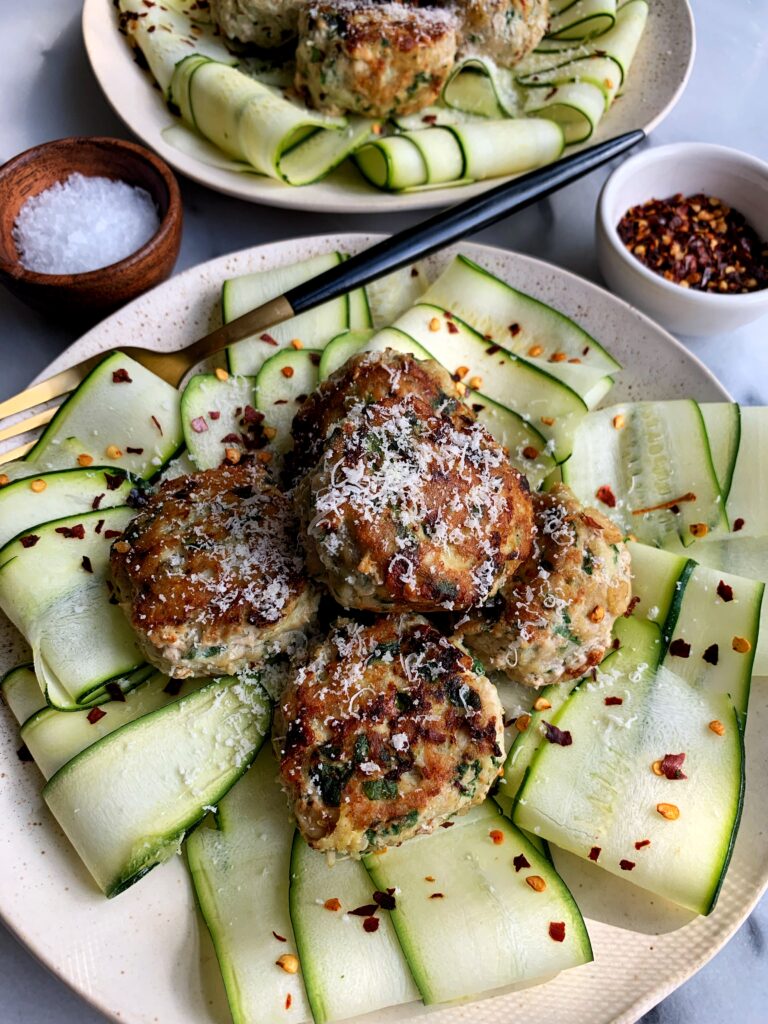 I LOVE chicken meatballs. They are so underrated and such an easy and simple recipe to make for the whole fam. Or you can prep these earlier in the week and have them so many different ways during the week to spice things up. These always remind me of my mother-in-law who *loves* chicken meatballs more than anyone I know. In fact – she is the one who first made these for me years ago. Now Ezra loves them, Brody loves them and of course – Jord is obsessed. Which is why we love making these so much! It is an easy meal to make that we can all enjoy together.
I love making these chicken meatballs and adding to pasta, on top of a greek salad of sorts, rice bowls, anything! Plus they also freeze really well too so if you make a big batch you can keep them in the freezer and take them out as needed.
And pro tip: ground chicken is STICKY! We always wear disposable gloves if we can to make things a bit easier to handle. Or you can not and think we are crazy – but I so recommend it!
What ingredients are in these homemade chicken meatballs:
Ground chicken – or any ground meat you want! We also use ground beef a lot for this and they turn out so good.
Baby spinach and zucchini – easier way to get veggies in. Especially if you're like me and don't love them.
White onion and garlic – adds so much flavor!
Egg – I don't have an egg substitute here
Crushed up gluten-free crackers – think panko consistency. Or you can use almond flour too but I love crushed up crackers
Italian seasoning, sea salt and black pepper to taste
Olive oil or avocado oil for greasing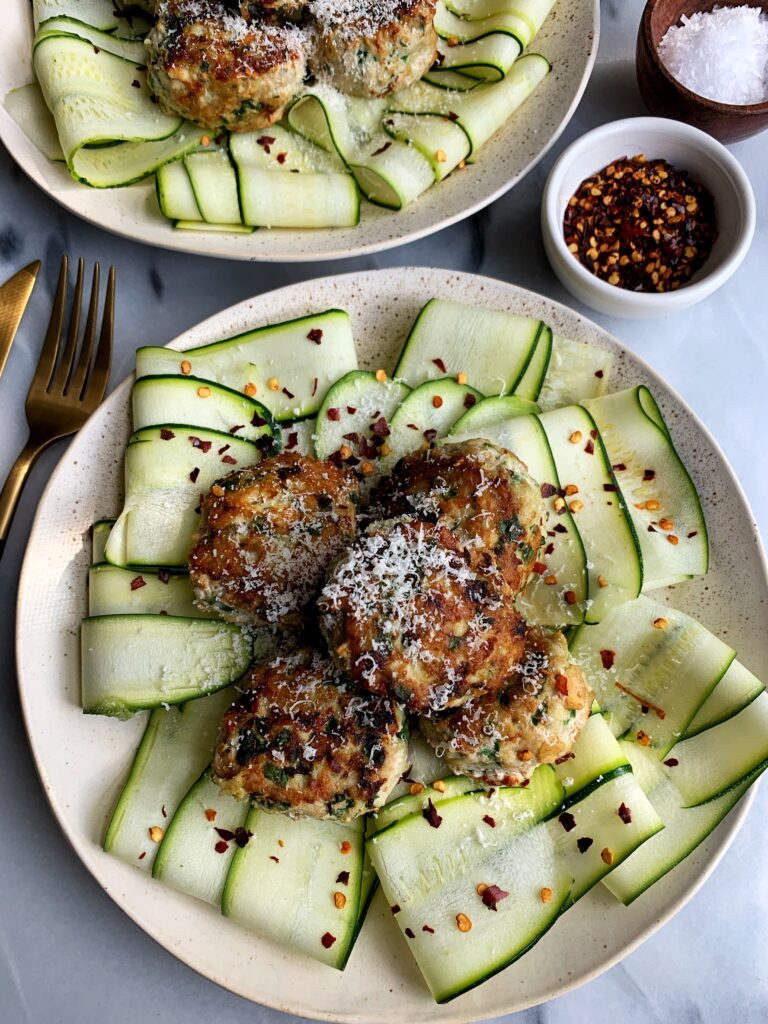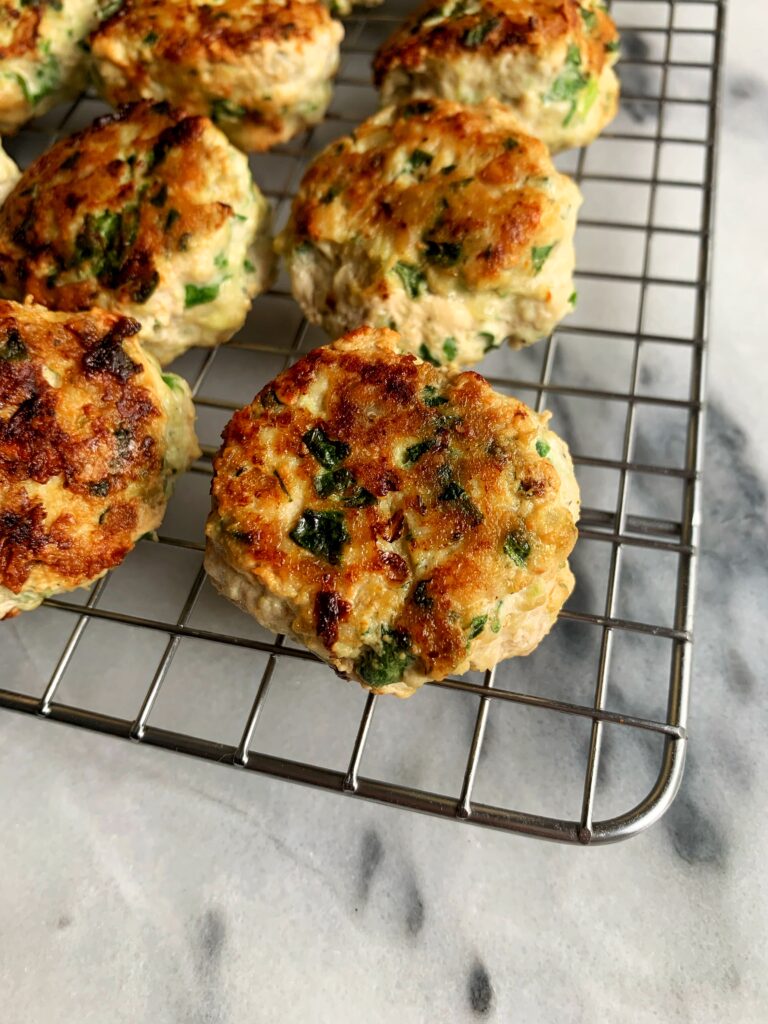 How to make healthy chicken meatballs:
In a large bowl, mix together chicken, onion, garlic, spinach, egg, crackers and seasonings until well combined
Warm the skillet with oil and begin forming the meatballs. I used a cookie dough scooper to form them. You can make them as big/small as you want!
Cook over medium heat to brown them on all sides (I also added a little more oil as they cooked)
Cook for about 8-10 minutes total or until the meatballs are ready
Serve with your favorite pasta, zoodles, over a salad, anything! I actually love serving them with my Greek Salad with Tahini Yogurt Dressing or Vegan Cashew Kale Pesto Pasta
FAQs on homemade chicken meatballs:
Why are my chicken meatballs tough? Be gentle with them when you roll them. Grease your hands a bit then roll meat into meatball shape. That way it won't get stick and you won't get too rough with the meatballs. It happens to me a lot! It's a tough ground meat.
How do I know when the chicken meatballs are cooked? Once the center reaches 165 degrees F! The center will not be pink either/it will be more browned.
Can I bake these chicken meatballs? Of course. We like to crisp the top a bit and cook over stovetop but if you prefer to bake only that's fine. Just cook about 18-20 minutes.
A few other easy and healthy chicken recipes to make:
Healthy Peanut Chicken Skewers Recipe
One-Pot Ginger Coconut Milk Chicken Bowls
Insanely Good Basil Cashew Chicken Bowls (gluten-free)
Extra Crispy Gluten-free Popcorn Chicken (oven-baked)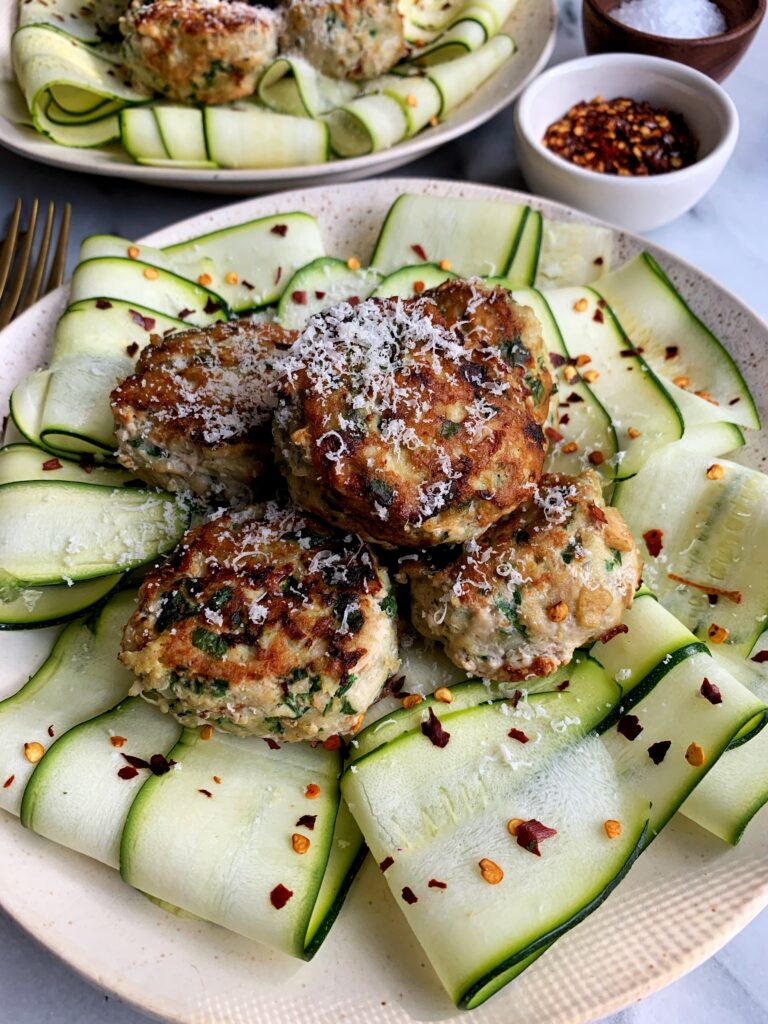 Print
The Best Homemade Chicken Meatballs
The Best Homemade Chicken Meatballs in the world! They're gluten-free, whole30-friendly and even sneak in some greens.
Prep Time:

5 mins

Cook Time:

10 mins

Total Time:

15 mins
1

lb ground chicken

1/3 cup

baby spinach, chopped

1

small zucchini, shredded (squeeze the moisture)

1

white onion, chopped

2

garlic cloves, minced

1

egg

1/2 cup

crushed up gluten-free crackers (think panko consistency)

1 teaspoon

Italian seasoning

Sea salt and black pepper to taste

Olive oil or avocado oil for greasing
Instructions
In a large bowl, mix together chicken, spinach, zucchini, onion, garlic, spinach, egg, crackers and seasonings until well combined
Warm the skillet with oil and begin forming the meatballs. I used a cookie dough scooper to form them. You can make them as big/small as you want!
Cook over medium heat to brown them on all sides (I also added a little more oil as they cooked)
Cook for about 8-10 minutes total or until the meatballs are ready
Serve with your favorite pasta, zoodles, over a salad, anything! I actually love serving them with my Greek Salad with Tahini Yogurt Dressing or Vegan Cashew Kale Pesto Pasta
Notes
*Store leftovers in fridge for 5 days or freezer for 2 months