Classic Overnight Oats with Caramelized Bananas and an extra boost from Nutiva Organic MCT Oil!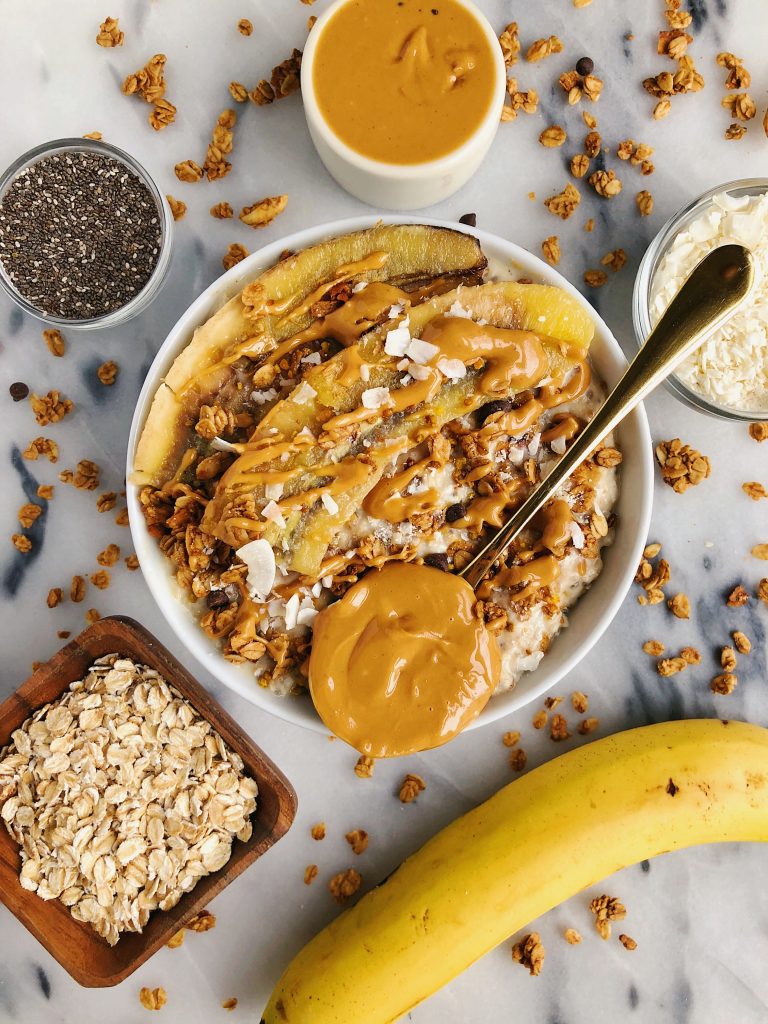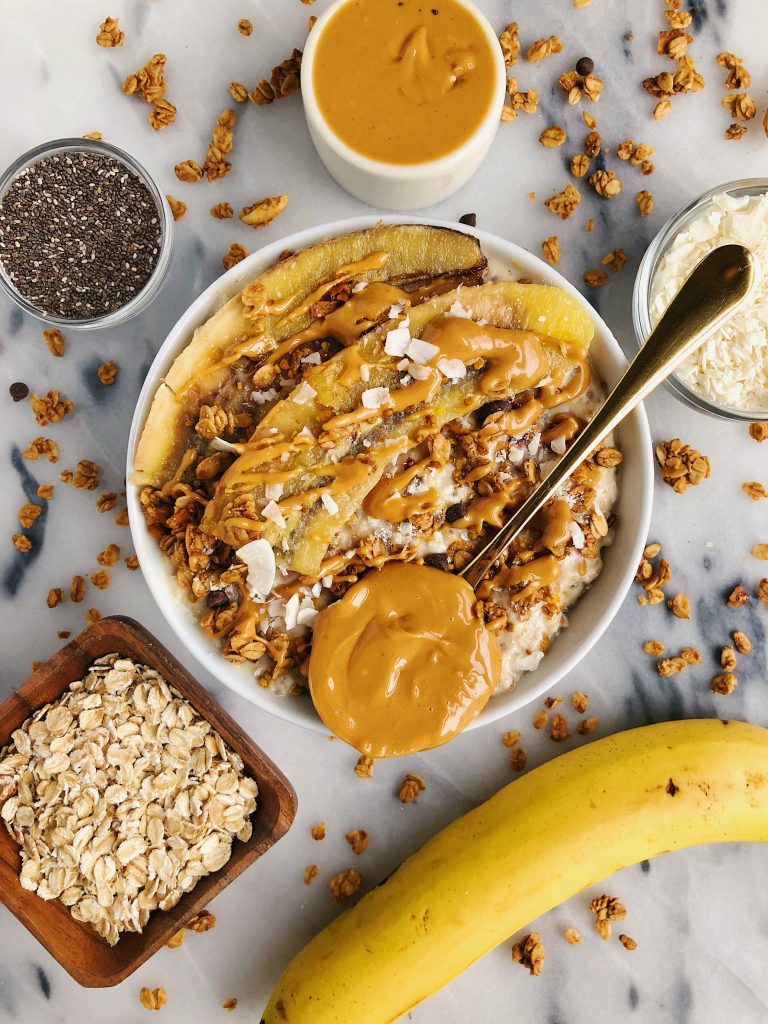 Many don't realize this but my blog was started based off of overnight oats. That's right, good old overnight oats were the main reason I even started blogging or my sharing my food on Instagram.
I would only share recipes that included oatmeal in it but overnight oats were my specialty. I have been prepping these for breakfast since I graduated college (aka one too many years ago). I used to eat them at my desk or on the bus on my commute to work. My co-workers looked at me like I was complete nuts and would tell me I am eating mush.
To be honest, it totally used to affect me. I'd get so worked up that people would mock my food and had something to say. Fast forward to today and I cannot even believe I am sharing all of my food with YOU! By doing this it has truly made me so much more confident in what I eat and doesn't have me seconding guessing my taste. If someone has something to say that isn't kind, I politely giggle and move the beep on!
Today I am shared my Classic Overnight Oats recipe with you, but it has a bit of a twist to it since I first started making it 6 years ago.
We still use the basics of oatmeal (uncooked), nut milk, chia seeds, etc. But we have the addition of Organic MCT Oil in it. I recently tried Nutiva Organic MCT Oil that recently launched and it is so good. Jord absolutely loves using it in his coffee and smoothies. I prefer it in my overnight oats for a quick and easy way to sneak it in my eats.
In case you are scratching your head wondering what MCT Oil is, it is an oil concentrated with the medium-chain triglycerides, capris acid and caprylic acids (a type of saturated fatty acid). Nutiva launched the first ever USDA Certified Organic MCT Oil with 13g of MCTs per serving. More on their process can be found here.
MCTs help provide us with energy, support the metabolism and are burned by our bodies for energy and fuel. Nutiva Organic MCT Oil is derived from coconuts only, but surprisingly enough MCT Oil doesn't have a strong coconut taste at all. It is so easy to add into your smoothie or overnight oats like these.
If you try my Classic Overnight Oats recipe, I recommend adding some caramelized banana on top (instructions below) and it is the most dreamy addition!
If you make this recipe (or anything from the blog), don't forget to tag me @rachLmansfield and #rachLeats !
WHAT YOU NEED
Oatmeal (I look for sprouted oats – easier to digest)
Nut milk
Chia seeds
Nut butter of your choice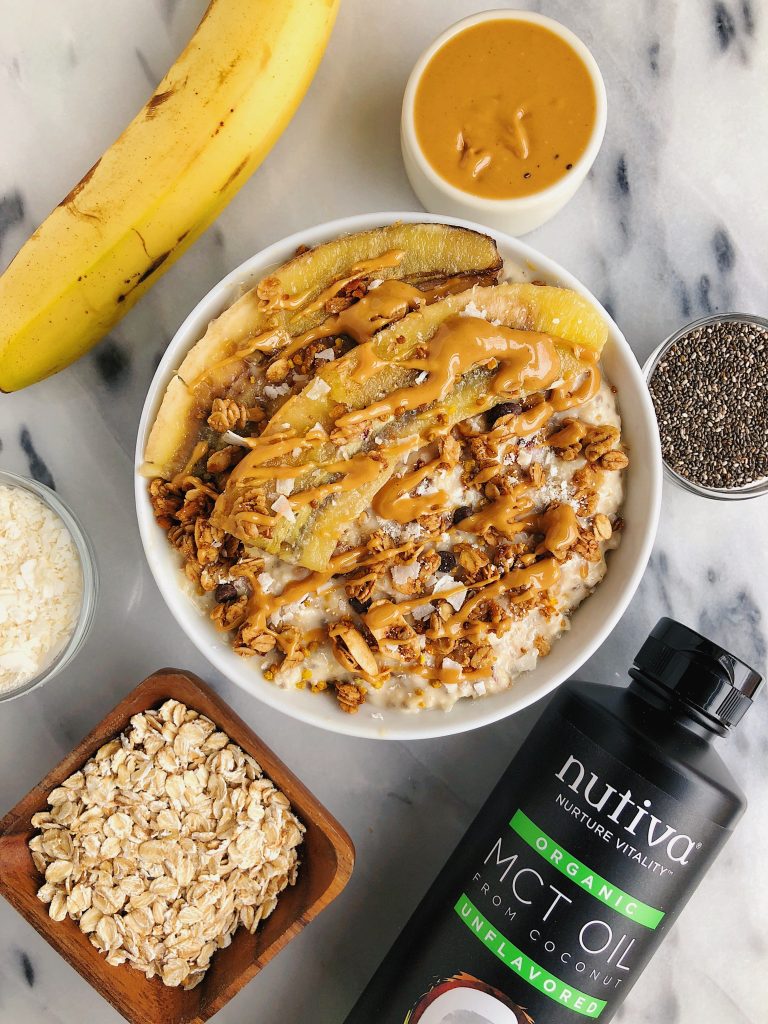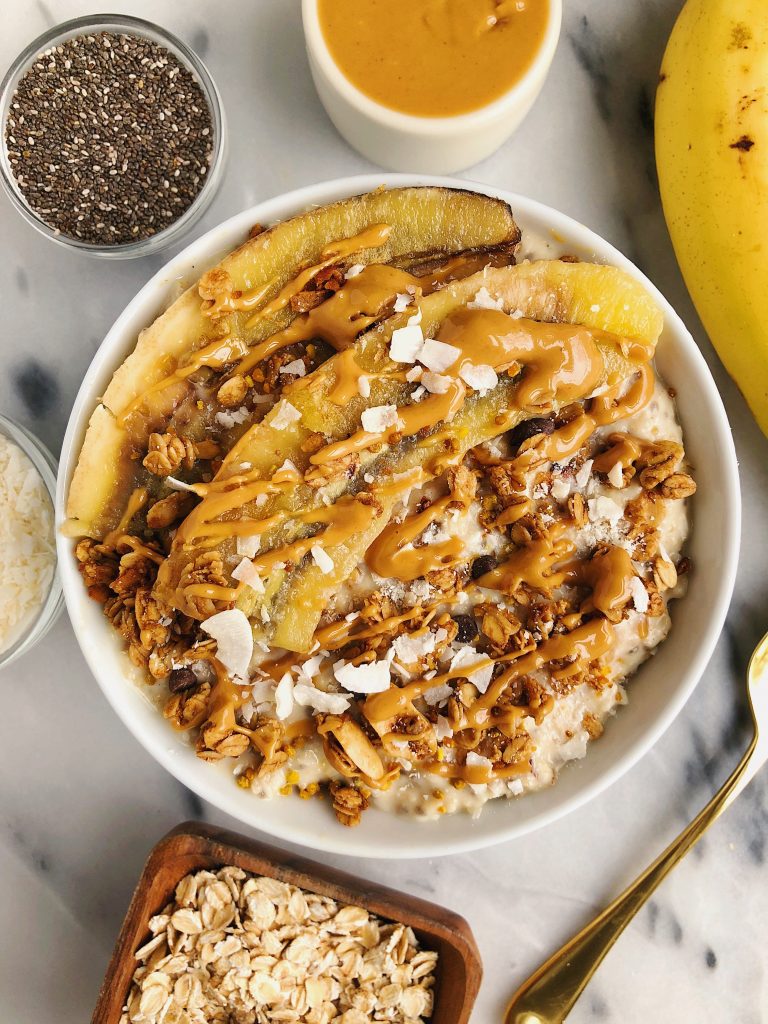 Print
Classic Overnight Oats with Caramelized Bananas (and MCT oil!)
1/2 cup

old fashioned oatmeal (uncooked!)

1/2 cup

unsweetened almond milk

2 tablespoons

chia seeds

1 tablespoons

Nutiva Organic MCT Oil

1

banana

1/2 tablespoons

coconut oil

1/2 teaspoon

cinnamon
Instructions
In a mason jar or tupperware of choice, add oatmeal (uncooked), milk, chia seeds, MCT oil together and stir well
Cover and place in fridge overnight to settle
Once you are ready to eat, begin caramelizing the banana
In a small skillet or frying pan heat the coconut oil then add banana slices
Sprinkle cinnamon on top and begin sautéing for about 3 minutes or until crispy and cooked
Add to the overnight oats and enjoy!
Topping ideas: granola, nut butter, nuts, coconut flakes, anything!
Author:
Category:

vegan, gluten-free

Cuisine:

breakfast, oatmeal, overnight oats
xx, Rach
Thank you Nutiva for sponsoring this post! It means so much to me to work with brands I love and believe in!
SaveSave