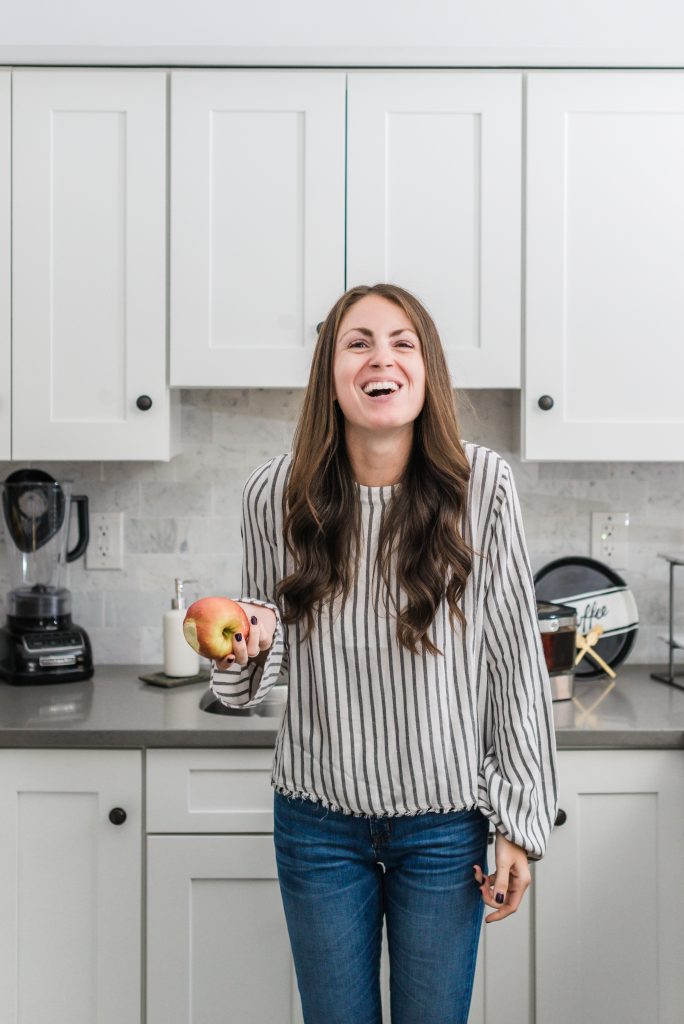 I AM SO EXCITED! We've finally gotten to my "office" in our home aka the KITCHEN! My favorite part of our apartment and by far my pride and joy here in our home.
As soon as I stepped into our new apartment, I was sold on the kitchen. I love the openness of it and compared to the smaller kitchens we were used to in Manhattan, this is such an epic amount of space for us (even our coat closet aka pantry as you saw).
We made a handful of improvements and upgrades to our kitchen, but the cabinets and counters are thankfully from the last owner. The first thing we changed was the back splash. We had Carrera marble put in before we moved in because beforehand it was a stainless and industrial-like look. My mom looked at me like I was insane when I told her I was getting marble. It is definitely not easy to care for and clean, but the look of that bright, white marble is truly magical.
The next area we changed in the kitchen were all of the appliances.
This is the first time we were able to pick out what major appliances we actually wanted. As most of you know, when you rent you don't get to choose. Your apartment typically comes with the oven, refrigerator, etc. already there for you!
I partnered with KitchenAid to help put the finishing touches on our kitchen with their appliances. I truly mean it when I say that their appliances are amazing. My family has had them for years and I have also been using a lot of their countertop appliances for everyday cooking and on the blog (more to come on those!). Anyone who attended my bridal shower, likely remembers that half my registry was KitchenAid bowls, mixers and more.
In today's post I am breaking down each of the major appliances that we use daily from KitchenAid. As you can imagine, I am quite particular since the kitchen places a huge role in my job, and many of you have been asking what kind of oven and fridge I have as you have been seeing little peeks on my Instagram stories.
Today you're getting all the details!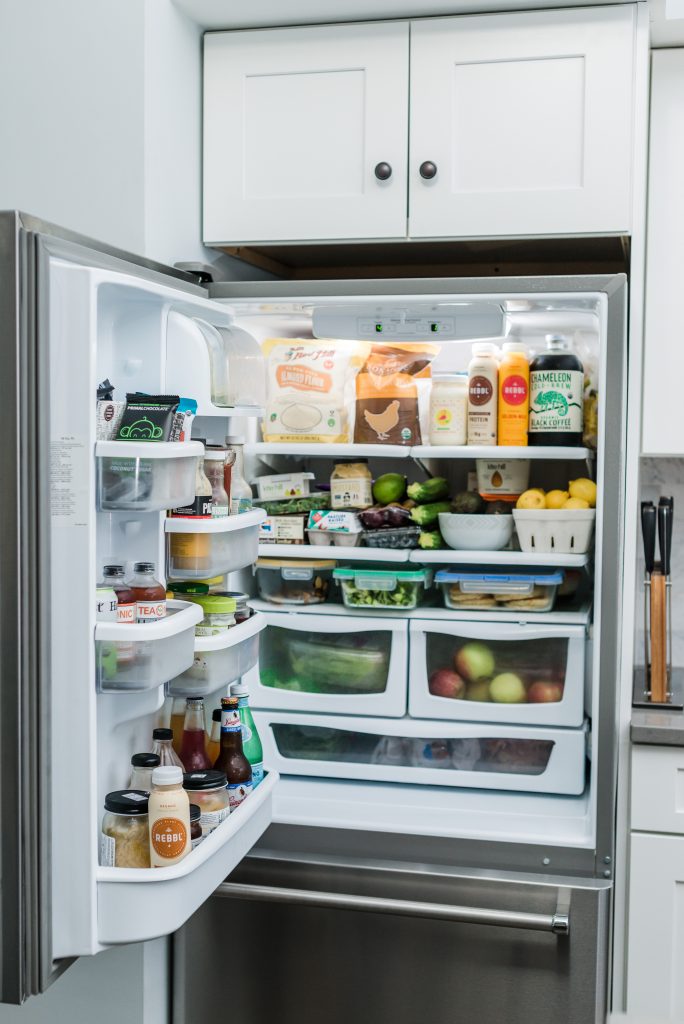 My absolute favorite appliance we have from KitchenAid is our refrigerator. We have this one. There is so much space in there, it's amazing. And you guys know from my fridge Instagram pictures how much space I need to store all the goods. Everything from my granola collection (game-changer keeping this in the fridge) to our food prep items, beverages and more.
The refrigerator and freezer has sensors in it to help ensure all of our food remains at the appropriate temperature. It also absorbs ethylene gas, which helps our produce stay fresher longer (bless up to the avocados). Plus there are so many drawers, adjustable shelves and places to store everything. Even the freezer has so much room in the drawers! I freeze so many baked goods and meats and we are able to store everything so easily.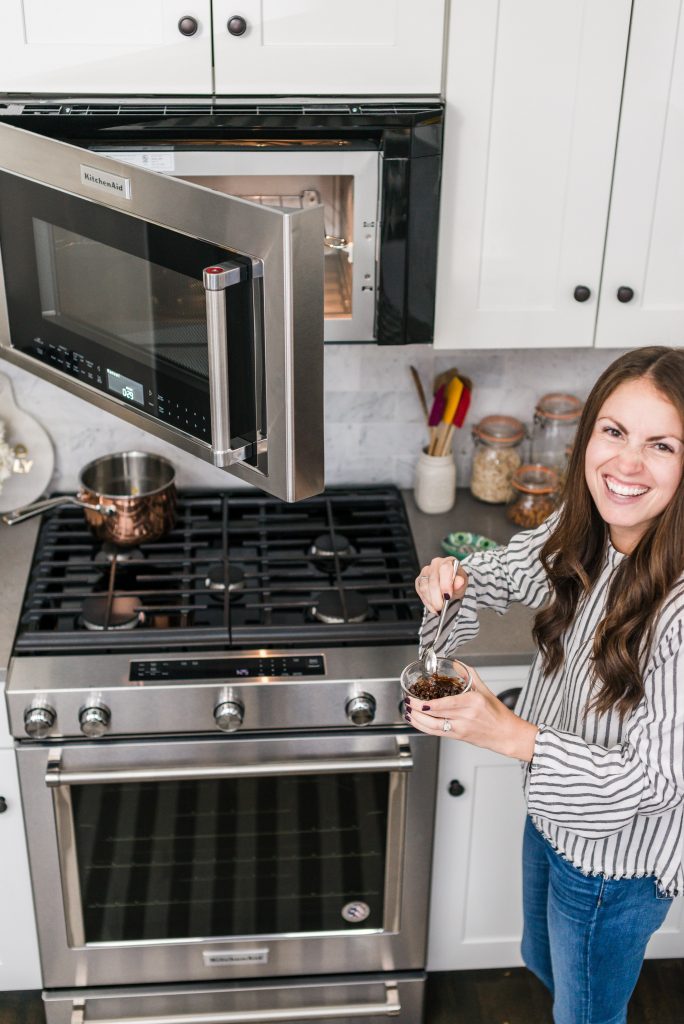 Ever wonder how I get my chocolate and nut butter drizzles ready? Well here's my secret: my Kitchen Aid Convection Microwave. I know microwaves are controversial at times when it comes to cooking and using them. I personally use mine daily and love it. This one is a convection oven and even has a broiling feature. Plus it has this fancy technology that allows us to use it for GRILLING! Like what?! We haven't tried this yet but I cannot wait to see how to do this. Plus this microwave itself is just so sleek and fancy looking. Everyone who comes over comments it.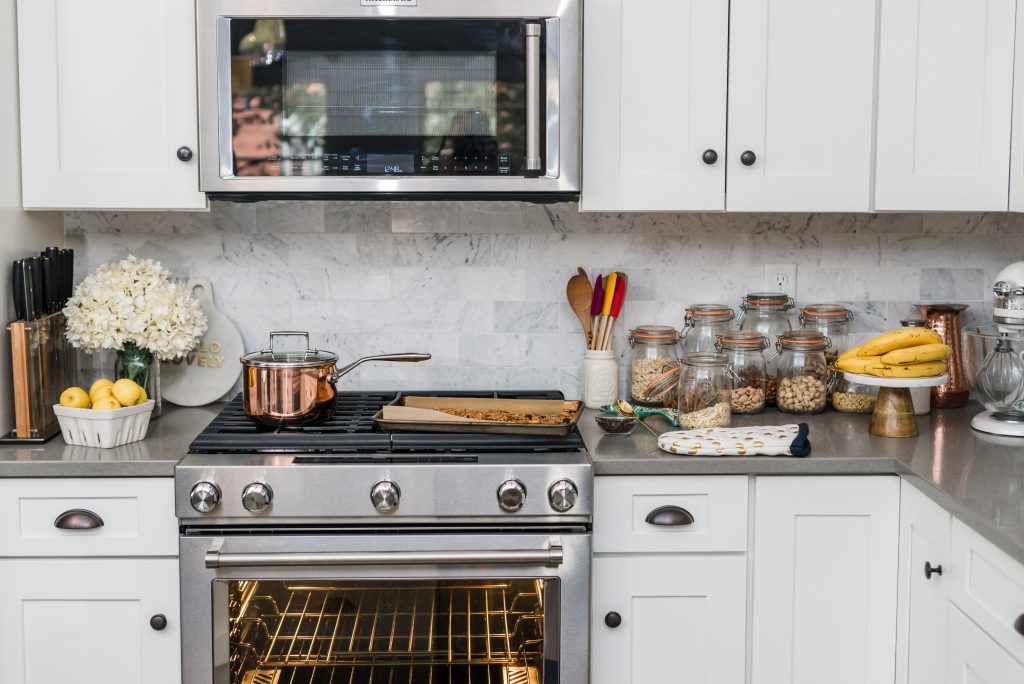 Now the main part of the kitchen, the OVEN! Aka the holy heat crankin', chicken roastin', cupcake bakin' machine over here. Nothing roasts and bakes like this oven does. At least nothing that I have personally used. We have the this one. It is a 5-burner gas range and it is absolute gorgeous. I feel so fancy using it! It has an Even-Heat True Convection feature, which is this convection fan that ensures the inside of the oven is heated and stays at the perfect temperature. It also has a steam rack inside and the 5-burners on the top are a game changer. I use 5 at once pretty much every night when we make dinner. On Sunday's our oven is packed to the brim with all the veggies we roasted, whatever meat we are making and more.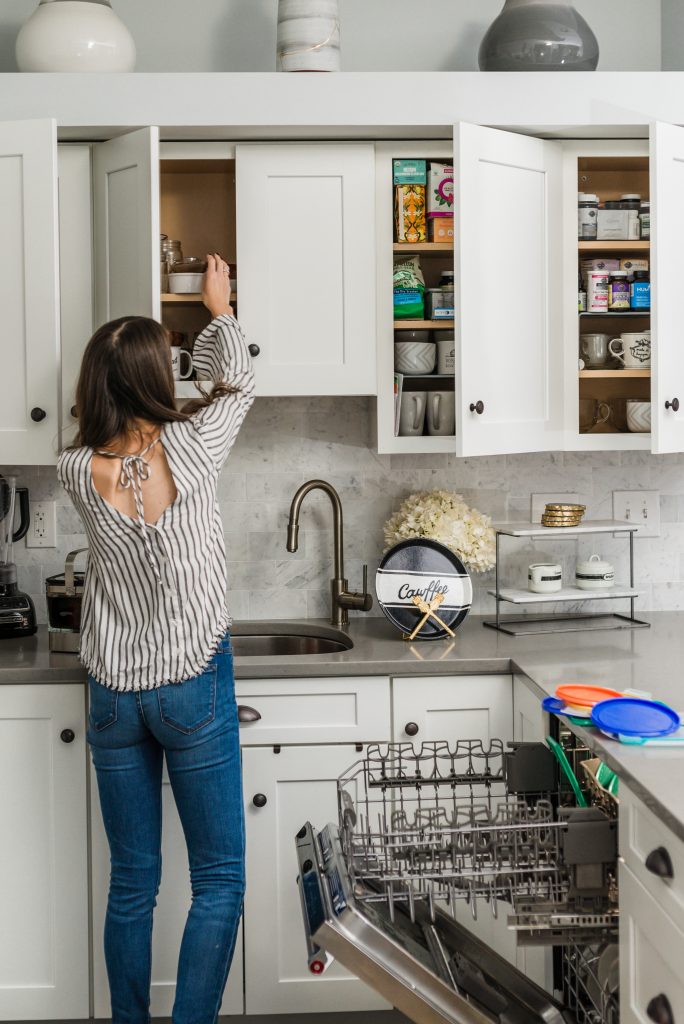 The hardest working appliance in our kitchen, the dishwasher! Our dishwasher has a window on it you guys. I have never seen a dishwasher with a pretty glass mirror on top. Leave it to KitchenAid to create a chic dishwasher like this. It also has a lighted interior so you can look at dishes before removing them. It does an amazing job cleaning the dishes. I am used to have to run past dishwashers a few times over again until the dishes are actually clean. This one does the trick and it fits all my large cooking bowls and baking dishes too, which saves me so much time doing dishes!
The last game changing addition to our home is our GARBAGE DISPOSAL! No more clogging the sink with leftovers. I grew up having one of these at home so when I moved in the city, I kept thinking we still had one. I'd clog the sink daily and Jord would get so mad since we both know who had to unclog it..oops. Now we use this one and it doesn't mess around.
YAY! I hope you guys have found this helpful and when you are looking for some kitchen inspo, you can come back here and look around. I will be sharing my favorite countertop appliances next, so keep an eye out soon!
xx, Rach
Thank you KitchenAid for sponsoring this post. It means so much to me to work with brands that I love and who support rachLmansfield!
SaveSaveSaveSaveSaveSave
SaveSaveSaveSave
SaveSaveSaveSave