Crispy Vegan Black Bean Falafel Bowls for an easy and healthy gluten-free meal!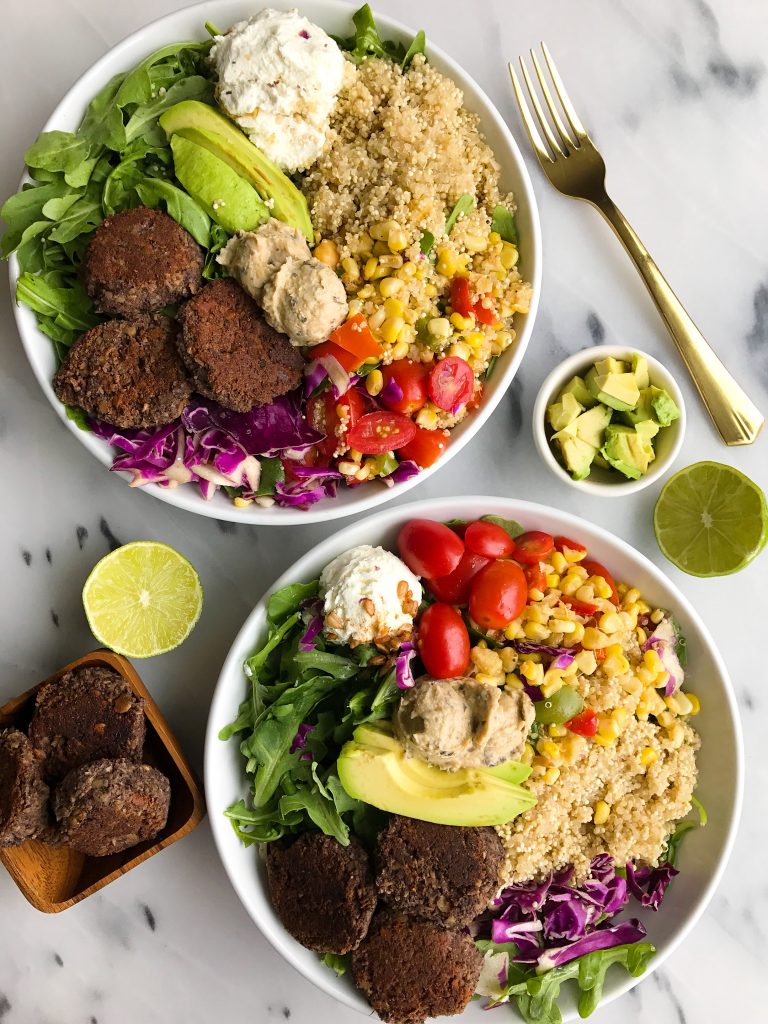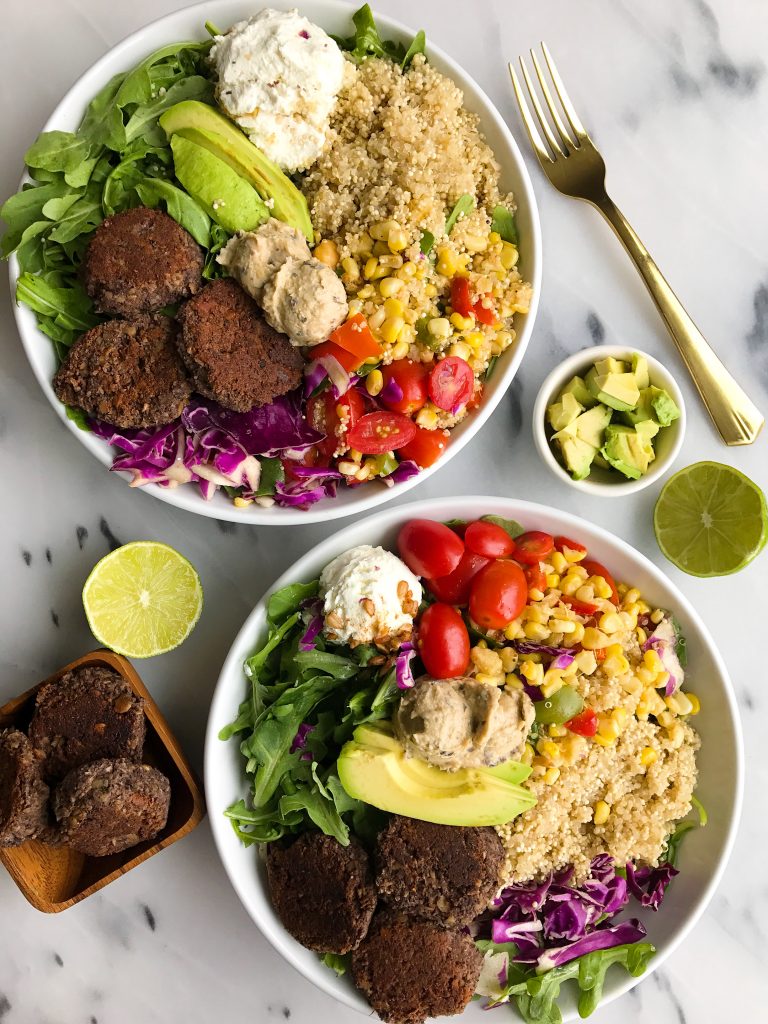 I don't think there has been a time I have ever said no to falafel.
I love ordering it in my salads from Sweet Green and when we are at our favorite Greek restaurants. I love making falafels at home and adding them to random bowls and meals. And I seriously love experimenting with falafel recipes that don't even have chickpeas in them.
I made these Crispy Vegan Black Bean Falafels after trying Blue Moose of Boulder's Lime and Black Bean Hummus. It was such a unique hummus flavor because it had that Mexican food flare to it. They use a mix of chickpeas and black beans with a few other simple ingredients like extra virgin olive oil (yay no canola), tahini, etc. to make this creamy dip.Blue Moose of Boulder makes a variety of hummus dips, spreads, pestos, salsas, etc. They even have these on-the-go cups that are perfect for traveling or packing for your lunch box! Not to mention this recipe for black bean falafel is a must try for your next meal prep!
I also love that Blue Moose of Boulder protects all of their products with Cold Pressure to keep everything fresh and product the dips from bacteria. Instead of using preservatives or high heat, they use High Pressure Processing…Um, amazing!
Eating these Crispy Vegan Black Bean Falafels paired with the Lime and Black Bean Hummus, is basically like combining Greek and Mexican food into one amazingly delicious meal that I hope you all love as much as I do. The falafels are vegan and gluten-free and take minimal ingredients to make!
WHAT YOU NEED
Black Beans
Sweet Onion
Pumpkin Seeds
Garlic Powder
Cumin
Chili Powder
Blue Moose of Boulder Black Bean & Lime Hummus for dipping!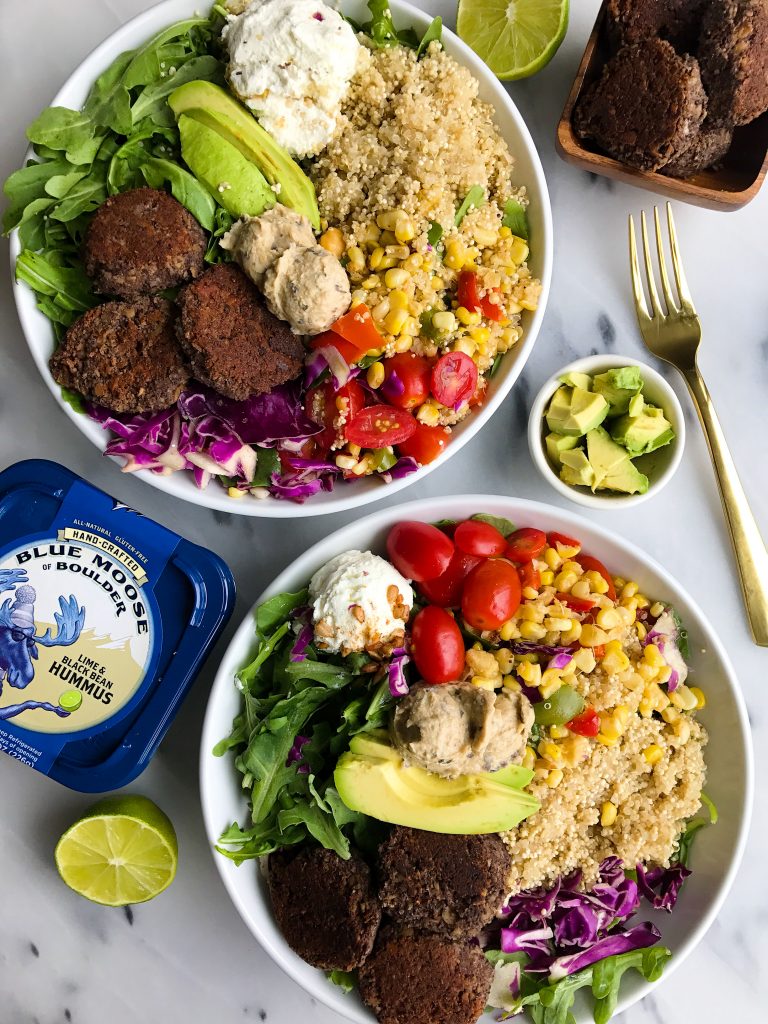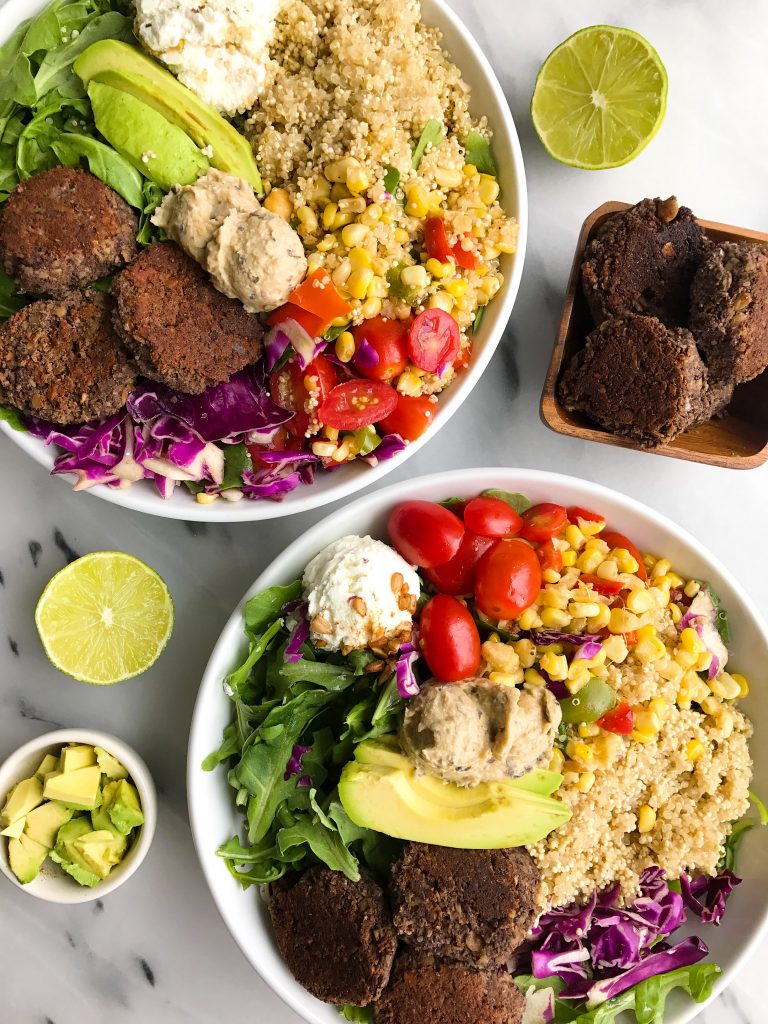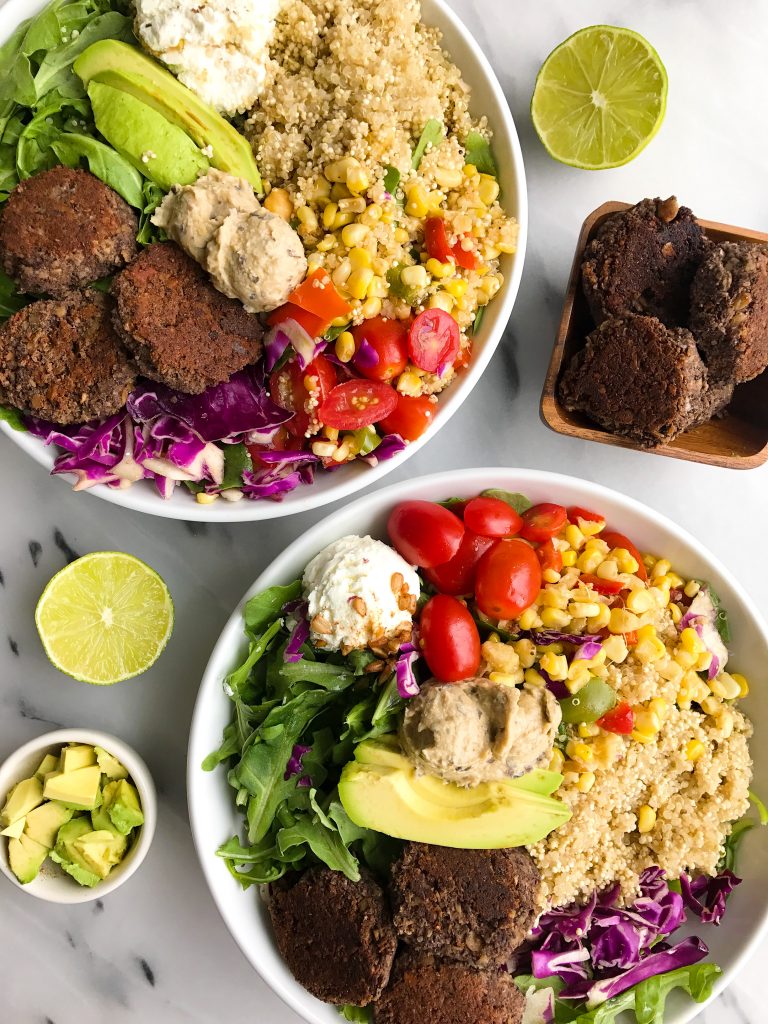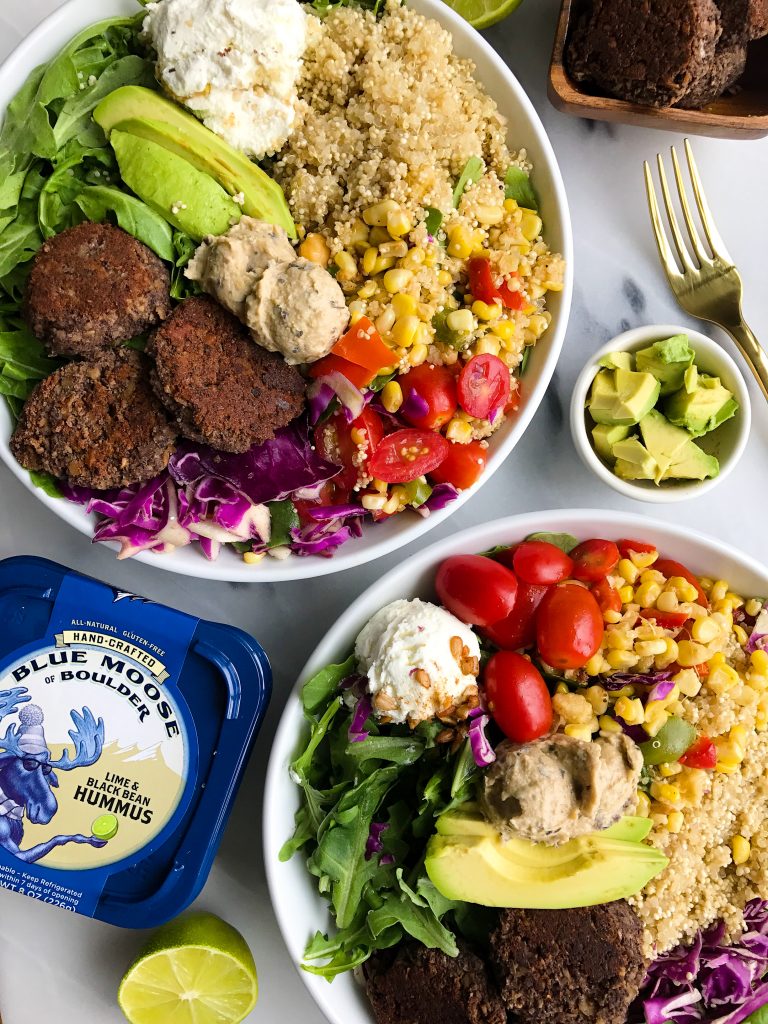 Print
Crispy Vegan Black Bean Falafel Bowls (gluten-free)
Prep Time:

10 mins

Cook Time:

16 mins

Total Time:

26 mins
Yield: About 9 falafels 1x
Black Bean Falafel:

1.5 cups

black beans (I used unsalted)

1/2

sweet onion

1/2 cup

pumpkin seeds

1/2 teaspoon

garlic powder

1/4 teaspoon

cumin

1/4 teaspoon

chili powder

Bowl ingredients:

2 cups

arugula

2/3 cup

cooked quinoa

1/3 cup

corn

1/3 cup

diced tomatoes

1/2

avocado, sliced

2

scoops goat cheese (omit if vegan)

Blue Moose of Boulder Lime & Black Bean Hummus
Instructions
Preheat oven to 350 degrees
Add black bean falafel ingredients to food processor and pulse until well combined
Form into small patties and place in fridge for 15 minutes
Heat a skillet with avocado oil and place black bean falafels onto skillet and cook for 2 minutes on each side
Bake in oven for 10-15 minutes (outside should be crispy and instead not too soft)
Assemble bowl with ingredients, black bean falafel and Blue Moose of Boulder Lime & Black Bean Hummus
*Enjoy black bean falafels within 4 days of making, store in fridge in airtight container
Author:
Category:

vegetarian, gluten-free

Cuisine:

lunch, dinner
xx, Rach
Thank you Blue Moose of Boulder for sponsoring this post. It means so much to me to work with brands that I love and who support rachLmansfield!