The Best Crispy Vegan Falafel made with only 6 delicious ingredients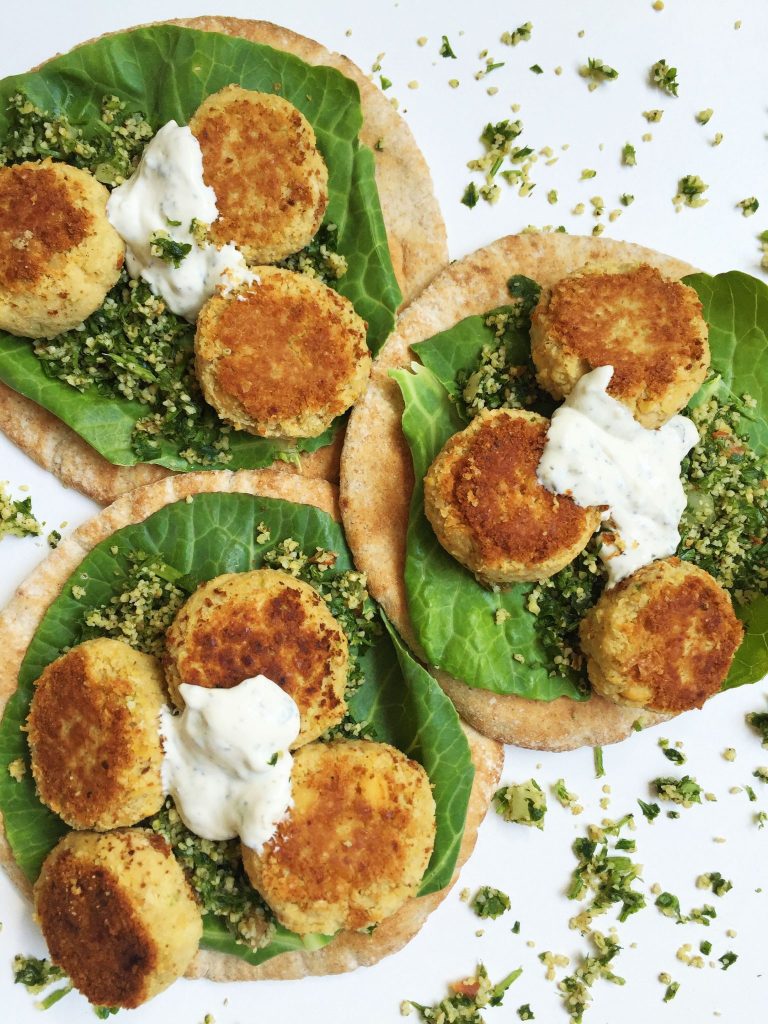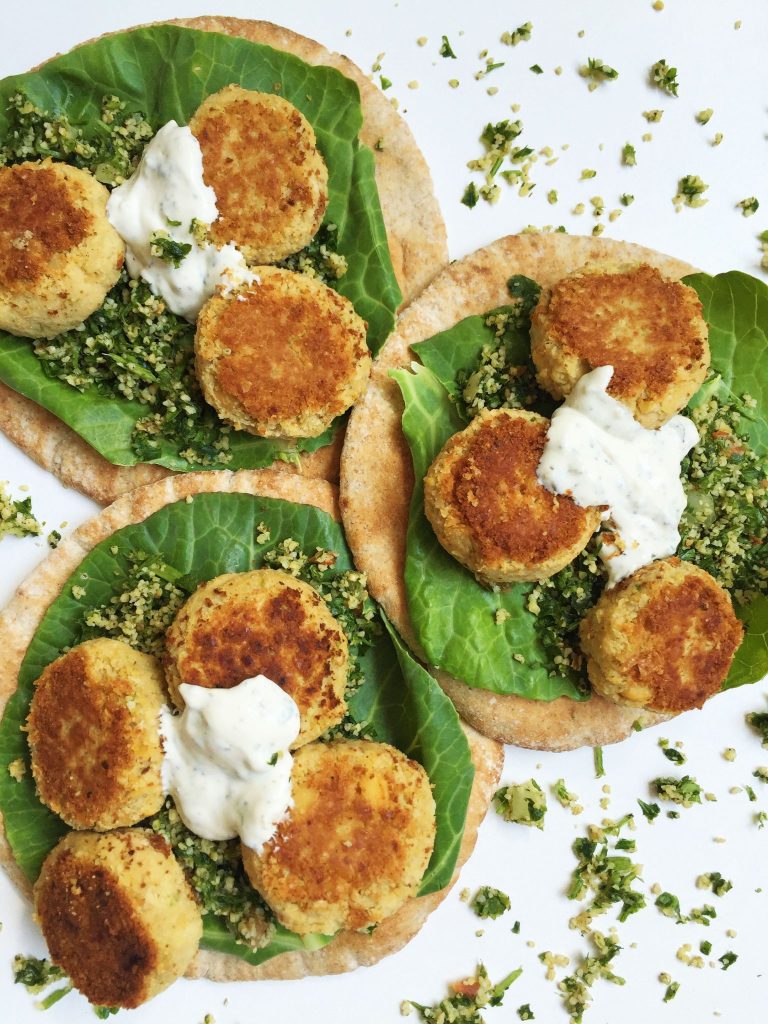 Fa-la-la-LAFEL!
And not just any falafel. This is the best damn crispy vegan falafel you have ever had. A pretty bold statement coming from the girl who has never made falafel before. But that doesn't mean I don't consider myself a falafel professional. I absolutely love me some falafel. I used to convince myself that all falafel was healthy since it is made from chickpeas, HA! Then I found out it is deep fried and that fantasy quickly ended.
Full disclosure here that this falafel is NOT as crispy as one that is deep fried, but this falafel is not soft like truly baked falafel either. It is the best of both worlds in my opinion.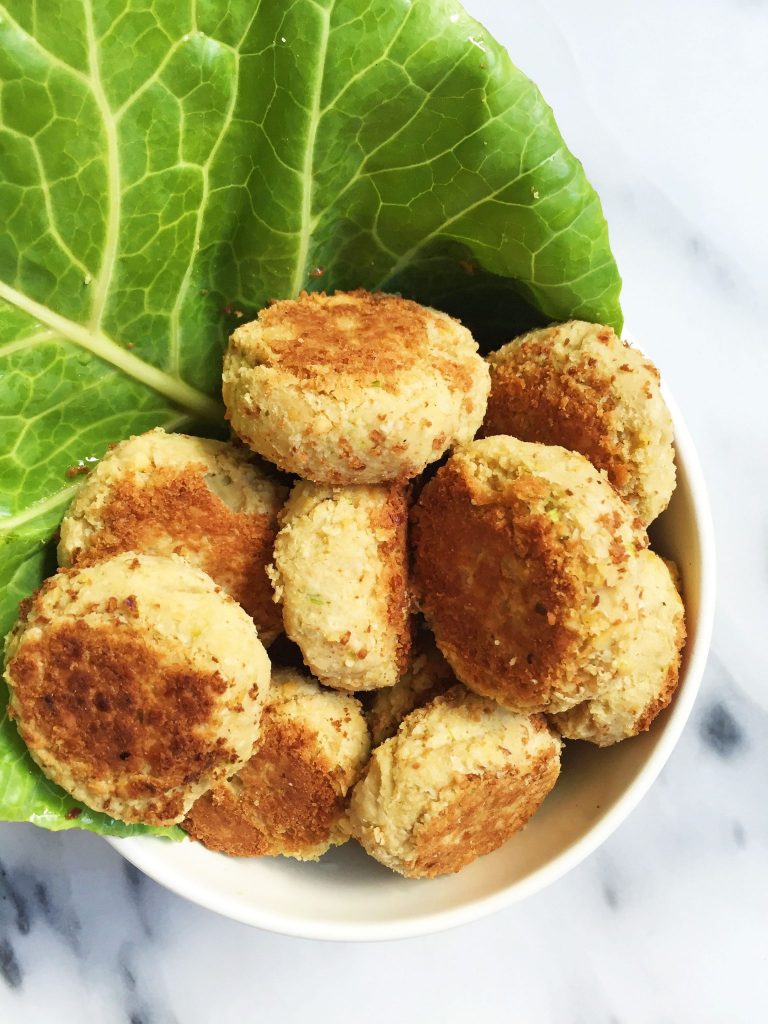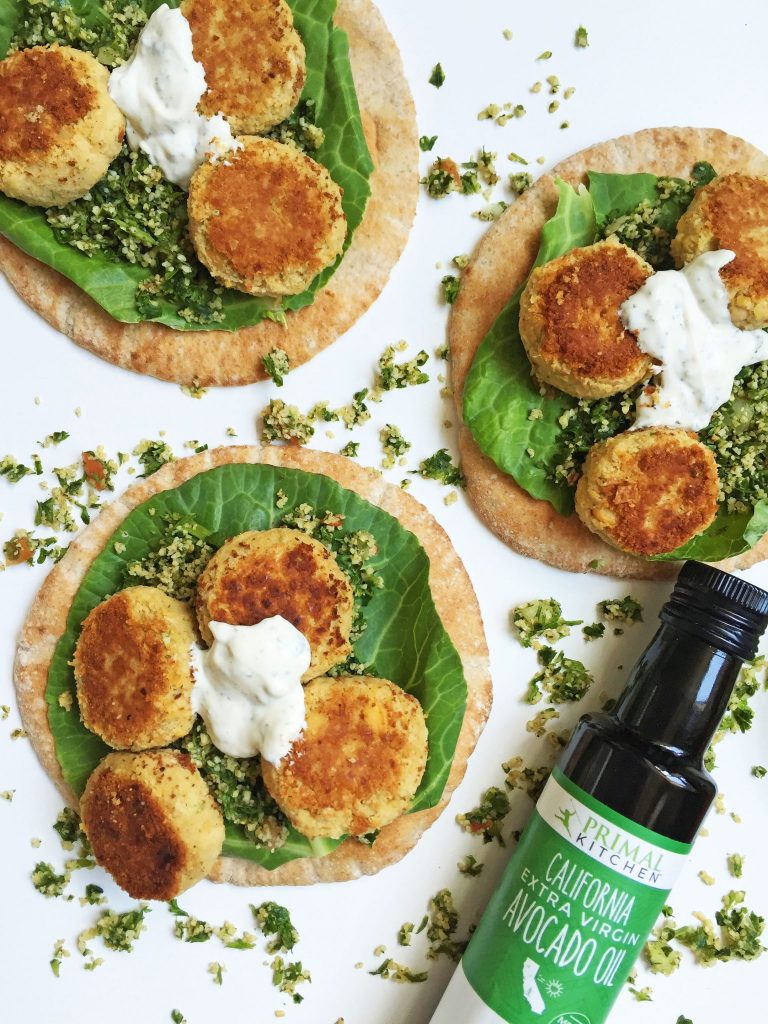 I contemplated making cauliflower falafel for this recipe but Jord quickly reminded me that I have had a few too many cauliflower recipes this month, oopsies. These Baked Buffalo Cauliflower Burgers and Roasted Cauliflower Tacos got me on a cauliflower binge but the cauli falafel will have to wait until next month or so 🙂
So I don't even know where to begin with The Best Crispy Vegan Falafel right now. It is made with SIX ingredients my friends. Yup, on six easy peasy delicious ingredients and it is vegan and gluten free-friendly. Also this falafel is flourless and we use oat flour!
Another one of my favorite additions to this recipe is the oil we use in the falafels AND to "fry" them on the pan. I use AVOCADO OIL! Heck YES babes. Avocado oil is my new go-to for everything cooking-related. I have been using it in salad dressings, making veggies, everything. Basically anything I was using olive oil for actually. I was recently introduced to Primal Kitchen's Extra Virgin Avocado Oil and I don't think there is any turning back now because it is PERFECTION. It also just came out! It is brand new to their product line up.
Basically anything Primal Kitchen makes I love but their newest Extra Virgin Avocado Oil takes the cake right now. In case you aren't familiar with Primal Kitchen, it is clean-eating food brand founded by Mark Sisson. Mark is a former endurance athlete and is on a mission to empower more people to take responsibility for their health and enjoy good quality food. He founded Primal Kitchen so it can provide high quality, nutrient dense sauces, dressings and various other products to people everywhere. Primal Kitchen does not have any synthetic vegetable and seed oils, no artificial anything and no fillers! They make everything from clean mayos to salad dressings to protein bars to oils, etc.
My favorite part of Primal Kitchen is how much their mission aligns with what I preach on the blog. "Now there's no more sacrificing flavor for health". Does that sounds familiar? 🙂 All of PK's ingredients are selected according to top notch standards of taste and healthfulness. They are completely revolutionizing the industry and make us TRUST food we eat, which as you can see is a huge passion of mine as well.
So no need to feel bad when you are eating The Best Crispy Vegan Falafel later because there is nothing better than fueling our bodies with good-for-you food that actually tastes amazing.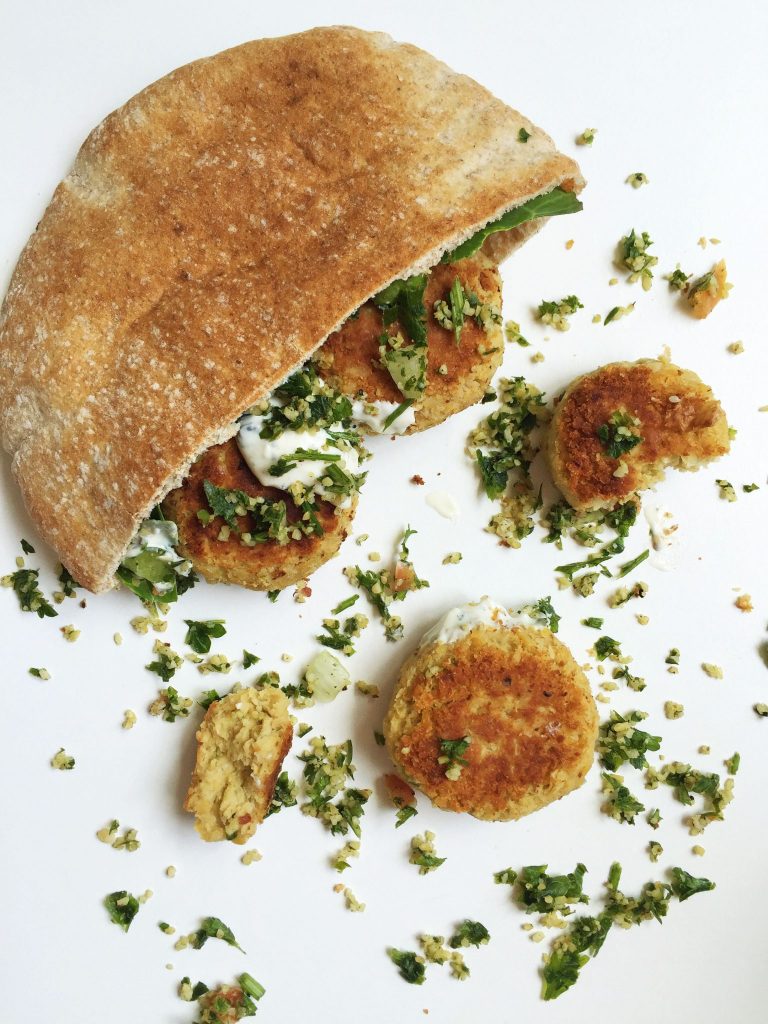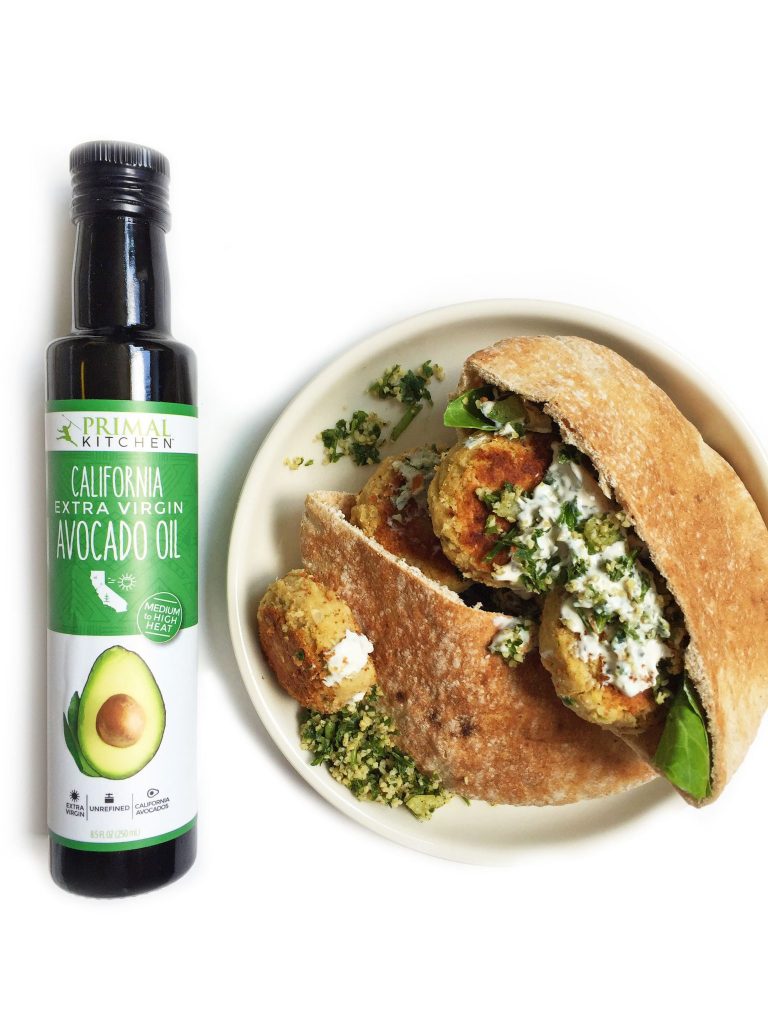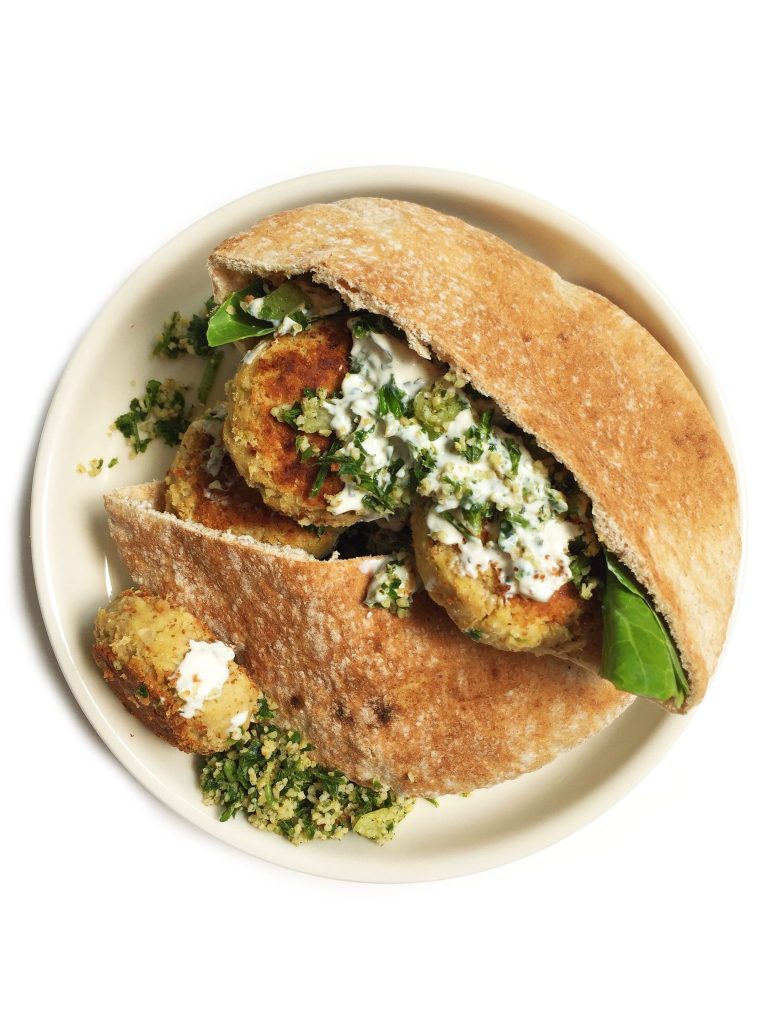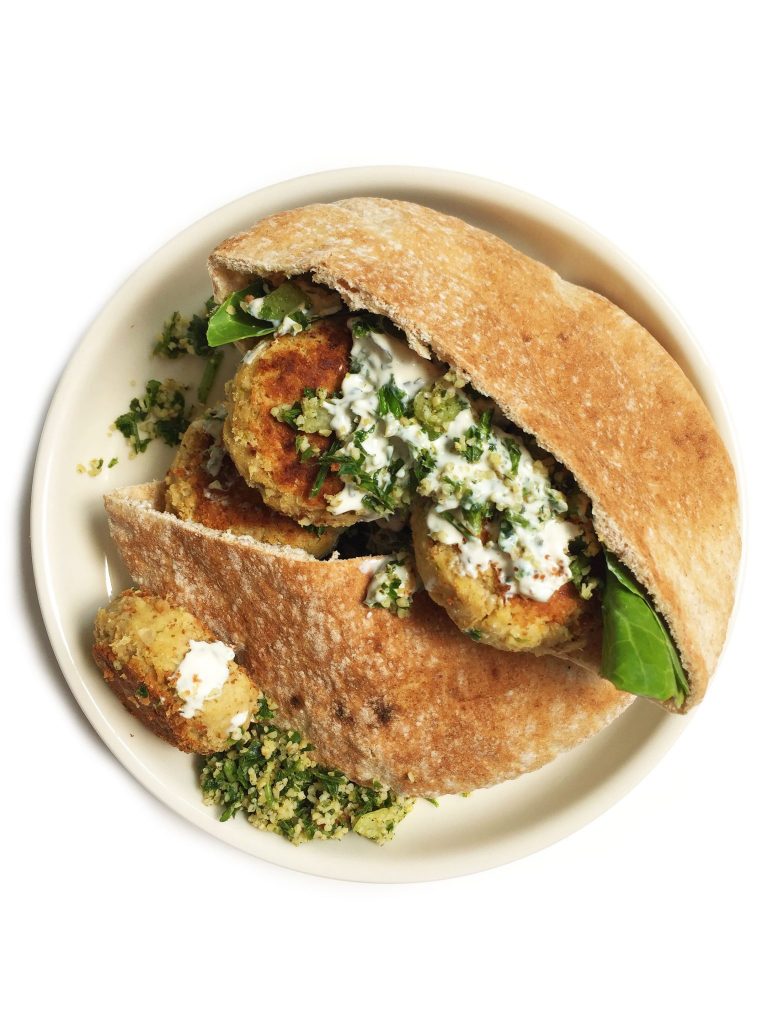 Print
The Best Crispy Vegan Falafel
Yield: About 14 small falafels 1x
2.5 cups

of organic chickpeas no salt added, rinsed and strained (from a can)

1/2 cup

white onion chopped

1/2 cup

oat flour (gluten-free or all purpose should work too, see notes**)

1/4 cup

chopped scallions

1 tablespoon

extra virgin avocado oil (I used Primal Kitchen) + more for frying

1 teaspoon

cumin

Optional parings: pita bread, greens, hummus, etc.
Instructions
First add all ingredients to food processor
Pulse/blend until completely combined, it should form dough of sorts
Place the falafel dough in fridge for 30-60 minutes, I left mine in the food processor container but feel free to use what you prefer
After the falafel dough cools, begin forming them into small patties using your hand (about 1.5-2 tablespoons or so)
Heat a medium skillet on medium-high heat with avocado oil so entire pan is coated with a thin layer
Gently place the falafels onto the pan (I did this in two batches due to size of my pan)
Cook on medium heat for about 3-5 minutes on each side or until crispy
Once cooked, place onto a plate lined with paper towel to absorb some of the oil
Enjoy with your favorite pita bread or on salad
*Will stay good for 5 days in fridge or a month or so in freezer, if you reheat these I recommend oven for best results*
**to make oat flour simply blend together oatmeal in a blender or nutribullet for a few seconds and it will make flour
Author:
Category:

gluten-free, vegan

Cuisine:

lunch, dinner
xx, Rach


Thank you Primal Kitchen for sponsoring this post. It means so much to me to work with brands that I love and who support rachLmansfield!