Baked Buffalo Cauliflower Burgers made with less than 10 ingredients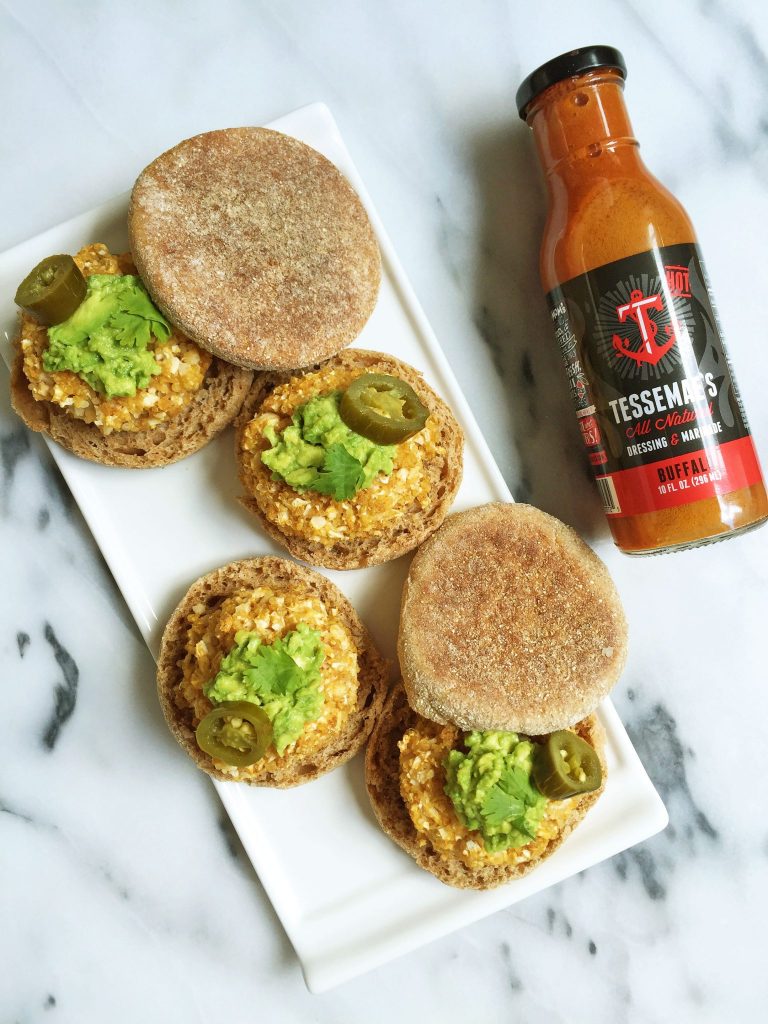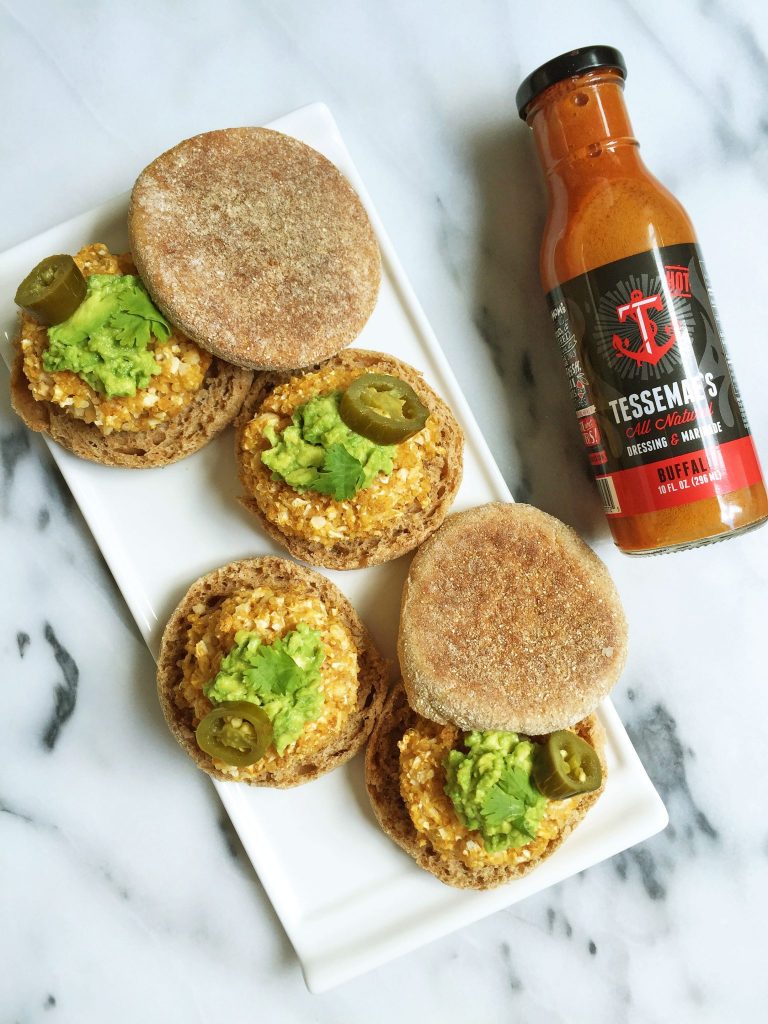 I have to admit. I have zero idea where the idea for these Buffalo Cauliflower Burgers came from. I am not the biggest fan of buffalo sauce, but I am pretty much cauliflower obsessed. J on the other hand, would probably bathe in buffalo sauce if he could. He is always asking for me buffalo recipes.
These burgers are the ultimate easy dinner recipe to make for vegetarians and meat-lovers. Because I don't eat meat and J does, dinner isn't always the easiest meal for us. We probably eat the same meal 1-2x a week, if that. Most people think I am crazy for making two meals but when food blogging is your job, you really don't mind cooking. At least I don't.
While J absolutely would rather be eating a buffalo beef burger, he did love these Baked Buffalo Cauliflower Burgers. He even took left overs for lunch 10x when I kept remaking them until I found the perfect recipe to share with you babes.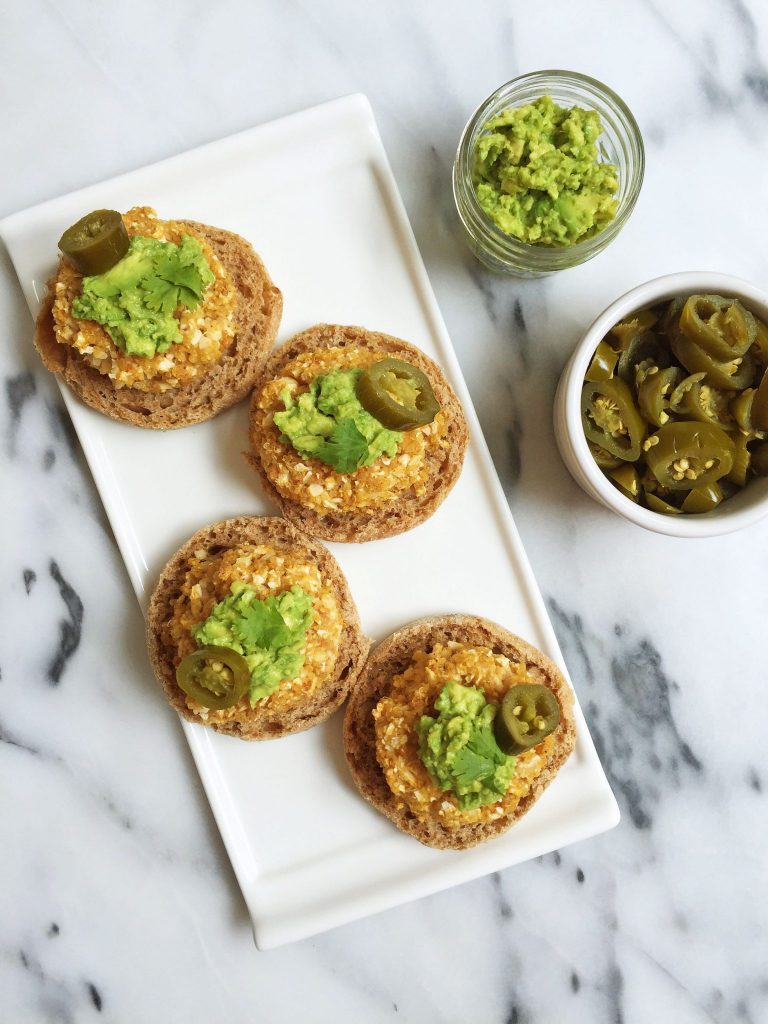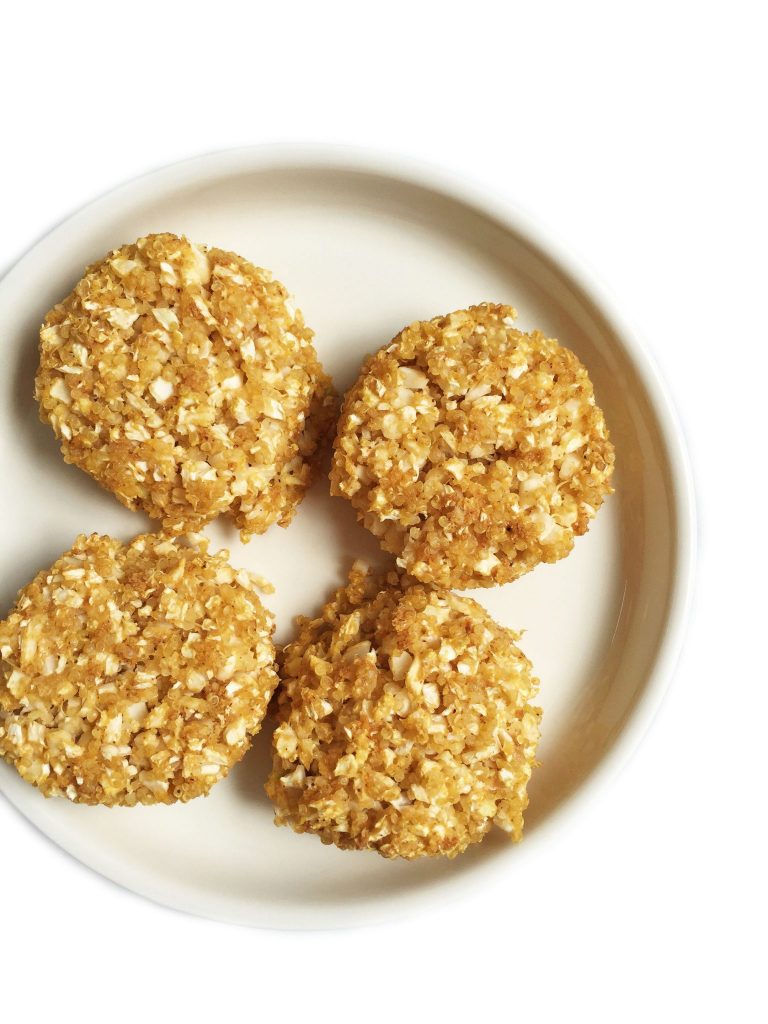 I'm not going to even admit how many versions of these burgers I made. The first ones called for way to many ingredients and were a pain in the tush. So that was a no-go. And from there it was up hill. I finally landed on these 10 ingredient Baked Buffalo Burgers and that even includes the spices you add to them.
Also these burgers are gluten-free and vegan-friendly. I personally have not tried to replace the egg with flax or chia egg yet but I do think it will work pretty nicely. After having a few too many trial and error's for these, I got a little lazy when it came to testing the vegan version. Once I make them again I will definitely try though.
The absolute key ingredient in these burgers is the buffalo SAUCE. Obviously. I used Tessemae's All Natural Mild Buffalo Sauce. I brag all about Tessemae's in my Open-Faced Avocado Grilled Cheese Sandwich but they make the best condiments, dressings, marinades and more. All good ingredients and all absolutely DELISH.
Also, head over to Tessemae's Facebook for details on their campaign "Savor Summer with a Better BBQ Experience". They are hosting a pretty sweet giveaway and the grand prize is worth $1,300+ and includes a Big Green Egg Grill, YETI Hopper 20, a Tessemae's condiment pack and MORE!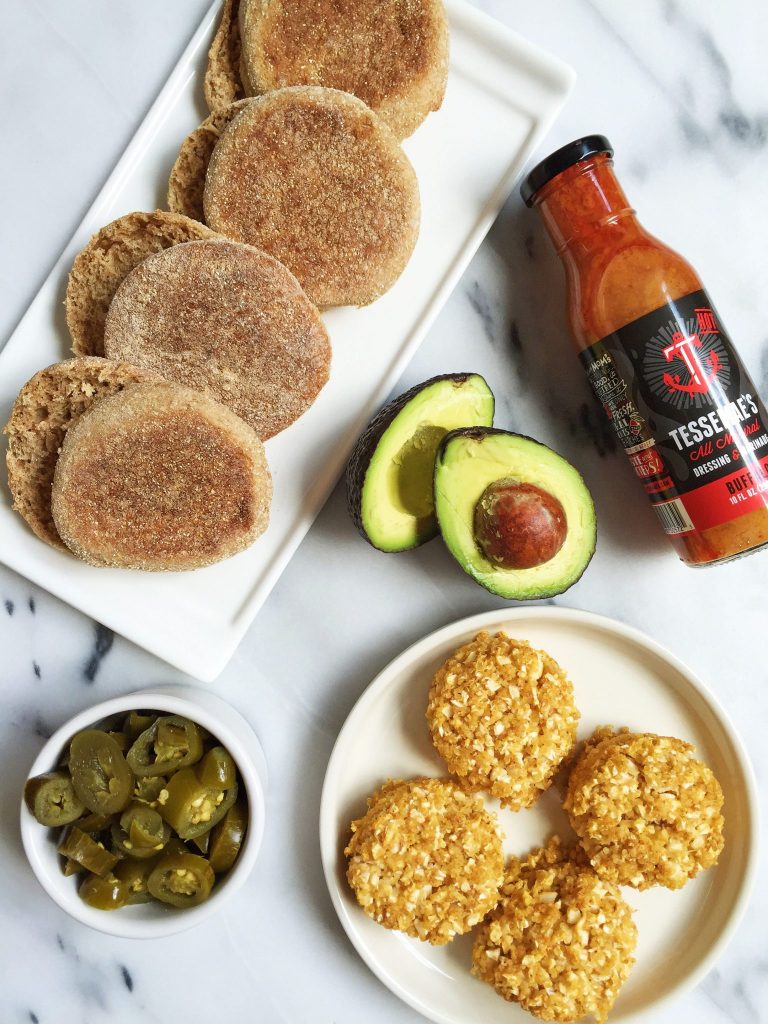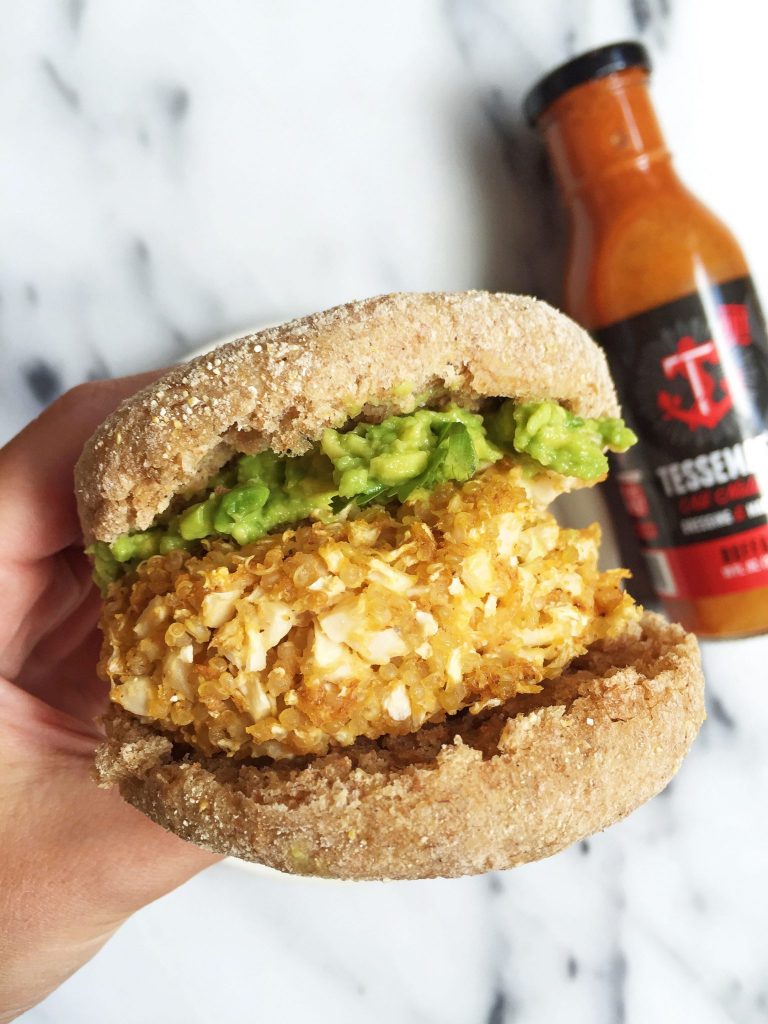 Print
Baked Buffalo Cauliflower Burgers
Yield: 12-15 small burgers (2-3 per person) 1x
3

–

3.5

cups riced cauliflower (I bought mine from trader joe's but you can also buy a head of cauliflower and process it in food processor to make "rice", also mine was NOT the frozen cauli rice from trader joe's, it was in the produce section)

3

eggs (fax egg will work as well but may need to adjust amount)

1/2 cup

breadcrumbs (panko or gluten-free)

1 tablespoon

avocado oil

3 tablespoons

coconut flour (I haven't tested other flours)

1/2 teaspoon

garlic powder

1/4 teaspoon

chili powder

1/4 teaspoon

cayenne powder

3 tablespoons

Tessemae's Buffalo Sauce (adjust to taste)

Toppings: avocado, cilantro, lime, jalapeno

English muffins or your bun of choice
Instructions
Preheat oven to 400 degrees and line baking tray with parchment paper
Grease parchment paper with spray or avocado oil
Using a large mixing bowl, combine cauliflower rice, eggs, panko, avocado oil, coconut flour, garlic powder, chili powder, cayenne powder and buffalo sauce
Mix with spoon, spatula or by hand (I used my hands) and combine ingredients well
Form into 12-15 patties and place on baking tray (I used my 1/3 cup measuring cup to form mine)
Place in oven for 25-30 minutes
Enjoy with your toppings and bun of choice
*Will stay good for 5-7 days in fridge, I haven't tested freezer*
Author:
Category:

dairy-free, gluten-free & vegan-friendly

Cuisine:

dinner, lunch
xx, Rach


Thank you Tessemae's for sponsoring this post. It means so much to me to work with brands that I love and who support rachLmansfield!