This easy One Pot Lasagna is a weeknight dinner favorite! Plus this dish is made with just 8 ingredients and is ready in under 30 minutes.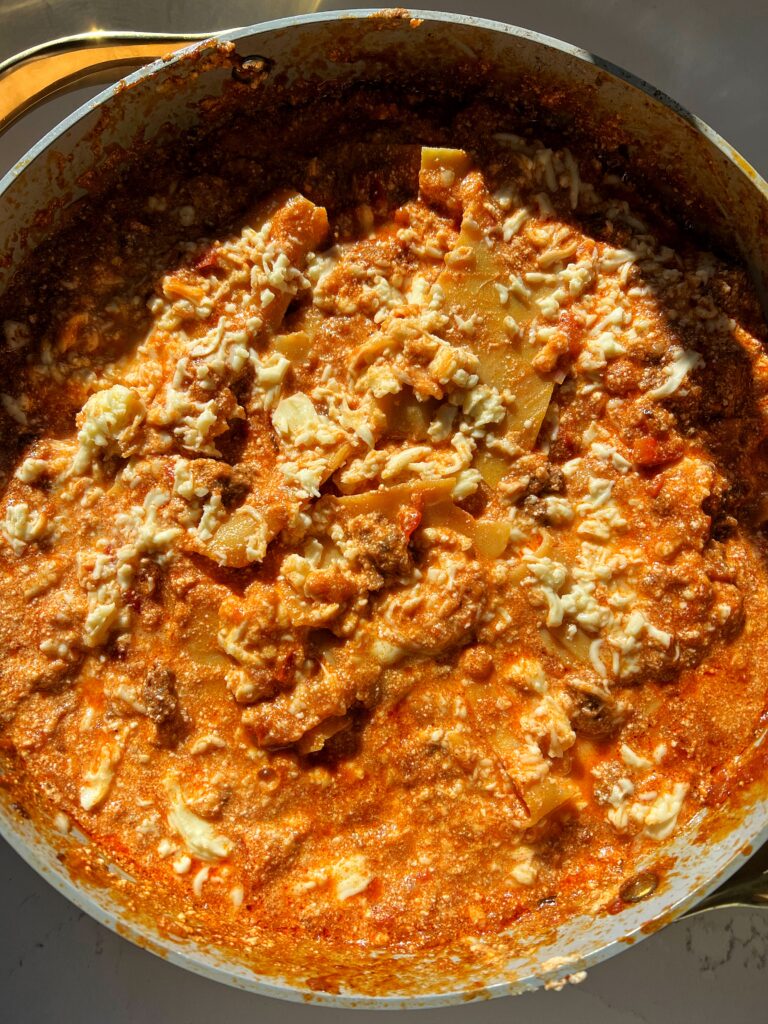 I am *all* about the easy one pot dishes over here. Anything that can dirty just one pot or skillet and feed my family dinner, is a no brainer.
The first time I made this recipe my husband was so confused. Asking when I was going to bake it and was questioning every single thing I did to whip up this meal. He acted like it wasn't going to work and there was no way it would taste good being a no-boil lasagna cooked in a pot. But what do you know?! He was devouring the dish asking for a second bowl after.
This is one of those meals you are going to flag and save to make for an easy weeknight meal. The fact that it is ready in under 30 minutes and feeds about 4 gets us every time! I cannot wait to hear what you guys think!
Tip: use any ground meat you want for this dish! Usually I use beef but have also used ground chicken and turkey and it works great.
What ingredients are in this 30 minute one pot lasagna recipe:
Ground beef – or use a mix of beef and pork, turkey, chicken – any ground meat works here
Small white onion – I have also used red onion and seen success too
Red bell pepper – sliced and no seeds! I love adding this for flavor and extra veggies
Pasta sauce of choice – any pasta sauce you want can work here
Gluten-free lasagna noodles – or use regular lasagna noodles if not gluten-free
Ricotta cheese – I usually buy a tub of this
Shredded mozzarella cheese – I buy a log and shred it myself (has less additives)
How to make stovetop lasagna:
In a large skillet, drizzle a little oil and cook the onions and peppers over medium heat for 3-5 minutes
Then add in the beef and cook over medium heat until no longer pink and drain any excess fat
Stir in pasta sauce, water garlic powder and bring to a boil then stir in noodles and reduce heat to medium-low
Cook, covered, until noodles are tender, about 10-15 minutes, stirring occasionally
Stir in ricotta cheese then remove from heat and top with mozzarella cheese
Cover and let stand until cheese is melted, about 5 minutes then serve while warm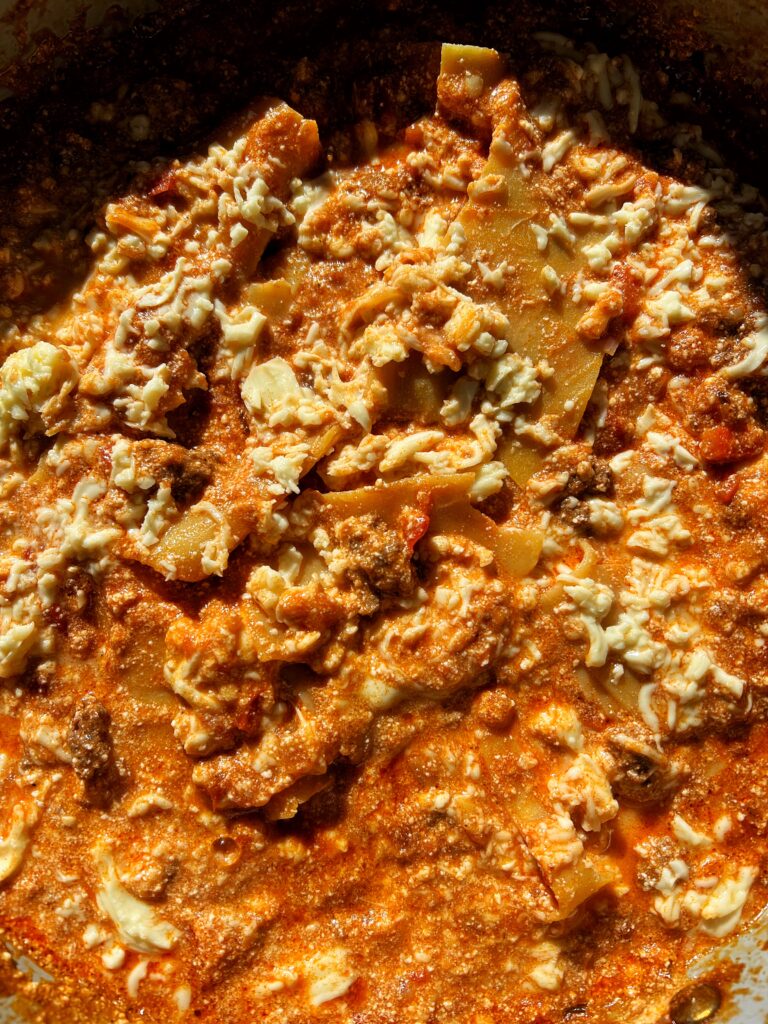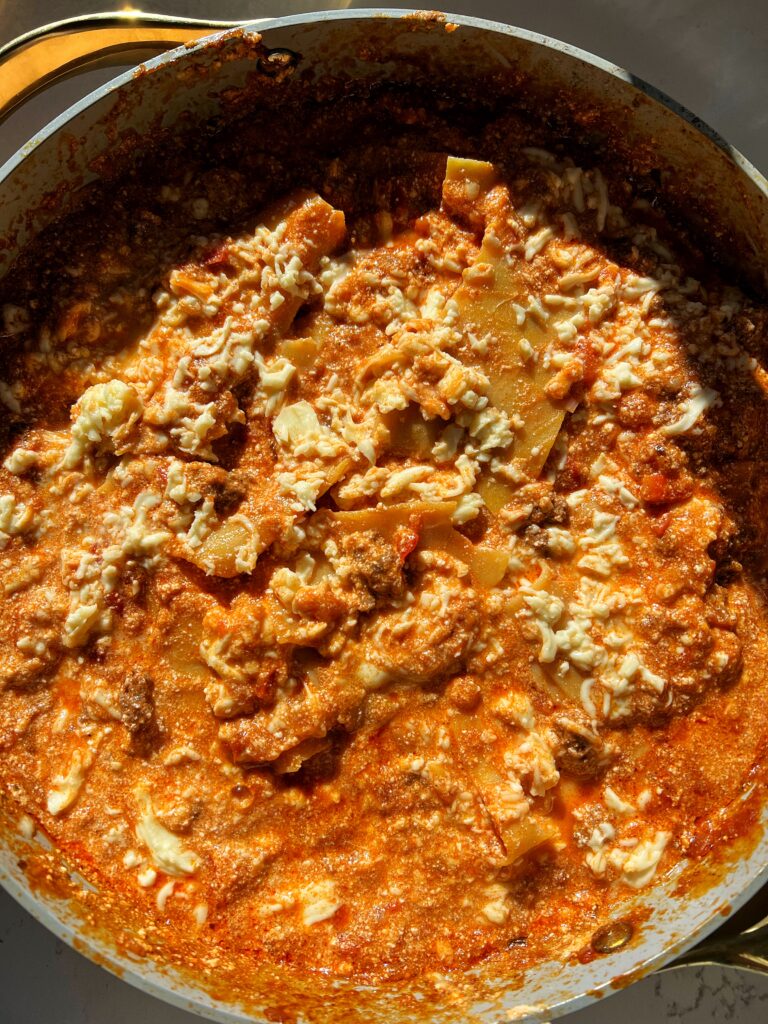 Tips for success:
I usually use beef here but you can use any ground meat you want or use a vegan meat alternative if you don't eat meat
This recipe makes for killer leftovers! I typically reheat in microwave for a minute or so and you're good to go
You can easily add in more veggies to this dish too like peas or chopped broccoli, chopped zucchini, anything
Kids LOVE this recipe. My two devoured this and absolutely love when I make it
Any lasagna noodles will work. I personally haven't tried fresh ones but I think they would be great in this dish
A few other healthy and delicious dinner recipes:
Vegan Butternut Squash Macaroni and Cheese
Easy Whole30 Chinese Chicken and Broccoli
20-minute Healthy Teriyaki Meatballs
Healthy Thai Turkey Meatballs in Coconut Curry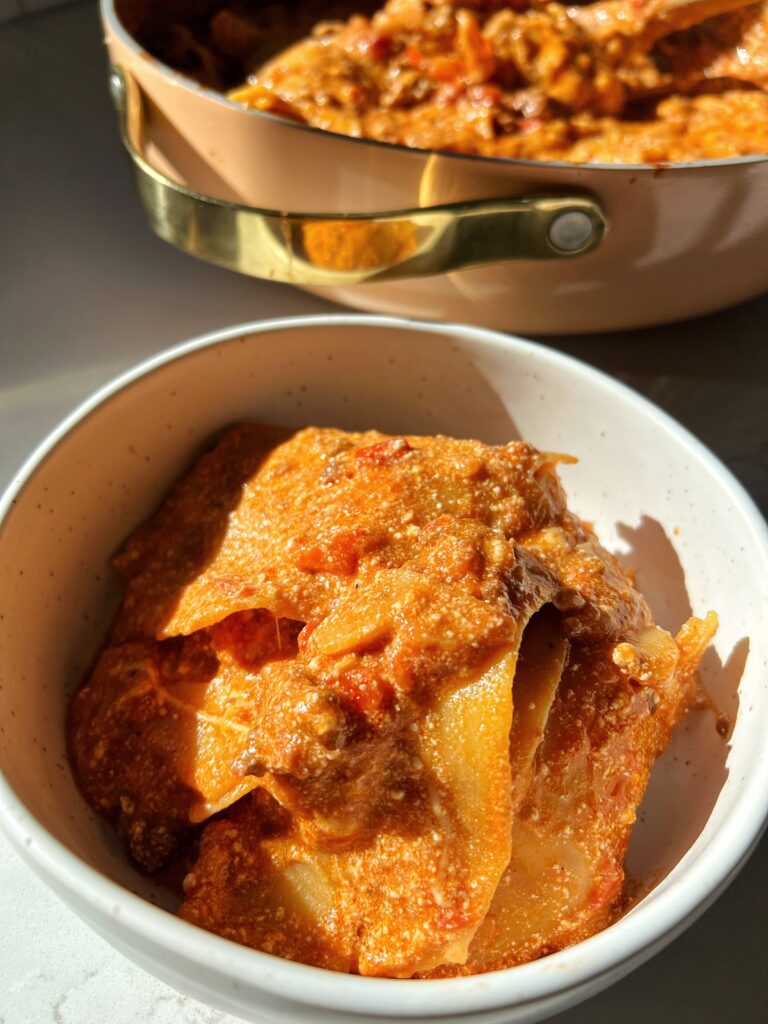 Print
Easy One Pot Lasagna (gluten-free)
This easy One Pot Lasagna is a weeknight dinner favorite! Plus this dish is made with just 8 ingredients and is ready in under 30 minutes.
Prep Time:

5 mins

Cook Time:

25 mins

Total Time:

30 mins
1

lb ground beef

Small white onion, diced

1

red bell pepper, sliced and no seeds

28 ounces

pasta sauce of choice

2 cups

water

1 teaspoon

garlic powder

1.5 cups

ricotta cheese

1 cup

shredded mozzarella cheese
Instructions
In a large skillet, drizzle a little oil and cook the onions and peppers over medium heat for 3-5 minutes
Then add in the beef and cook over medium heat until no longer pink and drain any excess fat
Stir in pasta sauce, water garlic powder and bring to a boil then stir in noodles and reduce heat to medium-low
Cook, covered, until noodles are tender, about 10-15 minutes, stirring occasionally
Stir in ricotta cheese then remove from heat and top with mozzarella cheese
Cover and let stand until cheese is melted, about 5 minutes then serve while warm
Notes
*Store leftovers in the fridge for 5 days and reheat in microwave or stovetop