This Thai-inspired salmon coconut curry is a dreamy 30 minute meal made with all gluten-free ingredients and it is an incredibly flavorful and comforting dish.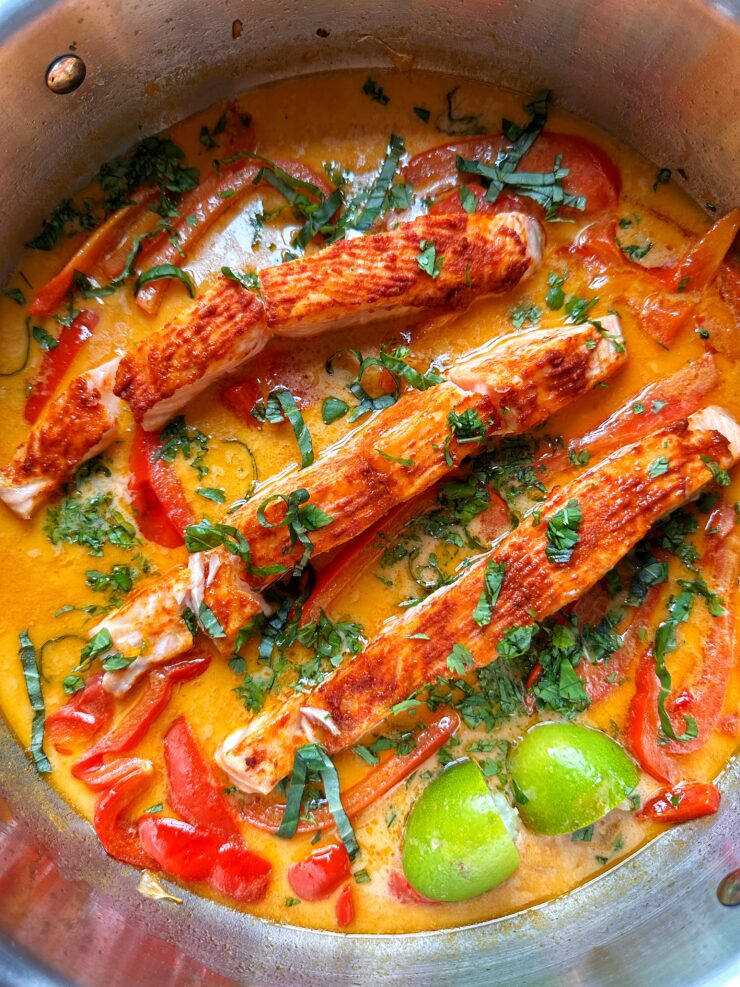 We are hooked on this Thai-inspired coconut curry salmon! If you love my Healthy Thai Turkey Meatballs in Coconut Curry you will fall in love with this dish too. It surprises me every time I share my coconut curry meatballs, how many people are obsessed with them!
This Thai-inspired dish is super simple like my meatballs and combines two of my favorite things – salmon and a creamy coconut curry sauce. A delicious meal ready in under 30 minutes and you can serve it with really anything you want like rice, zoodles, quinoa, anything! And you can add in any other veggies you are craving to the dish.
This healthy dish will be a new go-to in your weeknight dinner rotation. With killer leftovers for lunch the next day too.
I cannot wait to hear what you think of this – let me know if you make it! And don't be afraid to have your kiddos try it too. Mine loved it!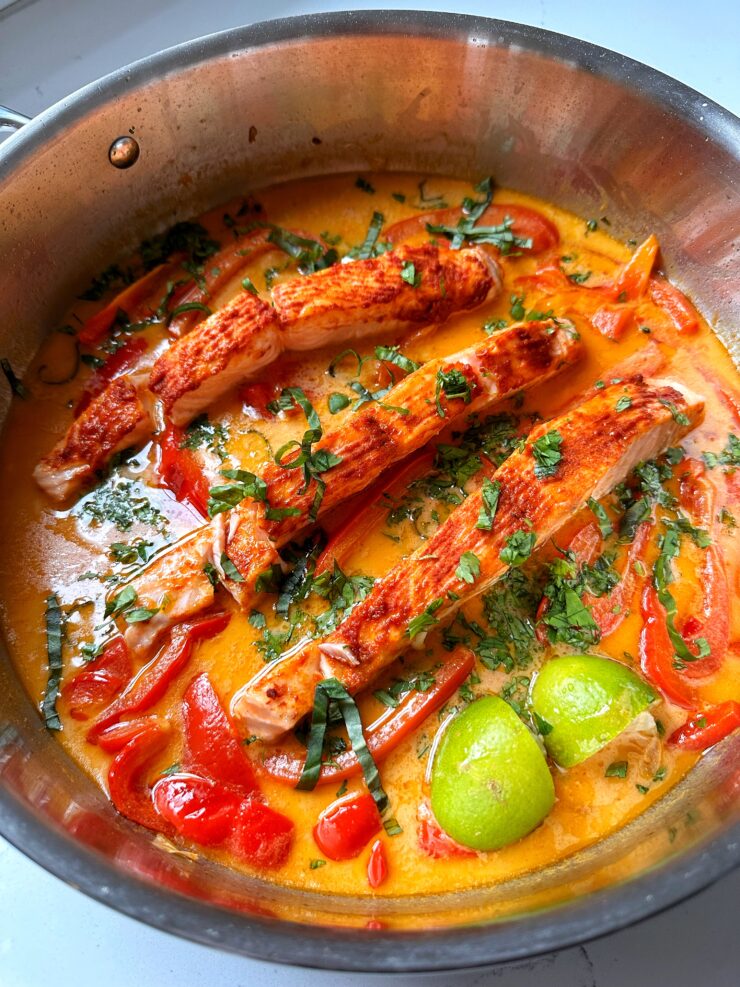 What ingredients you need to make Thai-inspired salmon coconut curry:
Salmon fillets – about 1 lb or so of salmon is needed. I cook it with the skin on too and just remove it before eating
Red curry paste – this is the star of the dish really besides the salmon so I don't recommend omitting it!
Garlic powder and garlic cloves
Sesame oil or olive oil – I love using a mix for this but the sesame oil adds great flavor
White onion – I tend to choose sweet onion for this recipe
Red bell pepper – you can also use any color pepper but red is my personal choice in this dish
Full-fat coconut milk – the creaminess AND the flavor of the full-fat coconut milk is a must for this recipe. Using almond milk or another milk would impact the taste in my opinion
Freshly grated ginger or use ground ginger too. I have a love hate relationship with fresh ginger so I use ground a lot
Fish sauce – omit if preferred. I had some on hand and it works well in the dish
Lime
Chopped basil leaves – you can use dried basil too but I love using fresh basil in this
Chopped cilantro – fresh cilantro adds a lot of flavor here!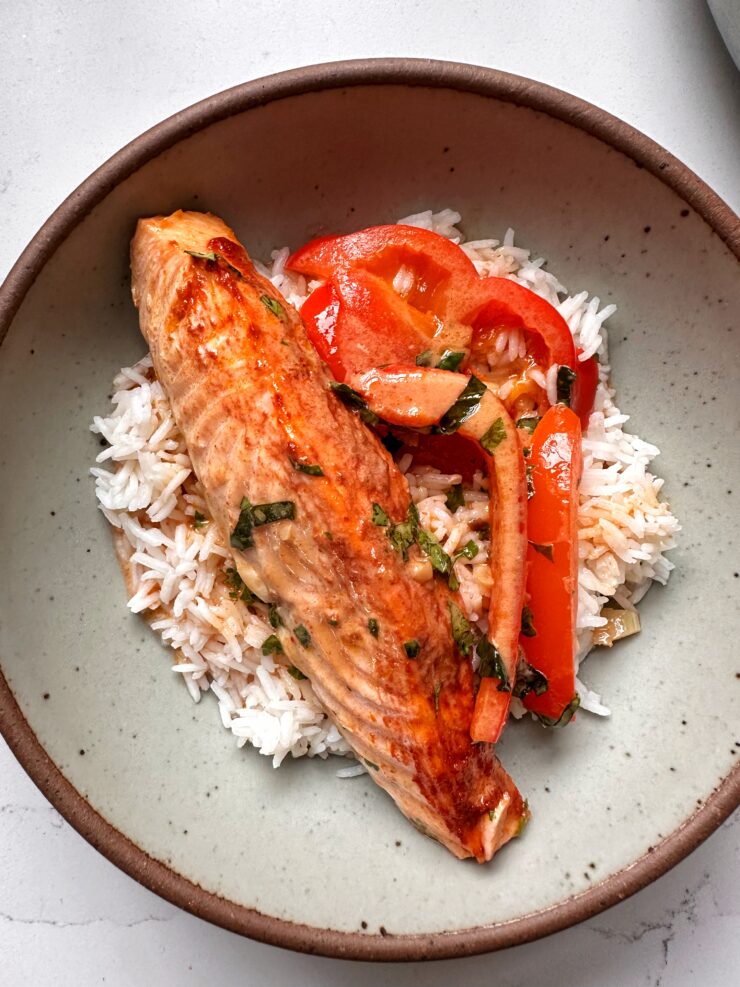 How to make salmon coconut curry:
Preheat the oven to 400°F with a rack in the center of the oven
Take out a large baking dish or baking sheet and line it with parchment paper
Place the salmon skin side down on dish or sheet and pat dry with a paper towel
Make the spice rub for the salmon by mixing together the sea salt, red curry paste, garlic powder and the oil until fully combined
Spread the curry paste mixture over the salmon and place it in the oven until it easily flakes with a fork, about 8-10 minutes
While the salmon cooks, make the curry sauce: In a large skillet set over medium heat, add the oil, garlic and pepper to skillet and cook until fragrant and peppers soften, about 5-8 minutes
Add in the red curry paste, coconut milk, fish sauce and ginger whisk until fully combined
Bring the sauce to a low boil then add in the salmon and simmer for about 10 minutes
Add the lime juice and fresh basil to the pan and stir to combine
Top the salmon curry with green onions, cilantro and extra basil if desired and serve family style along with cooked rice
FAQs on making this salmon coconut curry:
How long should salmon be cooked for? Salmon cooks for about 8-10 minutes in the oven. I like it crispy on the outside and soft in the center. So when we are grilling it, the method is very different than this recipe. Since we add the salmon to the sauce, I don't really look for the crispiness of the salmon like I would having it plain.
What kind of salmon works best here? I usually use Wild Alaskan Salmon or Organic Scottish Salmon. The thicker fattier pieces are best and they're a great source of omega-3 fatty acids, potassium, selenium and vitamin B12. If using frozen salmon, defrost it fully before cooking.
What can I serve this salmon curry with? I love serving this with some rice, quinoa, zoodles, really anything works!
Can you add veggies to this dish? Absolutely! I love adding in some spinach for leafy greens here. Or some cooked broccoli as well is great.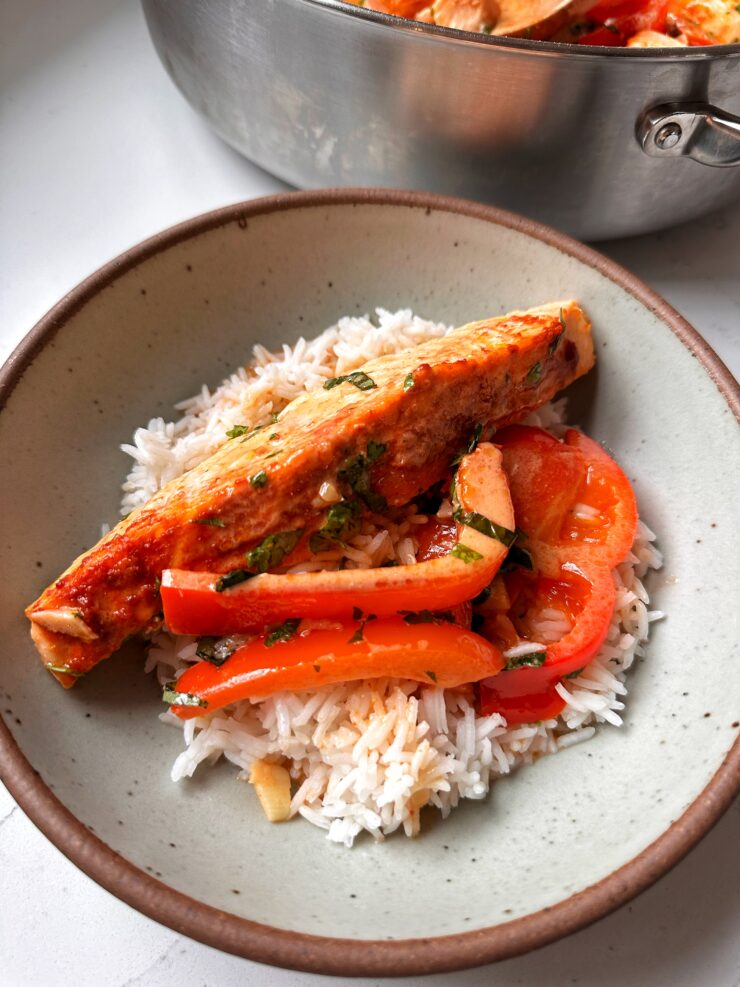 A few other delicious weeknight dinner ideas to try:
One-Skillet Gluten-free Hamburger Helper
Healthy Thai Turkey Meatballs in Coconut Curry
Easy One Pot Lasagna (gluten-free)
Print
Easy Salmon Coconut Curry
This Thai-inspired salmon coconut curry is a dreamy 30 minute meal made with all gluten-free ingredients and it is an incredibly flavorful and comforting dish.
Prep Time:

5 mins

Cook Time:

20 mins

Total Time:

30 mins
Salmon:
4

salmon fillets (about

1

lb)

1 teaspoon

sea salt

1 teaspoon

red curry paste

1/4 teaspoon

garlic powder

1 tablespoon

olive oil
Coconut curry:
1 tablespoon

sesame oil or olive oil

1

small white onion, chopped

1

red bell pepper, chopped

3

large garlic cloves, minced

1 tablespoon

red curry paste

2

(13.5 ounce) cans full-fat coconut milk

2 teaspoons

freshly grated ginger (or use

1 teaspoon

ground ginger)

1 tablespoon

fish sauce (omit if preferred)

Fresh lime juice from 1 lime

1/4 cup

chopped basil leaves

2 tablespoons

chopped cilantro
Instructions
Preheat the oven to 400°F with a rack in the center of the oven
Take out a large baking dish or baking sheet and line it with parchment paper
Place the salmon skin side down on dish or sheet and pat dry with a paper towel
Make the spice rub for the salmon by mixing together the sea salt, red curry paste, garlic powder and the oil until fully combined
Spread the curry paste mixture over the salmon and place it in the oven until it easily flakes with a fork, about 8-10 minutes
While the salmon cooks, make the curry sauce: In a large skillet set over medium heat, add the oil, garlic and pepper to skillet and cook until fragrant and peppers soften, about 5-8 minutes
Add in the red curry paste, coconut milk, fish sauce and ginger whisk until fully combined
Bring the sauce to a low boil then add in the salmon and simmer for about 10 minutes
Add the lime juice and fresh basil to the pan and stir to combine
Top the salmon curry with green onions, cilantro and extra basil if desired and serve family style along with cooked rice
Notes
*Serve while warm and store leftovers in fridge for 3 days
**Feel free to add in another veggies here too. I love adding some baby spinach or broccoli to the dish