How to organize your home with the founder of Of Space and Mind! Plus the run down on everything we did to organize our primary closets, bathroom, landry room and storage closet.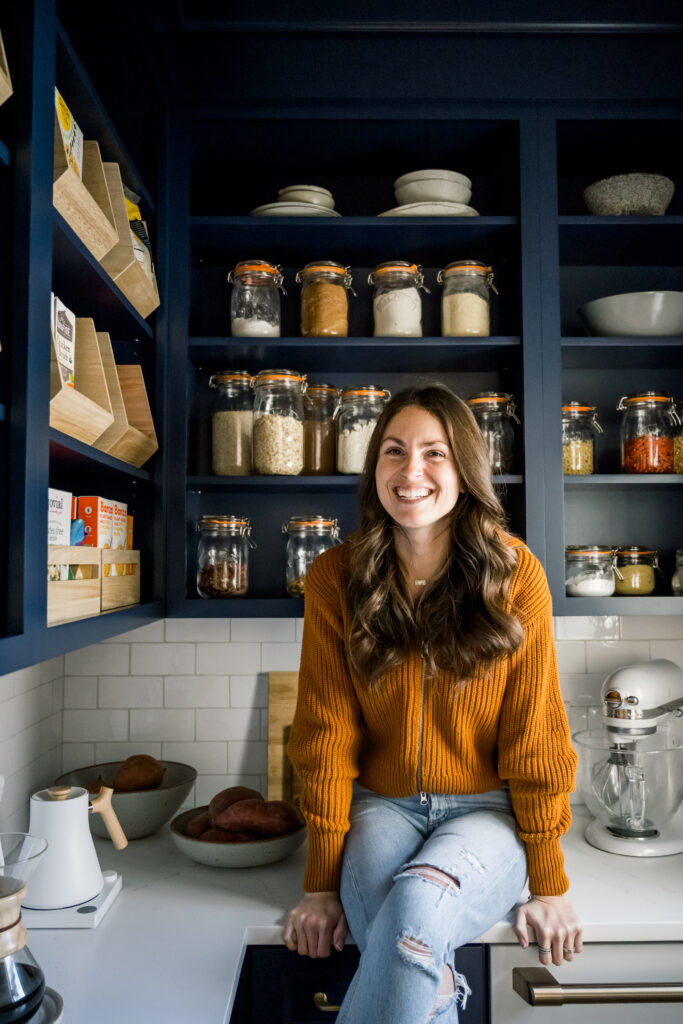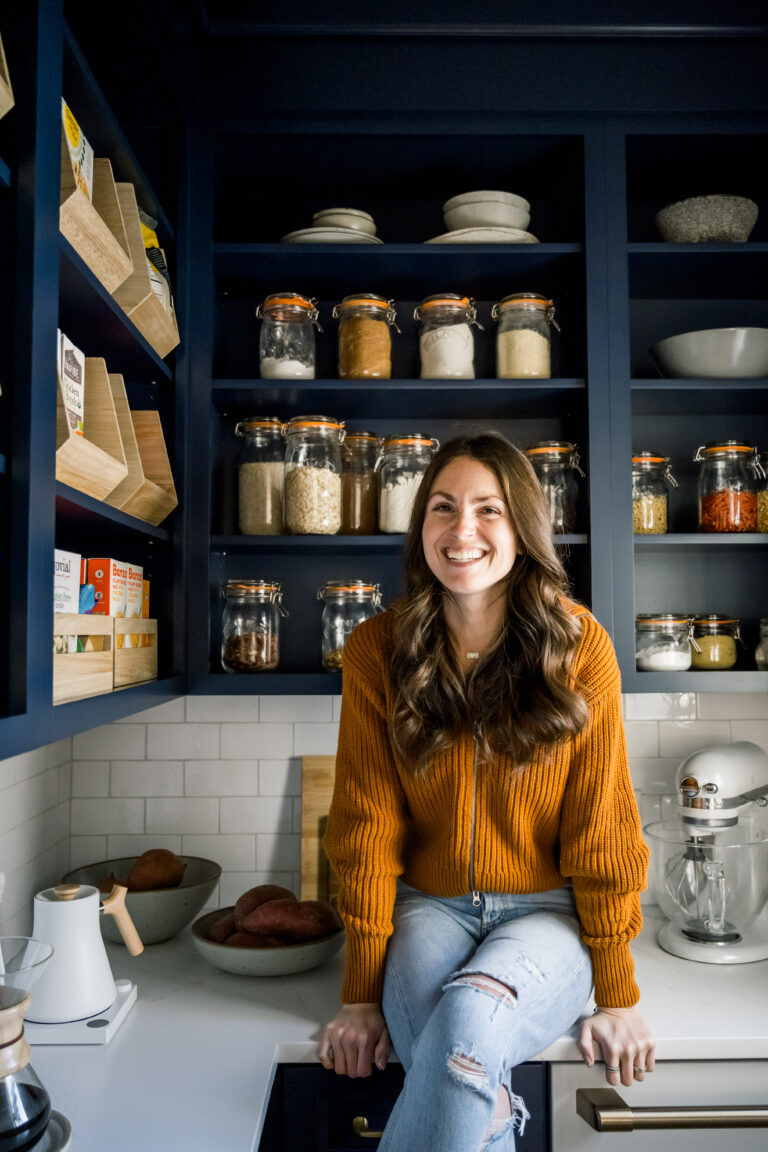 At this point you guys know my obsession with Ashley and her amazing team. Ash has helped me with so many organize hacks too (hello this video is life changing!). Of Space and Mind did a take over to help give kitchen organizing ideas a couple months back. And today we are chatting ll things primary closet, bathroom, laundry room and storage.
We will dive right on in with Ashley and her recommendations. I cannot wait for you to learn from her magic and if you are in NJ, NYC area – CALL HER!! She is amazing.
And listen to the most recent podcast episode where we chat ALL the things organizing!!
Primary Closet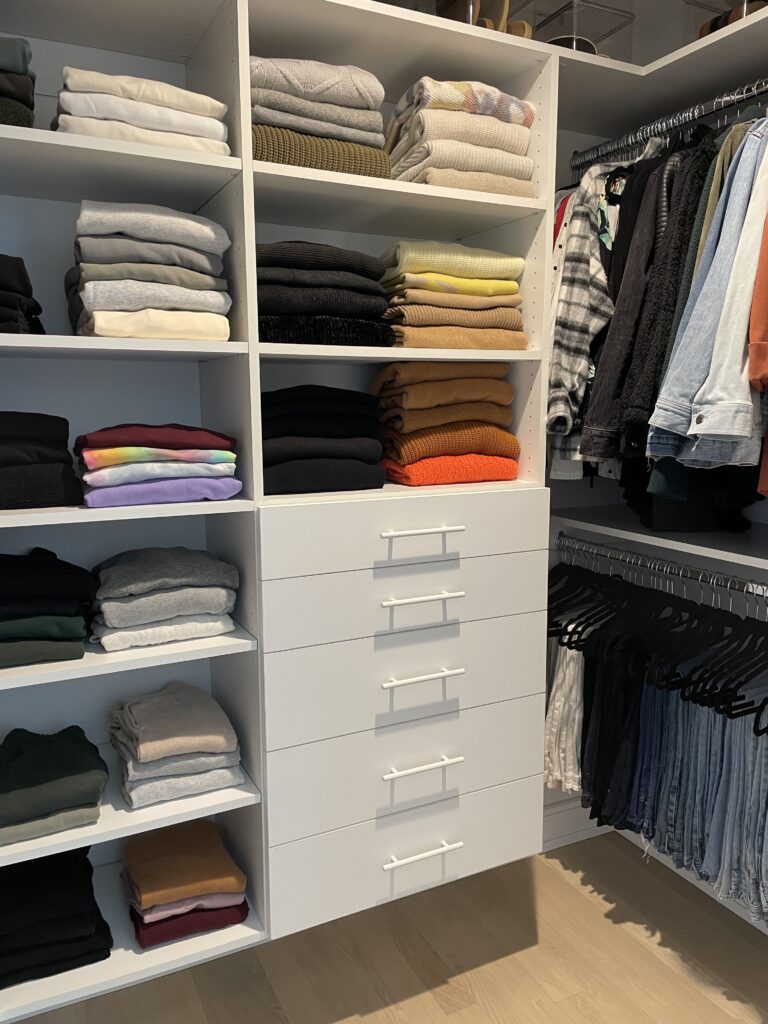 Closets are one of our favorite spaces to organize because no matter who you are, everyone has to get dressed everyday (even if it's just in sweats!). Big or small, having a well organized closet can make your mornings go just a little bit smoother – which is what it's all about for us.
Here are a few ways we think about closets and methods we implemented in Rachel and Jordan's closets!
Use Matching Hangers.

Not only does streamlining hangers help save space, but it's the quickest way to make your closet feel and look tidy. We most often opt for a huggable velvet hanger in black because they are super space saving and they are easy to match in future.

Here

are the ones we used in both Rachel and Jordan's closets.
Plan According to Your Belongings.

We worked with Rachel, Jordan and their builder to ensure both of their closets were planned according to their inventory, and were maximizing every square inch of space. If you have the pleasure of building a closet from scratch, think about what belongings you have and make sure you're planning the right balance of shelf, rod and drawer space.
Use All Available Space.

No matter how big your closet is, a well designed closet is one that uses all available space. Rachel has a lot of accessories, so we had the builder add more shelving to a previously unused wall to create more shelving to store bags and shoes.

Seasonally Swap

. If you live somewhere that has seasons, prioritize rod, drawer and shelf space for what you're wearing now. As we head into the warmer months, put away boots and heavy sweaters to make space for shorts and sandals.
Primary Bathroom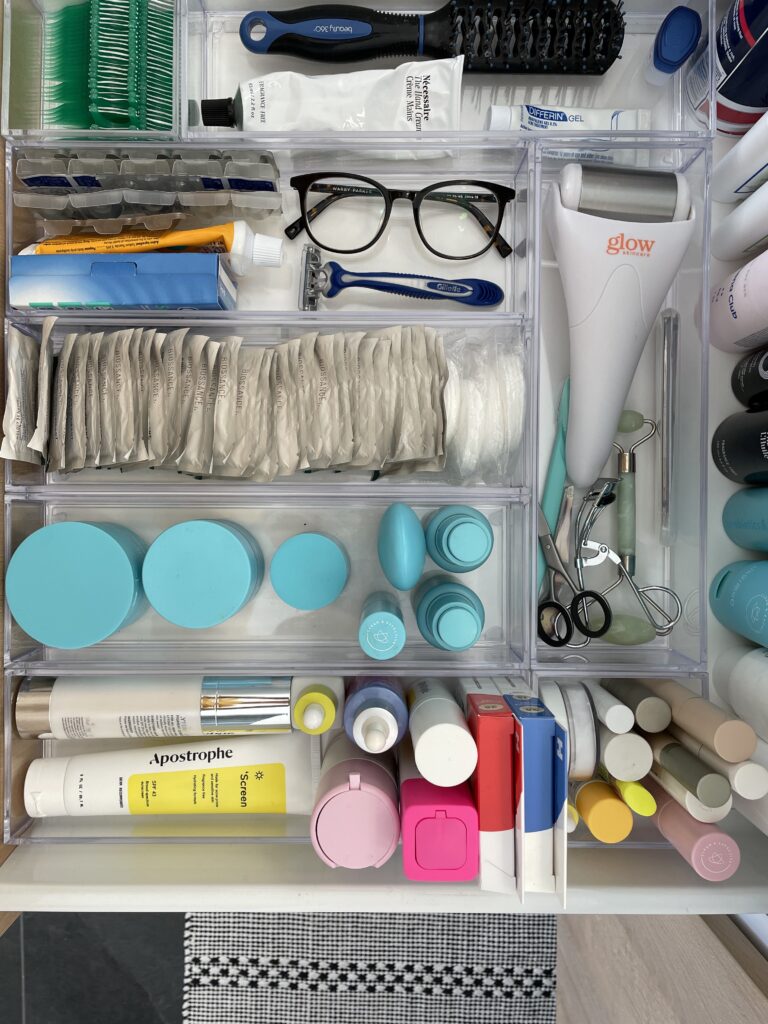 Whether your bathroom is ensuite, big or tiny, creating systems is key to making the space flow well. Here are a few ways we did this in Rachel and Jordan's bath:
Add Organizers

. If you have a vanity, opt for one with drawers for easier storage for small bathroom items. Add drawer organizers to contain smaller items and make items easy to reach for and store.

Here

are the ones we used in Rachel and Jordan's drawers!

Use Vertical Space. Under sinks are often underutilized because they have a ton of dead space! Rachel added shelving under her vanity which gave us double the storage. We added beautiful and eco-friendly

bins

that matched her vanity and pull-out to make storage super easy to access.

Prioritize Space for Everyday Items.

Store duplicates or backup product (what we call "backstock") elsewhere, allowing you to prioritize your space for the items you need and use daily! Rachel has a ton of backstock from brands, so we moved it into bins under the sink and in the laundry room.
Laundry Room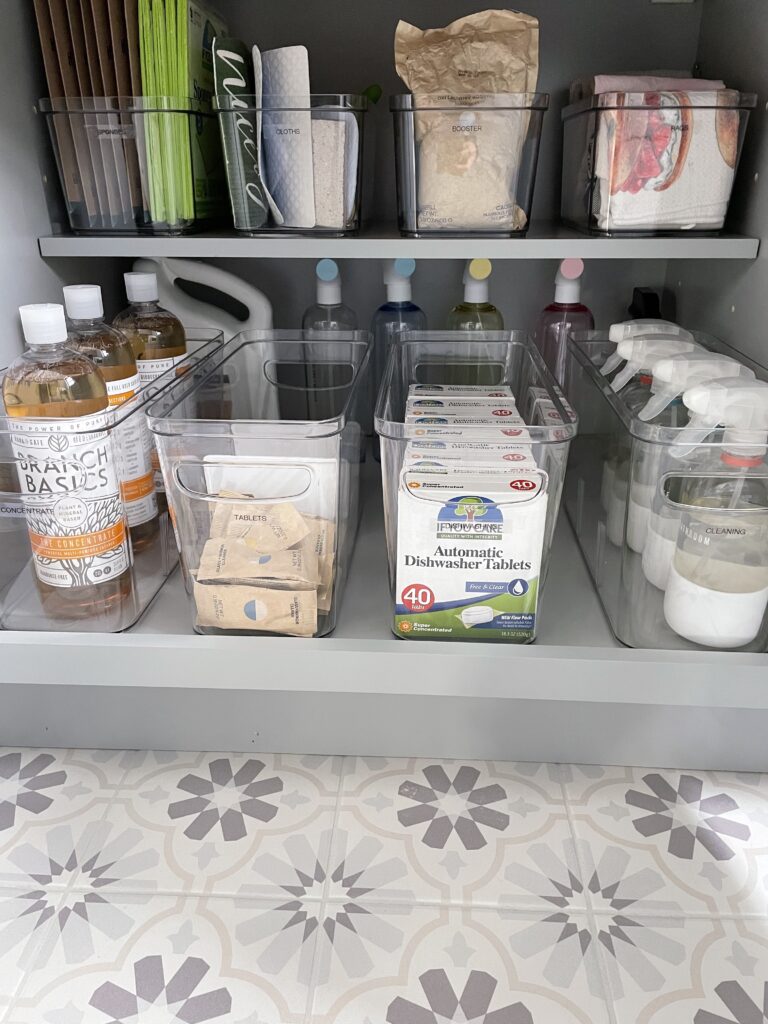 Next to the pantry, I think the Laundry Room was one of our favorite transformations! The space is so well equipped with storage, yet manages to leave them space for folding (and even has a window for natural light!). Here's how we maximized their laundry room:
Use Clear Pullout Bins. Containment is key for any space, but durable and easy to clean bins are key for the laundry room where spills can happen. We prefer transparent bins

like these

that we used to make it easy to see and access what you have.

Don't Be Afraid to Decant

. Using canisters is not just for the kitchen! Put your laundry essentials like dryer sheets, detergent pods, dryer balls and stain powder into canisters to make them easy to grab.

Add a drawer.

We love that Rachel opted for a shallow drawer in her laundry room. This gave us space to store small laundry items, like stain removing products and lint rollers, which store far better in a drawer!
Storage Closet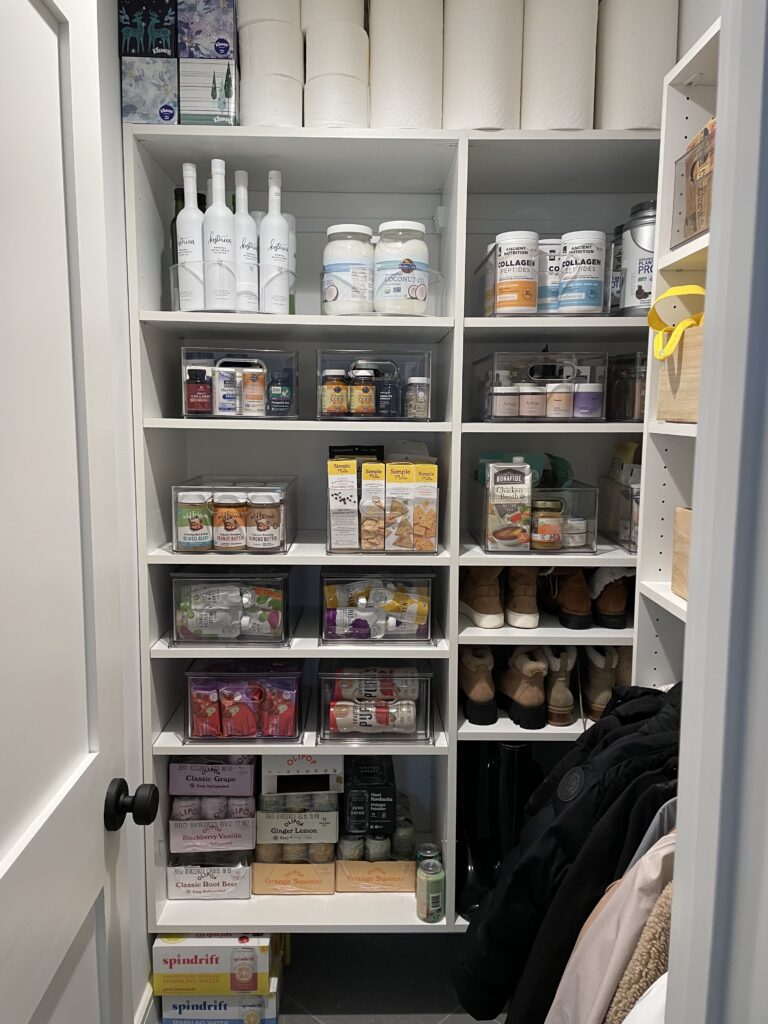 If you're cooking, recipe testing and have multiple mouths to feed daily, then a pantry backstock closet is necessary to give you more food storage. We maximized shelving in Rachel and Jordan's basement closet, turning what would have been solely a coat and shoe closet, into a storage space for extra household and pantry items they stock regularly. Here's everything you need to know about creating a backstock area:
Contain and Categorize.

Without a good system, a backstock closet can easily be a place where things get lost. Make it easy to see what you have by categorizing items using clear bins

like these

– that way

visually

you can see how much you have of a particular type (like snack foods or baking supplies).

Shop Before, You Shop.

Prevent duplicates and food waste by checking what you have in your backstock

before

you do your food shopping. Place new items in the back, pulling older items to the front so you're using those first.

Fake It Till You Make It.

Not everyone has a dedicated closet for backstock and that's ok! If you don't have the space, create it by adding utility shelving to anywhere you have extra room (like in the garage or basement!). We have done this for tons of clients who want to store more than they have room for in their kitchen and pantry.
Ashley La Fond is the founder at Of Space and Mind – a professional organizing company that helps people free their minds by organizing their spaces. Ashley recently moved to New Jersey, expanding the company's reach beyond New York, Brooklyn and the Hamptons.