Frozen Dark Chocolate Tahini Cups with a Crunch, filled with chia seeds and healthy goods!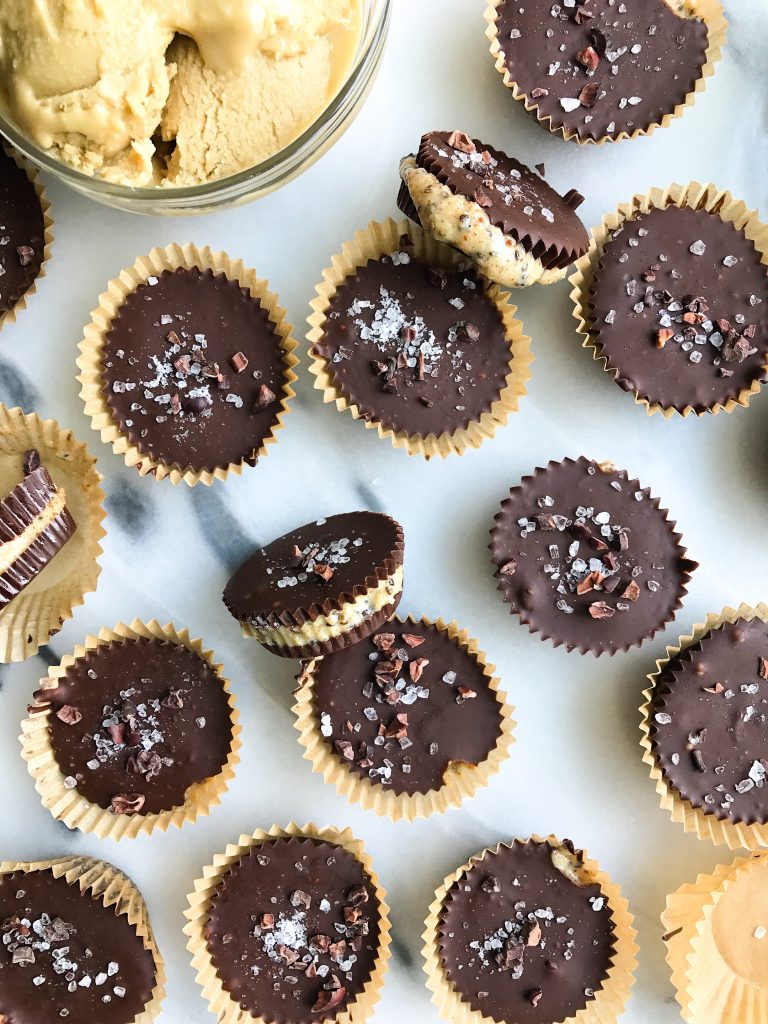 Pretty sure my new favorite dessert combo is tahini + dark chocolate. It all started with those Chocolate Chunk Tahini Cookies and now we are making Frozen Dark Chocolate Tahini Cups with a Crunch. Emphasis on the crunch friends.
Making your own chocolate cups for dessert and snacking is SO easy. They stay well in the freezer for awhile and you can really diversify them but adding pretty much anything you want in them flavor wise.
This is my current fav combo because the tahini isn't overpowering but adds healthy fats and a creamy consistency inside. I use chia seeds in the melted chocolate and they add such a yummy crunch and I am getting extra nutrients from adding some chia into the mix.
Up until I discovered If You Care, I really never paid attention to how much tin foil, plastic wrap and basically every other product that is horrific for the environment. If You Care is such a magical brand on an important mission. The are creating the most environmentally friendly kitchen and household products for us. I discovered them in Whole Foods and first bought their parchment paper. I use the parchment paper to line my baking tray in the oven, wrap random items for the fridge, etc.
If You Care offers a full line of products that are good for us AND the environment at the same time. They sell everything from sandwich bags to baking twine to pie dishes. I also use their gloves for washing dishes, sponge cloths and cheese cloth for making nut milk.
My absolute favorite If You Care product is the mini baking cups (duh). They make chocolate cup making 100x easier and they are honestly just so cute. I share a few of my other favs on the shop page here.
WHAT YOU NEED
Tahini
Coconut sugar
Cacao nibs
Chia seeds
Dark chocolate chips
Coconut oil
Sea salt
Cacao Nibs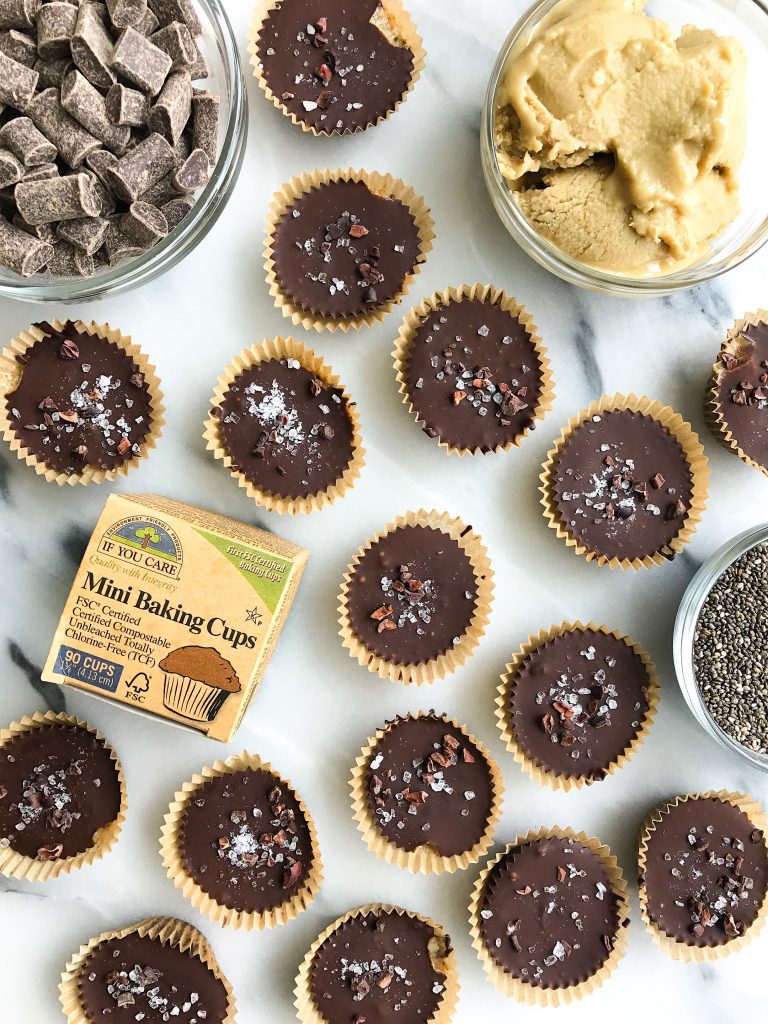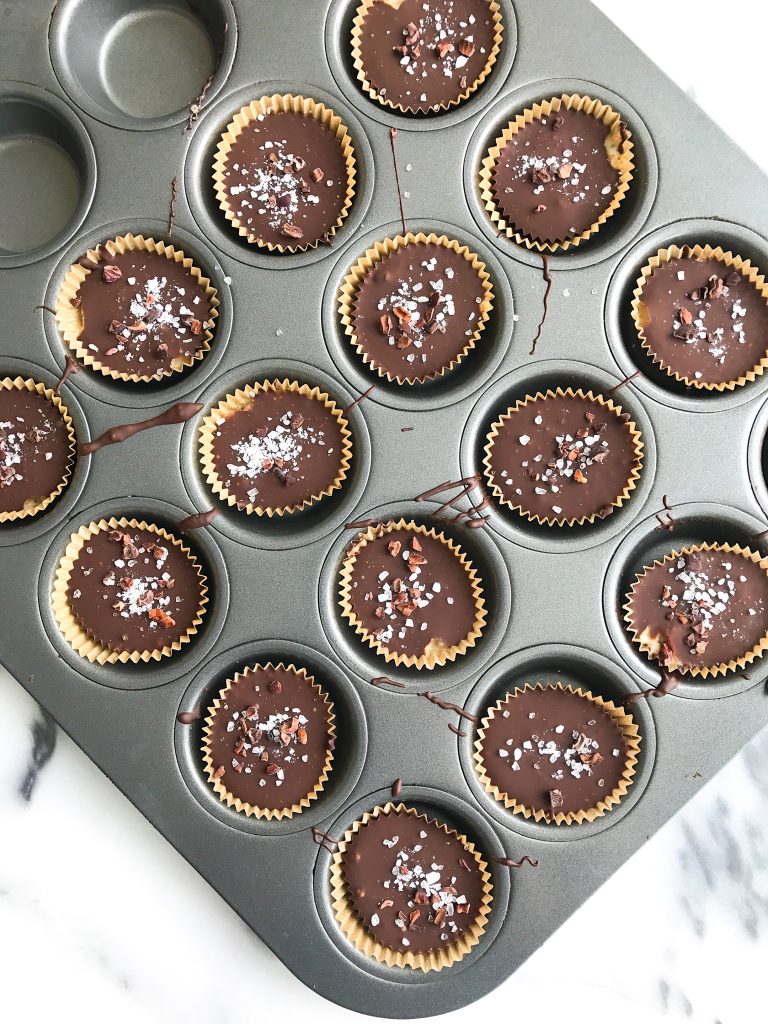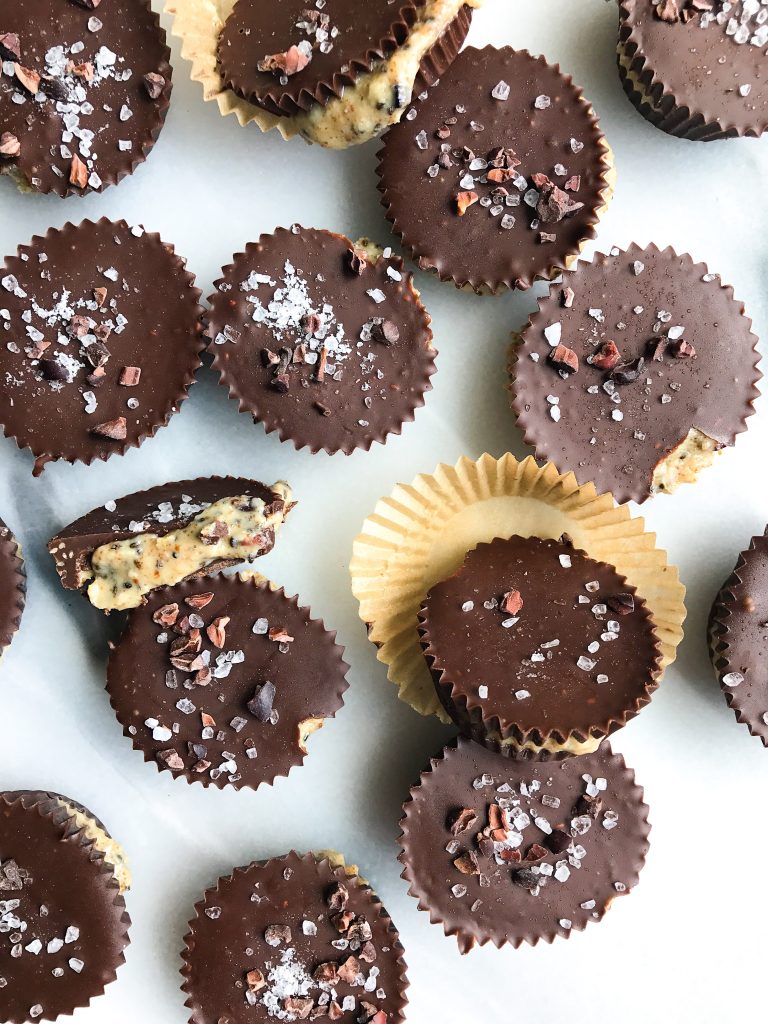 Print
Frozen Dark Chocolate Tahini Cups with a Crunch
Prep Time:

10 mins

Total Time:

10 mins
1/2 cup

unsalted tahini

1 tablespoon

coconut sugar

3 tablespoons

chia seeds (divided into

2 tablespoons

each)

2 tablespoons

cacao nibs

1 cup

dark chocolate chips (divided into

1/2 cup

each)

1 tablespoon

extra virgin coconut oil

If You Care Mini Muffin Liners
Instructions
First mix together the tahini, coconut sugar, and chia seeds
Refrigerate for 15 minutes
While the tahini mixture is chilling, line a muffin tin with 16 If You Care mini muffin liners and set aside
Melt half the chocolate with a little coconut oil (I used microwave and heated in 30 second increments)
Add about 1 teaspoon to each muffin liner and gently tap the tin down to evenly distribute the chocolate on the bottom
Add to the freezer for ten minutes
Next add about 1 teaspoon of the tahini mixture to each chocolate cup (I rolled into a little ball for each)
Melt the remaining chocolate with coconut oil same as before and add the other 2 tablespoons of chia seeds into the chocolate
Pour 1 1/2 teaspoons of the chocolate mix into the bottom of each liner and pop in freezer for 10 minutes
Then remove and sprinkle with cacao nibs and flaky sea salt
Place back in the freezer for another 20 minutes and enjoy!
Store in freezer for up to 3 months
Author:
Category:

vegan, gluten-free, grain-free, low-sugar, nut-free

Cuisine:

dessert, snack
xx, Rach

Thank you If You Care for sponsoring this post. It means so much to me to work with brands that I love and who support rachLmansfield!