These Fruit and Veggie Freezie Pops are a family favorite over here! They're incredibly easy to make, take 10 minutes to prepare and a great healthy frozen snack to have on hand.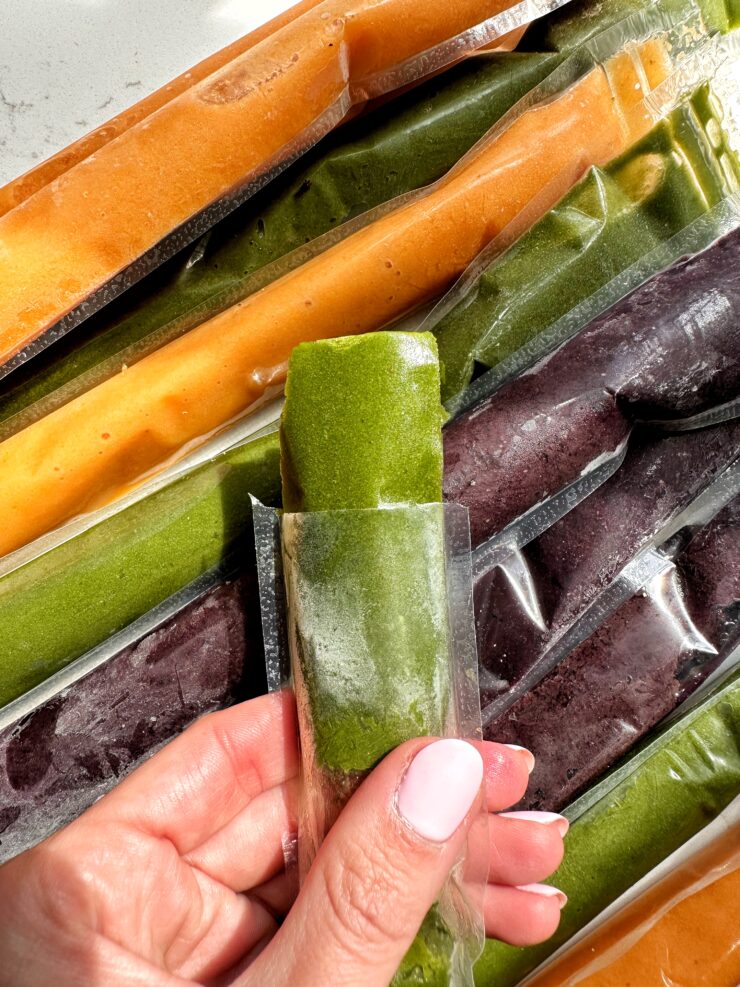 We are huge ice pop fans over here. But I am not a huge fan of added sugar in things that don't need it. And those frozen fruit pops we grew up eating are filled with sugar, artificial ingredients, juices, etc. In my opinion, totally unnecessary to add to something that really can be made with fruits and veggies and a little natural sugar if you want.
These freezer ice pops take about 10 minutes to prepare and are incredibly versatile. You can make them with any fruit or ingredients you have on hand. And kids absolutely love them (at least mine and their friends do!).
Blending fruit into a simple puree and freezing it into the disposable molds is so simple and satisfying. You know you are getting a healthier option when the craving for ice pops hits and I just love how you can really add anything you want to them.
My kids are hooked on having these every afternoon. And I love how they don't fill them up before dinner. So it's a great snack to have as you wait for dinner or are cooking. Except my 4 year old can never stop at just one. He claims he needs "all the colors" when he has freezie pops ha!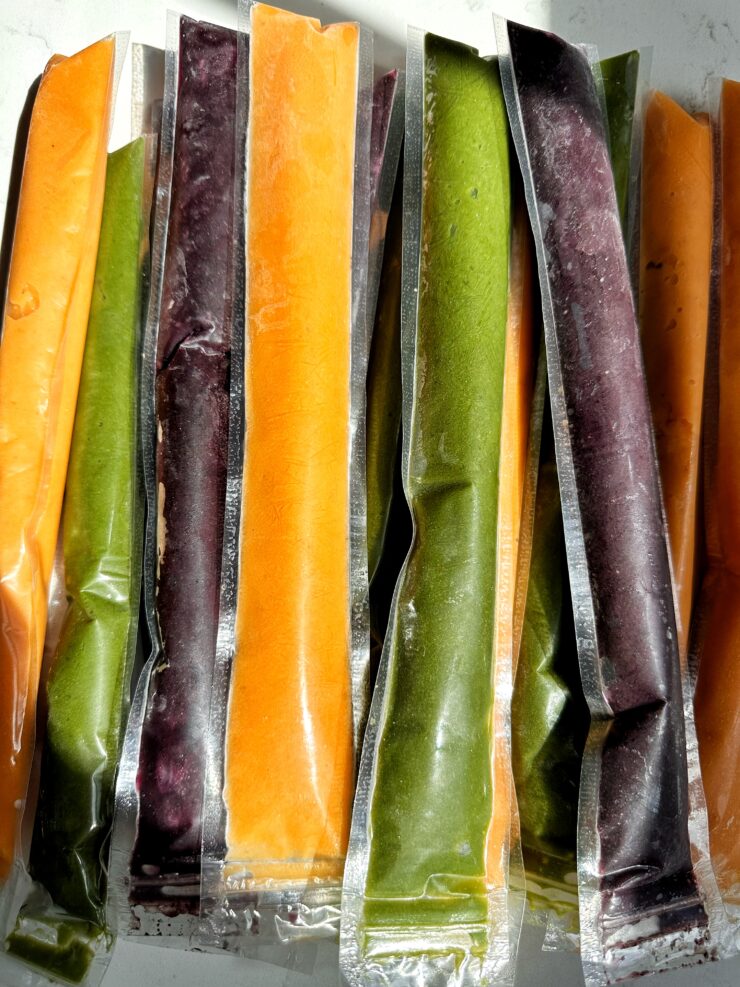 What ingredients are in these homemade ice pops:
Banana – can be fresh or frozen banana. The riper the better as it'll make them sweeter
Baby spinach – my 4 year old who despises anything green even loves these so don't like the greens psych you out!
Frozen mango or pineapple – I love adding these fruits in because they are sweeter and make the pops even sweeter
Carrots – I usually have large carrots on hand so I just peel them and add right into blender
Frozen blueberries – you can add other berries too but I almost always have frozen blueberries on hand.
AG1 – technically optional but I love adding this in for a boost!
Liquid of choice – milk or water work – adjust quantity as needed! Sometimes you'll need more to make it liquidy enough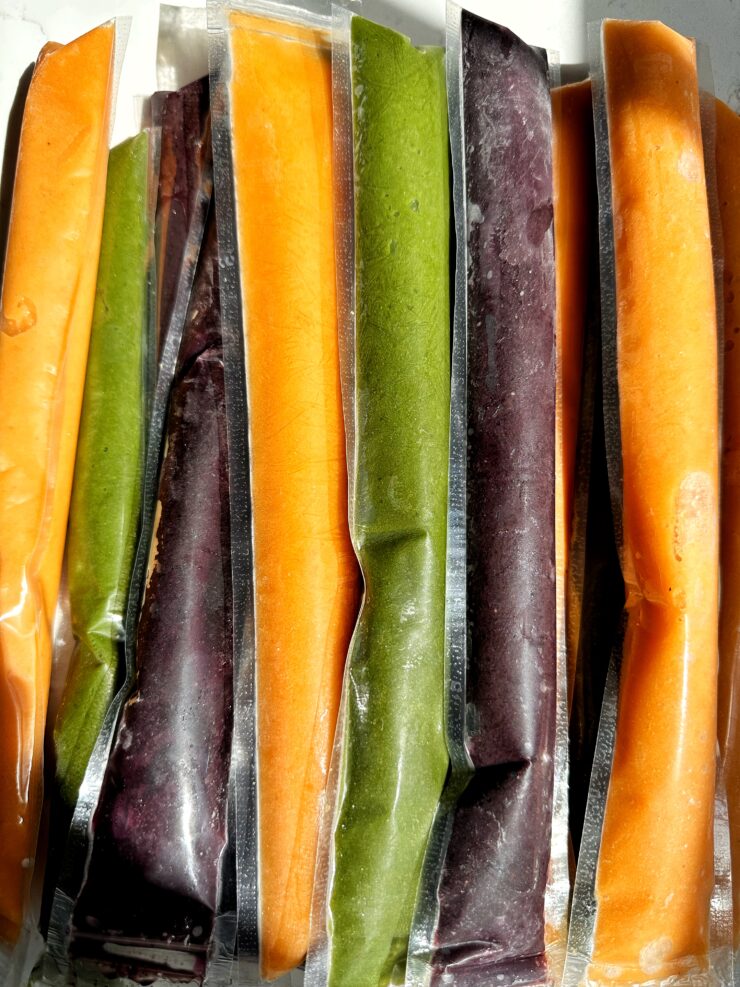 How to make freezie pops at home:
Add ingredients to blender and blend until smooth and liquidy. It shouldn't be thick – thinner than a smoothie! Adjust liquid quantities as needed
Pour until ice pop sleeves or popsicle molds
Freeze for at least 4 hours or overnight
Serve cold from freezer
FAQs on making these fruit and veggie pops:
Do you use fresh or frozen fruit? I do a mix! Really either can work for these so do what works best for you and what you may have on hand.
Are these freezie pops sweet? I don't add any sugar to them so they're just sweetened with fruit. If you do want them sweet, add some maple syrup or honey as needed.
What liquid is best to add to these? I typically use almond milk, coconut milk or oat milk for them but water can work too.
Do I have to follow your exact combinations? Not at all! Do what you are craving or use what ingredients you have on hand. You can also add in other ingredients like chia seeds, flax seeds, nut butter, etc.
Mine are too hard, how do I eat it? Let them sit at room temperature for 5-10 minutes to soften slightly before eating so they aren't too frozen.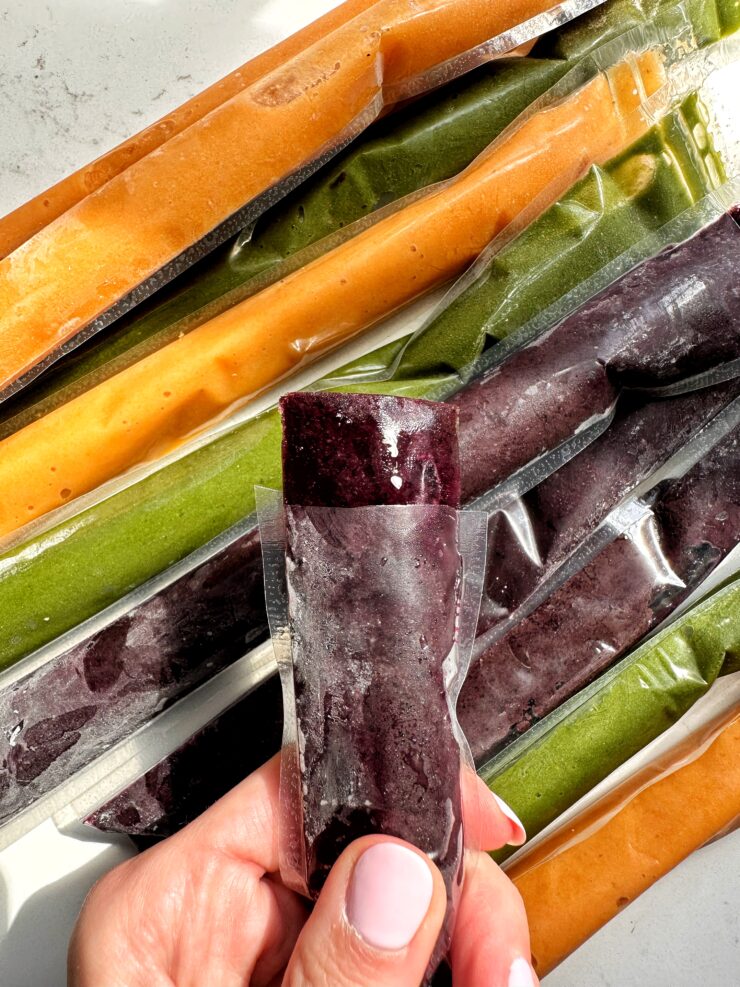 A few other homemade frozen treats to try:
Viral Cottage Cheese Ice Cream
4-ingredient Strawberry Shortcake Ice Cream Bars
The Best Damn Chipwich Ice Cream Sandwiches
Easy Chocolate Fudge Ice Pops (vegan)
Print
Fruit and Veggie Freezie Pops
These Fruit and Veggie Freeze Pops are a family favorite over here! They're incredibly easy to make, take 10 minutes to prepare and a great healthy frozen snack to have on hand.
Prep Time:

10 mins

Total Time:

4 hours
Green pops:
1

banana

Handful baby spinach

1/2 cup

frozen mango or pineapple

1

scoop AG1 (optional)

1/4 cup

liquid of choice (milk or water work – adjust quantity as needed!)
Orange pops:
1 cup

frozen mango

1

ripe banana

1/2 cup

carrots (or

1

large carrot)

1/4 cup

liquid of choice (milk or water work – adjust quantity as needed!)
Purple pops:
1 cup

frozen blueberries

1

frozen banana

Handful of spinach

Scoop of AG1 (optional)

1/4 cup

liquid of choice (milk or water work – adjust quantity as needed!)
Instructions
Add ingredients to blender and blend until smooth and liquidy. It shouldn't be thick – thinner than a smoothie! Adjust liquid quantities as needed
Pour until ice pop sleeves or popsicle molds
Freeze for at least 4 hours or overnight
Serve cold from freezer
Notes
*Store in freezer for 4 months