Healthier Crispy Paleo Chicken Tenders made with 3 key ingredients and paired with a homemade special sauce for dipping them!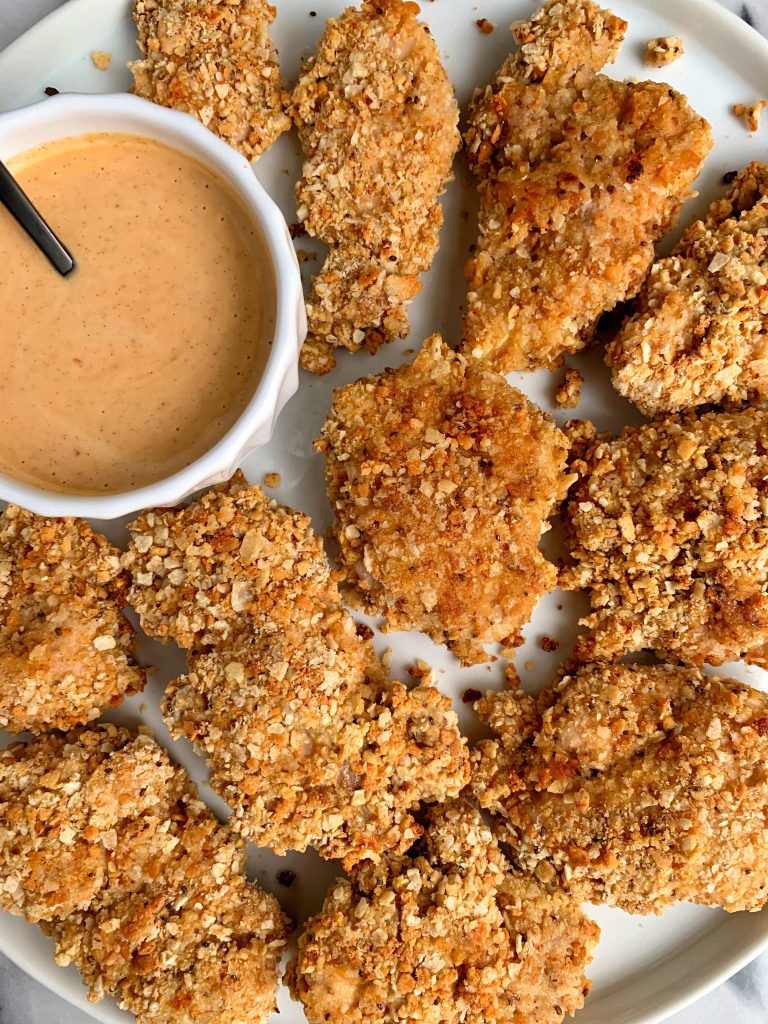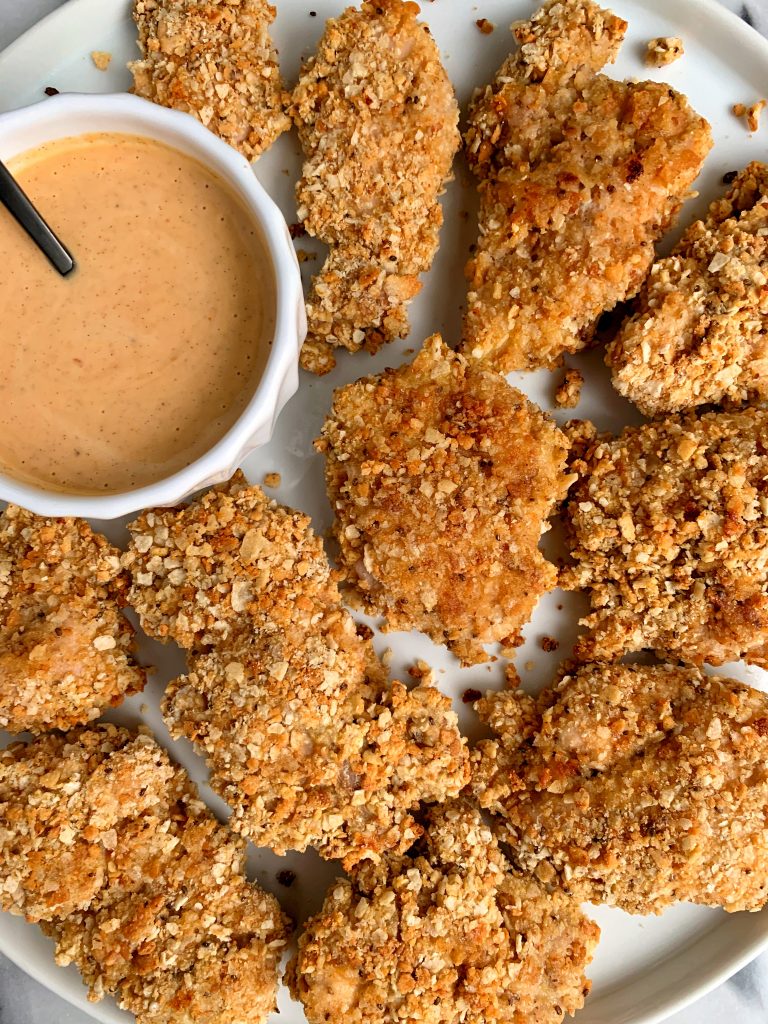 I have the best crispy crunchy chicken tenders to share with you today.
There are a couple of other chicken tender and chicken nugget recipes here on the blog that I also love. But when it comes to my chicken finger-loving self, sometimes I really crave something extra crunchy and with a kickas$$ sauce.
That is what you are getting in these gems today.
Healthier Paleo Chicken Tenders made with only 3 ingredients! How insane?!
But before we get to the full ingredient run down, let's talk about my homemade special sauce. You know that sauce you get from McDonald's or In-n-Out? Yup, we are making our own today. And I'm not going to lie, it really impressed me when I took the first initial bite and dipped the chicken into the sauce.
So I grew up eating chicken nuggets and all of the cliche kid-food. I was a very picky eater so my mom had limited options on what to feed me. Part of me likes to think I am preparing for the worst with Ezra and when he wants chicken nuggets or chicken fingers, I can whip up these homemade ones. And they just so happen to be gluten-free, paleo and not fried.
I love that these crispy chicken tenders are oven-baked. And they also won't make a huge mess on the stove and splatter oil everywhere.
But if you don't have an oven for whatever reason and prefer to cook these stove top, totally an option too! Or even an air fryer would work well I am sure.
Ingredients needed for these crunchy chicken fingers:
Free-range chicken breasts or thighs. You can use one or the other or a mix! As long as you have about 1.5 lbs of chicken you are set.
Pasture-raised eggs. I haven't tested flax egg for this, but I do think it would work well. Also can add a splash of nut milk too if you want.
Crushed up crackers or chips. The BEST way to get that crispy crunchy coating on these bad boys. In fact there is no oil even needed in this recipe. The crackers just make the perfect crispy texture.
Spices. I use a mix of garlic, paprika, sea salt and pepper. Feel free to add some cayenne or chipotle for an extra something.
Tessemae's Organic Mayo. I am super picking about the quality of my condiments and Tesserae's is legit you guys. I use their organic mayo (USDA organic) and many of their products are also Whole30 approved with no sugar added.
Tessemae's Dijon Mustard. I would bathe in this dijon if I could…Kidding but not really. It is insanely good and so flavorful. You can also use the honey mustard as well here.
Tessemae's Diggy's Sweet + Spicy BBQ. The newest kid on the block at Tessemae's. Such a unique spin on BBQ sauce. Adds little something spicy and sweet to the sauce.
Honey. Just a dash for sweetness!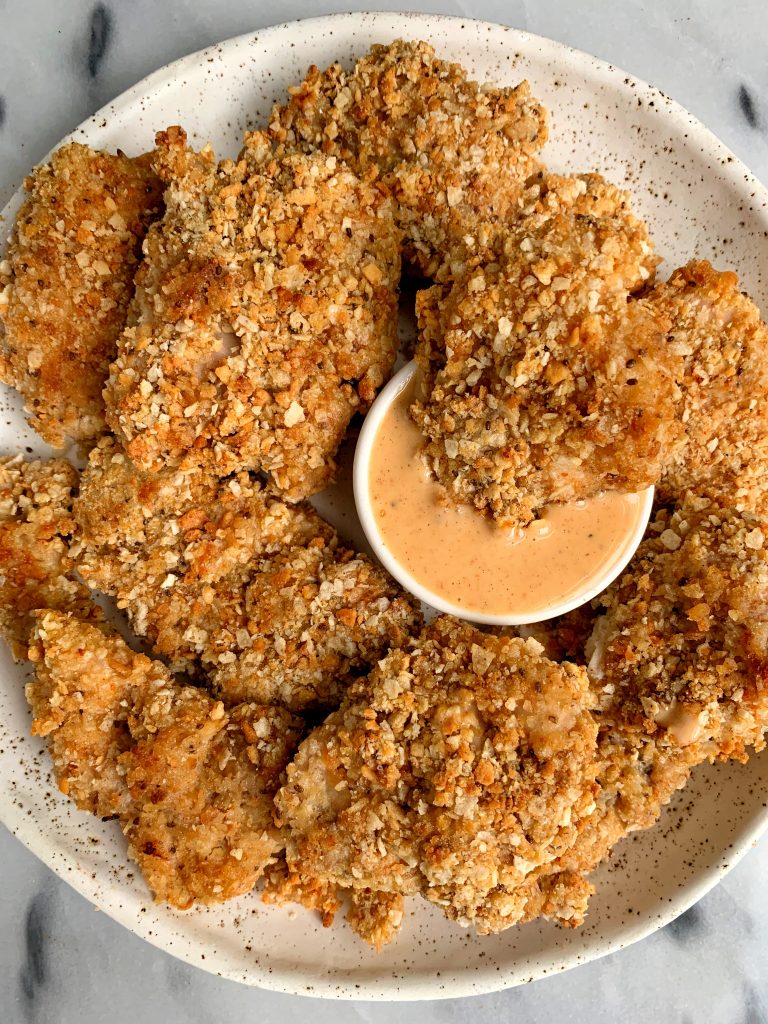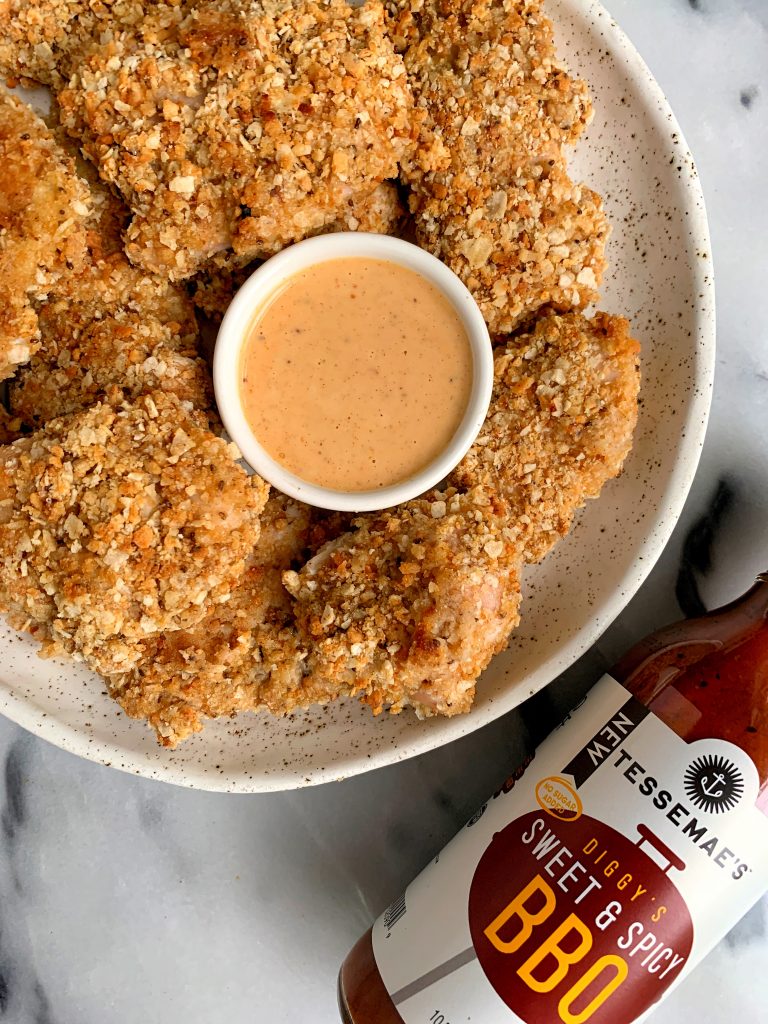 Print
Healthier Crispy Paleo Chicken Tenders
Healthier Crispy Paleo Chicken Tenders made with 3 key ingredients and paired with a homemade special sauce for dipping them!
Prep Time:

10 mins

Cook Time:

15 mins

Total Time:

25 minutes
Chicken tenders:
1.5

lbs free-range chicken thighs or breasts

2

pasture-raised eggs

1 cup

crushed crackers (code RACHL for free shipping)*

1/2 teaspoon

garlic powder

1/2 teaspoon

paprika

Salt + pepper to taste
Homemade special sauce:
Instructions
Preheat oven to 425 degrees and line a baking sheet with parchment paper
In a small bowl, whisk together the eggs
In another bowl mix the crushed cracker breadcrumbs and seasonings
Cut the chicken into smaller pieces if needed then dip each into egg (dripping off excess) then into the breadcrumbs and coat completely and add to baking sheet
Repeat for each piece of chicken and bake in oven for 12-15 minutes
While chicken bakes, mix together special sauce ingredients
Enjoy chicken while warm and dip into sauce!
Notes
*Store leftovers in fridge for 5 days or freezer for longer
**You can sub crushed tortilla chips too
xx, Rach
Thank you Tessemae's for partnering together for this recipe! I love using your products in many of my everyday cooking!