Magical No-Coffee Cacao Collagen Latte made with nourishing and delicious ingredients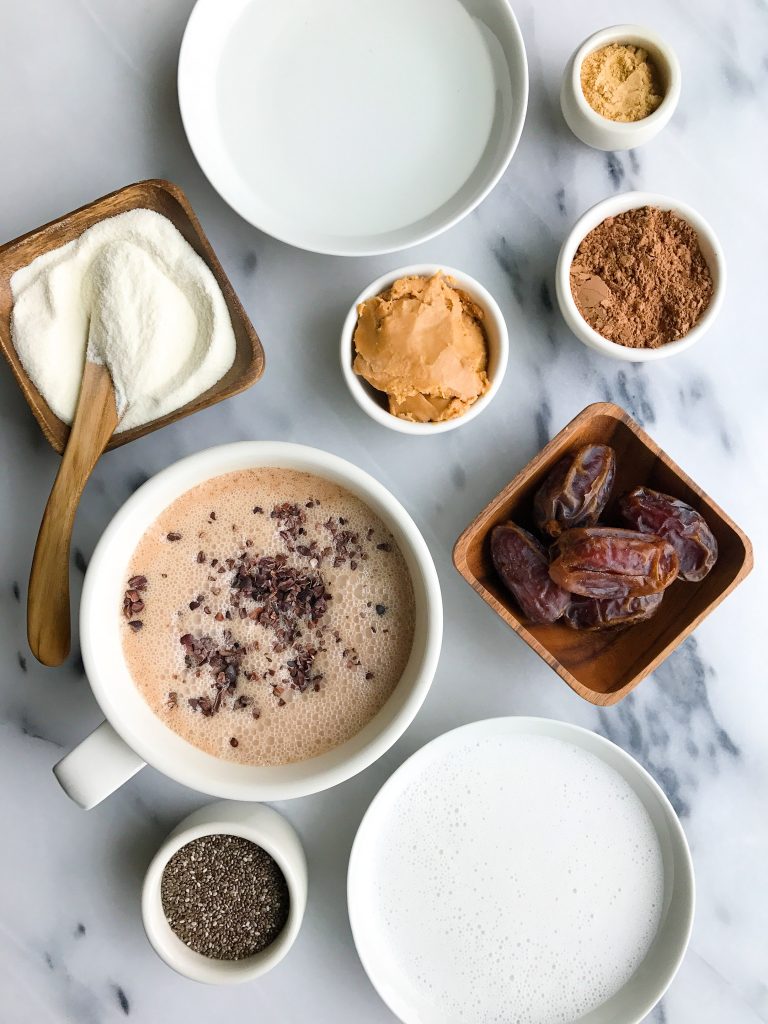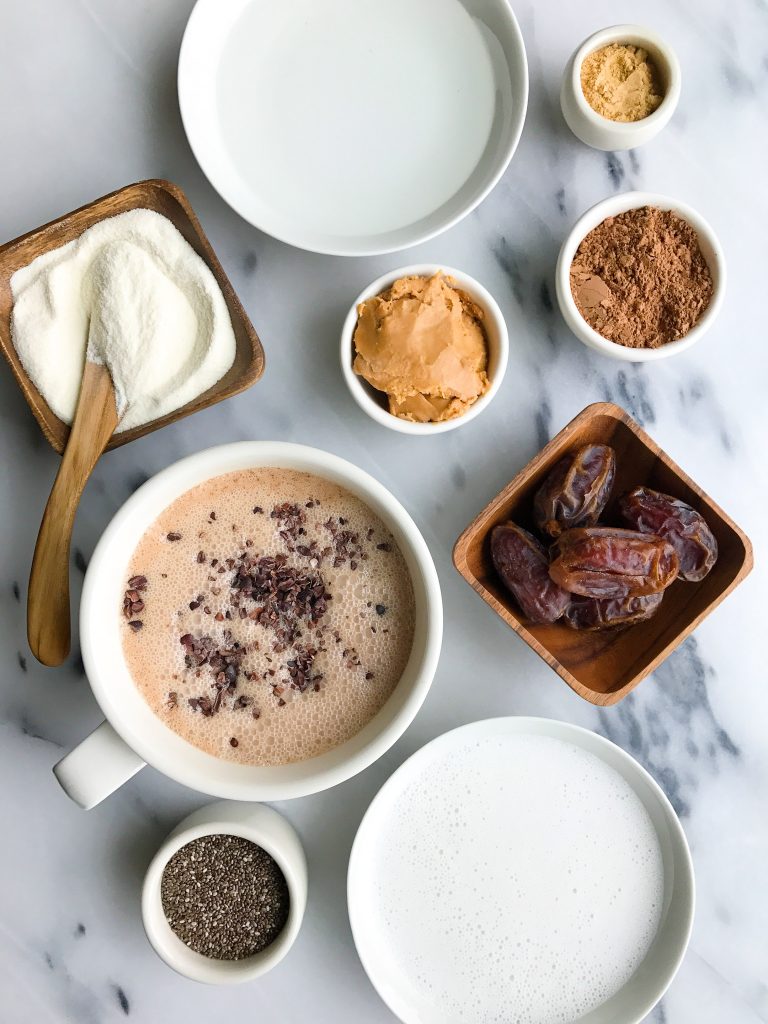 I have likely shared this somewhere in the social media/blog-o-sphere but I have never had a cup of coffee. Crazy, I know.
I have nothing against coffee whatsoever but I personally do not enjoy the taste. The smell on the other hand, oh my gosh. I bought Jord a coffee maker last year for Valentine's Day just so I can smell coffee in the apartment on weekends.
After I tell someone coffee isn't my thing, they figure I drink matcha or green tea. I then surprise them again and say how I'm personally not a fan of the taste of matcha. It is a bit too strong for me and even when it is masked in a latte or dessert, I'm just not into it. This also really limits my caffeine intake too since I don't drink caffeinated tea either. The only form of caffeine I get is from kombucha or chocolate. Just call me the natural energizer bunny because I don't know how I am still going. It is likely because I have never been caffeine dependent.
Not going to lie though, I do often feel left out when everyone is drinking their fancy af lattes with cool unicorn designs and walking around with bulletproof coffee.
That is why I made this Magical No-Coffee Cacao Collagen Latte. And yes, I do think it is quite magical to drink 😉 It is so nourishing and satisfying and filled with some of my favorite ingredients.
I use New Barn's amazing Barista blend. If you ever by coffee from Whole Foods at Allegro Coffee and get almond milk in it, it is New Barn Barista blend. It gives that luscious creamy addition to your beverage and it blends amazingly well both hot and cold.
I use New Barn almond milk daily in my home. It is a staple in my fridge and it is actually an almond milk I trust. It is made with organic almonds and no funky ingredients or carrageenan inside. The even have a Whole30-friendly bottle and it saved me a massive headache when Jord was doing Whole30 a few months ago.
I use New Barn's Barista blend as the base of this Magical No-Coffee Cacao Collagen Latte and it adds the best flavor and creamy consistency to the latte. And if coffee or matcha are your thing, this barista blend will be perfect for your latte too. If you get crazy and use it in a bowl of cereal I'm sure that would be amazeballs 😉
The best part about this no-coffee drank is also how versatile it is too. I give you a rundown on what ingredients I use to make it "magical" but you can switch it up and really use anything you wish.
WHAT YOU NEED
Boiling hot water
Cacao powder
Dates
Coconut butter (use code RACHL for free treat at checkout!)
Print
Magical No-Coffee Cacao Collagen Latte
Prep Time:

2 mins

Total Time:

2 mins
1 cup

New Barn Barista Blend

1 cup

boiling hot water

1 tablespoon

cacao powder

1

scoop collagen peptides

1

pitted date (make sure it is soft so it blends easily)

2 teaspoons

coconut butter

1 tablespoon

chia seeds

1/2 teaspoon

maca (optional)

Cacao nibs to spinkle on top if desired
Instructions
Add all ingredients besides cacao nibs to blender and blend for about 3 minutes or until well combined
Enjoy immediately! Or save and drink when desired (I recommend drinking with 1-2 days of making!)
I like having this as a afternoon or morning pick me up, it is not a meal replacement*
Author:
Category:

gluten-free, vegan, grain-free

Cuisine:

beverage, dessert
xx, Rach


Thank you The New Barn for sponsoring this post. It means so much to me to work with brands that I love and who support rachLmansfield!