Easy Hummus Stuffed Burgers with Greek Cucumber Slaw for a healthy, delicious and easy burger recipe!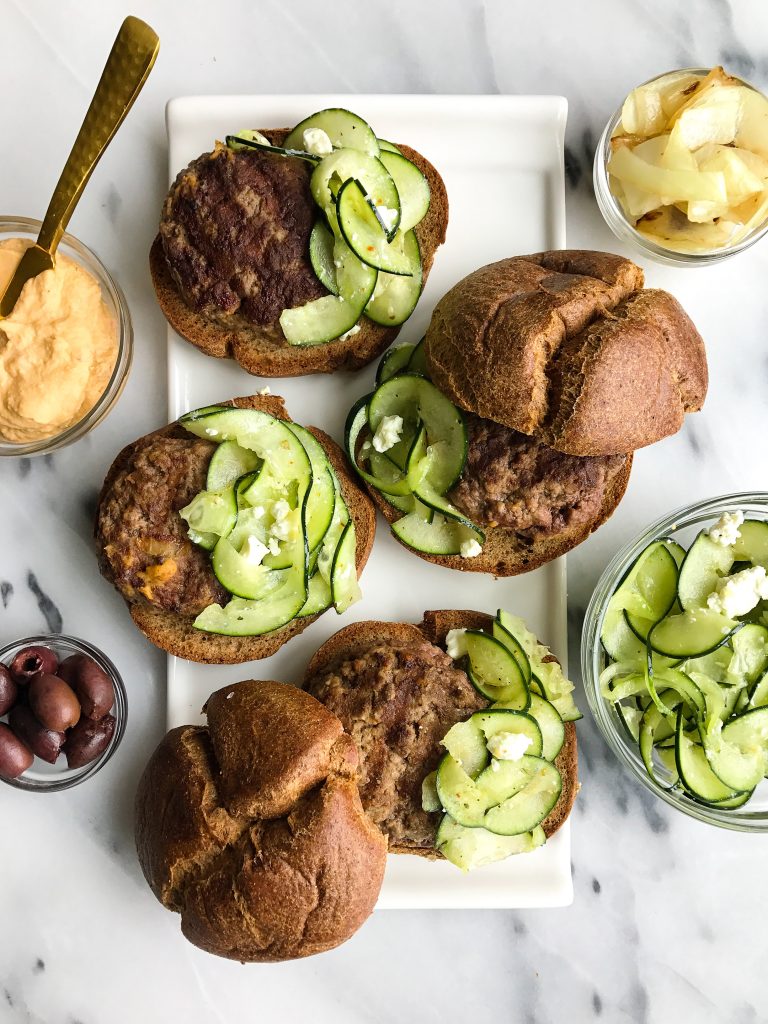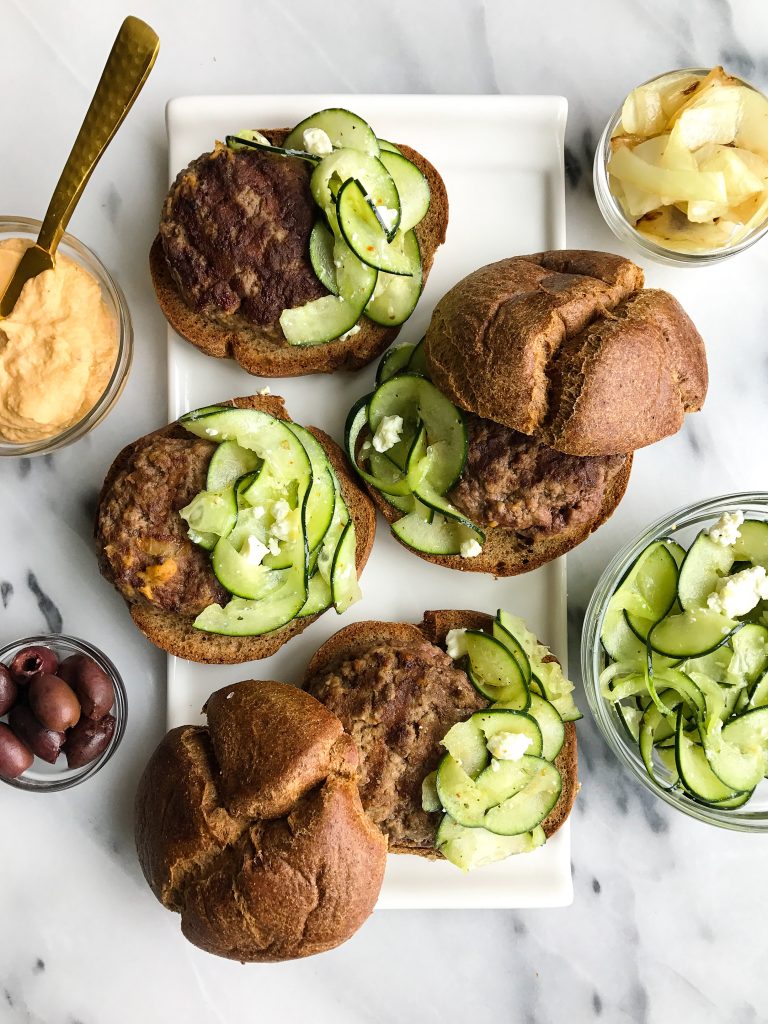 I am bringing you guys a full line up of savory meals on the blog this week. A ton of you have asked for simple and healthy lunch and dinner ideas from the blog and I gotchu covered.
These Hummus STUFFED (yes, stuffed) Burgers are a game changer. Ever since I started eating meat again a couple of months ago, I cannot stop making homemade burgers at home. Beef, turkey lamb, anything. Basically whatever organic, grass-fed meat I can find at the grocery store each week comes home with me.
My mom always used to make homemade burgers when I was younger and I remember them being so flavorful and fresh compared to when you buy already made burgers. I used to make fun of them because they weren't as perfectly shaped, but now I know it's because they were made from scratch (duh).
I found some grass-fed beef just intake to make these Mediterranean-inspired burgers for us. And it is paired with an easy Greek Cucumber Slaw (we all love a good slaw ya know).
These burgers sound 100x fancier than they actually are I promise. You only need a few ingredients and spices and no grill is necessary.
The main star of the show, the hummus, is my favorite part. I use Cedar's Organic Roasted Red Pepper Hommus (intentionally spelling there!). It is my go-to hummus ALWAYS. It is a staple in my fridge and on my Whole Foods list each week. I love every single flavor and when they run out I always have to go to customer service counter and ask when the next shipment comes in.
Cedar's Hommus is SOO creamy and flavorful. It is made with amazing ingredients and NO canola oil! Can I get an amen?! Because that is not easy to come by in the hummus section. You can likely find me spooning it out of the container as I am making my lunch daily. Or dipping my kimchi in yet (yes it is that GOOD!).
I use their spreads in a variety of recipes and look at their Around the Table for inspo. They also are hosting a fun giveaway right now to celebrate family time and the kitchen. AKA the magical spot in your home where the food is made, you hang out with your family, etc. It is my favorite place to be always (duh). You can win a YEAR's supply of Cedar's Hommus (aka my dream), free Social Print Studio memory Box and there are even runner-up prizes for ya babes. The giveaway ends 5/15/17 so go over there for more details! Cedar's
WHAT YOU NEED
Grass-fed beef
Onion
Cedar's Organic Roasted Red Pepper Hommus (or any flavor)
Spices
Cucumber
Feta cheese
Avocado oil
Buns
Olives
QUICK NOTES
If beef is not your favorite, you can use ground turkey, chicken or lamb as well. Any meat will work in this recipe, just adjust to your liking
I used both my grill pan and oven to cook the burgers. I have found it is easier to grill for a few minutes on the stove first to crisp the outside with grill marks then bake in the oven until done
If you are dairy-free or do not enjoy feta cheese, you can sub out the feta in the cucumber slaw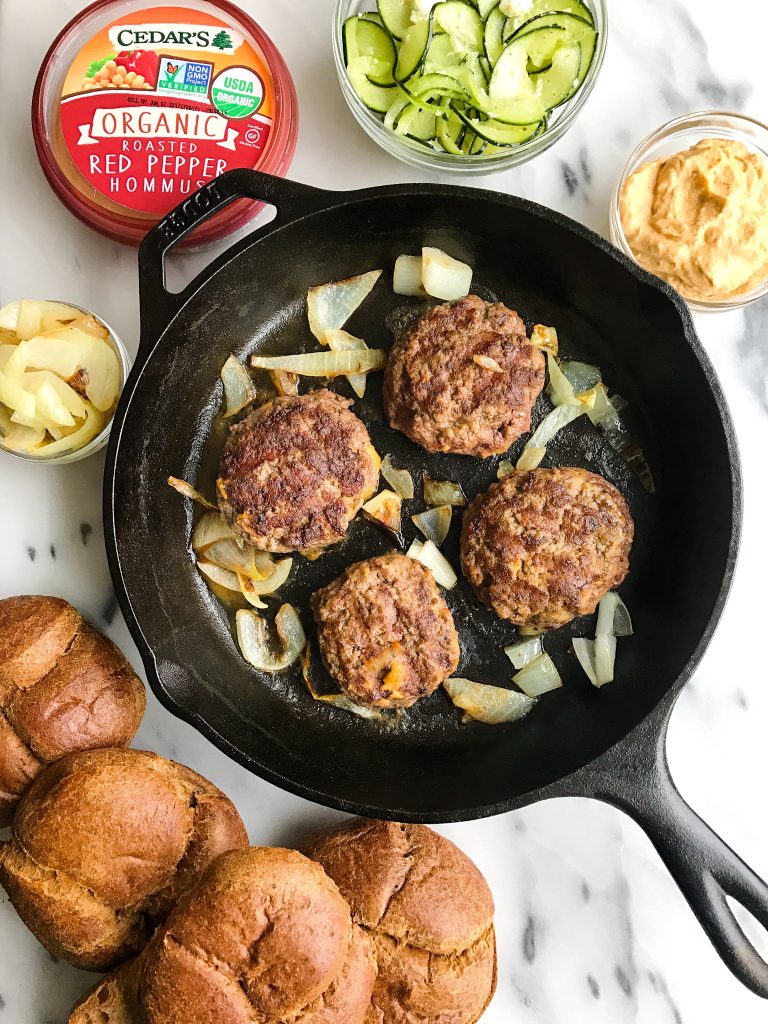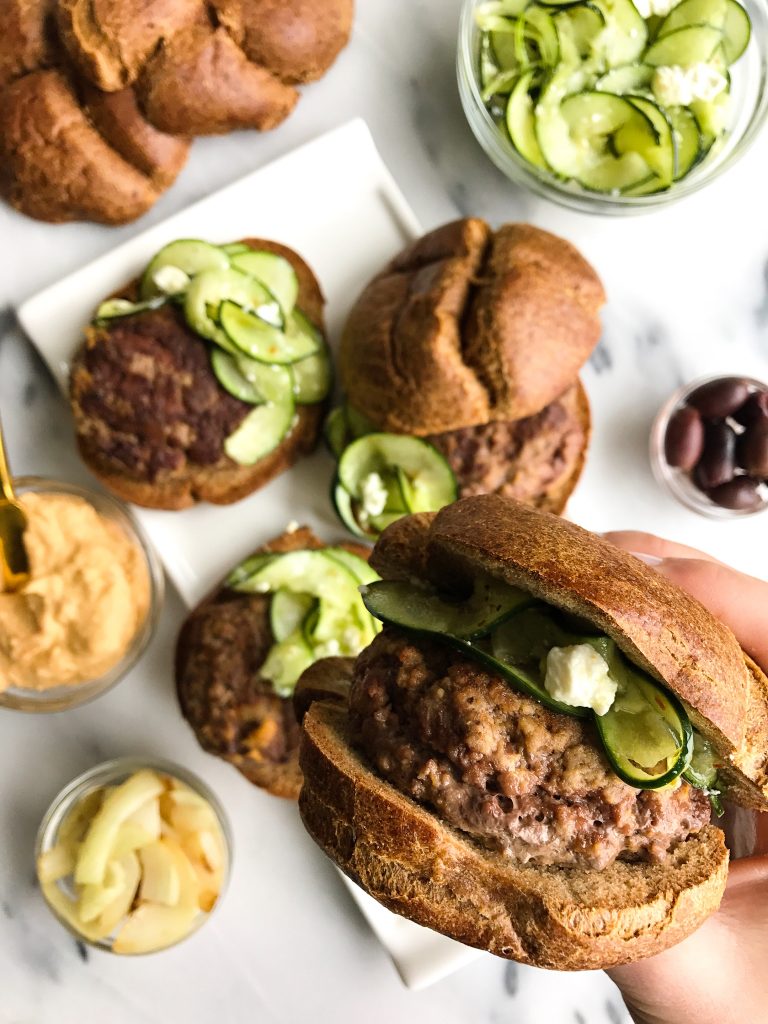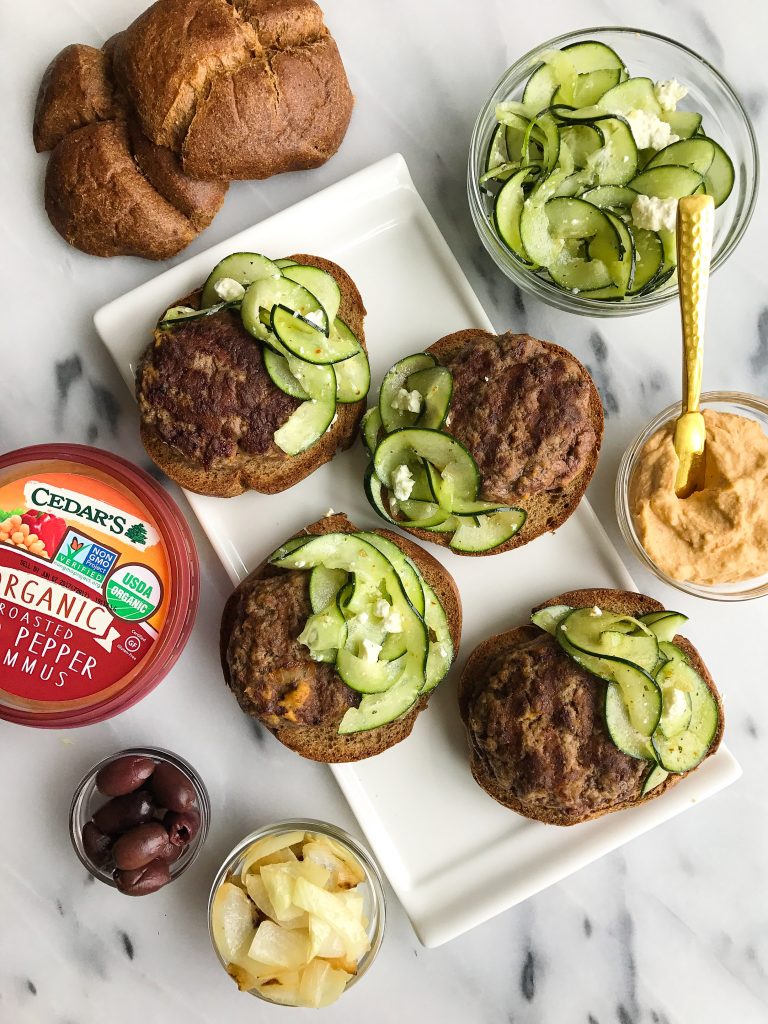 Print
Easy Hummus Stuffed Burgers with Greek Cucumber Slaw
Prep Time:

10 mins

Cook Time:

30 mins

Total Time:

40 mins
Hummus stuffed burgers:

1

–

1.25

lb grass-fed beef

3/4 teaspoon

cumin

1/2 teaspoon

smoked paprika

1/3 cup

Cedar's Organic Hommus, divided (I used roasted red pepper)

Greek Cucumber Slaw

1

large cucumber, sliced or spiralized

1/3 cup

crumbled feta cheese

1 tablespoon

fresh oregano leaves

1

lemon, juiced

2 tablespoons

avocado oil

Other burger ingredients:

4

buns of your choice (I used Barely Bread Savory Rolls)

Kalamata olives
Instructions
Preheat oven to 400 degrees
Grease your grill pan well (I used avocado oil spray) and heat to medium
In a medium bowl, mix together beef and spices and combine well then split into 4 equal portions
Using your hands or a kitchen tool of choice, flatten one of the beef portions out so it is pancake-like then add a tablespoon of the hummus inside and fold the burger so the hummus stays inside (it's okay if the hummus is showing or comes out of the sides, it did for me too)
Repeat for each patty then add to the grill pan
Grill on the pan for 2 to 3 minutes on each side (be gentle when flipping)
Add the burgers to a cast iron skillet and finish cooking in the oven for another 10 to 15 minutes or until your liking
While the burgers cook, combine all cucumber slaw ingredients in a bowl and mix well
Once burgers are ready, enjoy with your favorite bun, top with slaw and more hummus!
Author:
Category:

grain-free, gluten-free, dairy-free

Cuisine:

dinner, lunch, burgers
xx, Rach


Thank you Cedar's for sponsoring this post. It means so much to me to work with brands that I love and who support rachLmansfield!