Paleo Cinnamon Streusel Banana Bread topped with a clean cinnamon crumble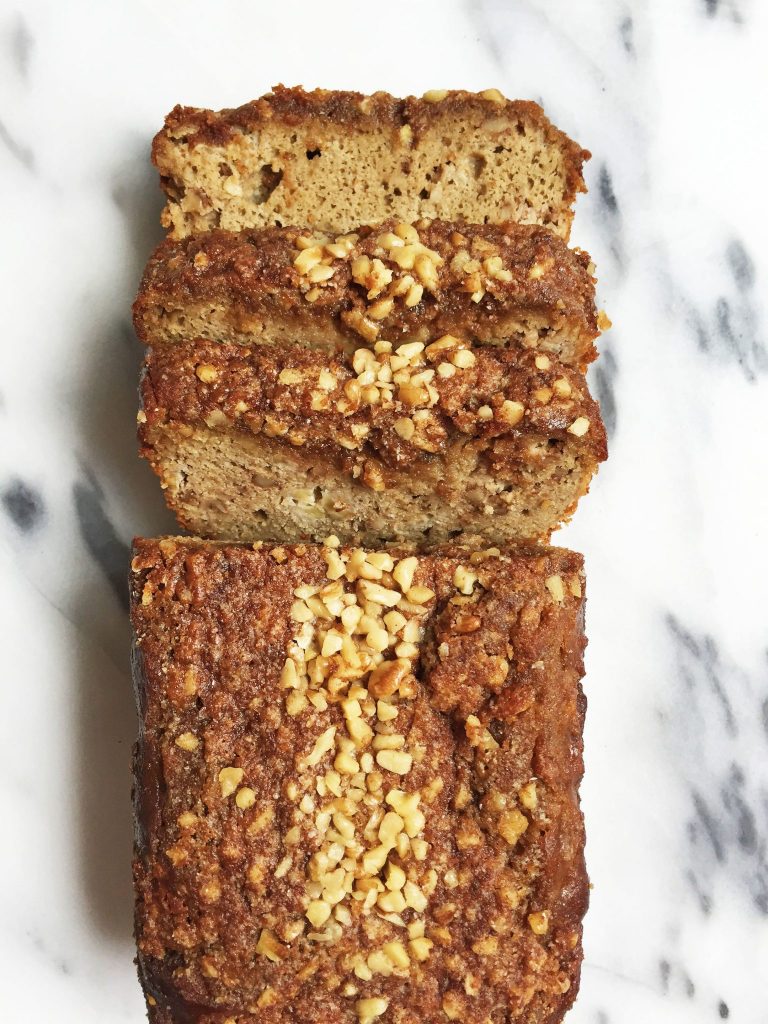 BABES. I feel like I say this so much, but this recipe OH MY GOSH. This Paleo Cinnamon Streusel Banana Bread is EVERYTHING. I basically have been dreaming about it since my first bite.
I like to think everything indulgent can be made into a healthy and clean treat but streusel seriously stumped me for awhile. How the beep do you make that buttery crumb goodness into a light and delicious recipe?
See? You are stumped too. But because I am pretty stubborn yet determinate, I was not giving up that easily. This paleo cinnamon streusel is so clean and perfectly sweet. I am beyond pleased with the results and the extra something it added to this perfect loaf of banana bread.
Almost all of my banana bread recipes are paleo or at least paleo-friendly. I love how light these loaves turn out and how I can eat a couple slices and not feel guilty. I always get the question "how do you eat desserts and stay thin?".
First of all, it's all about moderation people. Secondly you need you eat clean 80% of the time.
You also cannot deprive yourself from things that you love. That will lead you to binging and going crazy when you finally take a bite of something you haven't had in awhile. I like to say I live a balanced and clean lifestyle for the most part. I work out 4-5x a week and try to stand up during the day instead of sitting at a desk. Granted half my job is baking and cooking, but standing for most of your work day is KEY. I also pay attention to the food that goes into my body. Obviously we don't have that control when we are at restaurants, so I try to eat out a couple days a week. I pay attention to the ingredients I cook with and buy organic when I can.
I have an endless love affair with desserts so eliminating them from my diet just isn't an option. That is why I hope you inspire you babes to do the same. I do believe everything can be made into a cleaner and healthier version that we can enjoy. Life's too short not to eat and do the things we love, am I right?
Finally, don't forget to share your creations from my blog with me on social media! I love seeing what you babes make, especially on Instagram.
[bctt tweet="Paleo Cinnamon Crumb Banana Bread" username="rachLmansfield"]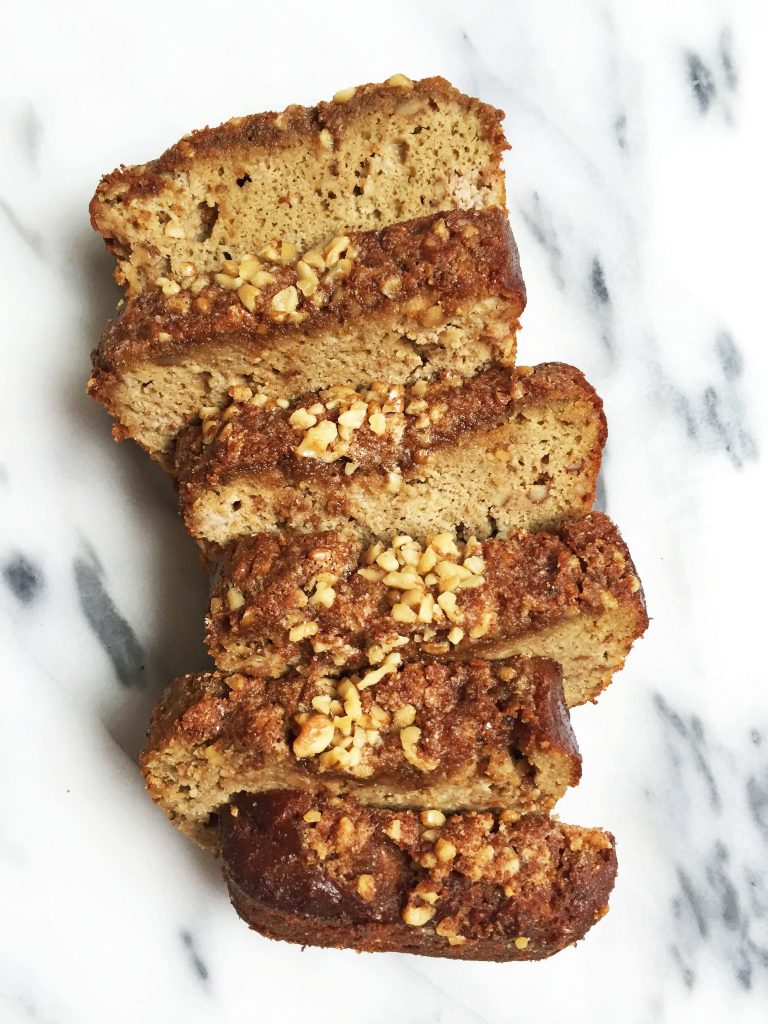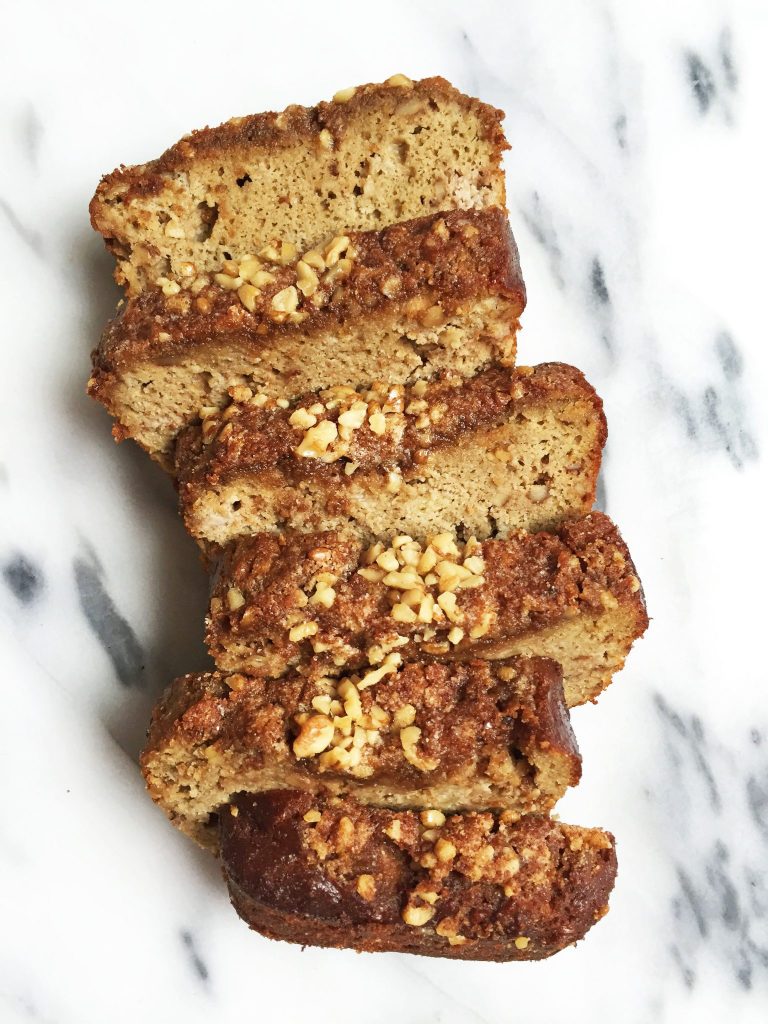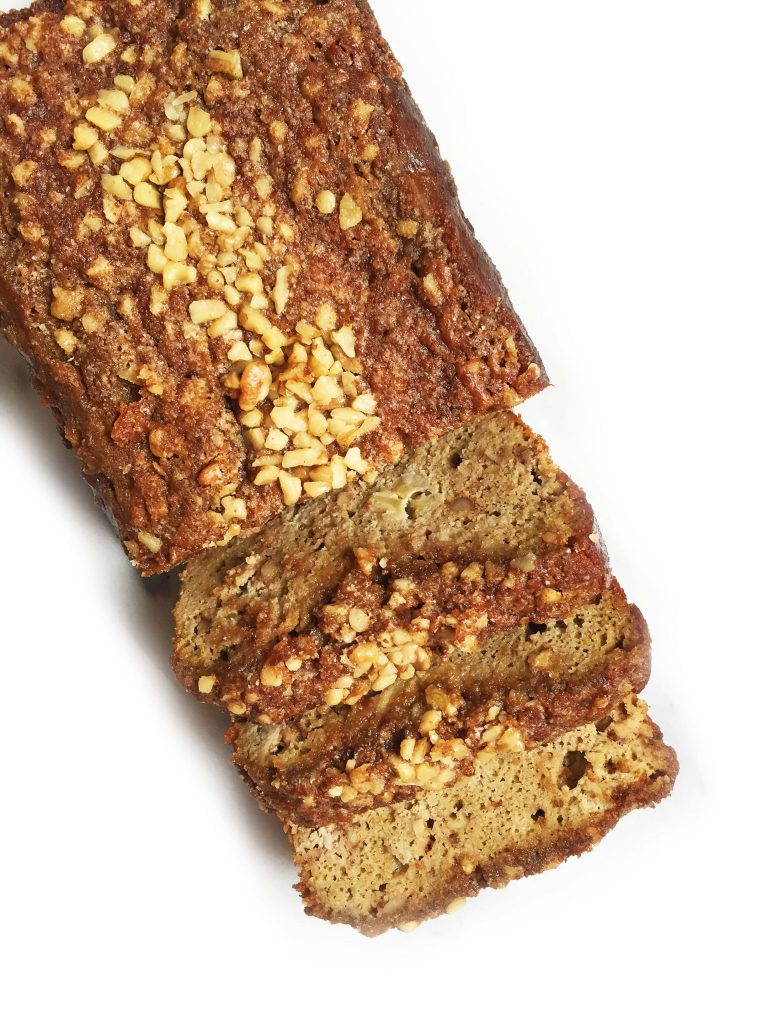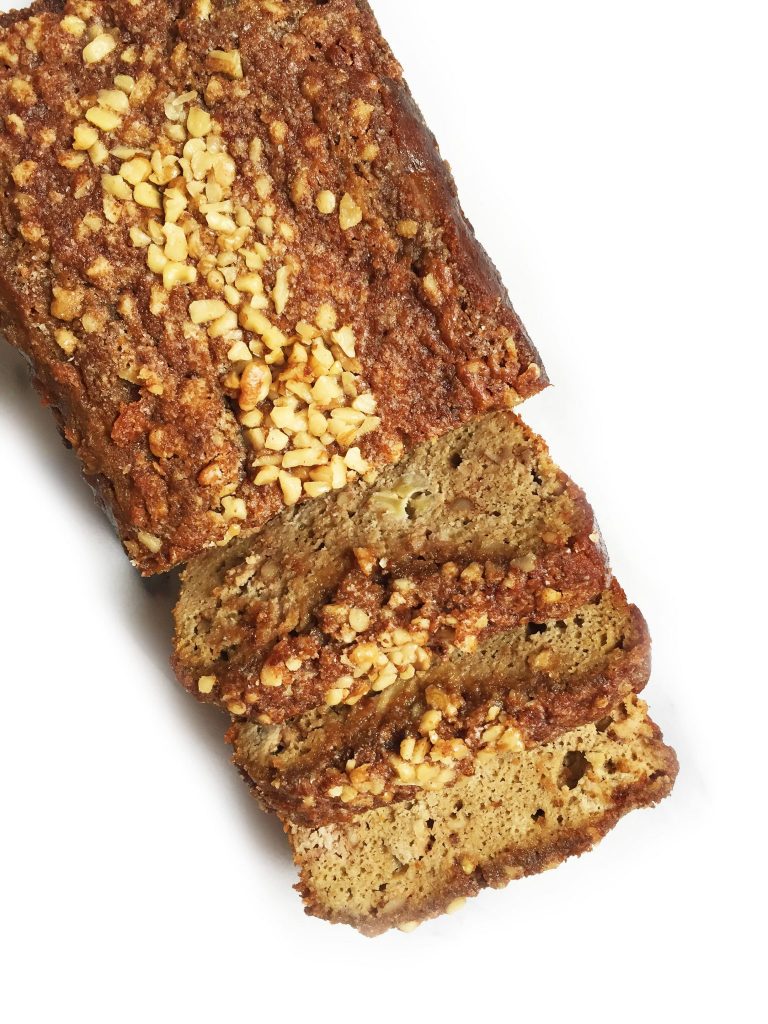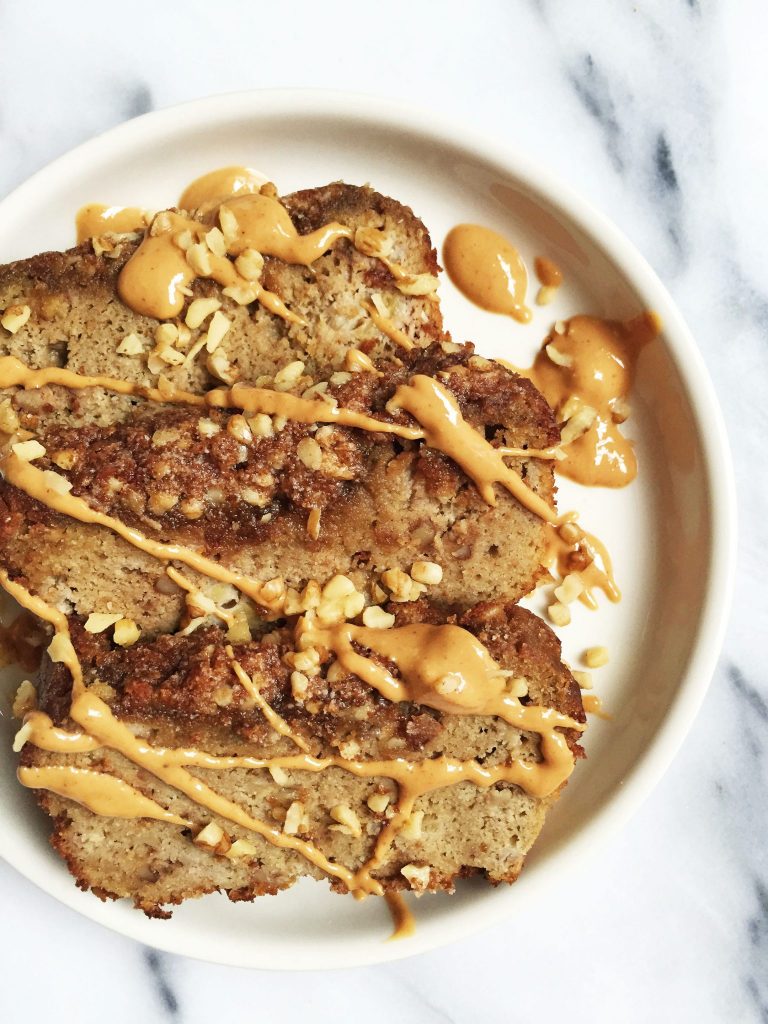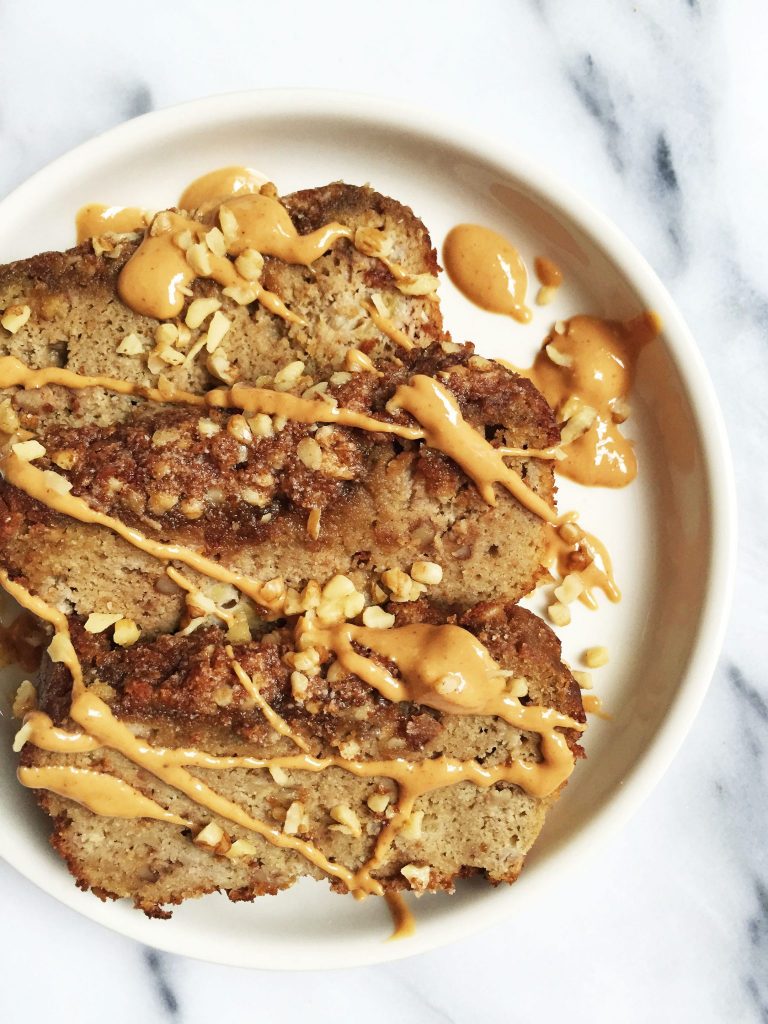 Print
Paleo Cinnamon Streusel Banana Bread
Wet ingredients:

2

ripe bannas, mashed

3

eggs at room temperature

2

tbs coconut oil melted & cooled

1/3 cup

sunflower seed butter (any other nut butter will work too)

1 tablespoons

honey (maple syrup or agave will work too)

Splash of vanilla extract

Dry ingredients:

2 cups

almond flour (I do not recommend subbing any other flour)

1 teaspoon

baking powder

Add in's:

1/2 cup

raw chopped walnuts

Cinnamon Streusel:

1/4 cup

almond flour

1/4 cup

coconut sugar

2 tablespoons

coconut oil melted & cooled

1 teaspoon

cinnamon
Instructions
Preheat oven to 350 degrees and grease loaf pan well or spray a loaf pan with parchment paper (I used 8.5 x 4.5 x 2.5)
Whisk together wet ingredients (I recommend using a Kitchen Aid if you have)
Add dry ingredients and mix well
Fold in walnuts and mix together
In a small bowl, begin making making cinnamon streusel by mixing together almond flour, coconut sugar, coconut oil and cinnamon
Pour banana bread mixture into loaf pan and and top with cinnamon streusel
Bake for 40 minutes or until tooth pick comes out clean
Will stay in fridge for 5-7 days or freezer for months
Author:
Category:

paleo, gluten free, grain free, dairy free

Cuisine:

breakfast, snacks, dessert
xx, Rach