Paleo-ish Chocolate Chip Zucchini Bread Pancakes made with healthy and simple ingredients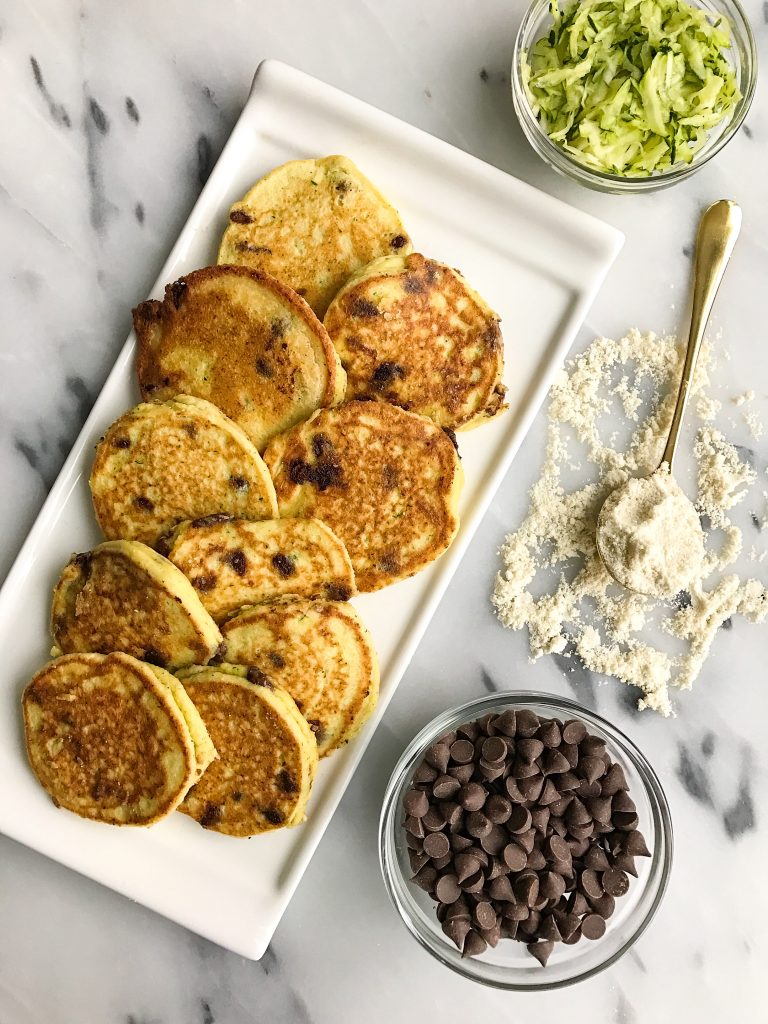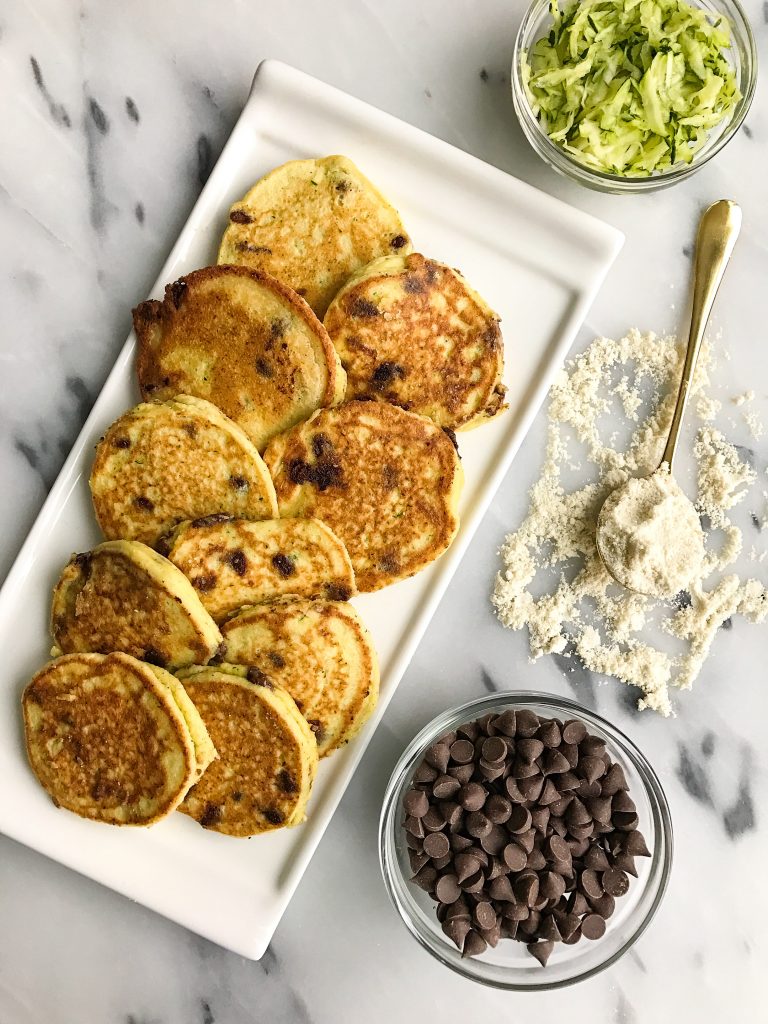 I am SO excited you guys. Today is the day I fly out to LA for Expo West! YESSS. I have been dreaming of going to Expo West since before I even started blogging. Back during my social media manager days. I envision it has like Disneyland for organic/natural food products filled with every delicious food and beverage I could imagine.
This year a handful of my friends in the space are flying out for it too, which makes it even more special. It will be a weekend of hanging with friends, meeting brands in person and hanging with my family since my Mom and Dad are joining me (lolz I am 5 years old, I know).
It only seems fitting to share this recipe with you today because it is made with Bob's Red Mill PALEO baking flour. AKA my newest obsession and addiction. It is a dream come true for a grain-free baker and I have been using it none stop since trying it a few months ago.Bob never seizes to amaze me. AND I get to meet him this week! Every item you could possibly want or need is under the Bob's Red Mill family. My oats, flours, grains, nuts, seeds, anything! Are all from BRM. And now this paleo baking flour has quickly become a staple in my pantry.
Their Paleo Baking Flour Mix is filled with almond flour, arrowroot starch, coconut flour and tapioca flour. It is so flavorful and has an amazing nutritional value compared to your ordinary flour. It has healthy fats, protein and fiber in it making your baking a bit more nutritious the usual. While it isn't a 1:1 sub for regular flour, it is the ideal mix for making any flatbreads, cookies, brownies, pancakes, etc. into a paleo recipe.
I constantly fail at making paleo pancakes and once used a dozen eggs trying to perfect coconut flour ones. I knew that if I could make solid pancakes using this flour, it would be a game changer. And that is where these Paleo-ish Chocolate Chip Zucchini Bread Pancakes come in. I say "ish" because I do use coconut and almond yogurt while making them.
Zucchini bread is one of my absolute favs (or any bread for that matter) and pancakes are a weekend staple over here. I had never had or heard of zucchini pancakes prior to this and hope they are knew for you babes too. They are super easy to make and even get crispy on the edges.
WHAT YOU NEED
Eggs
Coconut oil
Almond milk
Coconut or almond yogurt
Vanila extract
Zucchini
Bob's Red Mill Paleo Baking Flour
Cinnamon
Nutmeg
Baking powder
Dark chocolate chips
QUICK NOTES
I use a blender for the batter here to combine so it is mixed well. If you don't have one, just mix well by hand
Make sure the zucchini's are squeezed really well to get the moisture out or your batter will be way too watery
I have not tested any other flours here so I recommend using Bob's Paleo one! It really is amazing!!
These pancakes stay well so you can freeze them after making and defrost as you'd like to eat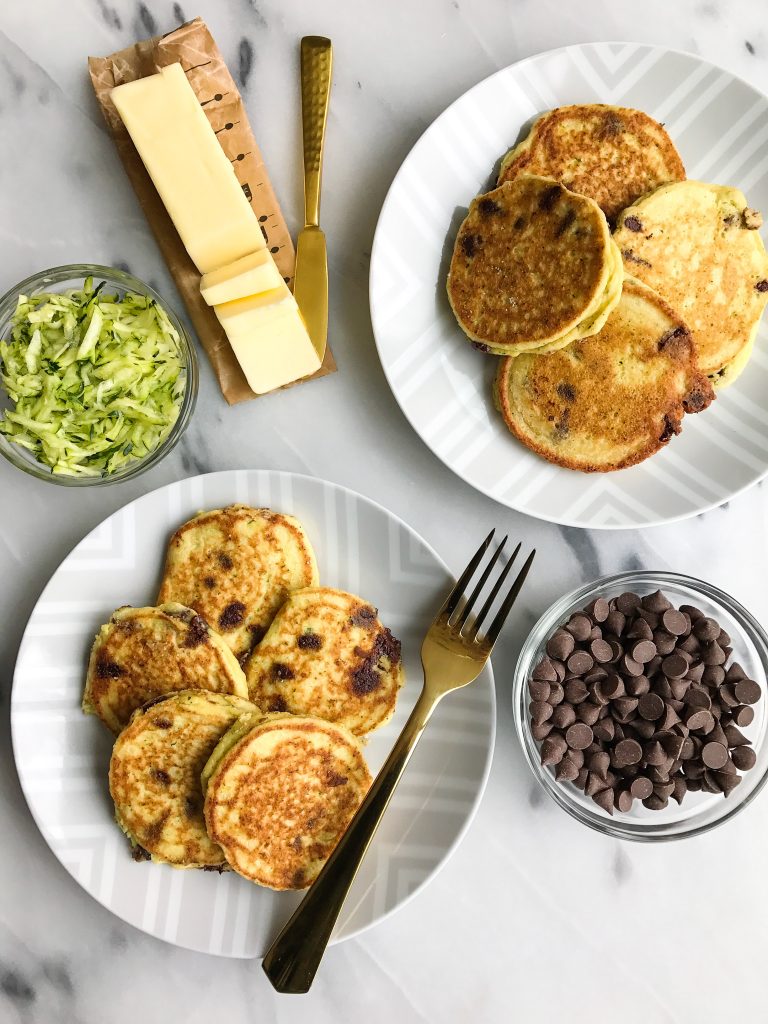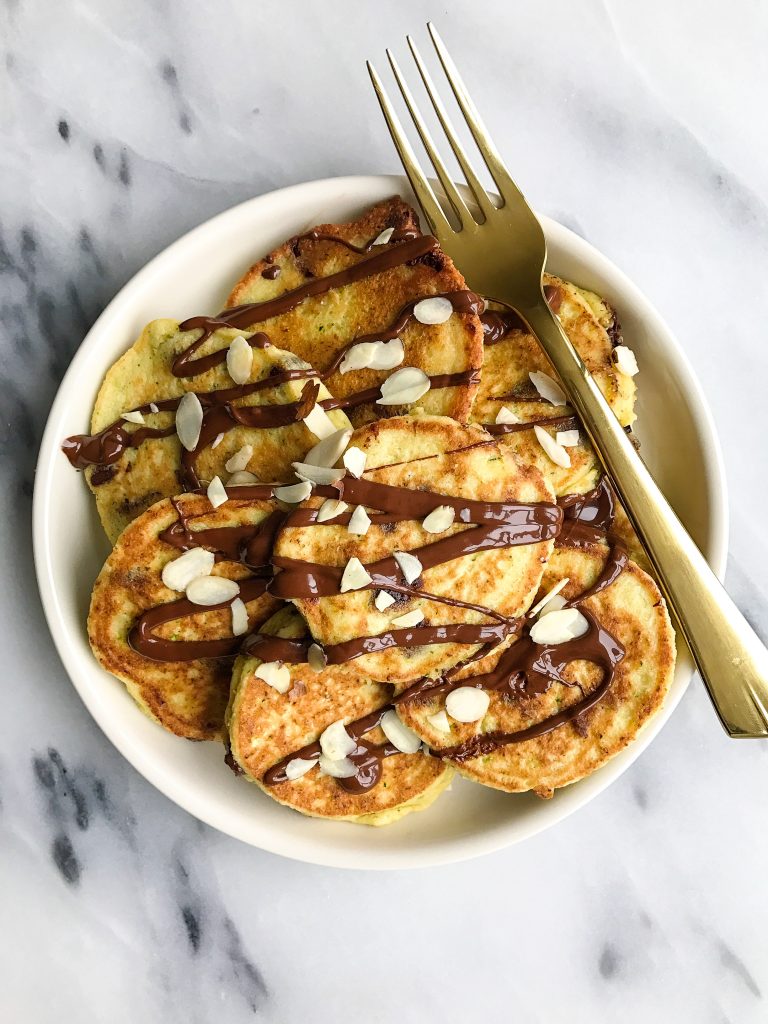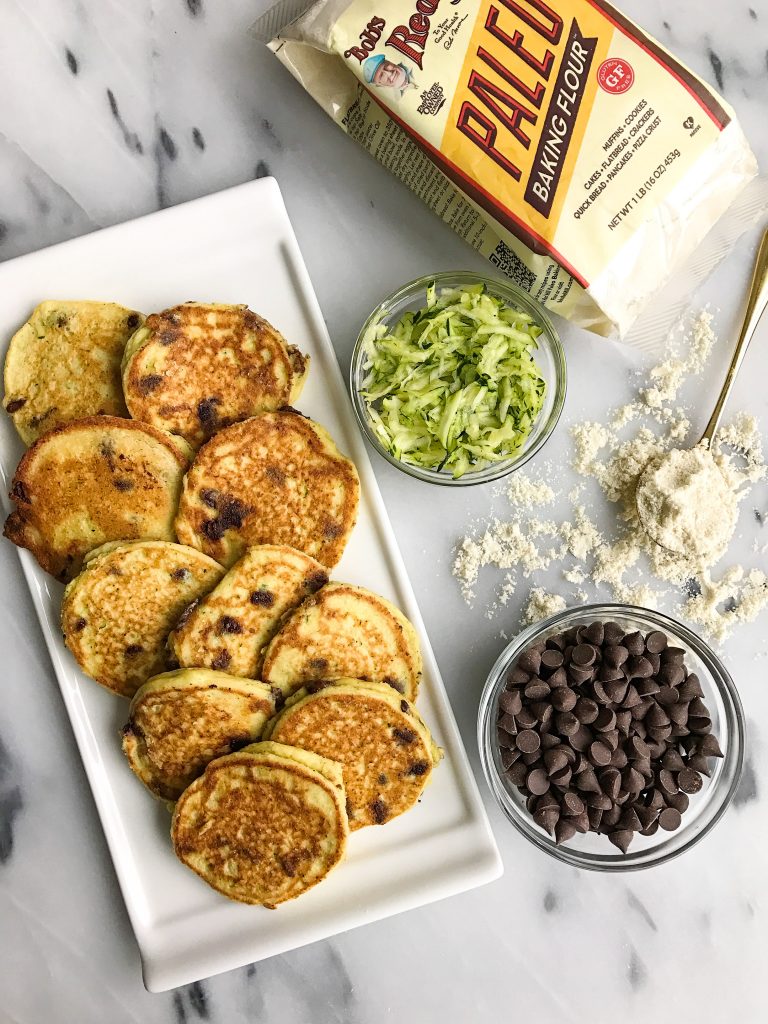 Print
Paleo-ish Chocolate Chip Zucchini Bread Pancakes
Prep Time:

5 mins

Cook Time:

5 mins

Total Time:

10 mins
Yield: About 10 small pancakes 1x
2

eggs (have not tested chia or flax eggs)

2 tablespoons

liquid coconut oil

¼ cup

plain yogurt

5 tablespoons

almond milk

½ teaspoon

vanilla extract

1½ cups

shredded zucchini (squeeze really well to get moisture out!)

3/4 cup

Bobs Red Mill Paleo Flour

1 teaspoon

cinnamon

¼ teaspoon

nutmeg

1 teaspoon

baking powder

½ cup

dark chocolate chips
Instructions
Place all ingredients except dark chocolate chips in a blender and blend until well combined
The pancake batter should be a little thick, if it is too thin just add a little more paleo flour
Fold in dark chocolate chips into the batter
Grease a medium pan with coconut oil and turn heat onto medium
Once the pan is heated, add about 2 tablespoons of batter onto the pan to form a pancake, I was able to cook about 2-3 pancakes at a time
Serve with your favorite maple syrup or nut butter!
*Store in fridge for 5-7 days or you can freeze for longer!
Author:
Category:

grain free, gluten free, dairy free

Cuisine:

breakfast, pancakes
xx, Rach


Thank you Bob's Red Mill for sponsoring this post. It means so much to me to work with brands that I love and who support rachLmansfield!