Roasted Red Pepper Chicken + Basil Pinwheels for an easy and healthy lunch/appetizer!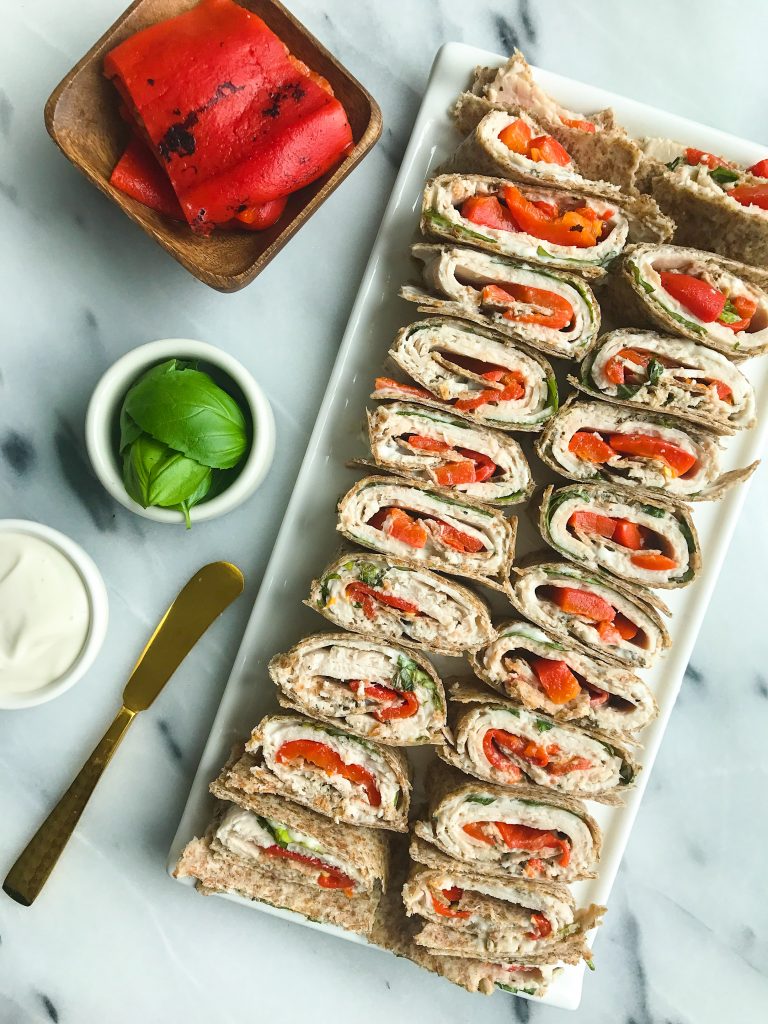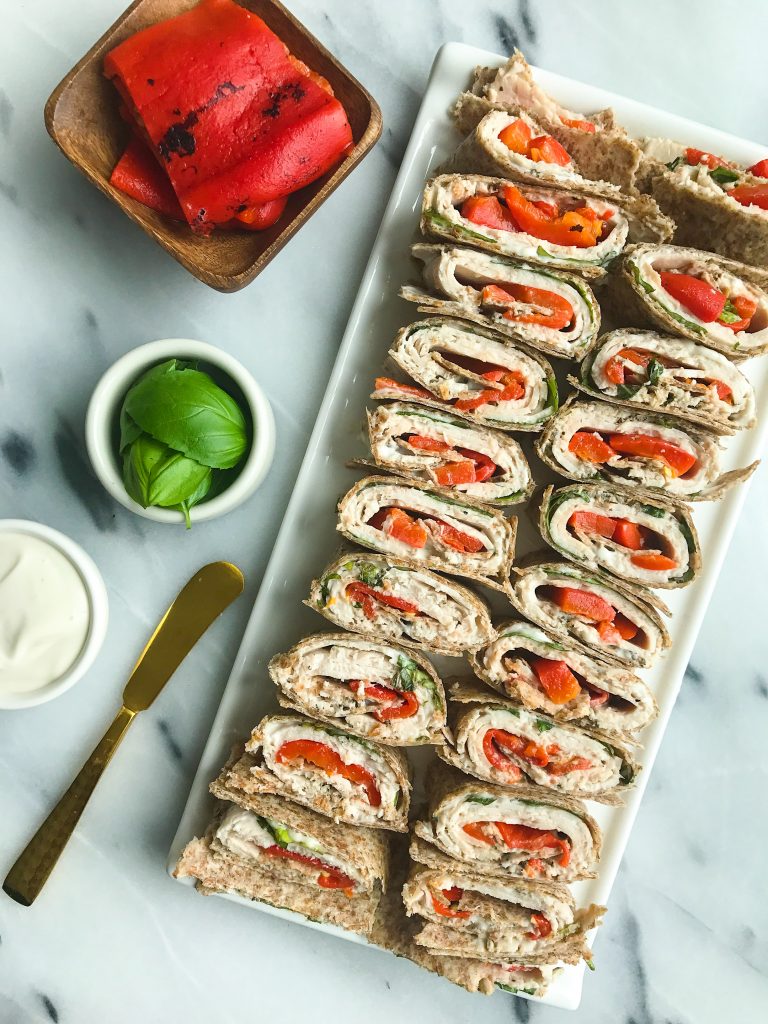 So epically excited about this recipe today. Pinwheels have been my absolute favorite wrap and easy finger food ever since my Mom started making them for me when I was younger.
Every time she would have company over for a party or BBQ, these would be my number one request on the menu. Good old PINWHEELS aka a fancy way of saying a wrap with some good eats in it.
These Roasted Red Pepper Chicken and Basil Pinwheels are my absolute favorite combo. I've loved adding basil to my meals lately. We had a basil plant growing in our apartment but then we moved and some how lost it in transit. We moved over 10 plants to our new apartment and unfortunately a few went missing during the move. I personally think Jord just was over it and knew we could get a new one from the store easily.
But anyways, these pinwheels are SO simple and easy to make. All you need are five easy ingredients. One being Sir Kensington's newest product, Avocado Oil Fabanaise! Yup, they're at it again. Sir Kensington's launched their newest plant-based mayo option and it is made with avocado oil! This actually may be one of my favorite products from them yet. It's made with simple ingredients and uses aquafaba to create this dreamy vegan mayo.
Aquafaba is the water that is left behind after cooking chickpeas. Whipping up a mayo an easy way to reuse the liquid and not let it go to waste! You can actually mix it with a few other ingredients if you want to make it yourself or find Sir Kesginston's Fabaniase an easy and super clean vegan mayo option!
These pinwheels are so easy to make and you can whip them up for quick lunch (great to meal prep) or to serve for a get together as an appetizer. Either way, make extras for your own personal consumption. Or for me.. either works 😉
WHAT YOU NEED
Sir Kensington's Avocado Oil Fabanaise
Chicken
Tortillas (I used these)
Basil
Roasted red peppers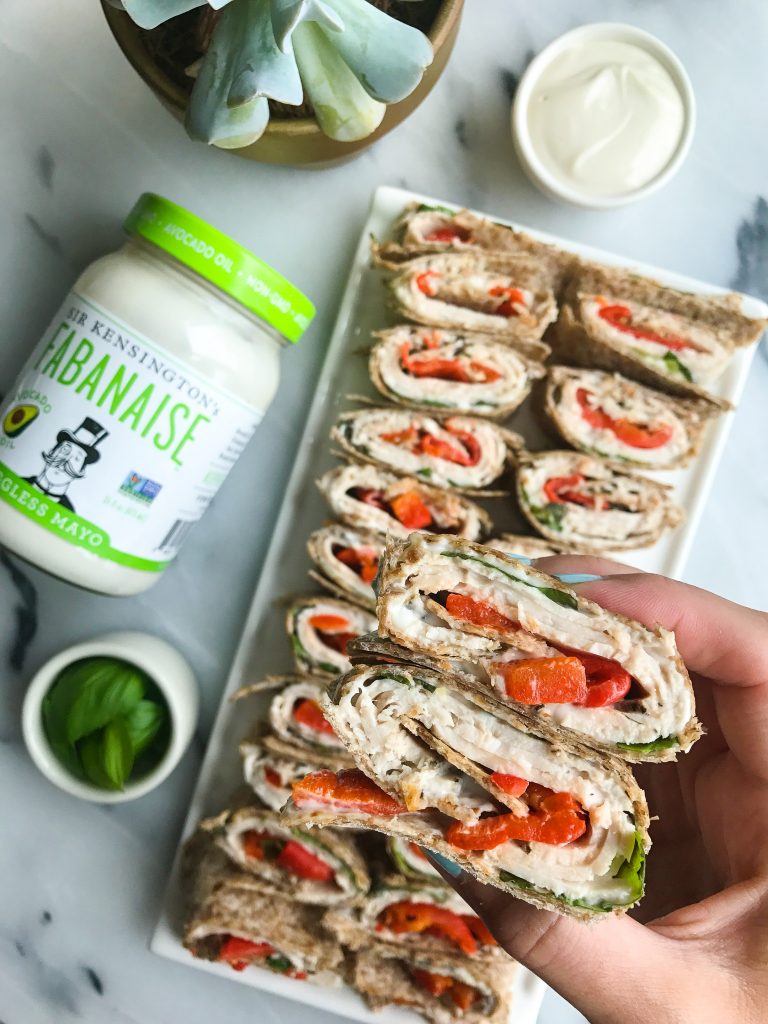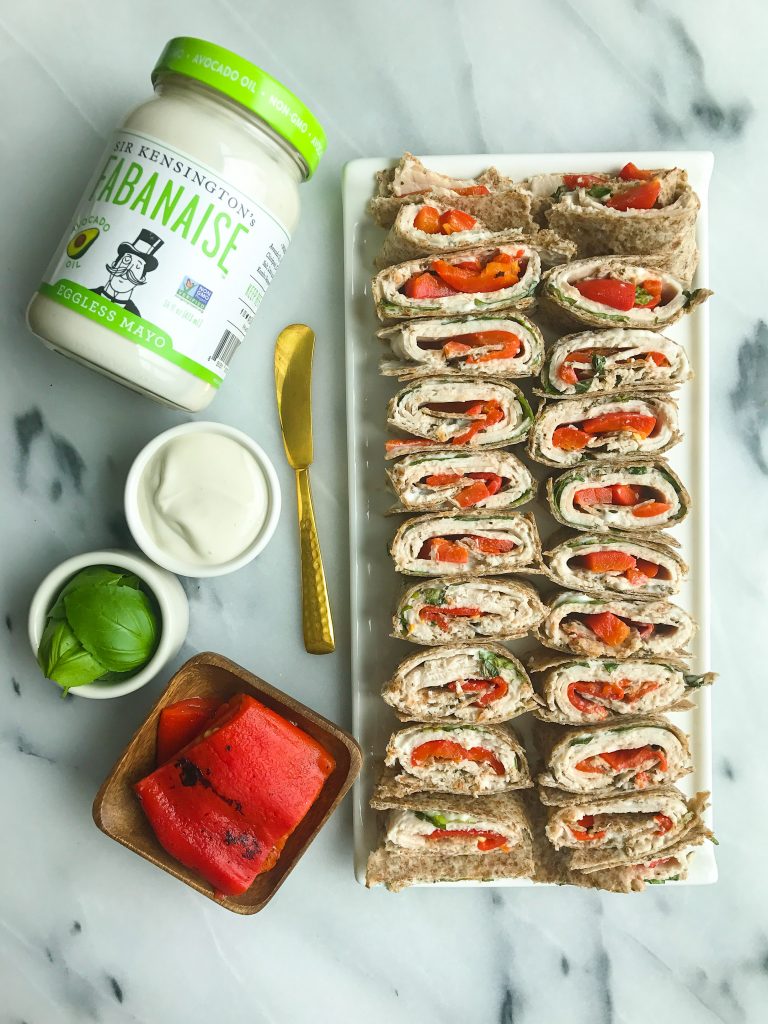 Print
Roasted Red Pepper Chicken + Basil Pinwheels (dairy-free)
Prep Time:

10 mins

Total Time:

10 mins
12

–

15

ounces of slide chicken (or turkey!)

1/4 cup

chopped basil

1/2 cup

sliced roasted red peppers

1/4 cup

Sir Kensington's Avocado Oil Fabanaise

4

tortillas (I used brown rice and they worked well)
Instructions
Line a cutting board with a layer of plastic wrap
Add 1 tortilla to the plastic wrap and a layer of mayo followed by a couple slices of chicken, roasted red peppers and basil
Roll it up tightly and wrap in the plastic wrap
Repeat for each tortilla and place in fridge for about 30 minutes or so
Remove from fridge then cut into 1 inch sections and enjoy!
*Will stay good in the fridge for 5 days
Author:
Category:

gluten-free, dairy-free

Cuisine:

appetizer, lunch
xx, Rach
Thank you Sir Kensington's for sponsoring this post. It means so much to me to work with brands that I love and who support rachLmansfield!