The Best Chocolate Chip Cookie Stuffed Brownies made with all gluten-free and vegan ingredients for a healthy and easy dessert!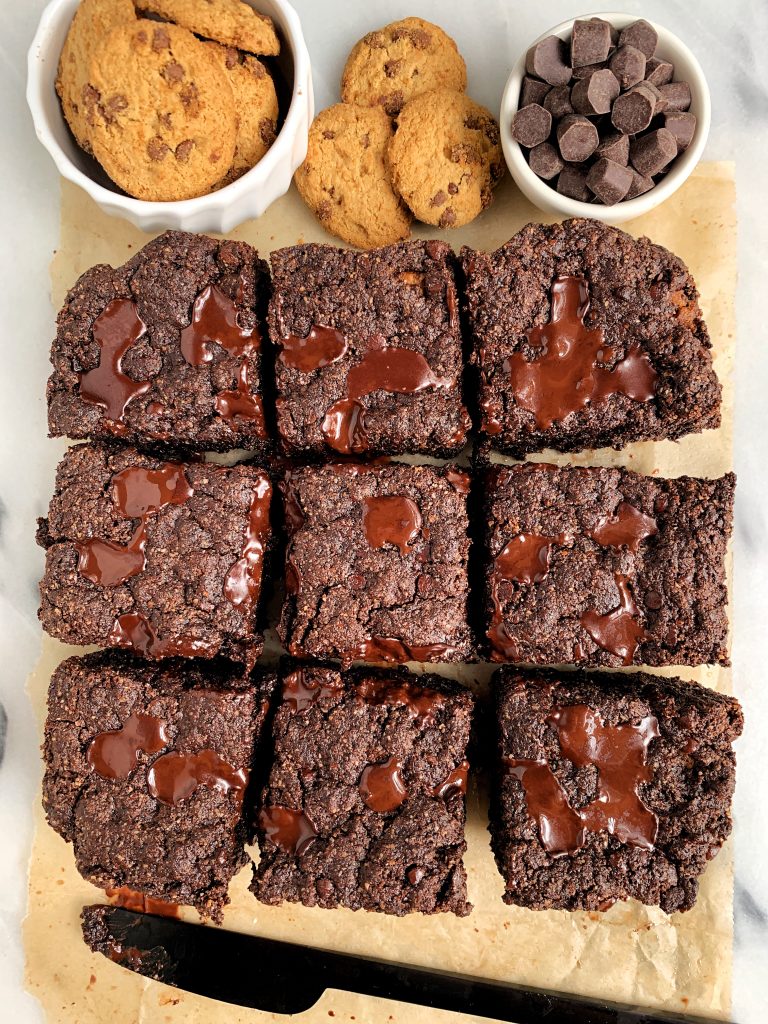 I think the cool kids call these "slutty brownies" but for one I am not cool and two my mom wold 100% have something to say if I had a recipe with "slut" in it – ha!
So we're going with The Best Chocolate Chip Cookie Stuffed Brownies and I am feeling really good about these bad boys. They are gluten-free and vegan and made with such easy ingredients you will see.
What I also love about these is that they sound 100x more gluttonous than they actually are. When you think about adding cookies into brownies, most would say "whoa that's crazy" but when you add a thin layer of these Crunchy Chocolate Chips Cookies from Simple Mills on the brownie batter, you'll see they really aren't as crazy as you think.
For starters the Simple Mills cookies are made with a nut and seed blend, organic coconut sugar, organic coconut oil and all ingredients you would find in your own kitchen. How awesome is that? But I am sure most of you already know this since I talk about Simple Mills and all of their goodies often. We have been a fan of their mixes, crackers and cookies for over four years now (so insane!) and it has been amazing to see their brand grow. I remember when they only had cake mixes to offer. Now there are so many options to choice from.
These brownies are based off of my Grain-free Chocolate Chip Brownie recipe from the blog but I adapted them to make them egg-free/vegan. You can also totally cheat and use the Simple Mills Brownie Mix, which works wonderfully here! You may need to double up the mix as they are a bit thinner than my recipe but who's complaining about a double batch of brownies?! Not me 😉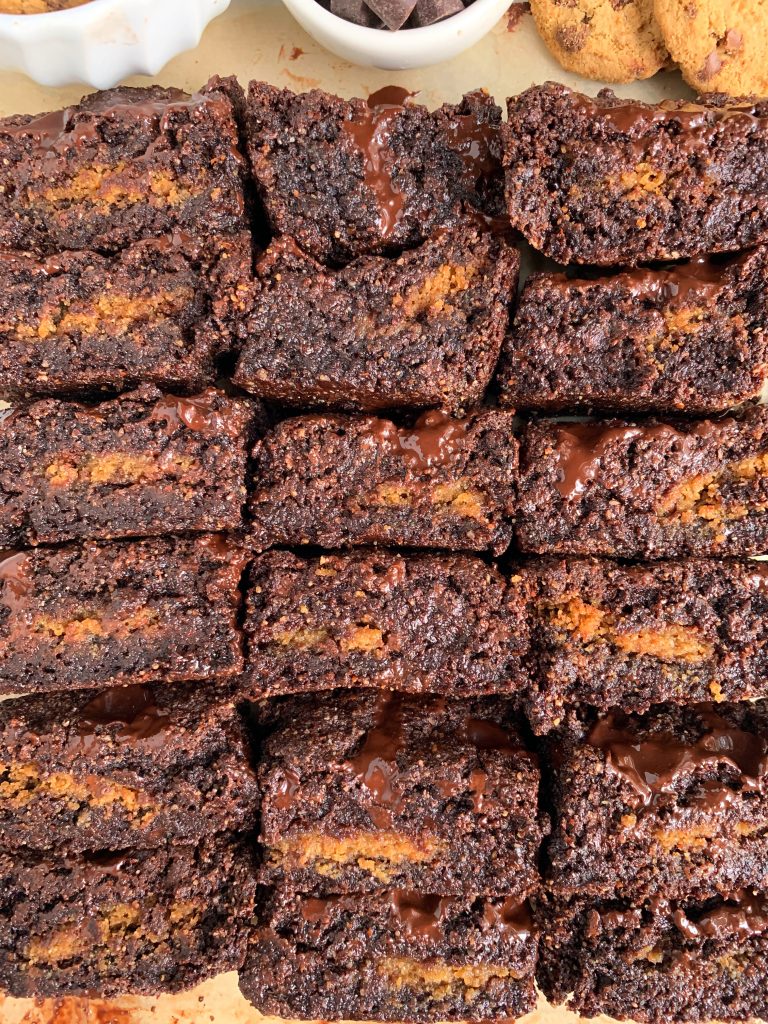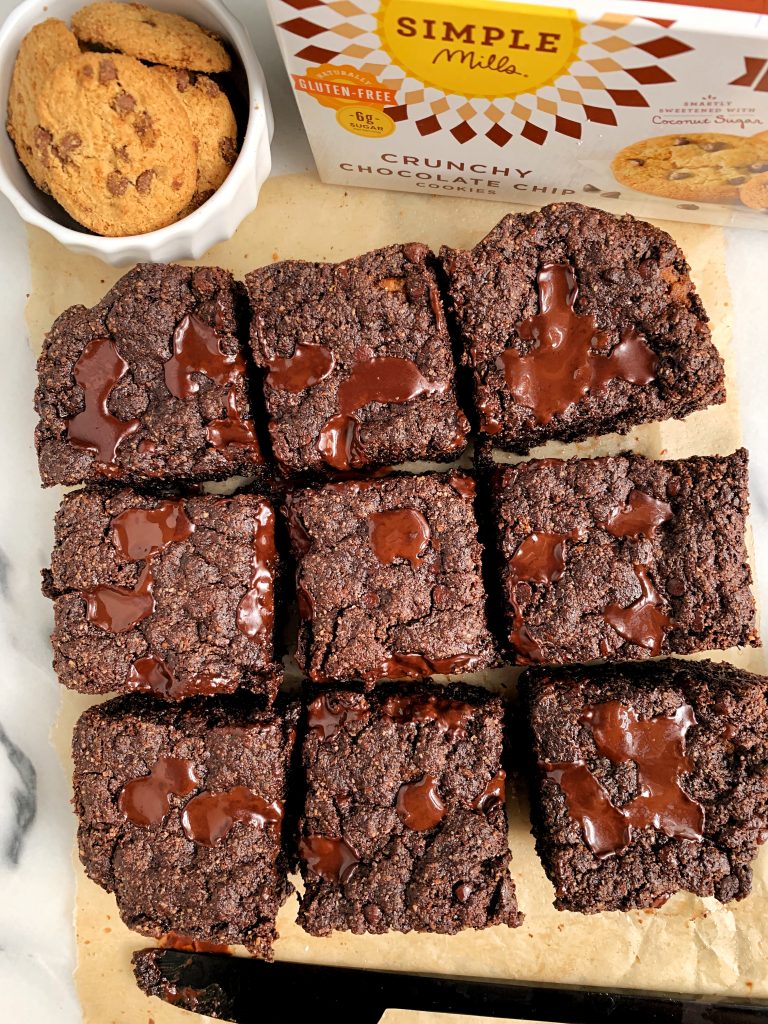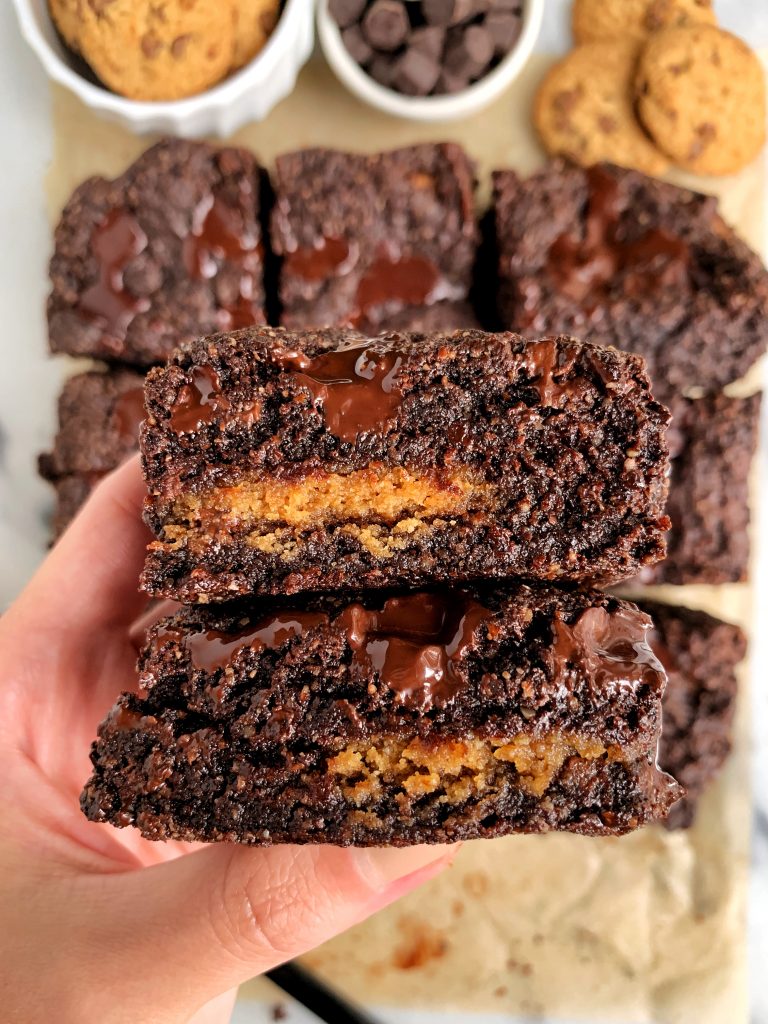 Print
The Best Chocolate Chip Cookie Stuffed Brownies
The Best Chocolate Chip Cookie Stuffed Brownies made with gluten-free and vegan ingredients for an easy and healthier cookie stuffed brownie recipe!
Prep Time:

5 mins

Cook Time:

25 mins

Total Time:

30 minutes
2

flax eggs (or sub pasture-raised eggs)

2 cups

creamy nut butter (almond, cashew, anything)

1 cup

maple syrup (I don't bake with honey!)

1 teaspoon

vanilla extract

1 cup

almond flour

1/2 cup

cacao powder

1 teaspoon

baking powder

1 cup

chocolate chips of choice (code RACHL for free shipping)
Instructions
Preheat oven to 350 degrees and grease an 8×8 baking dish or line with parchment paper
Combine the flax eggs, nut butter, maple syrup and vanilla extract and mix well
Add in the almond flour, cacao powder and baking powder and mix again
Fold in the chocolate chips then add half the batter of brownie mix to the baking dish
Spread an even layer of cookies across the mix and gently press them down
Add the other half of brownie mix on top then bake in oven for about 25-30 minutes, or until fully baked
Notes
*You can also use the Simple Mills Brownie Mix instead of making your own brownies!
**Store leftovers for up to 5 days in airtight container or freezer for longer
xx, Rach
Thank you Simple Mills for partnering with me for this post! It means so much to me to spread the word about brands I love and believe in.