This Smashed Potato Salad is the ultimate BBQ side dish. Crispy grilled smashed potatoes tossed in a dreamy creamy dressing.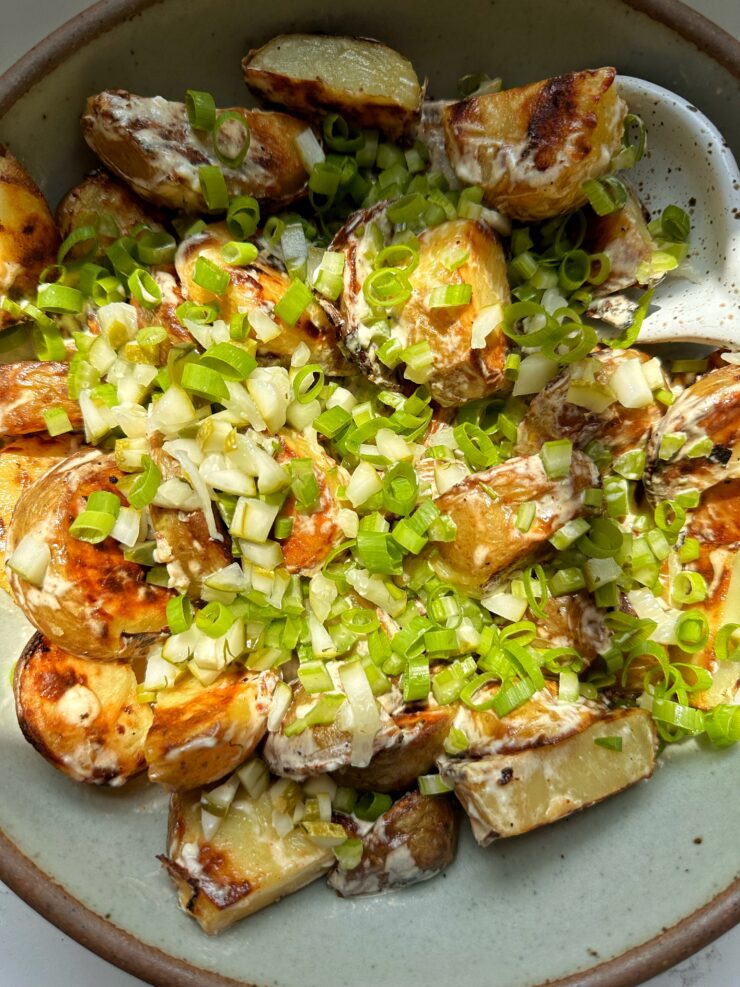 Oh my goodness! This is THE ultimate potato salad! Smashed potato salad, where have you been my whole life?! Especially with my obsession with all things smashed potatoes.
This is hands down a must make for your summer BBQs or whenever you want something creamy and delicious like potato salad. It is easy to make, you don't need to turn your oven on either!
These potatoes are just so incredibly crispy and crunchy and wonderful. Oddly enough paired with the dressing for the salad, it really is the most dreamy texture combo you could imagine. Yes, it is a *little* extra work to smash them compared to making a more traditional potato salad. But I can assure you it is 100% worth it.
This is guaranteed to be a crowd pleaser each time. And the leftovers are delicious the next day too. You can either serve this warm, cool or room temperature too.
I cannot wait to hear what you think of this recipe.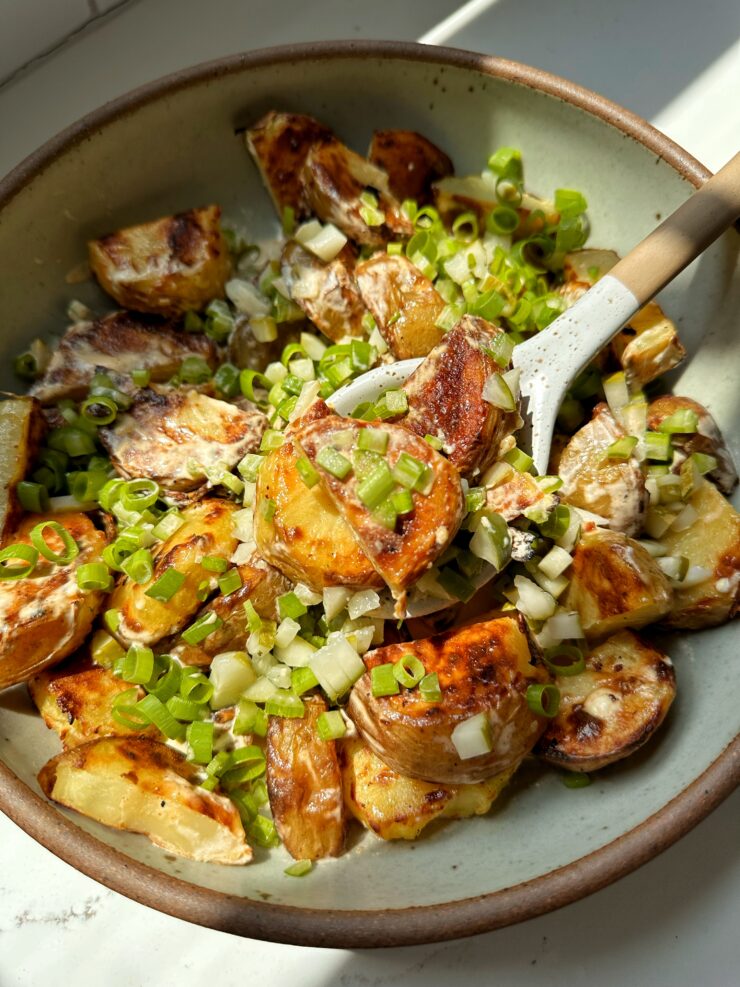 What ingredients you need to make smashed potato salad:
Gold potatoes – washed and scrubbed. I use the gold yukon potatoes for this salad most often
Mayonnaise – really any mayo can work but I think the classic mayo is best for recipes like this!
Milk of choice – dairy or non-dairy both work here. I use almond milk for this and it turned out great
Dijon mustard – a touch of this adds the best flavor
Lemon juice – from fresh lemon if possible
Smoked paprika – perfect spice to add into the dressing
Dill pickles – or your favorite kind of pickle works too
Chopped celery – optional to add but adds great crunch with the pickles too
Sliced scallions – love adding the green tips of the scallion to this salad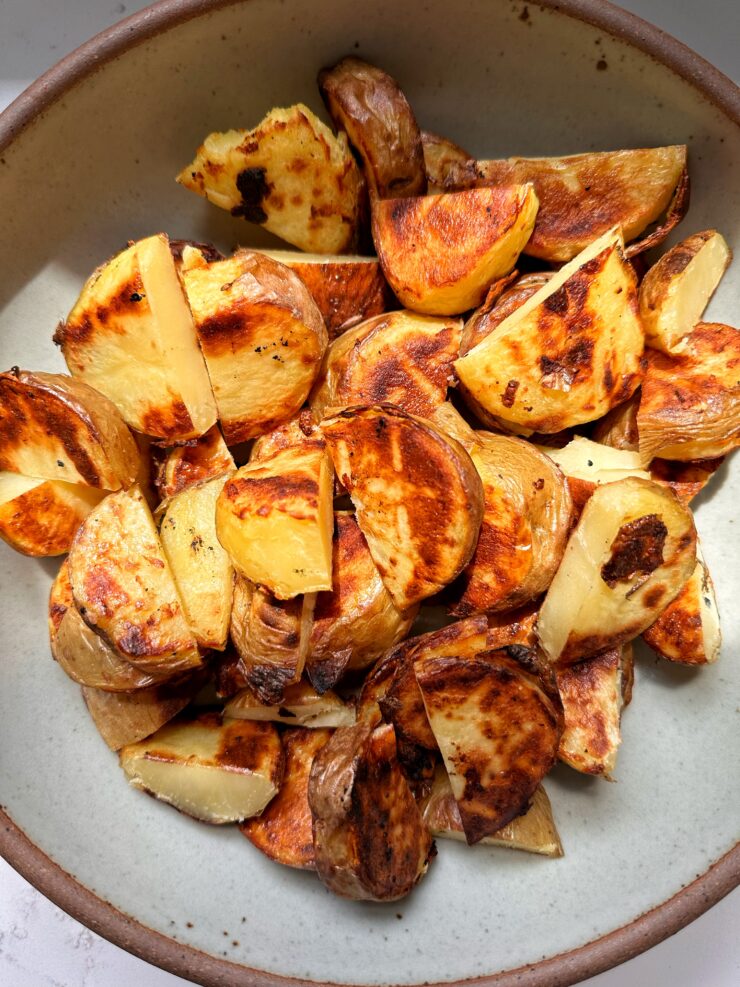 How to make smashed potato salad:
Bring a large pot of salted water to a boil and add potatoes
Cook for 18-20 minutes or until they are tender
Rinse and drain then dry and allow them to cool
Slice the potatoes into 1/2 inch coins then add to a greased grill basket
Smash each potato with a drinking glass so each are smashed
Drizzle with more olive oil then warm the grill to medium high-heat
Cook the potatoes for about 10 minutes on each side or until crispy/golden
Meanwhile prepare the dressing by whisking together mayo, milk, dijon, lemon and paprika until fully combined
Add the smashed potatoes to a large bowl and pour desired amount of dressing on top followed by the pickles, celery and scallions, toss and serve warm or cool (both are delicious!)
FAQs on making this delicious potato salad with smashed potatoes:
What are the best kind of potatoes for potato salad? I love using gold yukon potatoes for this the most. You can also use russet potatoes, red potatoes for this smashed potato salad too.
How long does this potato salad stay good for? About 3-5 days in the fridge. It is great leftover too. You can find me snacking on this cold straight from the container and I'm not even a potato salad person.
Do I have to grill the potatoes or can I use the oven? If you prefer to make these in the oven then you can roast them at 450 degrees instead of grilling and timing should be the same too (about 10 minutes on each side).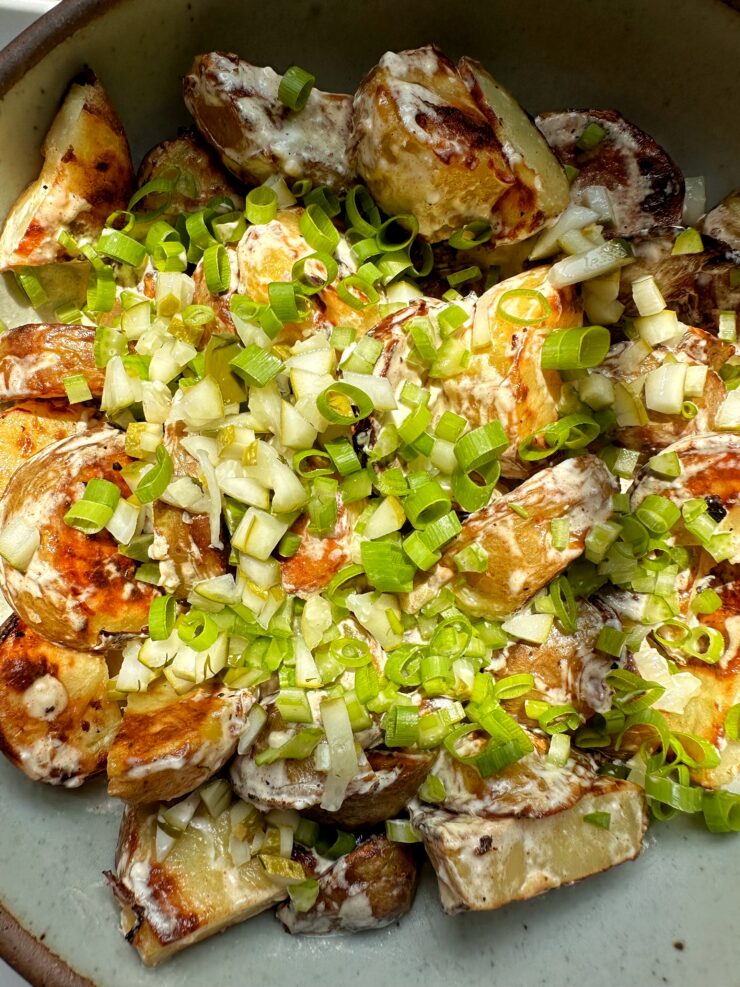 A few other delicious salad recipes to make for your BBQ:
Viral Cucumber and Sweet Pepper Salad
Greek Pasta Salad (gluten-free)
Creamy Whipped Feta Pasta Salad
Print
The Best Ever Smashed Potato Salad
This Smashed Potato Salad is the ultimate BBQ side dish. Crispy grilled potatoes tossed in a dreamy creamy dressing.
Prep Time:

5 mins

Cook Time:

40 mins

Total Time:

45 mins
3

lbs gold potatoes, washed

Sea salt

1/2 cup

mayonnaise

1/2 cup

milk of choice (dairy or non-dairy both work)

1 tablespoons

dijon mustard

1 tablespoon

lemon juice

1/2 teaspoon

paprika

1/4 cup

chopped dill pickles

4 tablespoons

chopped celery

1/4 cup

finely sliced scallions
Instructions
Bring a large pot of salted water to a boil and add potatoes
Cook for 18-20 minutes or until they are tender
Rinse and drain then dry and allow them to cool
Slice the potatoes into 1/2 inch coins then add to a greased grill basket
Smash each potato with a drinking glass so each are smashed
Drizzle with more olive oil then warm the grill to medium high-heat
Cook the potatoes for about 10 minutes on each side or until crispy/golden
Meanwhile prepare the dressing by whisking together mayo, milk, dijon, lemon and paprika until fully combined
Add the smashed potatoes to a large bowl and pour desired amount of dressing on top followed by the pickles, celery and scallions, toss and serve warm or cool (both are delicious!)
Notes
*Store leftovers in fridge for 5 days
**Feel free to double recipe if serving more people