These Smashed Sweet Potatoes are such an easy and delicious side dish to pair with your go-to protein or main! Made with less than 5 ingredients.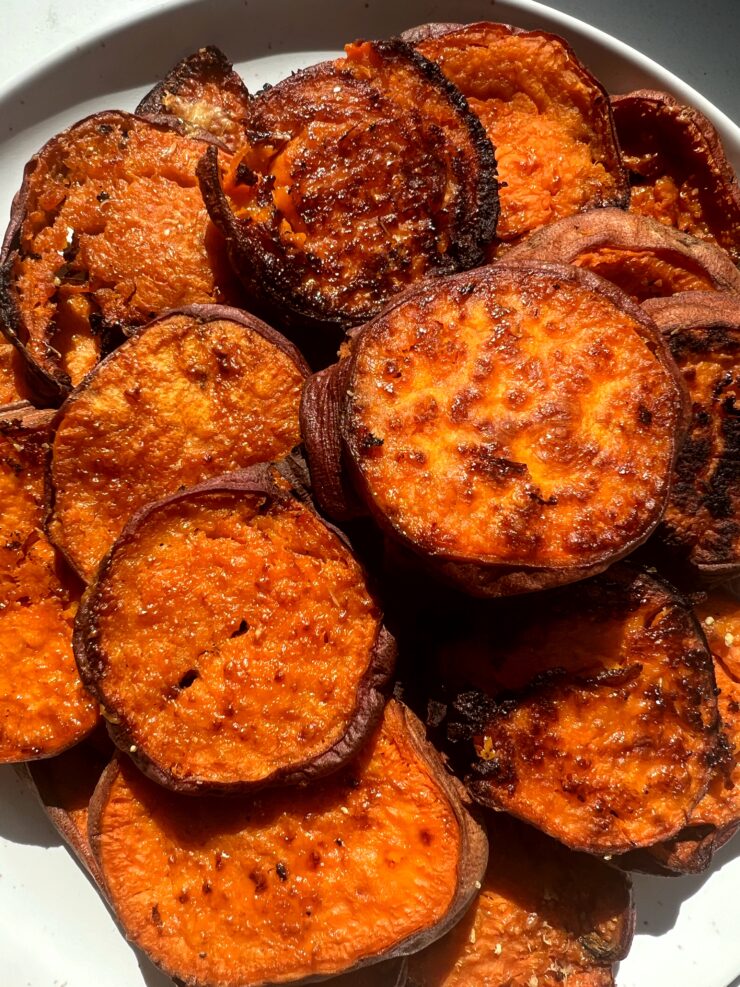 Smashed sweet potatoes are going to be one of your new favorite side dishes to make. These crispy sweet potato rounds are crispy, oven roasted and they are soft on the inside with a crunch from the parmesan cheese on the outside.
If you love all things potatoes and love smashed potatoes trend, you will 100% love these. I have been making them on repeat and my kids also love them too. My husband favors them with some extra spice on top too or a little honey honey for dipping.
I knew I had to make these with sweet potatoes after seeing how popular my Crispy Salt and Vinegar Smashed Potatoes were on Instagram. And instead of using baby potatoes, we just cut the sweet potatoes into small rounds to smash.
What ingredients you need to make smashed sweet potatoes:
Sweet potatoes – scrubbed and cut into 1-inch rounds. You can really use any sweet potato variety you'd like here. Japanese, garnet, yam, etc.
Olive oil or avocado oil – either oil will work here
Garlic powder – or use fresh minced garlic
Sea salt and black pepper to taste
Freshly grated parmesan cheese – I like to grate from the block of parmesan but you can do whatever works for you. Also if you're dairy-free omit the cheese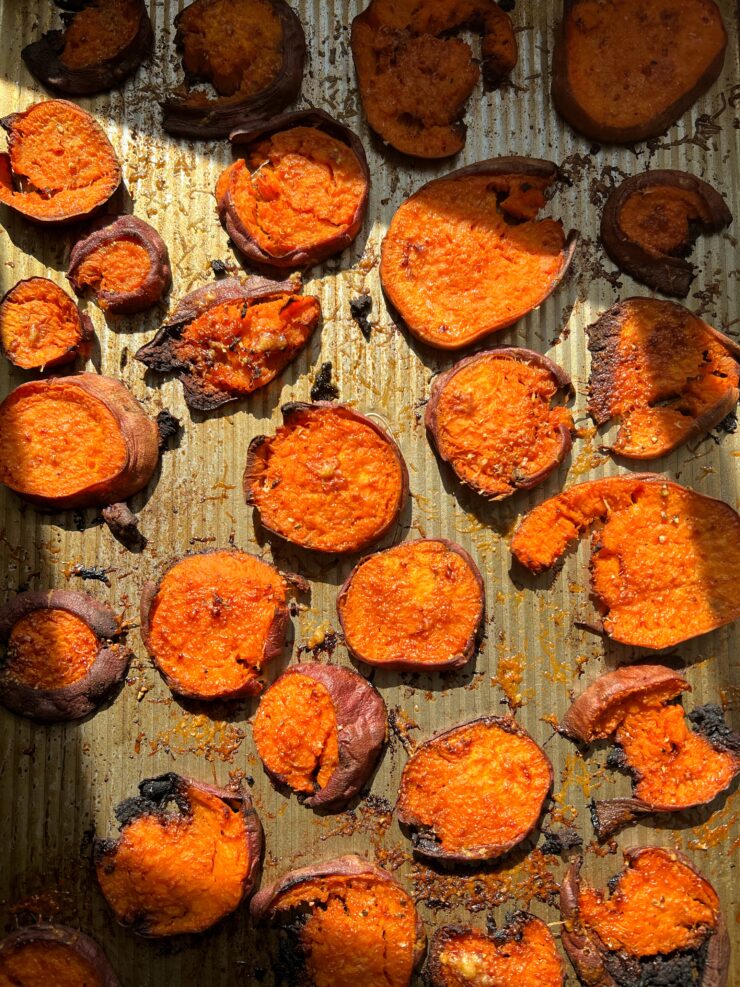 How to make crispy parmesan sweet potatoes:
Preheat oven to 450 degrees F

Grease a large rimmed

baking sheet

with a thin layer of olive oil and set aside

Add sweet potatoes to a large pot, then cover with cold water by an inch or so and bring to a boil

Once the water boils, cook on high heat for 5 minutes, or until tender (you should be able to stick a fork in it!)

Drain from water and place on the baking sheet

Use the bottom of a cup or glass to smash the potatoes carefully

In a small bowl, mix the olive oil, garlic powder, sea salt and black pepper

Pour the mixture over the potatoes and turn to evenly coat

Sprinkle cheese on top of the potatoes and bake for 30 minutes (rotate tray halfway through)
Tips for success on making smashed sweet potatoes:
You can use any sweet potatoes you want for this. I usually use garnet or Japanese ones
If you don't do dairy, feel free to omit the parmesan cheese on top or you can use a vegan alternative
Scrub the sweet potatoes really well before boiling! Potatoes are really dirty from the ground they grow in and you'll see tons of dirt coming off
Use a sharp to cut the potatoes well into 1-inch rounds (I love using these knives)
Don't overcook the potatoes or they'll be too soft when cooking – boil them until just soft and you can stick a fork in. We don't want the skin to fall off
Spice things up with flavors here. You can add a mix of any seasonings you want to make them spicy or even sweet with some cinnamon and coconut sugar!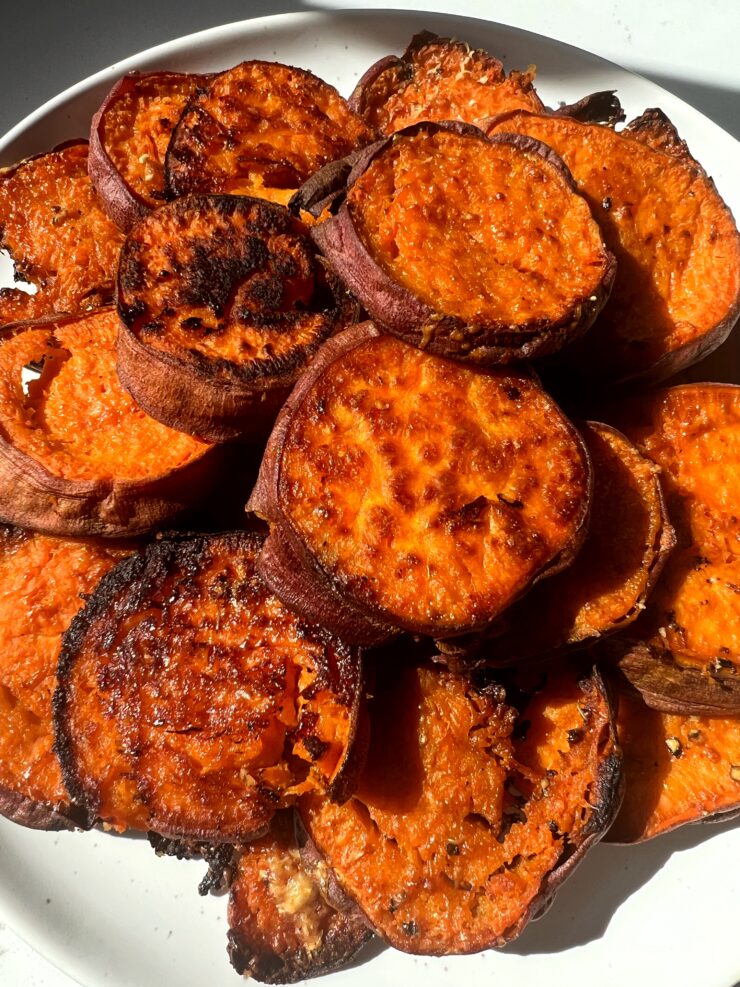 A few other delicious side dishes to make: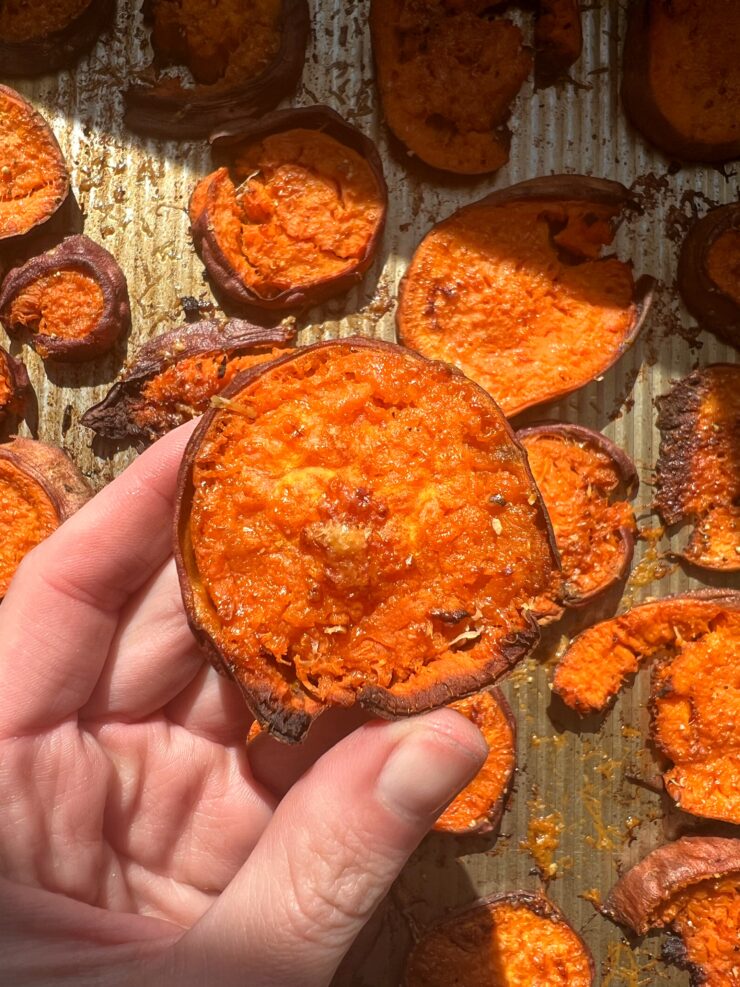 Print
Smashed Sweet Potatoes
These Smashed Sweet Potatoes are such an easy and delicious side dish to pair with your go-to protein or main! Made with less than 5 ingredients.
Prep Time:

10 mins

Cook Time:

30 mins

Total Time:

40 mins
3

large sweet potatoes, scrubbed and cut into

1

-inch rounds

3 tablespoons

olive oil or avocado oil

1/2 teaspoon

garlic powder

Sea salt and black pepper to taste

1/3 cup

freshly grated parmesan cheese
Instructions
Preheat oven to 450 degrees F

Grease a large rimmed

baking sheet

with a thin layer of olive oil and set aside

Add sweet potatoes to a large pot, then cover with cold water by an inch or so and bring to a boil

Once the water boils, cook on high heat for 5 minutes, or until tender (you should be able to stick a fork in it!)

Drain from water and place on the baking sheet

Use the bottom of a cup or glass to smash the potatoes carefully

In a small bowl, mix the olive oil, garlic powder, sea salt and black pepper

Pour the mixture over the potatoes and turn to evenly coat

Sprinkle cheese on top of the potatoes and bake for 30 minutes (rotate tray halfway through)
Notes
*Store leftovers in the fridge for 5 days and reheat in skillet, oven or microwave