4-ingredient Gluten-free Vanilla Cake Mix Cookies made with Simple Mill's delicious vanilla cake mix and 3 other grain-free and dairy-free ingredients.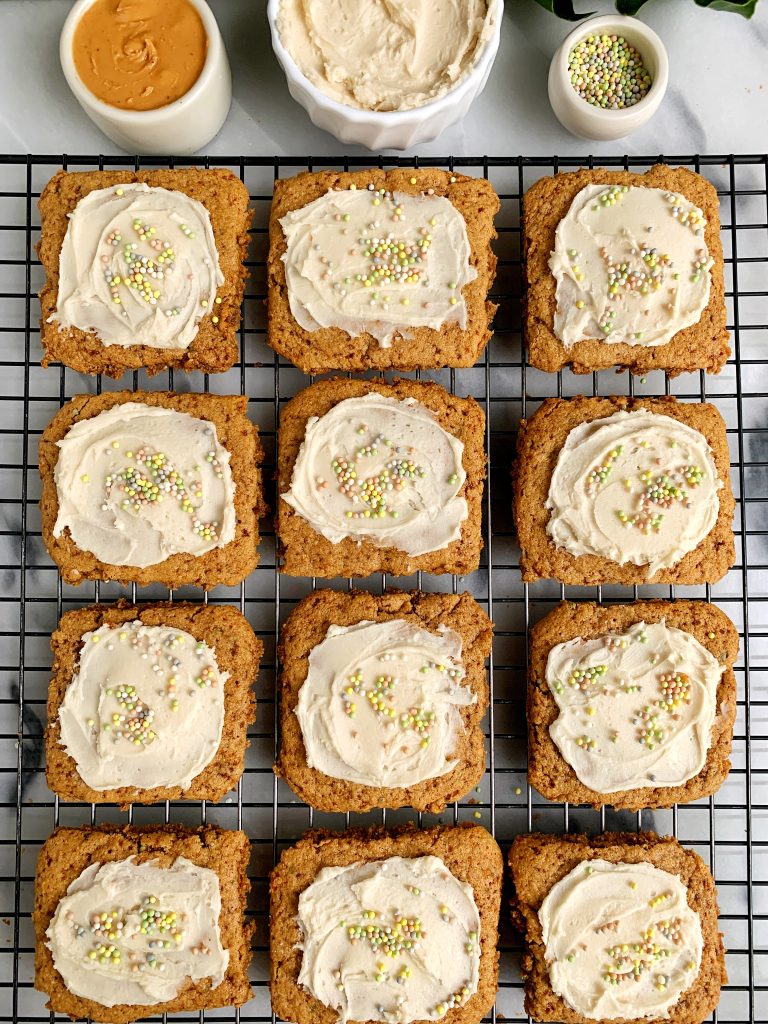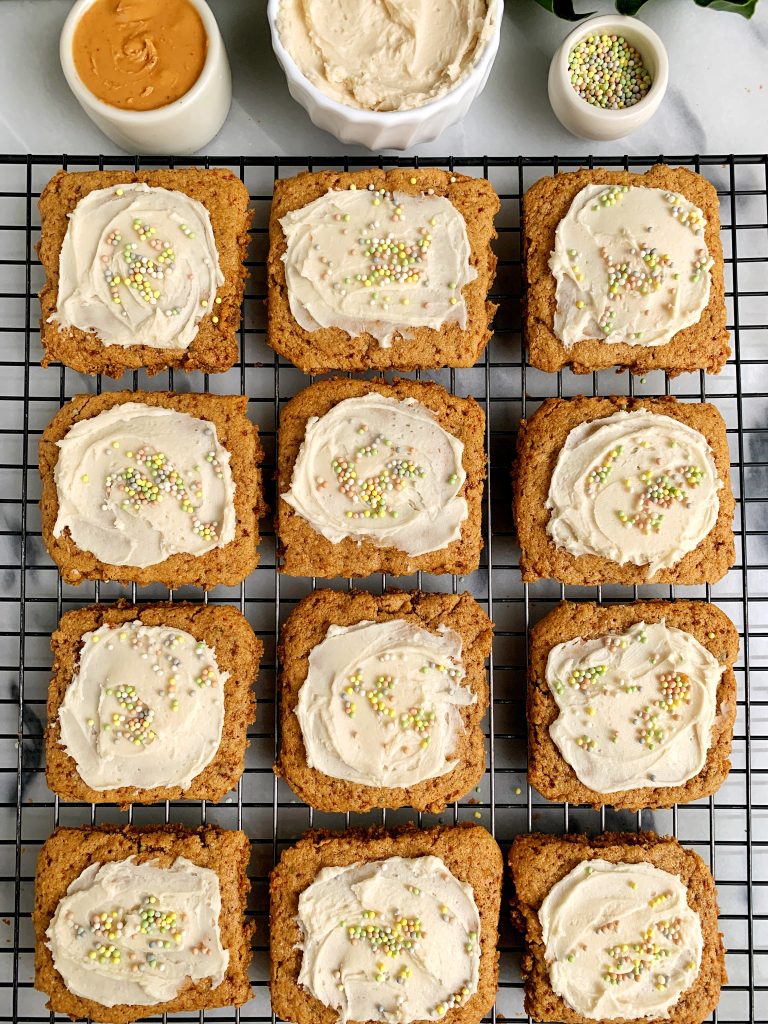 CAKE BOX COOKIES! Where have you been all of my life?!
Some may call this recipe lazy. But I am going to call it life changing. And also impressive because who would have thought you can make some COOKIES out of cake mix?!
The idea came to me when I was in a barre class (where all my ideas tend to hit me). I have been planning all of December's content for awhile now because I know this month is going to be insane with book tour and launch planning.
When I first tested these cookies, I thought they were a flop because they still felt mushy after taking them out of the oven. Then after I let them sit for a few minutes and cool, they turned into the most amazing cookie cake consistency.
I added frosting and some organic sprinkles to give it the full on cake feel.
These gluten-free and grain-free cookies have the best chewy consistency.
Oh and did I mention you only need 4 ingredients?! YUP! Totally crazy easy. But let's run through all the ingredients so you guys have an idea on what we are working with…
What ingredients we need to bake these vanilla cake cookies:
Simple Mills Vanilla Cupcake & Cake Mix. Ummmm hi this is best grain-free cake mix in the entire world. No refined sugar, no creepy ingredients. Just almond flour, coconut sugar and a few other goods you'd use from your own pantry. Simple Mills is my obsession. I don't remember life before them and I have been using their products for well over 4 years now. They make a variety of baking and cooking mixes and ready-to-eat products too. You could also use the chocolate cake mix here to make these chocolatey.
Eggs. I haven't tried flax egg yet to make these plant-based, but I do think it would work well! If you do try, leave a comment below for us.
Coconut oil. I melted and cooled coconut oil for this recipe. You can use avocado oil too if you have that. You can also cheat and just buy liquid coconut oil, which is super easy for baking!
Simple Mills Vanilla Frosting.Ah, finally a frosting I can get down with. Their frosting is made with organic ingredients and is absolutely delicious. The chocolate one is my go-to usually but the vanilla tasted so good in this recipe!
Sprinkles of choice. Totally optional but totally necessary at the same time.
I hope you guys love this recipe as much as I do. It is a fun baking activity with kids too to decorate and use for holiday cookies!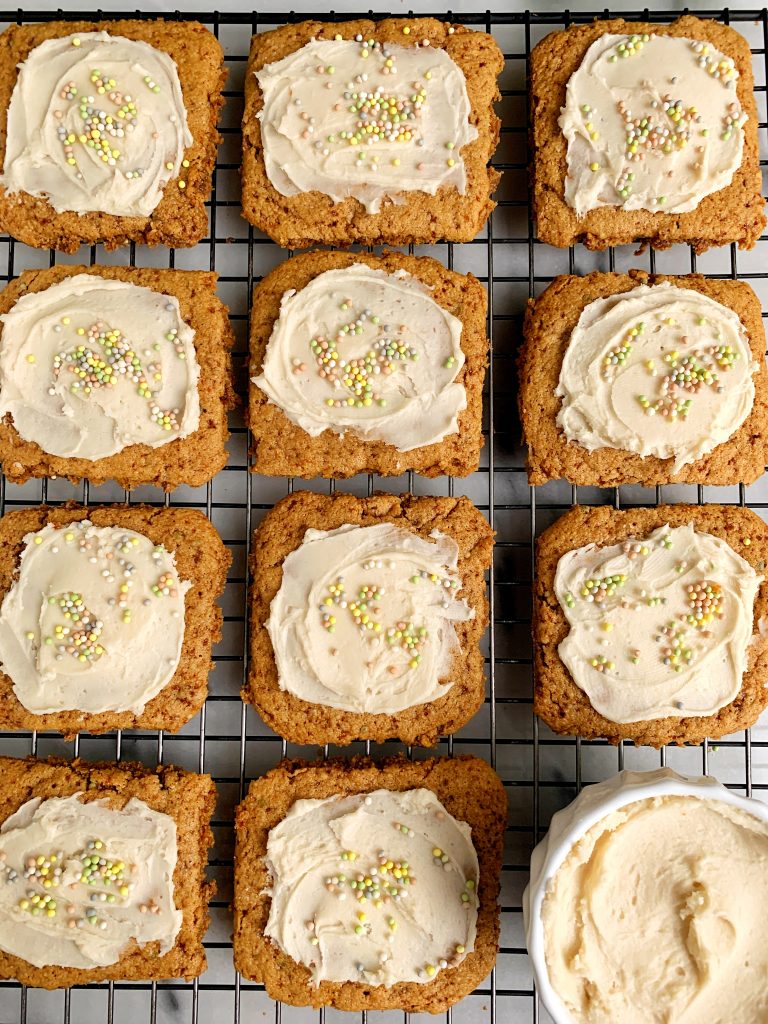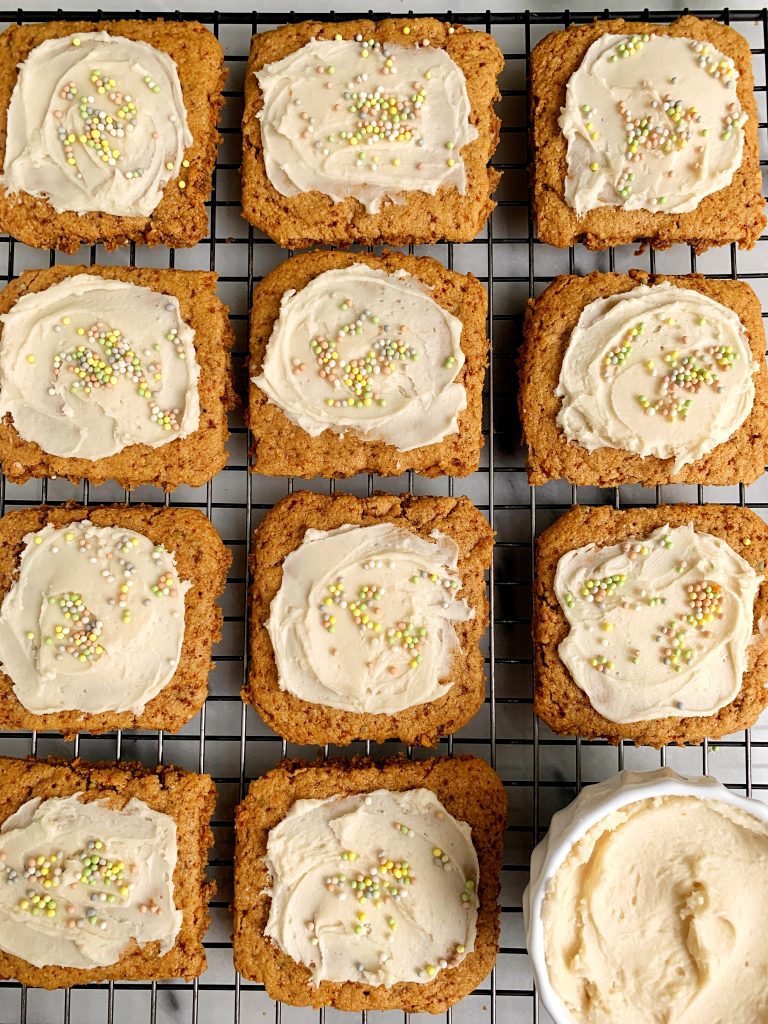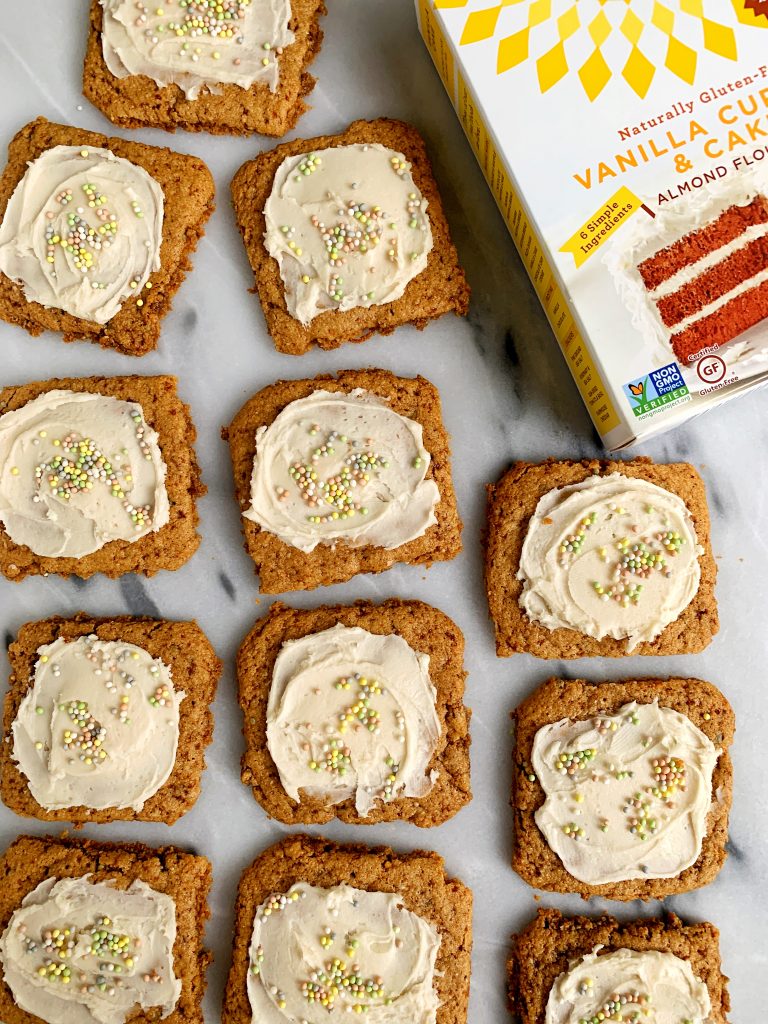 Print
4-ingredient Gluten-free Vanilla Cake Mix Cookies
4-ingredient Gluten-free Vanilla Cake Mix Cookies made with Simple Mill's delicious vanilla cake mix and 3 other grain-free and dairy-free ingredients.
Prep Time:

5 mins

Cook Time:

10 mins

Total Time:

15-20mins
2

pasture-raised eggs*

1/3 cup

liquid coconut oil or avocado oil

1/3 cup

+

2 tablespoons

almond flour
Instructions
Preheat oven to 350 degrees and line a baking sheet with parchment paper and grease well
Whisk together the eggs and oil in a large bowl
Mix in the cake mix and almond flour until smooth and creamy
Scoop about 2 tablespoons of batter per cookie onto the tray, leaving about 1 inch or so between (no need to flatten as the cookies won't rise much)
Bake in oven for 10-12 minutes then cool for a few. You can cut into square shape like I did or leave in traditional cookie form
Add frosting and sprinkles if using and enjoy!
Notes
*Flax egg should work too
*Or use melted butter or ghee
**Store leftovers in airtight container for 5 days or freezer for longer
xx, Rach
Thank you Simple Mills for partnering with me for this post! Your products are truly amazing to bake and cook with and eat and I love that I can trust the ingredients you use.