The Best Summery Mango Salsa made with all fresh and healthy ingredients like mango, red pepper and a little sweetness from organic manuka honey.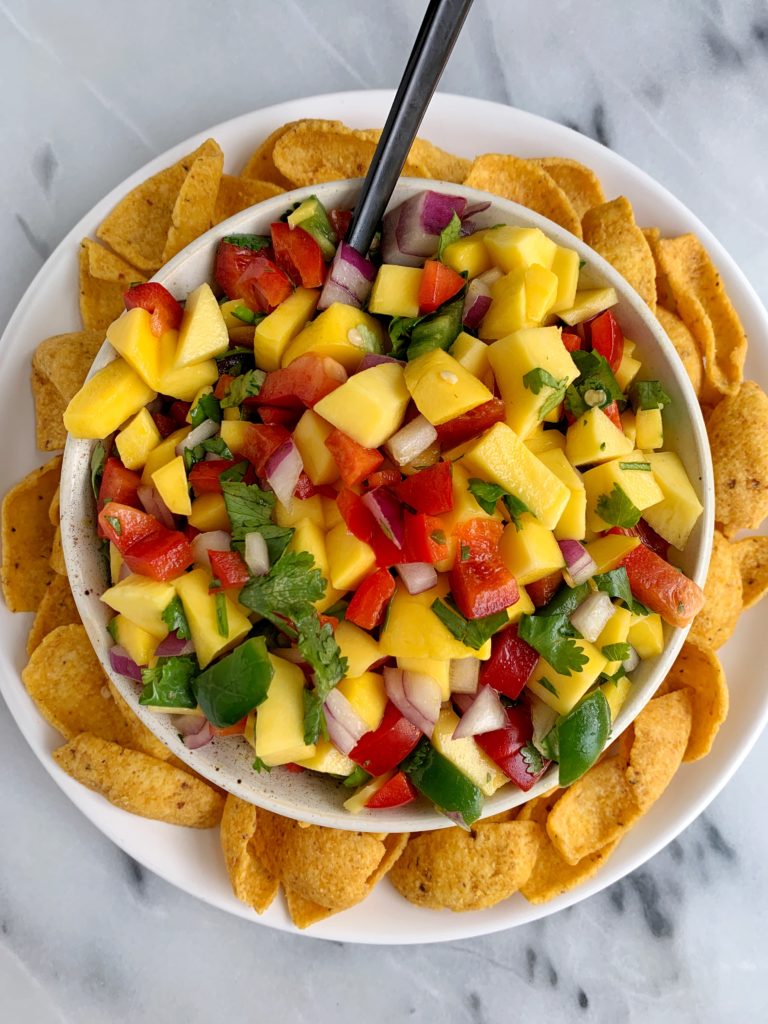 This dip is the ultimate easy recipe to whip up for summer entertaining, BBQs or when you are craving something refreshing and tasty.
At first I felt like I was making a "kitchen sink" dip of salsa just using whatever we had on hand. After we tried it though, we were obsessed with how the flavor turned out and how refreshing it is to make.
A simple mango salsa made with fresh fruit and veggies and only takes 5 minutes to whip up.
This is the type of salsa you can enjoy with chips scooping it up. Or you can use it as a salsa for some chicken or fish tacos. That is what we did with the leftovers and it was so refreshing and delicious! Not to mention that this salsa makes for kickass leftovers so if you are lucky enough to have some left, get creative with it! Add to salads, make tostadas, anything!
I have made this summery mango salsa now for a few different occasions and each time someone asks me for the recipe. Guess it's one of those awkward moments now that I can say "oh hey it's on my blog". I remember when my mom used to have to write down her recipes on notecards of sorts.
First things first to know – this salsa is fool proof. Even if you don't cook or know much about making food, I promise you can make this salsa. It only takes a few minutes to make and all the effort comes from chopping the ingredients. Which these days is made easier thanks to the grocery stores for selling fruit precut most of the time ha!
Now let's chat through what you need to make this summery mango salsa:
Mango
Jalapeño
Red onion
Cilantro
Limes
Avocado oil
Manuka Honey – I used Wedderspoon's Organic Manuka Honey. It is absolutely amazing and hands down the best honey in the game. They recently launched their organic one and it is so perfectly sweet and delicious. It is also the only organic manuka honey available, which is awesome. It's one of those items to keep in the pantry at all times. Even if it is for a spoonful for the immunity benefits. You can also snag all of Wedderspoon's products on their site for 25% off using the code RACHL.
A few of my other favorite summery recipes: Healthy Strawberry Shortcake (paleo + gluten-free), 6-ingredient Dark Chocolate S'mores Bars (gluten-free + nut-free)+ Vegan Black Bean Burgers with Spicy Aioli (gluten-free)
Why I use Manuka honey in my recipes:
Manuka honey is an absolute staple in my pantry. It is one of those must-have items to have on hand for so many uses!
I use Wedderspoon's Manuka honey. They source the highest quality Manuka honey from New Zealand and it is raw, which is so key. Manuka honey isn't meant to be heated, which is why you will see it in recipes here that aren't cooked. Wedderspoon also a raw creaming process that allows mother nature's work to really shine. They started as a mission to bring Manuka honey to masses and now they are the top Manuka honey brand!
Best part? You can snag 25% off your orders from their side using my code RACHL.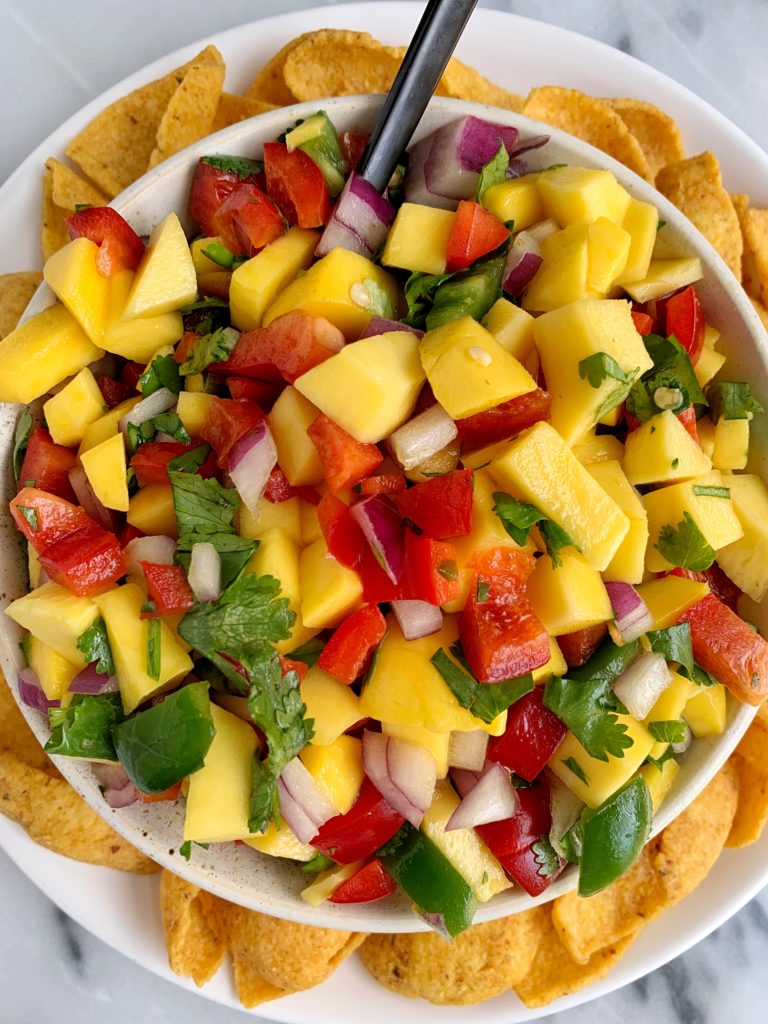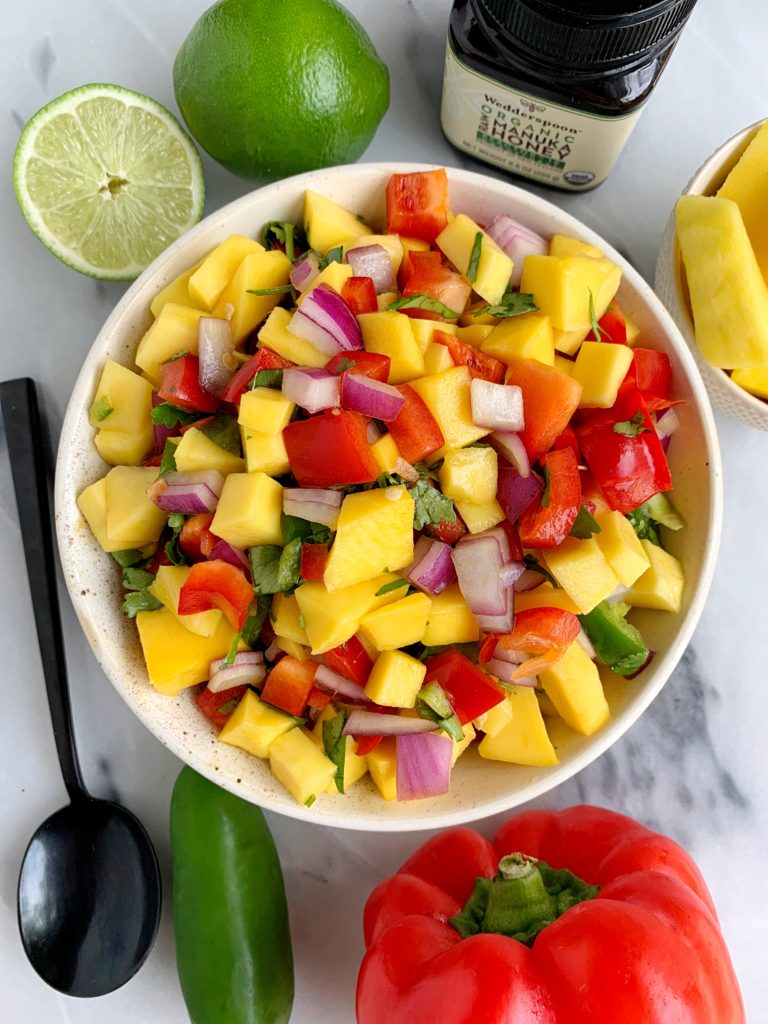 Print
The Best Summery Mango Salsa
The Best Summery Mango Salsa made with all fresh and healthy ingredients like mango, red pepper and a little sweetness from organic manuka honey.
Prep Time:

5 mins

Total Time:

5 mins
2 cups

chopped mango

1

small jalapeño, chopped

1

large red pepper, chopped

1/4 cup

red onion, chopped

1/4 cup

cilantro, chopped

1

lime

1 tablespoon

Wedderspoon Manuka Honey (code RACHL for 25% off)

1 tablespoon

avocado oil

Sea salt + black pepper to taste

Chips for serving (I used the organic corn ones from Trader Joe's)
Instructions
Add the mango, jalapeño, pepper, onion and cilantro to a large bowl and mix
Drizzle avocado oil on top and squeeze the juice from the lime. Add in the honey and salt and pepper then mix well
Serve immediately or add to fridge and store until serving
Serve with your favorite chips!
Notes
*Will stay good in airtight container for 5 days