Healthier 6-ingredient Dark Chocolate S'mores Bars made with all gluten-free and nut-free ingredients for an easy homemade s'mores bar recipe!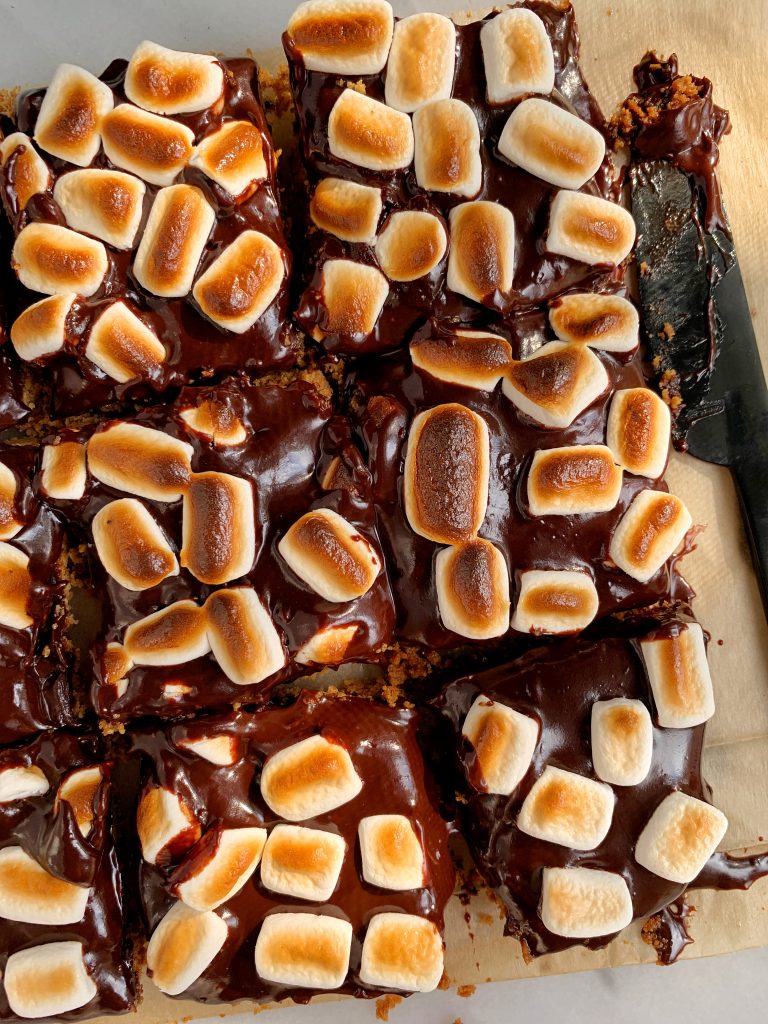 I wanted to name these "The best f!cking fudge s'mores bars in the whole entire world" but I figured that was a little aggressive for most…
These bars. Where do I even begin?
All you need is a passion and obsession for s'mores like myself and 6 ingredients to make these dark chocolate s'mores bars.
These s'mores bars are are gluten-free, nut-free and SO easy to make.
The only thing I am even sorry about when it comes to them is not making them in June for the summer kickoff. It is safe to say I will be making these all year around now because they are straight up one of my most favorite desserts I have made yet.
A simple graham cracker and coconut oil crust topped with a Manuka honey-sweetened chocolate ganache with some marshmallows on top. That is the elegant way of describing these s'mores bars.
Make them and bring them to your labor day weekend festivities. Make them in October for Halloween. Bring them to Thanksgiving, do whatever your heart desires with these.
My favorite part of the bar is is the chocolate fudge center. It is the easiest homemade chocolate ganache that hardens a bit in the freezer when it sets then when you broil the bars and enjoy after, it melts just a bit and – UGH too good. Plus all you need for the ganache is a non-dairy milk, chocolate and some Wedderspoon Organic Manuka honey. Hands down the best honey in the game. It's sourced responsibly, tastes amazing and little bit goes a long way. You can't go wrong. It also adds a bit of stickiness to the chocolate layer, which we want to help the bars stick well with the crust and mallows.
I hope you guys enjoy these s'mores bars! Can't wait to hear what you think.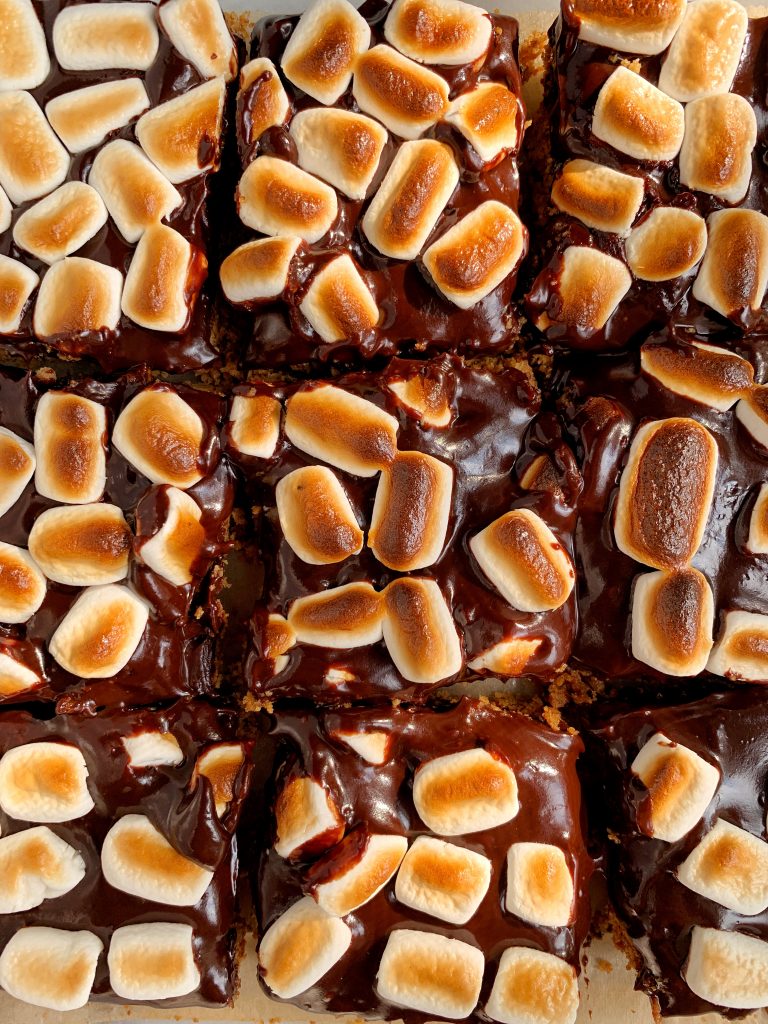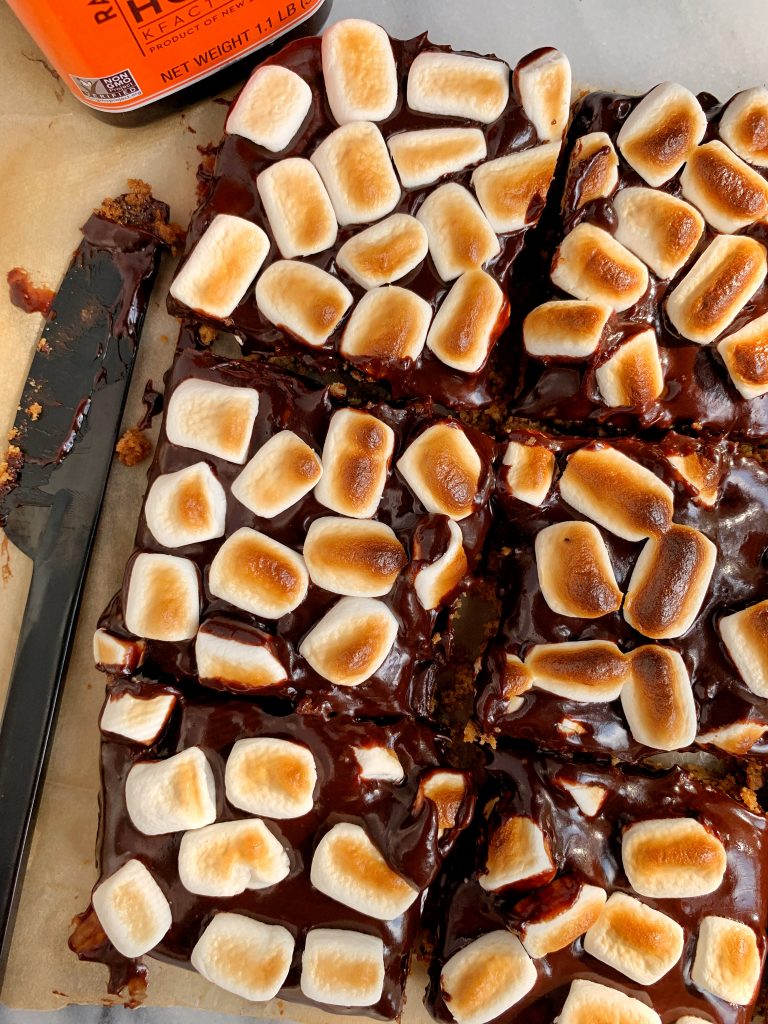 Print
6-ingredient Dark Chocolate S'mores Bars
6-ingredient Dark Chocolate S'mores Bars made with all gluten-free and dairy-free ingredients for an easy homemade s'mores bar recipe!
Prep Time:

10 mins

Cook Time:

60 mins

Total Time:

1 hour 10 minutes
Instructions
Preheat oven to 350 degrees and line an 8×8 baking dish with parchment paper
In a large bowl, mix together the graham cracker crumbs with coconut oil
Add the mixture to the baking dish and press down firmly to make the base
Bake in oven for 20 minutes
While the base bakes, add the milk and chocolate to a microwave-safe bowl and heat in 30 second increments until fully melted (stirring the mixture in between) then mix in honey
Pour chocolate on to graham cracker base and spread evenly and sprinkle marshmallows on top
Add to freezer to set for about an hour
Broil in oven for about 1 minute on high, add to freezer again for 5 minutes then slice into bars and enjoy!
Notes
*Store leftovers in the freezer
xx, Rach
Thank you Wedderspoon for partnering with me on this post! It means so much to me to partner with brands I love and believe in.