Travel Guide to Maui Part Two (Road to Hana + Fairmont Kea Lani)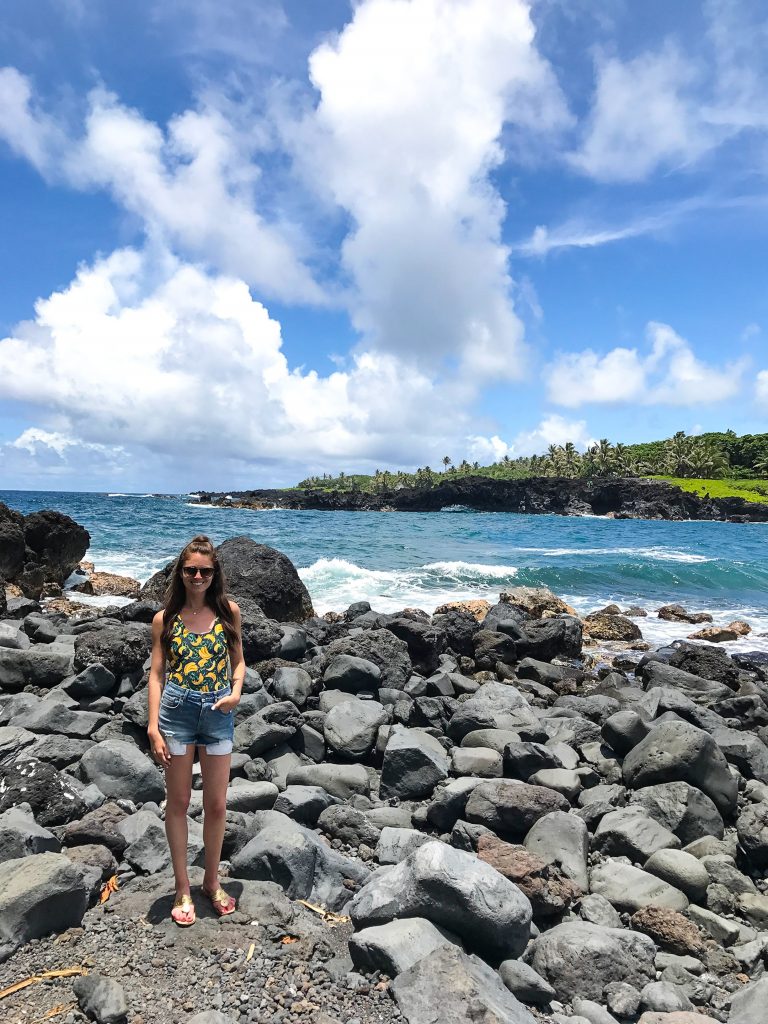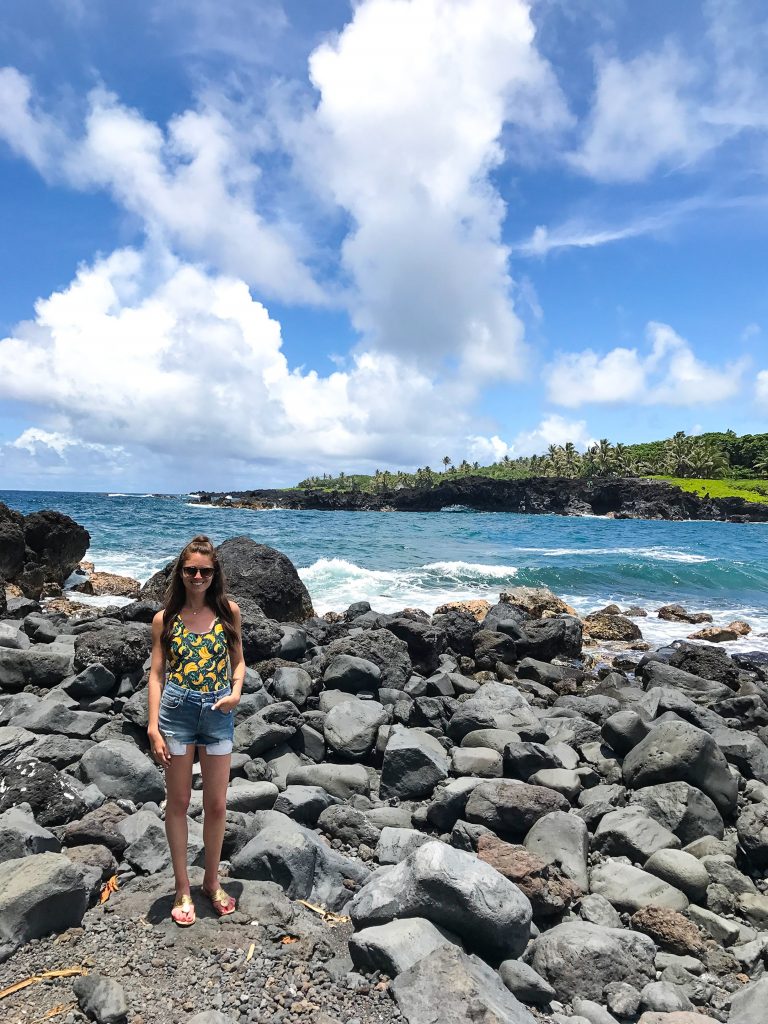 When Jord first told me about the Road to Hana, I basically had a panic attack. Sitting in the car for 3+ hours, driving on narrow winding roads and limited accessibility to restrooms? Count me out.
But after hearing nothing about amazing things during everyone's Hana experience from friends who have went, I sucked it up and we headed out to Hana on day two of our stay in Maui.
For those wondering what the beep the Road to Hana is or what is actually means, don't be embarrassed because to be honest, I really didn't either until we ventured on the road. Hana is a very small town located on the eastern side of the island. Along the way to Hana there are endless stops where you can see gorgeous waterfalls, beaches and soak in the lush beauty that Maui offers. The whole Road to Hana experience is really about the journey of getting to Hana rather than the town itself. It's about 50 miles in from mile marker 0 and can take anywhere from an hour and half to five hours to get there depending on the number of times you stop along the way.
ROAD TO HANA TIPS + THINGS
1) Start early but don't get crazy..
We woke up around 6:30am and left for the trip by 7am. We stopped in Paia on the way to scope out the scene and Paia Bowls on the way, so we reached mile marker 0 by 8am. This is a great time to start and we did not feel rushed at all.
2) Do this early on in the trip..
We were going to do this at the end of our trip but after hearing how much we will be sitting and how long of a day it is in the car, we wanted to space it out from the trip home as much as possible. We recommend doing Road to Hana earlier in the week and if it will be cloudy too that would be great. Otherwise rock the top down of the convertible so you can get a tan while traveling. They say not to do this when it is raining too.
3) Download the Gypsy app on your phone..
The Gypsy Guide is your best friend and tour guide. It doesn't use data and since you don't have any cell phone service pretty much the whole way, you will need this to guide you. You can hook it up to the blue tooth in the rental car too, which was awesome. The guy narrating the app (we called him Chip) gives a ton of advice and tips for you and a little history on each stop.
4) Only stop for things you actually want to see..
We only stopped about five times out of the handful of stops you can choose from. We went to the Garden of Eden first (our favorite), which was an exotic garden filled with avocado trees, rainbow eucalyptus trees and other plants Jord and I geeked out over. We spent about an hour there walking around and looking at all the gorgeous plants, flowers and the waterfall. It is $15 each to get in and if you love plants and flowers, it is a must. The app will tell you 5 spots that are a must see and we listened to that for th most part but turned around at mile marker 50. We were over it by then, but there is more to see after Hana!
5) Get the banana bread..
All we kept hearing from people was to get banana bread on the Road to Hana. We stopped at the original banana bread place, Aunt Sandy's in Keane and it was amazing. They serve it warm and it's a cute little loaf. They even give you a knife to slice it up if you want to share. It is traditional banana bread so don't go thinking you're getting some paleo chocolate chip loaf 😉
6) Bring water + snacks..
There are definitely a handful of places to stop along the way but for the first couple hours there isn't much. We packed a few water bottles and snacks to munch on during the ride. Don't drink too much though because there are limited restrooms!
7) Get Coconut Glen's..
Coconut ice cream that is vegan and AMAZING. Around mile marker 27.5, you will find heaven in a shack. A handful of delicious flavors and the best ice cream of my life. And we are talking REAL ice cream yet there isn't an ounce of dairy in this. It is so creamy and flavorful and fresh. I got the mint chocolate and vanilla. Jord had vanilla and salted caramel. A must must stop!
FAIRMONT KEA LANI STAY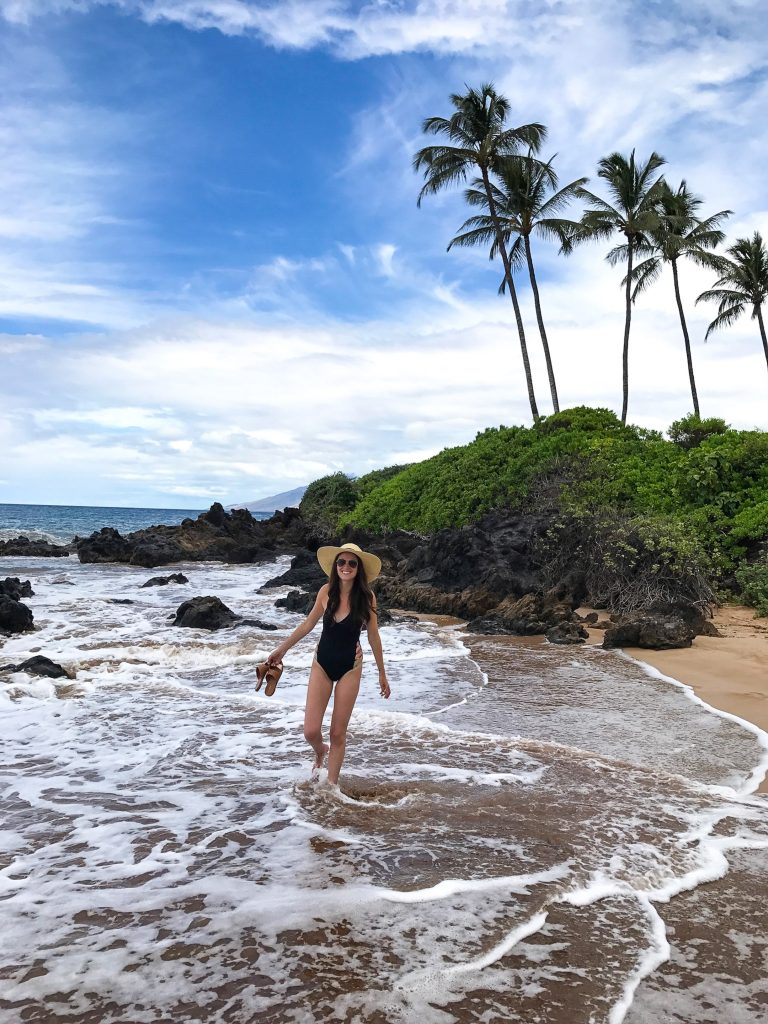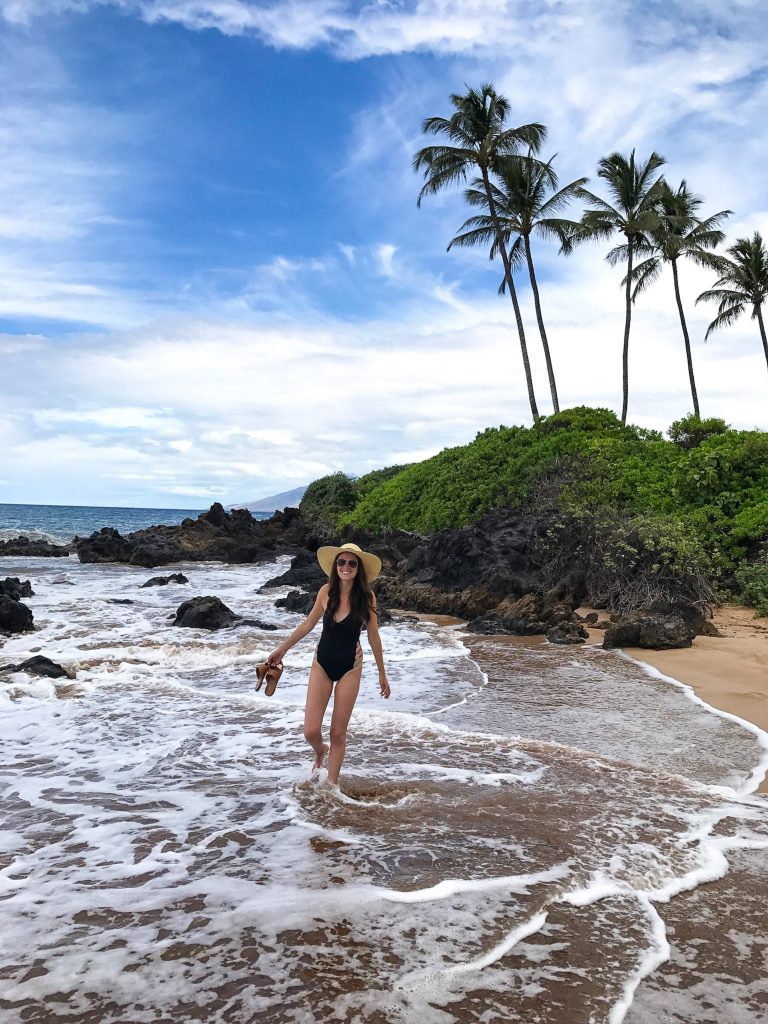 For the second half of our trip, we stayed at the Fairmont Kea Lani. If I needed to describe it in one word it would be classy af (okay so that is technically more than one but you get me). This resort was absolutely magical.
The architecture of the resort is so unique compared to the other hotels on the island. It is bright white exterior and it was inspired by Iolani Palace on Honolulu island and the Royal Hawaiian Hotel.
Both the valet and reception desk at the Fairmont Kea Lani were extremely welcoming when we arrived and congratulated us for being on our honeymoon. We were given a bit of a tour on the way up to our room and told a ton of insight about resort and the surrounding area from some of the staff.
Our room itself was breathtaking. We stayed in a Deluxe Suite and they had champagne and organic vodka waiting for us as well as a welcome card when we walked in. I even asked Jord if he requested the vodka and martini glasses since he knows those are my favorite but it was from the resort! So incredibly kind and generous.
FAIRMONT TIPS + HIGHLIGHTS
1) Amazing food options everywhere..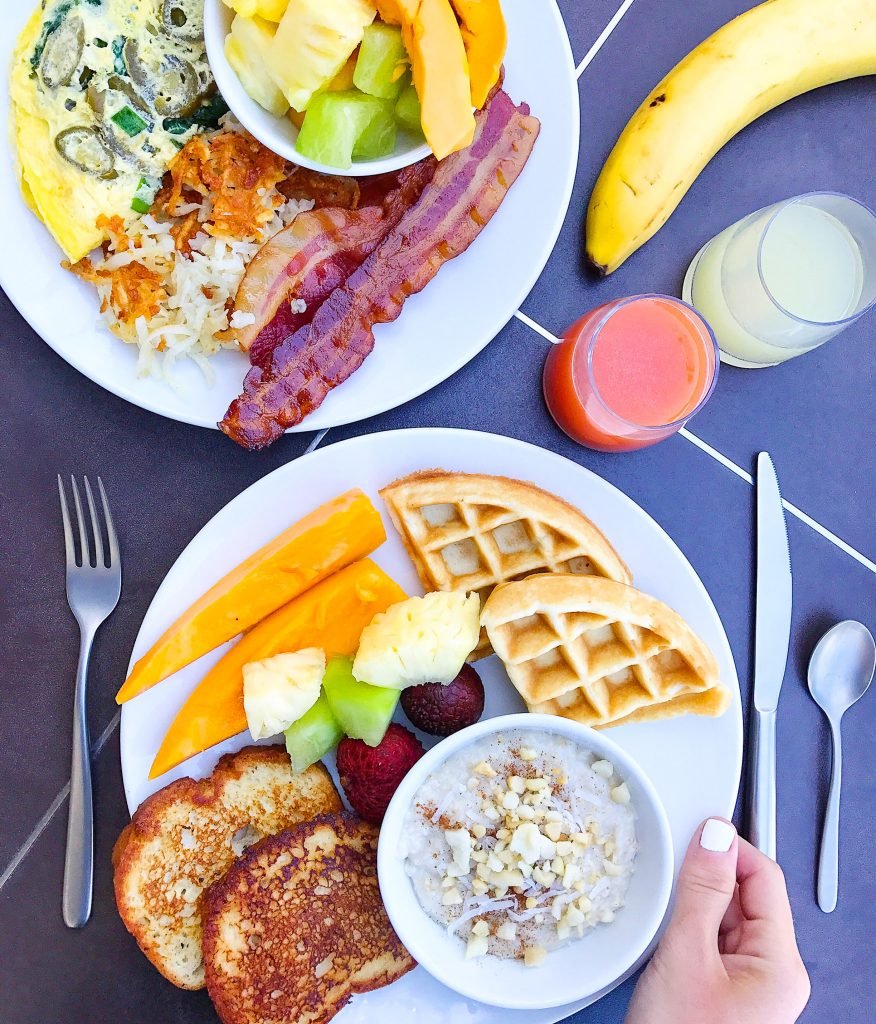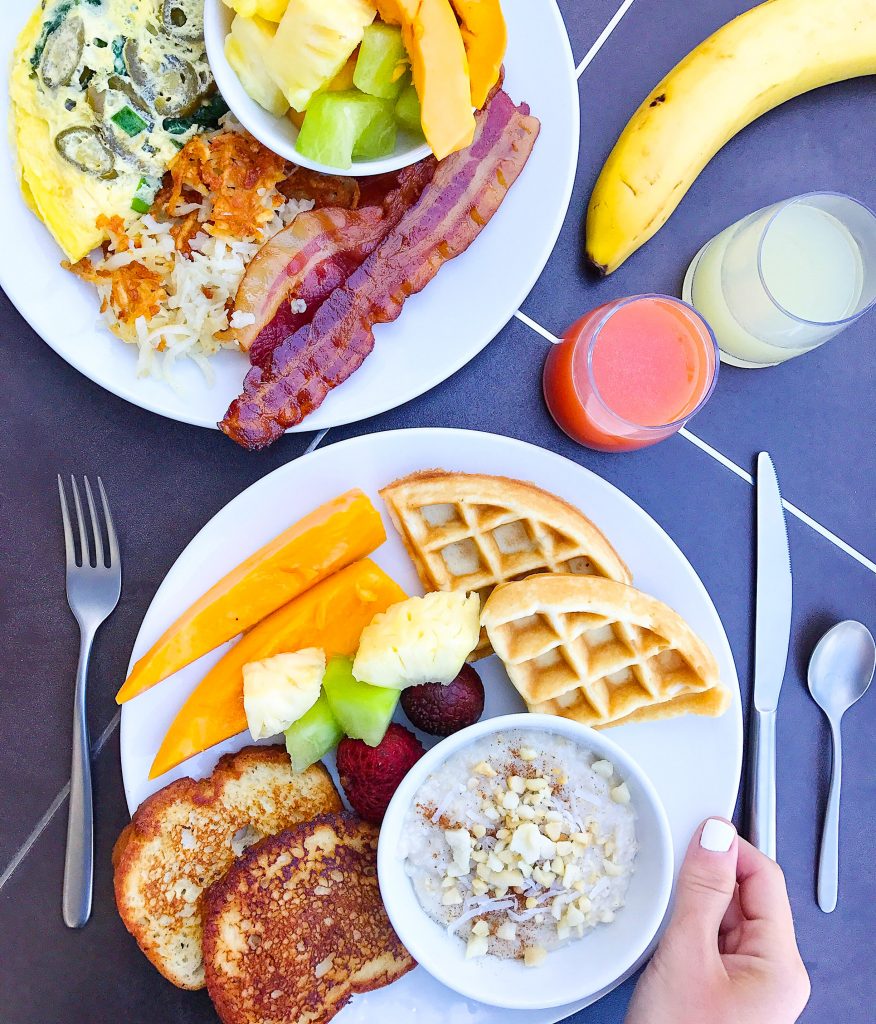 The resort takes pride in offering endless options to every guest. They have two restaurants for dinner on property: Nick's Fishouse and Ko (more on those here). Then Ama and Ko also serve lunch during the day, and there is of course a poolside menu via Ama. They have heart healthy menu options too on each menu and are extremely accommodating for any allergies/intolerances. The resort also has acai bowls, a juice bar in the morning and delicious breakfast buffet for guests. They even have coconut milk for the coffee aka Jord was in heaven. Just Juice is opened early in the am so we went and got juices earlier in the morning and saved for later (they mix well with vodka, just sayin..)
2) Le Labo bath products in room..
Call me crazy but having quality soaps, shampoos, etc. in the bathroom seriously are a game changer. The Fairmont has Le Labo everything and even provides bath salts. I easily could've left all my soaps at home if I knew this!
3) Extremely friendly and accommodating staff..
Everyone from the restaurants to concierge to front desk staff was very kind, welcoming and always making sure we had everything we needed. We stayed at a cabana by the pool one day and the staff must have asked us a dozen times if we needed any fresh towels, water, etc. It was apparent that the resort wanted you to feel most comfortable and enjoy your stay. The water bottles at the valet were also a game changer because when you go off exploring or just are going through the hotel, you had easy access to bottled water.
4) Handful of pool options + "private" beach..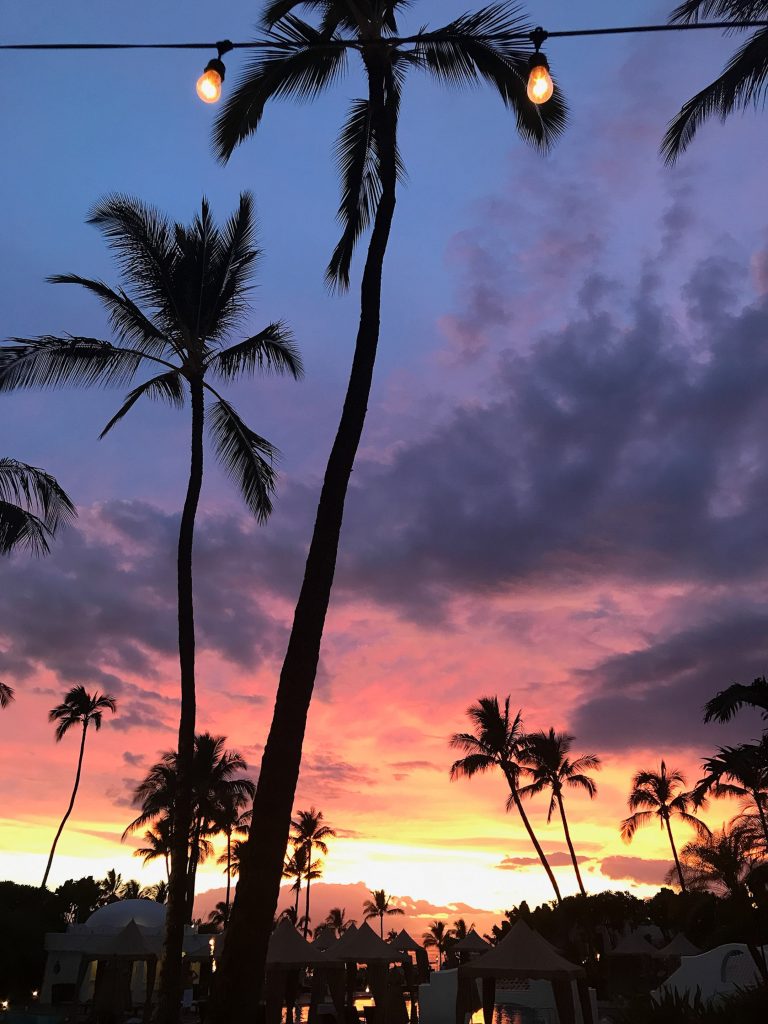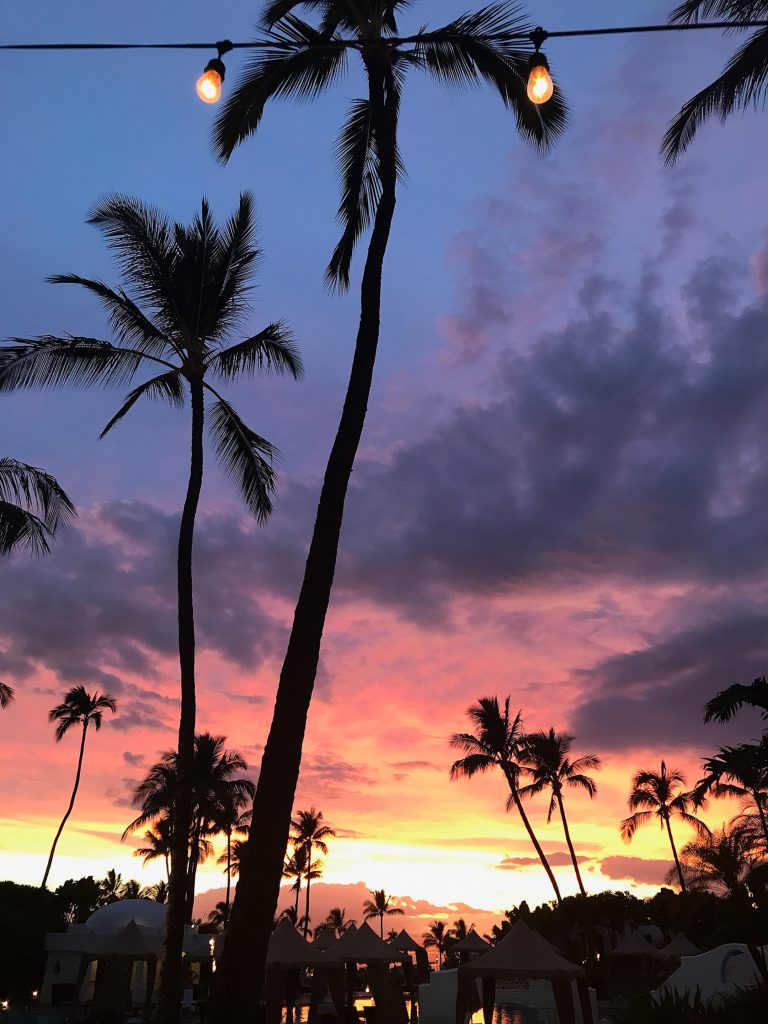 The resort itself has 3 pools, and 1 is an adult only pool. They also have a water slide that anyone can use (no age limit, ha!) and the way the beach is laid out, the Fairmont has it's own section of sand and water. There is a strip of hotels in Wailea along the water and the Fairmont Kea Lani has it's own part that isn't connected to any other resort. Granted all the beach in Maui are public but it was mostly resort guests hanging out during the day. And there is access is snorkeling, paddle boarding and other water sports I am always too scared to tried 😉
The Fairmont Kea Lani seriously felt like home to us when we were there. I kept saying how I had never felt more relaxed or blissed out in my life than when I was in Maui.
The resort is extremely warm and welcoming and has everything you need on site. We enjoyed have a few quality restaurants on property to choose from (more on that here) and would absolutely love to stay here again when we return to Maui. I am still dreaming of the kobe beef poke and the burger. It isn't often I eat beef twice on vacation and the fact that there was grass-fed Maui beef at the restraints stole my heart.
The Fairmont Kea Lani exceeded our expectations, as did Maui itself. We cannot wait to come back to experience the island all over again.
Aloha! (couldn't help myself..)
xx, Rach