Travel Guide to the Sonoma Coast: what to see and do for a quick weekend or weekday getaway!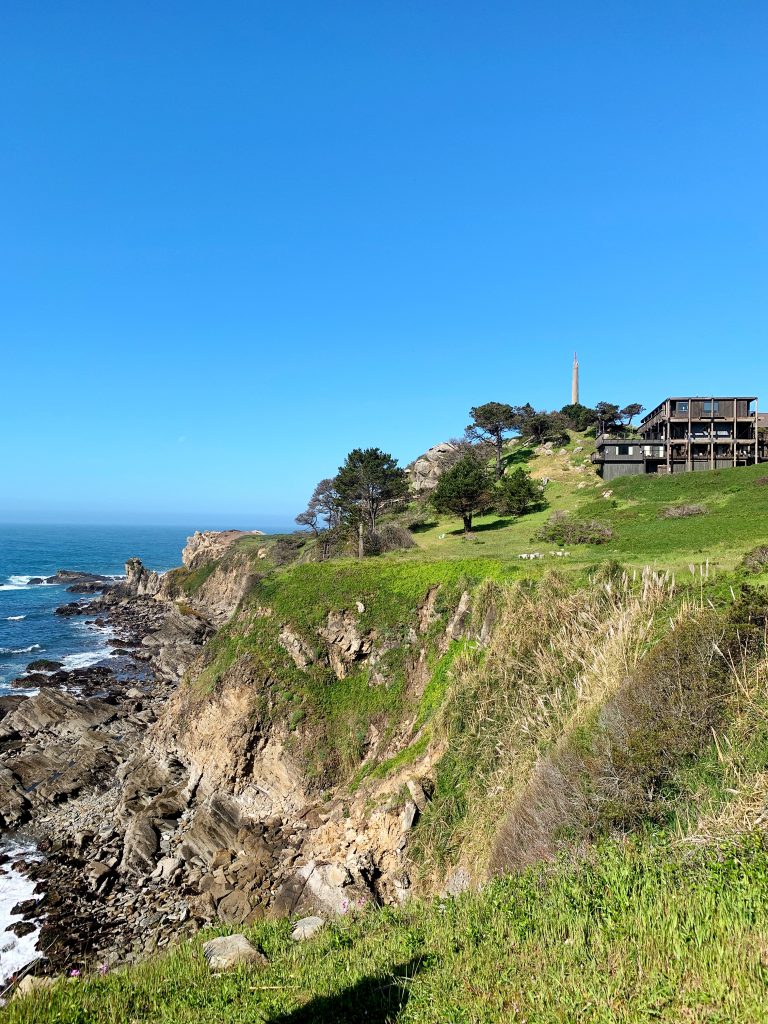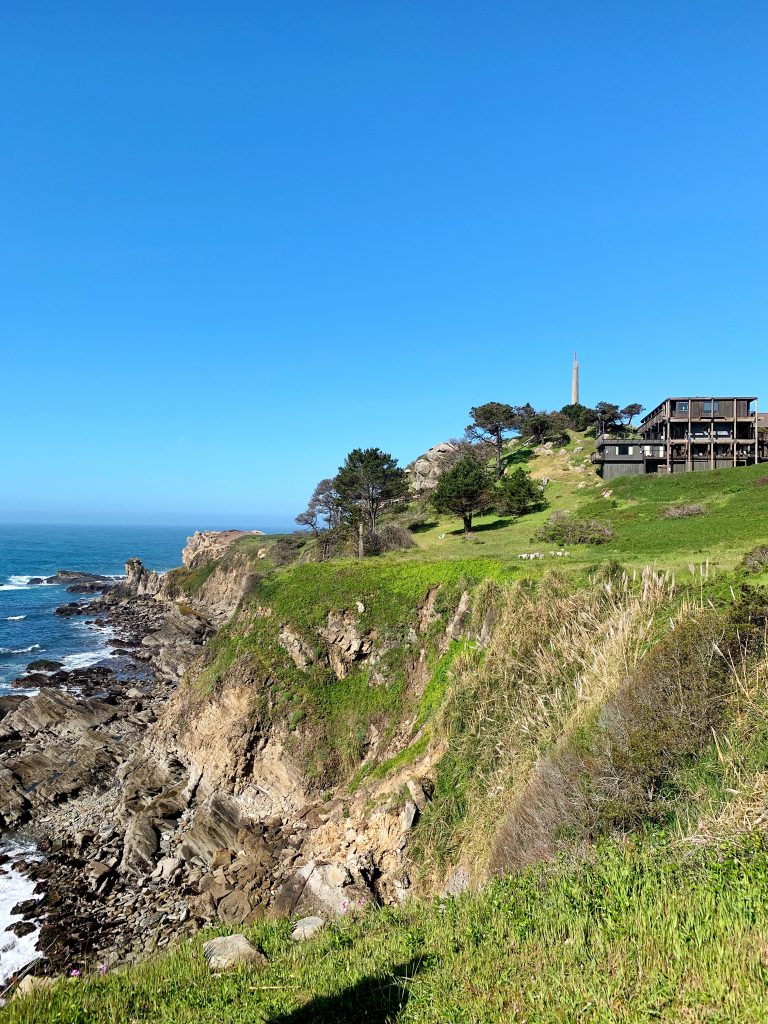 We did it! We went on our first family trip as the Carpenter party of 3.
Some said we were crazy bringing Ezra away to California at only 3 months. Others said it is the best thing you can do, starting them young with traveling. And to be honest, I am so happy we did the later. I'm going to do a full run down on what we packed for Ez soon and any tips for my mama friends but today we are chatting all things Sonoma Coast and our time there.
Jord and I last went to Napa and Sonoma almost 4 years ago for our mini moon. We absolutely loved it, but were a bit more inland and focused on wineries and exploring the vineyards. This time around we were craving a low-key and relaxing couple days in the middle of no where. Somewhere we could relax, hang with Ezra and just escape the reality of work and craziness from home for a bit. We looked for good food, no cell service and something with our favorite view of the pacific coast.
We stumbled on Timber Cove Resort (full disclosure, Jordan found it!) and we were swooning over it. It took about 2+ hours to get there from the SF airport, but we broke up the trip a bit to make the travel more feasible. Especially with Ezra traveling with us. Once we got to the hotel we didn't do much besides hang out there (a 3 month old has us a bit wiped), so you'll see I don't chat about too many things to do around the hotel, but the area is definitely worth exploring more if you are craving more of an adventure.
I put together this little guide for anyone who is interested in traveling there soon. We would 100% recommend it and would love to go back again soon (like tomorrow..)
My Travel Guide for the Sonoma Coast:
How to get there: Drive

We rented a car from the San Fransisco Airport and drove out to the coast. It is a bit of a drive (2+ hours), which seemed daunting coming off the 6 hour plane ride from Newark. We broke up the trip a bit to make things easier and the sitting on our tush time a bit more bearable. We first stopped at In-n-Out as you may have seen on Instagram (our tradition) just outside SF on our way. Then we stopped in Petaluma. There are a variety of cute towns you can stop in on the way up but we have always wanted to go here and they had a few cute spots we wanted to see. I personally also saw they had a Whole Foods and wanted to get some groceries before being in the middle of no where for a couple days (shocker..). Petaluma had a bunch of delicious food, shops and places to stroll. You only need a couple hours there and it was about 1 hour 20 minutes from SF airport then another 1 hour 20 minutes to Timber Cove Resort.
On the way back to SF from Timber Cove we decide to drive the coast. We stopped in Marshall and then Point Reyes. Marshall has been on our list since we went to Napa a few years ago and as two people who love oysters we were so excited to go there. We went to the Marshall Store and got a dozen oysters and had some lunch out on the water – it was so perfect. I definitely would recommend this for all my seafood lovers. Then we stopped in Point Reyes to walk around their cute town for a few. This was even smaller than Petaluma but if you want to stretch your legs for a few minutes, definitely go. They had a great bakery and some nice food markets. Plus the brownie we got was insane. There are many other points to stop too but with Ez, we had to pick a and choose how many times to get hm out of the car.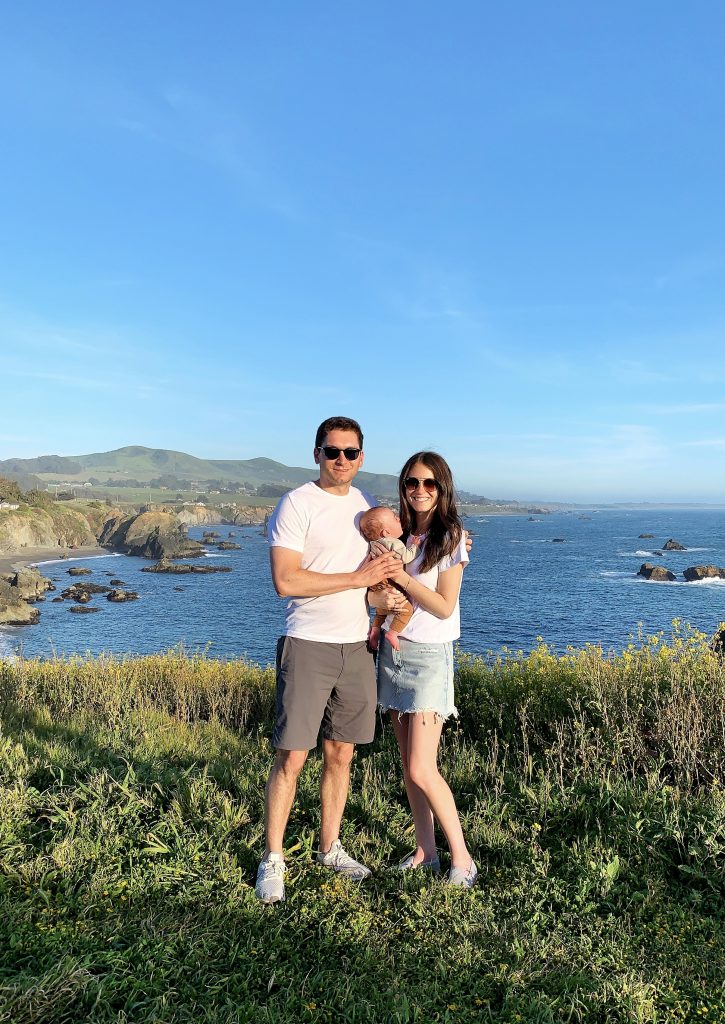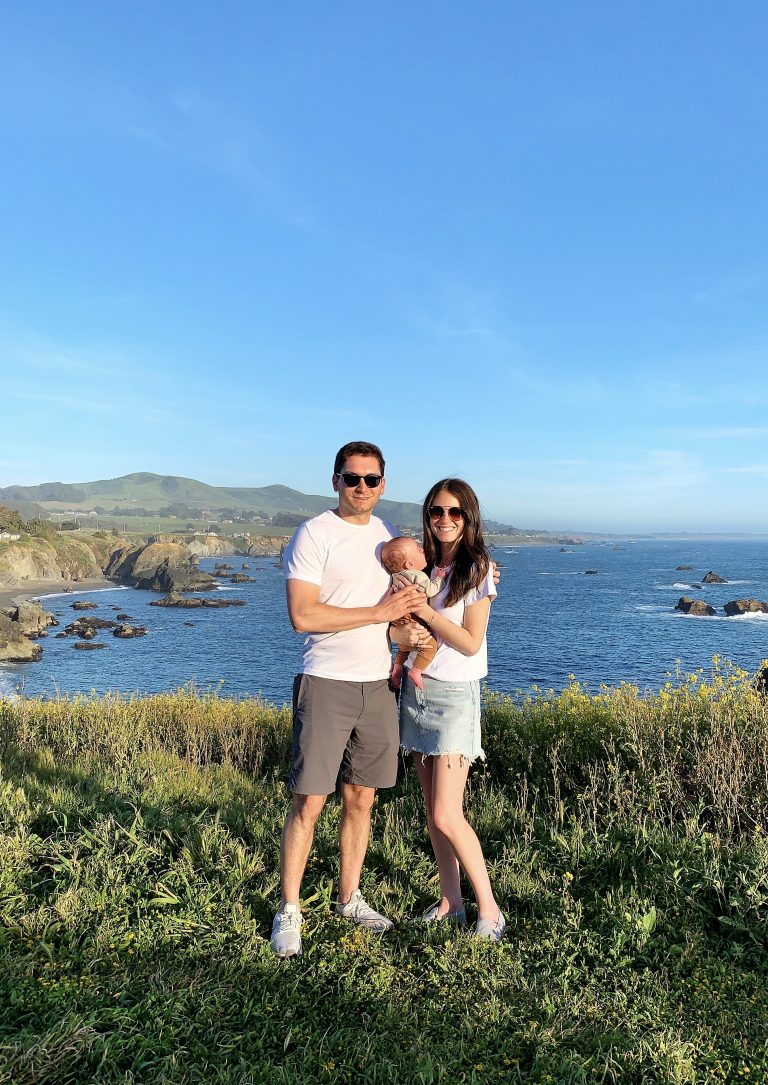 Where to stay: Timber Cove Resort

As soon as we saw the Timber Cove Resort website, we were lured in. A secluded and intimate resort located on the most breathtaking cliffs on the Sonoma Coast? Ya, it's hard not to swoon over this place. And did I mention I had no cell service (just Wifi) during our stay? We absolutely loved staying here and getting to experience a different side of the Sonoma Coast. Timber Cove is located in Jenner and it is right up highway one on the coast. We drove up to the hotel just before sunset so the views were insane. It took 10x longer for us to get there because I insisted on stopping every few minutes to take a picture (sorry Jord). And this also resulted in me feeling a bit car sick from the stop and go. But Timber Cove had a ginger mocktail remedy ready for us at check in – it was amazing. I guess I wasn't the first who showed up a little car sick from all the stop and go!
Everything from the staff to the property to the fireplace in our room was perfect and just what we needed for a couple of days. It is a very cozy and low-key resort that is great for families with small babies (we met a few others there!) or to go with friends, significant other or just stay solo. If I lived closer, I would go here to work on my book manuscript instead of a coffee shop in Hoboken 😉 Plus I felt the price point was really affordable too for what the resort offers.
We stayed in an ocean view room that had a fireplace and our own back deck with a couple of chairs. The view from our room was insane for the sunset since you're right on the west coast, facing the ocean too. But even if your room doesn't have a view of this, Timber Cove has various benches and chairs along the cliffs for anyone to sit at and enjoy the view. Plus you can see it from their restaurant (sharing that part soon).
Our bathroom was large and had a big table in it too, which was great for changing Ezra and making it a baby station of sorts. The room also had a record player and fire place (I would kill for a fire place in my room at home!) and the bed was so comfortable, we face planted into the pillow the second we got there. That is until Ez woke us up 5 minutes later to eat..
The property Timber Cove Resort is on has little walking trails that go along the cliffs. It's about 1.5-2 miles long if you walk and totally feasible for any activity level. We wore Ezra in the carry on when we took our morning stroll after we enjoyed the complimentary pastries and coffee in the lobby from 6-8am. Highly recommend the blueberry muffin!
We really loved the staff at the resort too. Especially the woman who checked us in and walked us through some details about the property. She even gave Ezra a cute stuffed animal to cuddle with. It makes a huge difference these days when places are baby friendly and welcoming.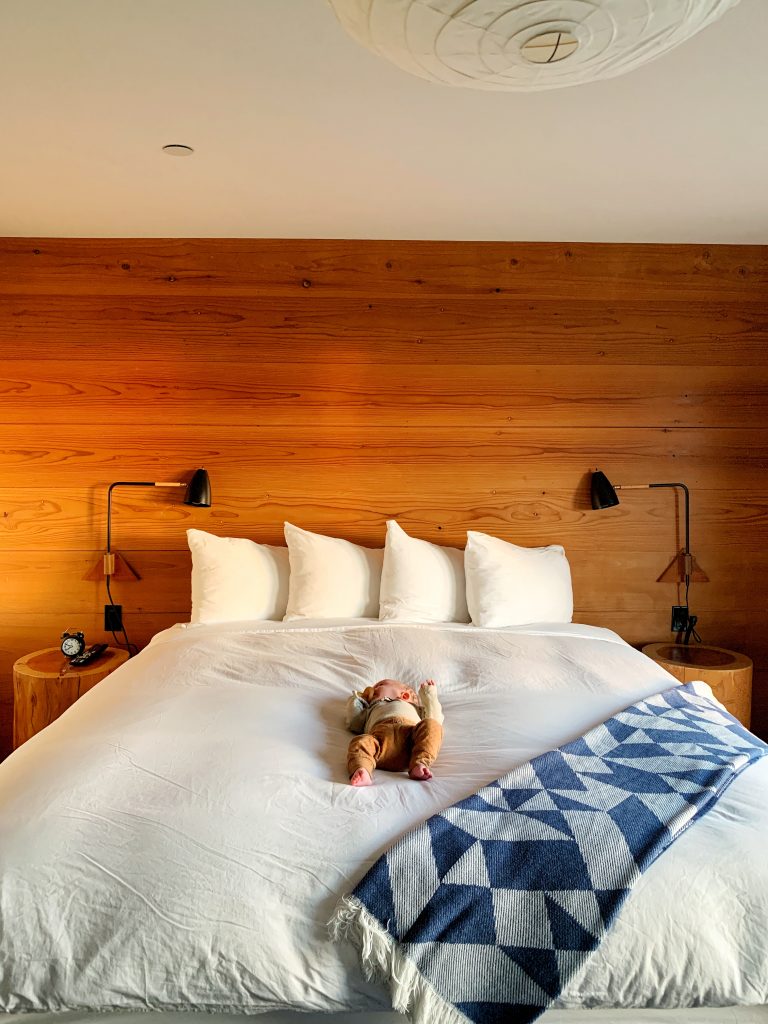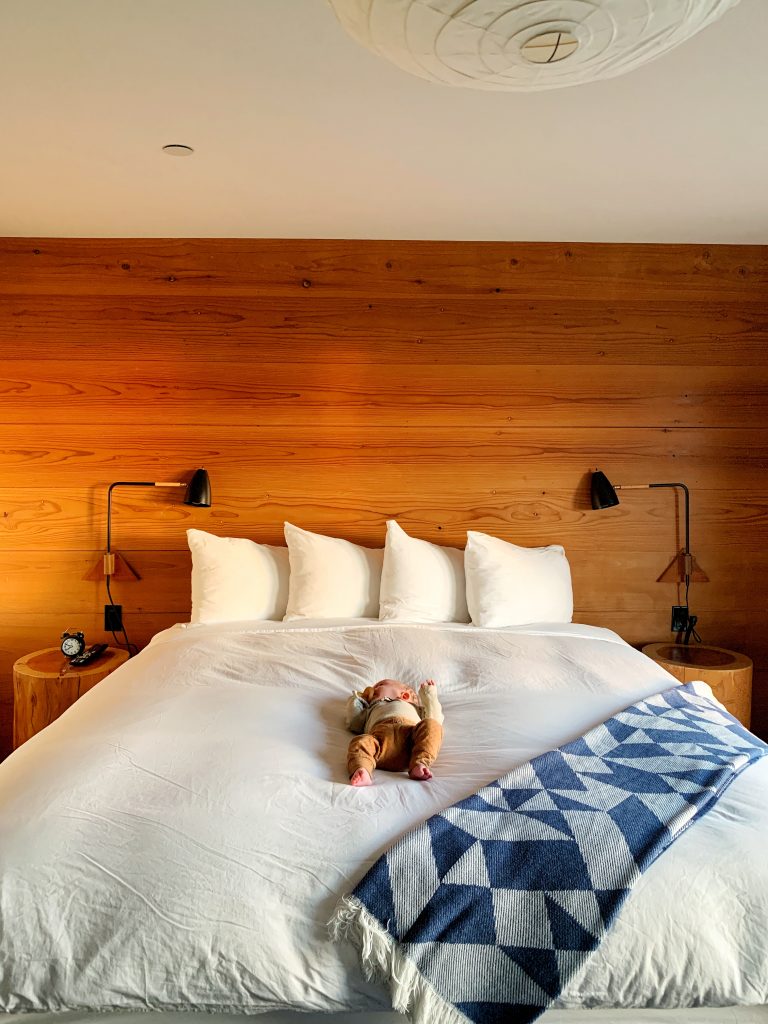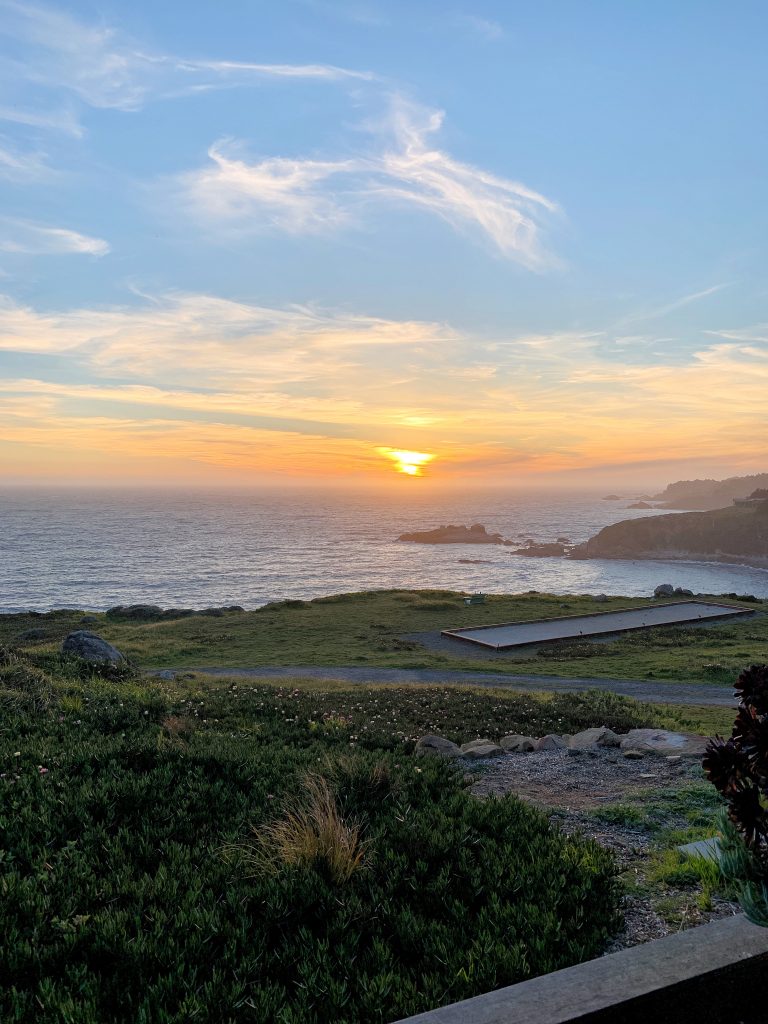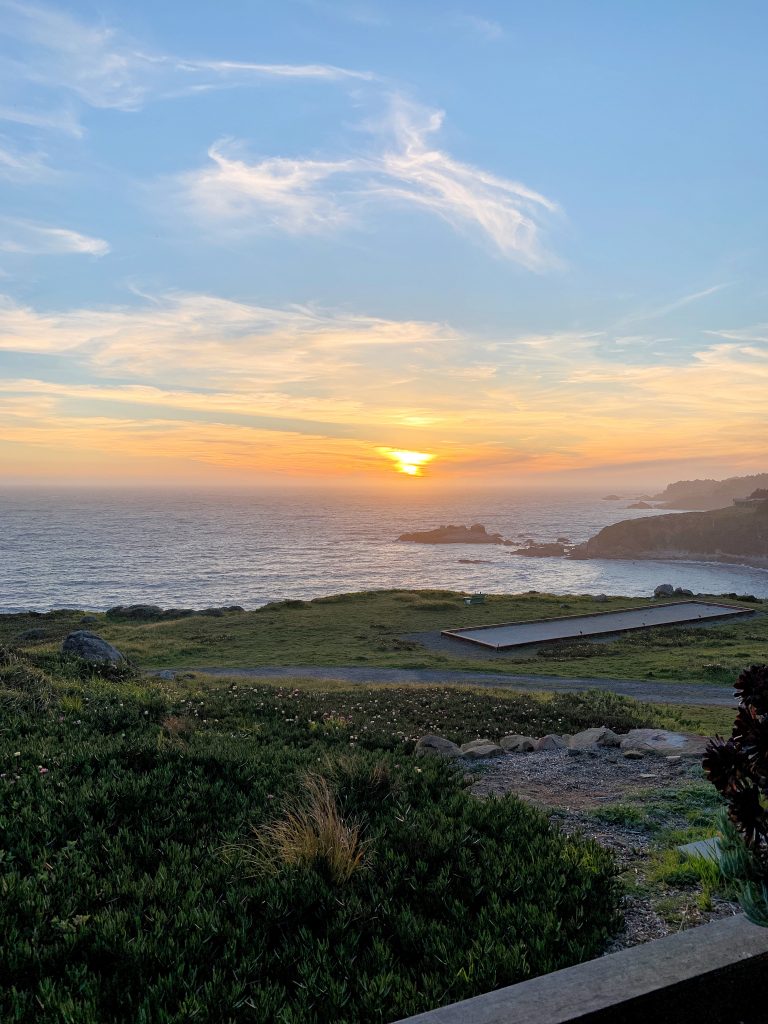 Where to eat:

Coast Kitchen:

The restaurant located at Timber Cover Resort is called Coast Kitchen. It is the go-to to breakfast, lunch and dinner option when you stay there. At first I was nervous that it was the only option for food, but then I glanced at the menu and was obsessed with everything they offered. We had breakfast and dinner there during our stay and it was absolutely delicious. The breakfast menu had a wide variety of things for anyone and any palette. I ordered the French Toast with a berry compote and this coconut whip that was so fluffy and delicious. With a side of bacon of course. Jordan had the breakfast sandwich with sausage and it was on a brioche bun served with some breakfast potatoes. He didn't come up for air during breakfast, so safe to say he loved the sandwich. Then we shared a berry, granola and yogurt bowl. They also had an avocado toast that sounded amazing but for the sake of trying something new, we went with these options and they didn't disappoint at all!
When we went back for dinner that night, the server immediately knew of any allergies/preferences when we sat down. I found this type of service really noteworthy and I was so appreciative of it. They also kindly offered to make a burger for me when I mentioned I was craving one for dinner. It wasn't on the dinner menu but I did eye it on the lunch menu when browsing. Burgers are my favorite meal to order out these days. It always satisfies me and I love getting to compare it to others from all over (weird, yes but it's my thing). I got sautéed mushrooms, avocado and arugula on top. Served with the crispiest french fries. Jordan ordered the halibut and he loved it. We didn't even try each other's because we were so consumed loving our own meal (that's how you know it is good). We also ordered the salmon wings and a duck liver pate. Jordan loved the crostini with the pate (I was too busy enjoying the warm focaccia and butter) and the salmon wings were hands down on of the best appetizers I have ever eaten. Super unique and really flavorful with a bbq spice rub. For dessert we got a chocolate cake they had and brought it back to the room to eat while we put Ezra down. Both of our meals at Coast Kitchen were perfection.

Cafe Aquatica:

For lunch that day we traveled down to Cafe Aquatica. Jord had found this when he was researching places and it is a cute organic lunch spot on the water. Everything is homemade and organic and they offer a lot of different items and the menu changes often. We got the crab salad sandwich and homemade clam chowder with gluten-free croutons. Oh and I had the best vegan date coconut cookie for dessert. It was lightly sweetened and almost tasted more like a biscuit than a cookie. The views here are great for a low-key type of lunch. Sit out on the water and enjoy the scene.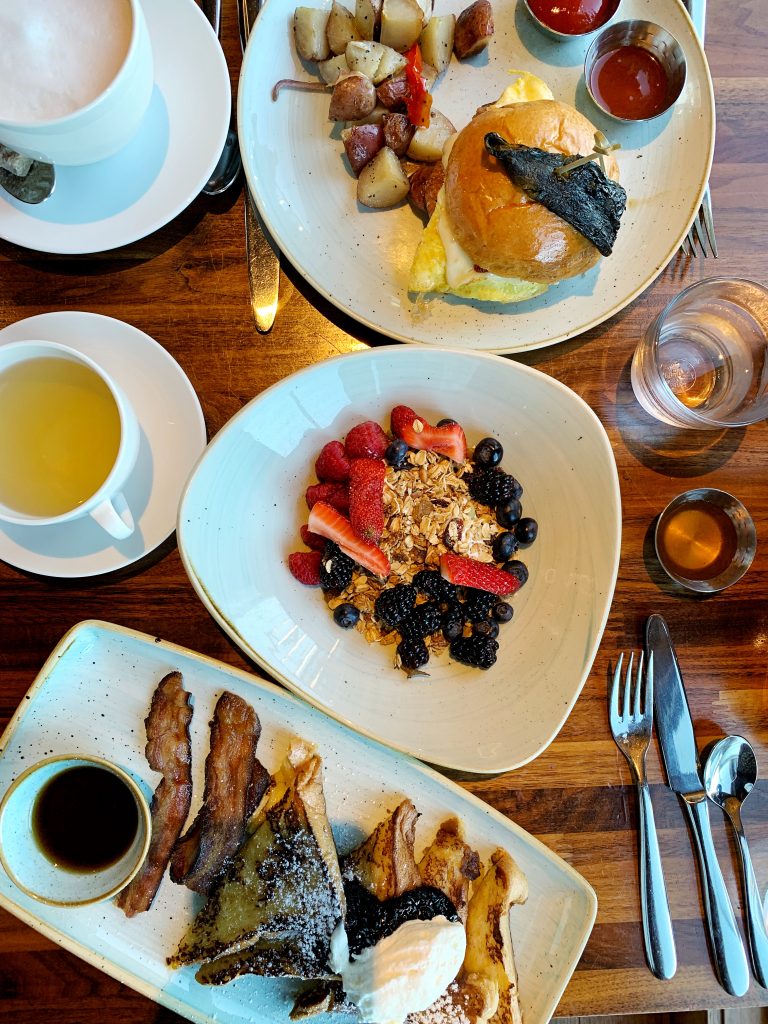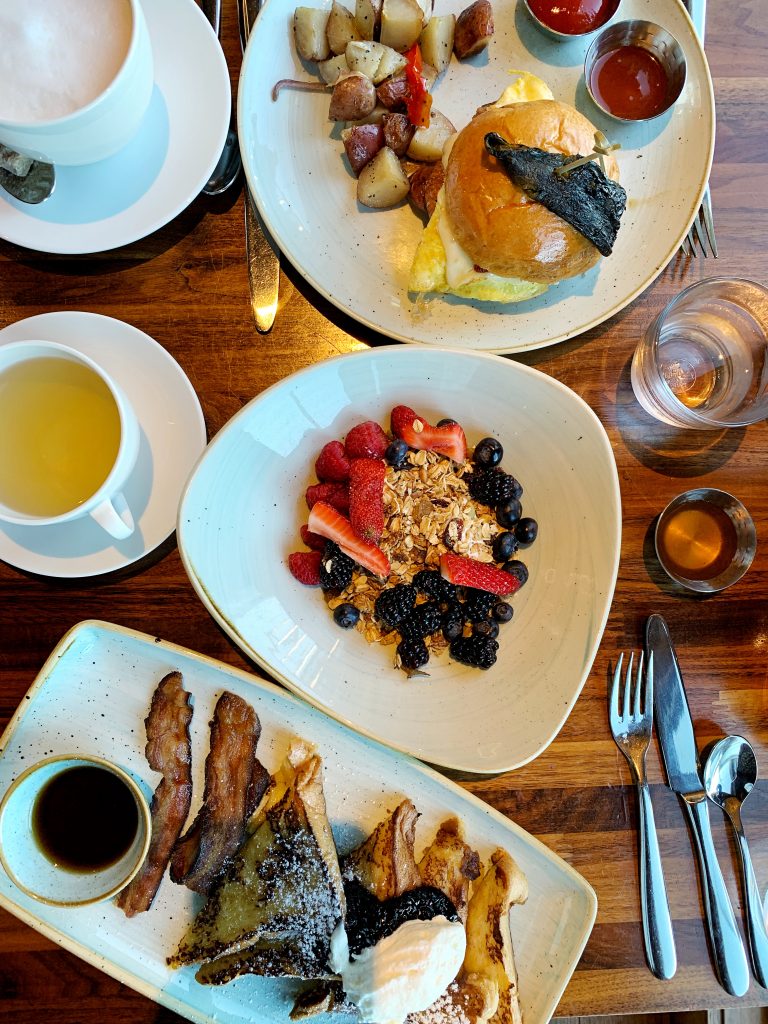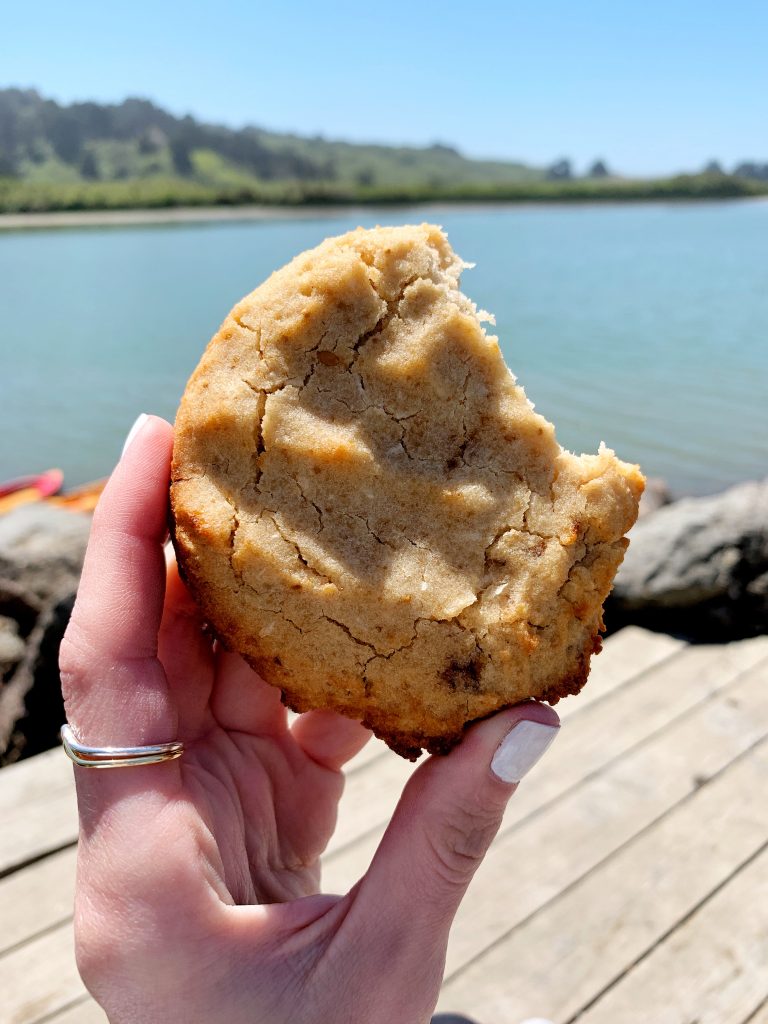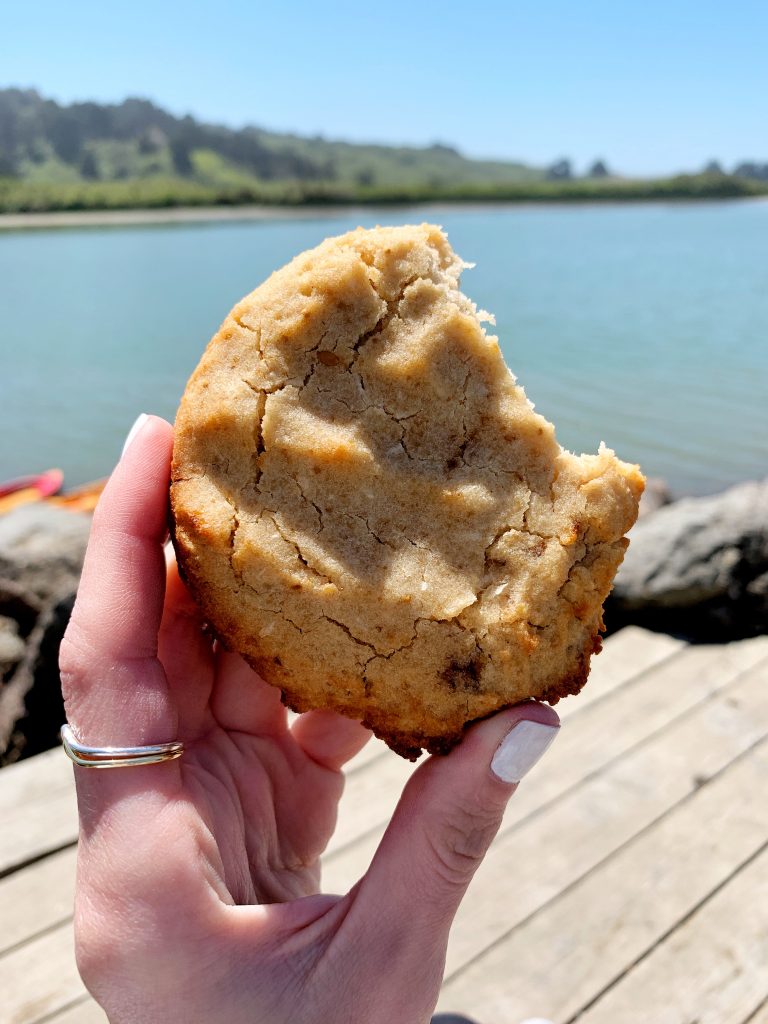 Hope you guys have a chance to head to the Sonoma Coast soon! It really was such a great couple of days out there. If you are traveling down to Ojai anytime soon, here is my guide to the Ojai area – another favorite!
xx, Rach