Triple Nut Pistachio Cacao Snack Balls made with wholesome ingredients for paleo snack!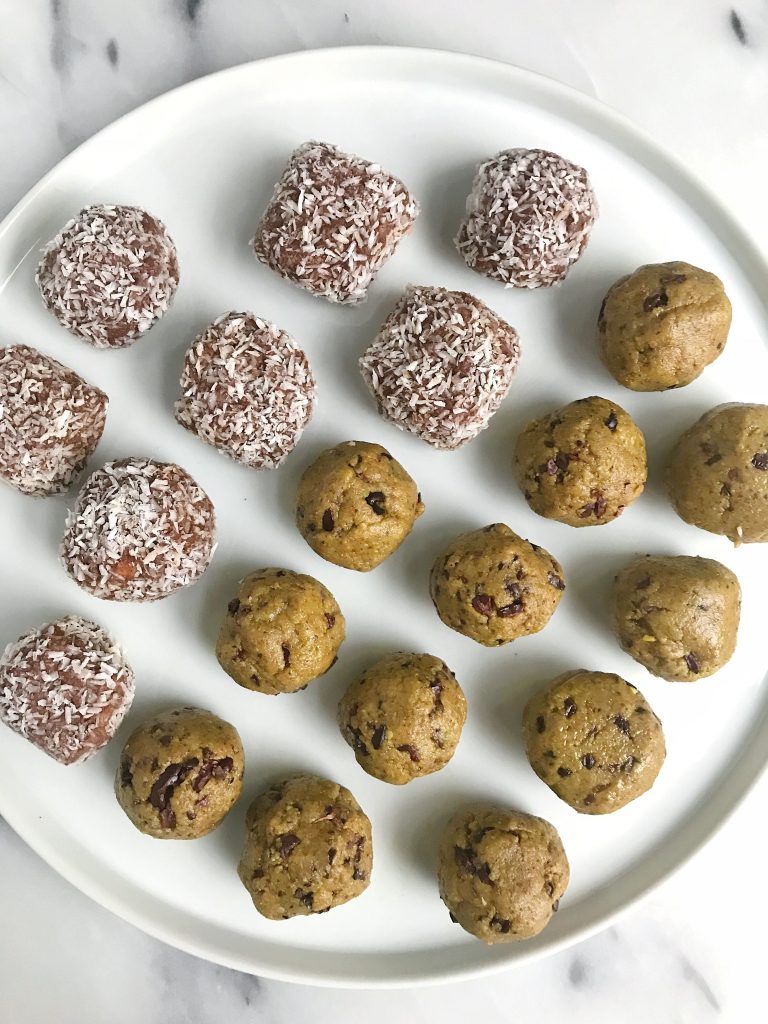 It is crazy to think how far balls have come. It is also crazy to think that when I tell people I like to snack on balls, the inner 8 year old in me doesn't giggle or think perverted thoughts anymore. Don't worry, I used to laugh every single time I would talk about them..
Bliss balls, fat balls, snack balls, you name it.. have become quite popular over the past few years. I have been making these to snack on since before my food blog or Instagram existed. It is so crazy to think how far they've come. I would use ingredients like oatmeal, peanut butter, honey and any other random things in my parent's pantry. Mix them all up in a large bowl and roll them into ball form and I was snacking.
Fast forward five years and balls are trendy af. They likely fill up your Instagram feed and you may even see them at a coffeeshop or food store near you.
The best part about making snack balls though is how easy they are. It is such a simple process, I promise you can whip these up. You don't need an oven or anything besides a food processor and whatever ingredients you are craving. I always joke to anyone who asks me for my recipe that I throw in anything I am craving into the food processor and hope for the best.
Then I took a bite of these Triple Nut Pistachio Cacao Snack Balls and knew I had write down the ingredients and measurements. These are by far my favorite snack balls yet. They are made with three types of nuts, some nut butter, coconut oil, dates and a couple other goods.
As you can see below, snack balls are very nutrient dense. They are typically filled with nuts, seeds, coconut flakes, etc. I like to sweeten mine with a couple of dates and add in some cacao nibs at the end. Roll them into crushed nuts or fine coconut flakes, anything!
They are one of my go-to homemade snacks and they are easy to keep in your bag or leave at your desk. Eat a couple when you're hungry and they will keep you full between that lunch to dinner gap. I also like having them in the morning before an early a.m. workout to hold me over until breakfast.
These Triple Nut Pistachio Cacao Snack Balls will take you five minutes to make. They keep so well in the freezer for a couple months or up to a week or so in the fridge!
WHAT YOU NEED
Collagen peptides (optional but I like adding for protein)
Dates
Cacao nibs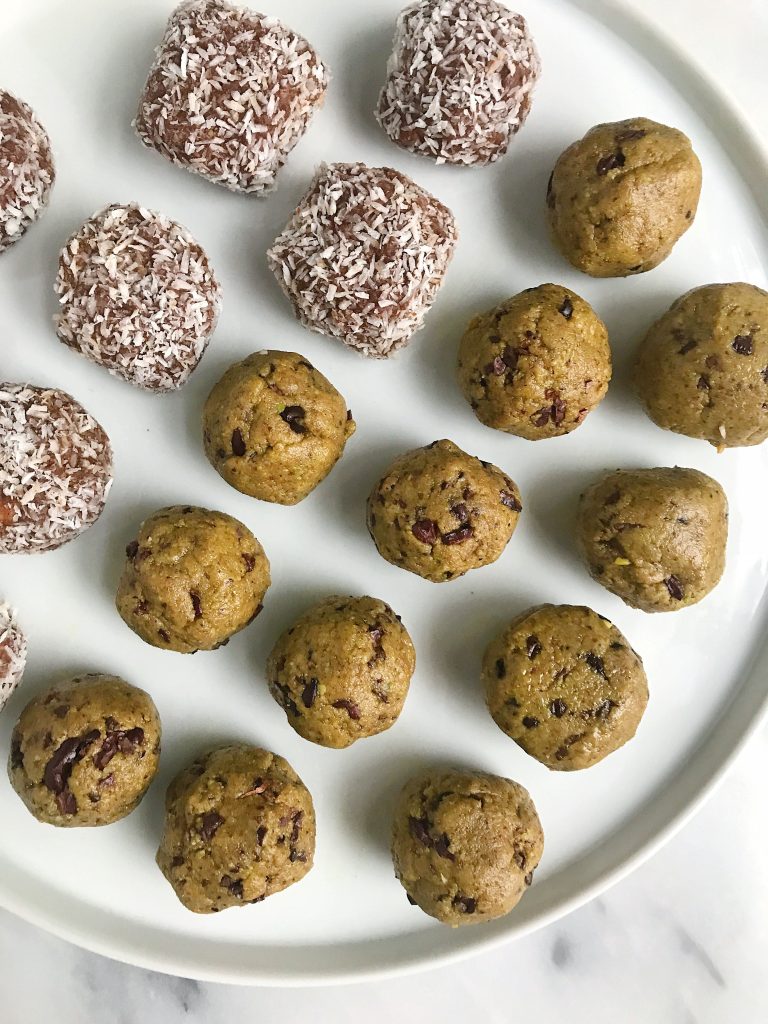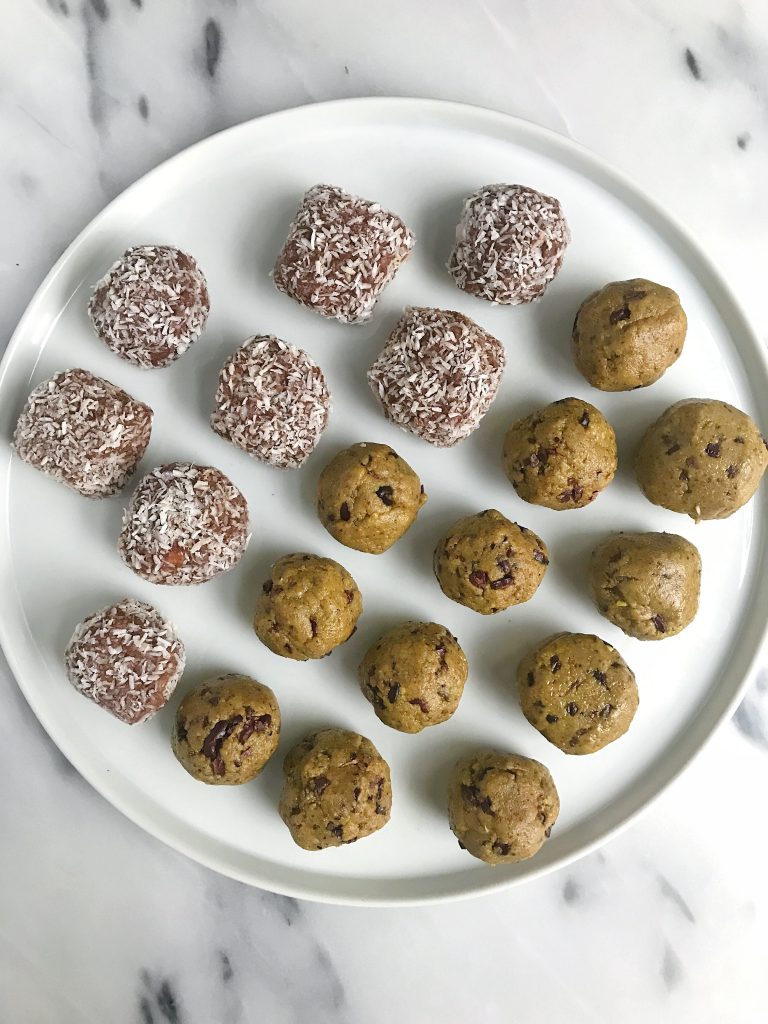 Print
Triple Nut Pistachio Cacao Snack Balls
Prep Time:

5 mins

Total Time:

5 mins
½ cup

shelled pistachios

⅓ cup

raw walnuts

½ cup

raw almonds

1/3 cup

creamy nut butter

1 tablespoon

coconut oil

2

scoops collagen peptides

4

pitted dates

¼ cup

cacao nibs
Instructions
Add all ingredients except cacao nibs to food processor
Pulse until creamy and well combined. Depending on your food processor, this may take a few moments. You want the mixture to be dough-like and easy to roll and stay into ball form
Add in cacao nibs to the mixture and pulse a few times so the cacao nibs mix in but don't grind into small pieces
Using a spoon and your hands roll the dough into balls (abut 2-3 tablespoons dough per ball)
Add the rolled snack balls into a tupperware or container of choice and store in fridge or freezer
*These will stay for a couple of months in freezer or a week in fridge!
Author:
Category:

paleo, gluten-free, dairy-free, grain-free

Cuisine:

snack
xx, Rach
SaveSave
SaveSave