4-ingredient Blueberry Collagen Jam made with no added sugar for an easy and healthy homemade jam!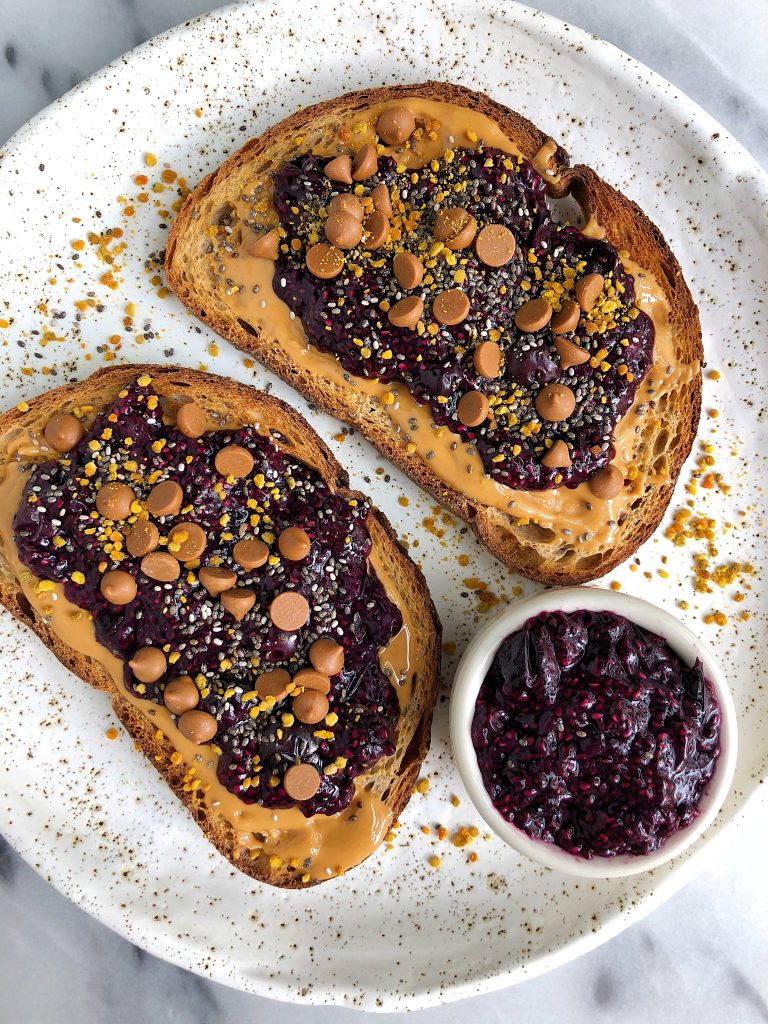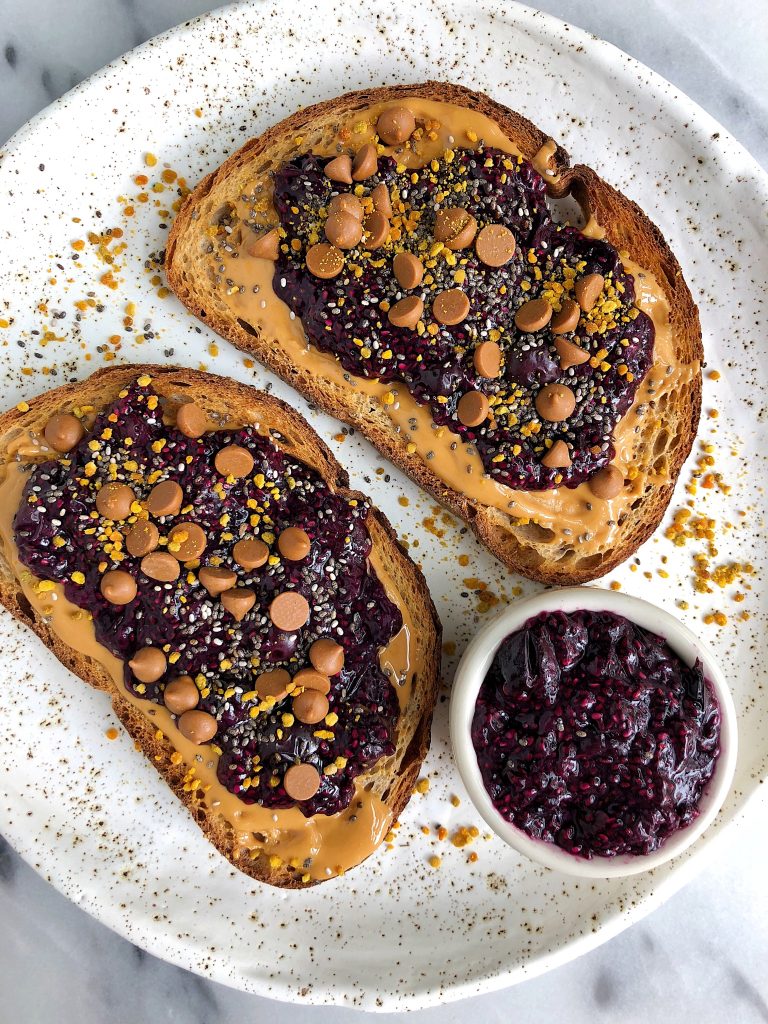 You guys have been asking for an easy jam recipe for what feels like forever. And to be honest, I do have one coming in my cookbook but thats Spring 2020 so how rude would it be for me to ask you to wait 😉
This jam recipe though is a bit different than most and from the one in my book. It is a 4-ingredient Blueberry Collagen Jam and it has no added sugar and I also add some chia seeds for texture. The only sugar comes from the blueberries! No maple syrup or honey but you can absolutely add some in for a touch of sweetness.
I added the collagen to the jam to add a bit of protein and a nutritional boost. You don't even taste the collagen in there! It's like a secret weapon to help the jam not spike your blood sugar and make it a bit more filling. I chat all bout my love for collagen and what you should know about it in this blog post.
I use Vital Proteins collagen peptides or marine collagen usually when I make this. Both are unflavored so you won't even know they're in there. Their collagen is my absolute favorite and I personally have seen results from using it daily. It isn't something you can take or use once in awhile and expect results though. Consistency is everything!
When you whip up this jam, you can add it on top of your favorite toast, crackers, in oats, really anything! It makes enough to last me about a week or so. You can also use fresh or frozen organic blueberries. Or if you're craving another berry, go for it. I'm allergic to strawberries and raspberries so I tend to only use blackberries or blueberries for my jams.
Don't forget to share your jam creations with me over on Instagram! Can't wait to hear what you think.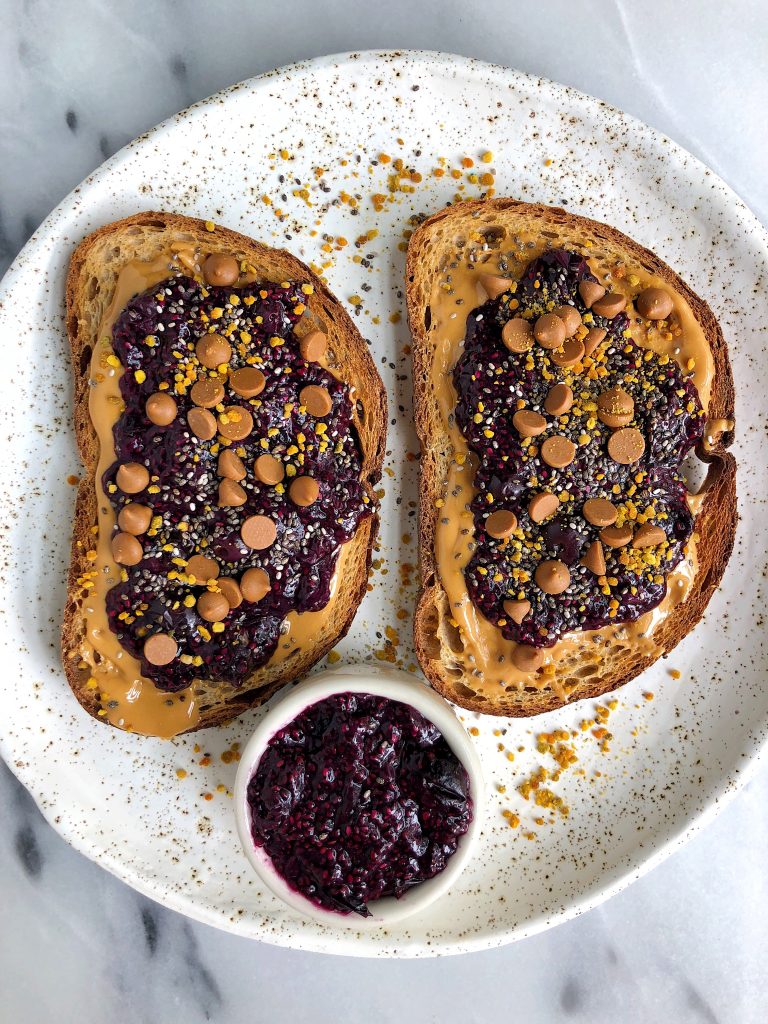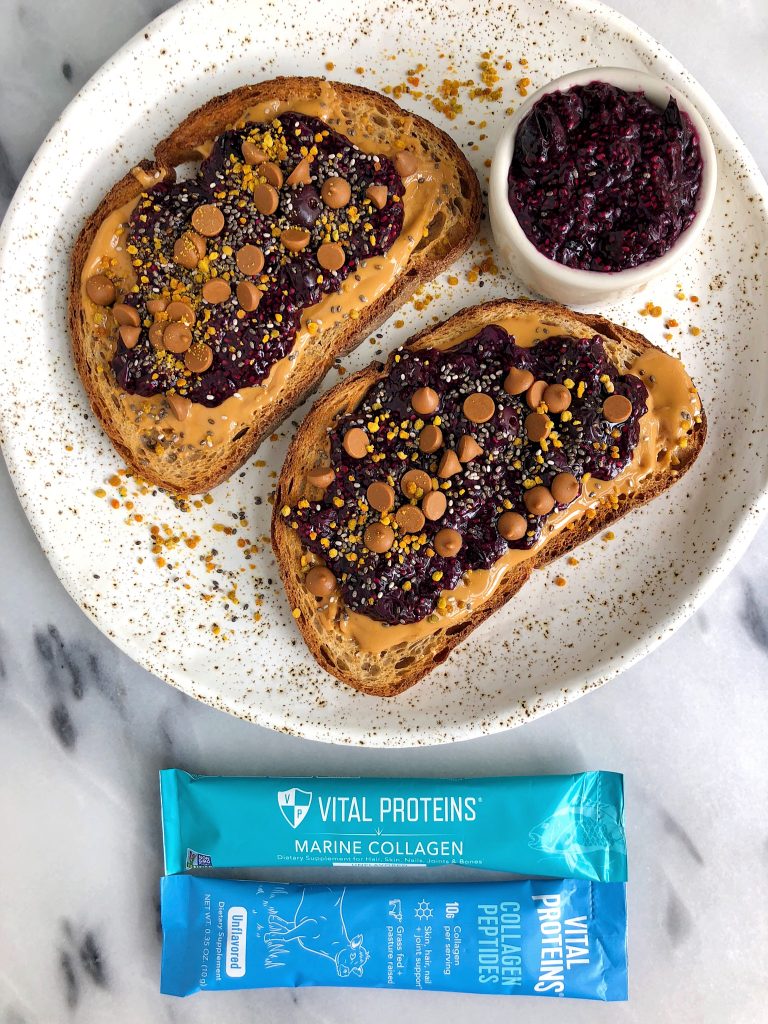 Print
4-ingredient Blueberry Collagen Jam
4-ingredient Blueberry Collagen Jam made with no added sugar for an easy and healthy homemade jam!
Prep Time:

5 mins

Cook Time:

10 mins

Total Time:

15 mins
Instructions
Add the washed blueberries to a medium saucepan and warm over medium heat
Add the water to the saucepan and stir the blueberries and water as they start to soften
Begin mashing them to make the jam (leave some chunks of blueberries)
Once the mixture starts to look more liquid-y, turn the heat down to low and add in the chia seeds and stir them into the jam
Remove from heat and add in the collagen peptides and mix well
Let the jam sit for a few minutes so it begins to thicken
Store in the fridge for up to a week in an airtight container
Notes
I love adding this too my oats, on toast, anything!
You can switch up the berries to any that you prefer.
xx, Rach
Thank you Vital Proteins for sponsoring this post! It means so much to me to work with brands I love and believe in.
SaveSave
SaveSave