These Chicken Freezer Burritos are a must make! They're a great make-ahead dinner idea that then whole family will love and these burritos are great for kids too.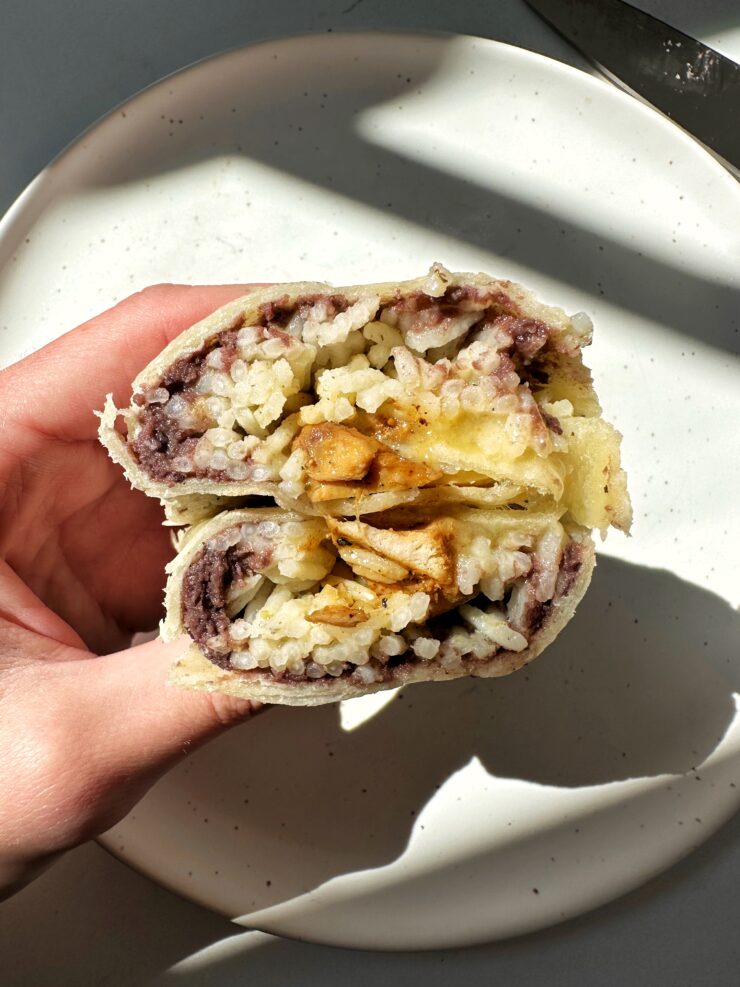 Talk about a meal prep recipe guys! These make-ahead freezer burritos are golden in the food prep world. With just a little planning ahead, you can have burritos to eat at your disposal and easily reheat them for a weeknight meal.
My kids love these too, so I keep the spices to a minimum. They're not spicy at all so if you want to kick up the heat, just add more spices to your liking to them.
I love that you can add these to your freezer and either warm in microwave or in the oven. They're so flavorful and they hit the spot for a comfort food meal without having to put a lot of effort into it each time. Just set aside an hour max to prep a bunch and you can keep your freezer stocked for months.
What ingredients are in these chicken freezer burritos:
Basmati rice or brown rice – any rice you want can work for the burritos
Boneless skinless chicken breasts or thighs – really either can work here
Cumin
Chili powder
Smoked paprika
Dried oregano
Olive oil
Onion – chopped and cooked with the chicken
Garlic cloves – or use garlic powder if you want
Cheddar cheese – I usually shred a fresh block of cheddar but you can really use any shredded cheese you want too
Refried beans – warmed per instructions on can! I like using black beans for this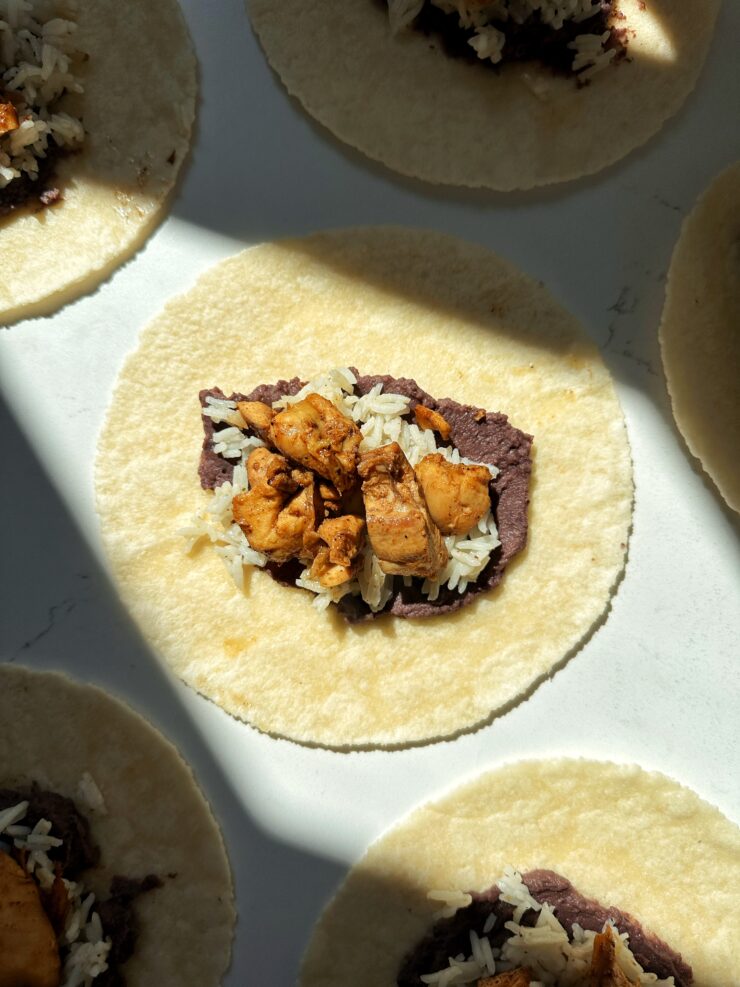 How to prep make ahead freezer burritos:
Begin making the rice by adding the oil and minced garlic to a sauce pot and sauté over medium for about one minute
Add the spices and rice to the pot, continue to sauté, stirring continuously, for about two more minutes to toast the rice and spices
Add the water to pot and place lid on top and turn heat up to high
Allow the water to come to a boil then turn heat down to low and simmer rice for about 10-15 minutes or until the rice fully absorbs liquid
While rice cooks, prep the chicken by patting it dry and combine spices in a small bowl then add the chicken to a large bowl and coat with oil and spices
Grease a large skillet with oil and add chicken to skillet and cook on medium heat for about 5-7 minutes on each side of the chicken until it reaches 165 degrees F)
Remove chicken from skillet and let it rest of a few then gently cut into smaller pieces for burrito (see above for example)
Now it is time to assemble burritos! Add a spoonful of refried beans to center of the tortilla and spread across then add a spoonful of rice, chicken and cheese
Roll the burritos up tightly making sure to fold in the sides first to hold in filling
If desired you can add burritos to a greased skillet to set a bit over medium low heat. I like to do this so the burrito sets more with the tortilla and has a crisp on the outside before wrapping up
Next wrap each burrito in foil then store in large ziplock or freezer bag for up to 3 months
How to reheat freezer burritos:
To cook from freezer in microwave, unwrap burrito and place on microwave-safe plate
Microwave on HIGH for 2 minutes or until burrito reaches internal temperature of 165 degrees F or warm to your liking
To cook from freezer in oven, leave in foil and warm in oven at 350 degrees F for 30-40 minutes or warm to your liking
Slice in half if desired and enjoy with salsa and/or guacamole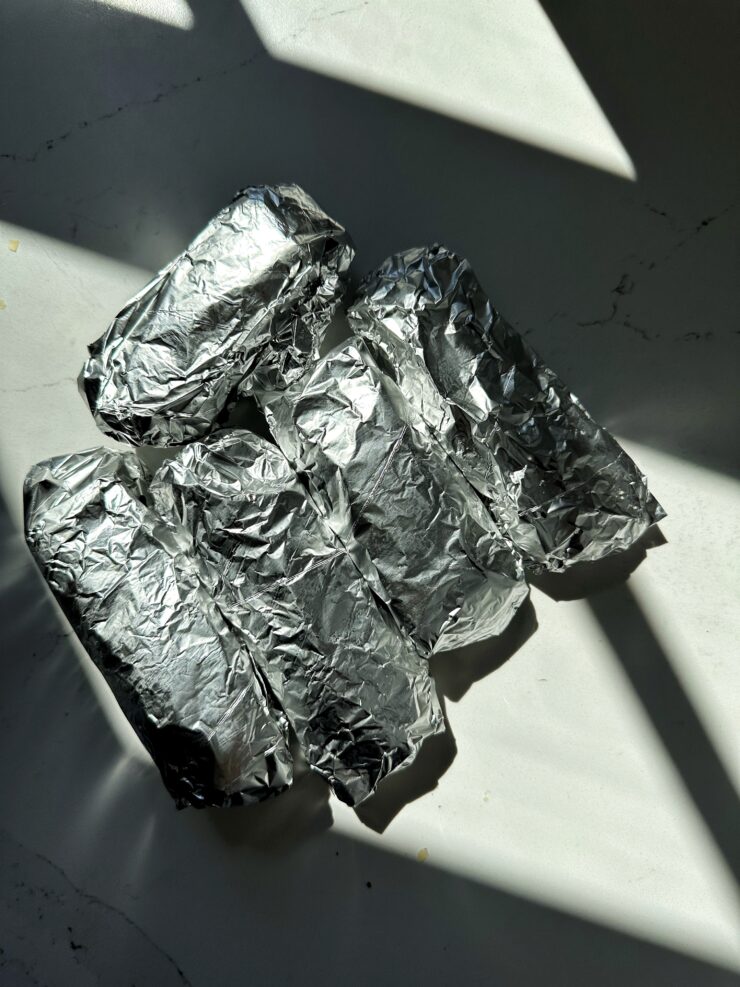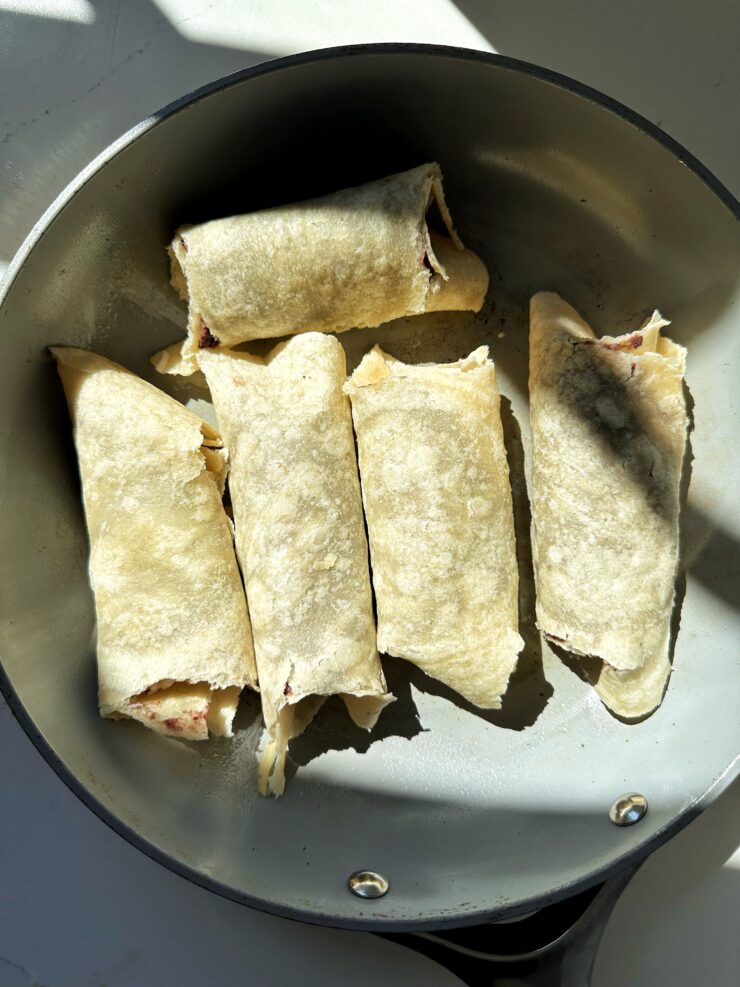 FAQs on making the best chicken freezer burritos:
If you aren't a fan of chicken, you can use another protein you want like beef or tofu here too. You can even use some ground chicken if that's all you have as well
Don't overstuff the tortilla! if you fill up the tortillas too much, they won't stay together and will break. Less is more for filling burritos and wrapping
Let the fillings cool down before filling the burrito or the tortilla will break apart too
These burritos can stay good in the freezer for up to 2 months.
A few other delicious recipes to food prep:
Copycat Starbucks Spinach Feta Wrap
Oven-Baked Paleo Veggie Chicken Nuggets
Mini Egg Tortilla Cups (gluten-free)
Print
Chicken Freezer Burritos (for kids!)
These Chicken Freezer Burritos are a must make! They're a great make-ahead dinner idea that then whole family will love and these burritos are great for kids too.
Prep Time:

30 mins

Total Time:

30 mins
Yield: Makes 6–8 small burritos 1x
Seasoned rice:
1 tablespoon

olive oil

1

garlic clove, minced

1/4 teaspoon

ground cumin

1/4 teaspoon

oregano

1 cup

basmati rice or brown rice

Water per rice instructions
Chicken:
1

lb boneless skinless chicken breasts or thighs

1 teaspoon

cumin

1/2 teaspoon

chili powder

1 teaspoon

smoked paprika

1 teaspoon

dried oregano

Sea salt and black pepper to taste

2 tablespoons

olive oil

1

small onion, chopped

3

garlic cloves, minced
Burritos:
Instructions
Begin making the rice by adding the oil and minced garlic to a sauce pot and sauté over medium for about one minute
Add the spices and rice to the pot, continue to sauté, stirring continuously, for about two more minutes to toast the rice and spices
Add the water to pot and place lid on top and turn heat up to high
Allow the water to come to a boil then turn heat down to low and simmer rice for about 10-15 minutes or until the rice fully absorbs liquid
While rice cooks, prep the chicken by patting it dry and combine spices in a small bowl then add the chicken to a large bowl and coat with oil and spices
Grease a large skillet with oil and add onion, garlic and chicken to skillet and cook on medium heat for about 5-7 minutes on each side of the chicken until it reaches 165 degrees F)
Remove chicken from skillet and let it rest of a few then gently cut into smaller pieces for burrito (see above for example)
Now it is time to assemble burritos! Add a spoonful of refried beans to center of the tortilla and spread across then add a spoonful of rice, chicken and cheese
Roll the burritos up tightly making sure to fold in the sides first to hold in filling
If desired you can add burritos to a greased skillet to set a bit over medium low heat. I like to do this so the burrito sets more with the tortilla and has a crisp on the outside before wrapping up
Next wrap each burrito in foil then store in large ziplock or freezer bag for up to 3 months
To cook from freezer in microwave, unwrap burrito and place on microwave-safe plate
Microwave on HIGH for 2 minutes or until burrito reaches internal temperature of 165 degrees F or warm to your liking
To cook from freezer in oven, leave in foil and warm in oven at 350 degrees F for 30-40 minutes or warm to your liking
Enjoy with guacamole and/or salsa
Notes
*Burritos will stay good in freezer for 2 months