Chickpea-less Beet Hummus made with no beans, no oil for an easy and yummy plant-based dip!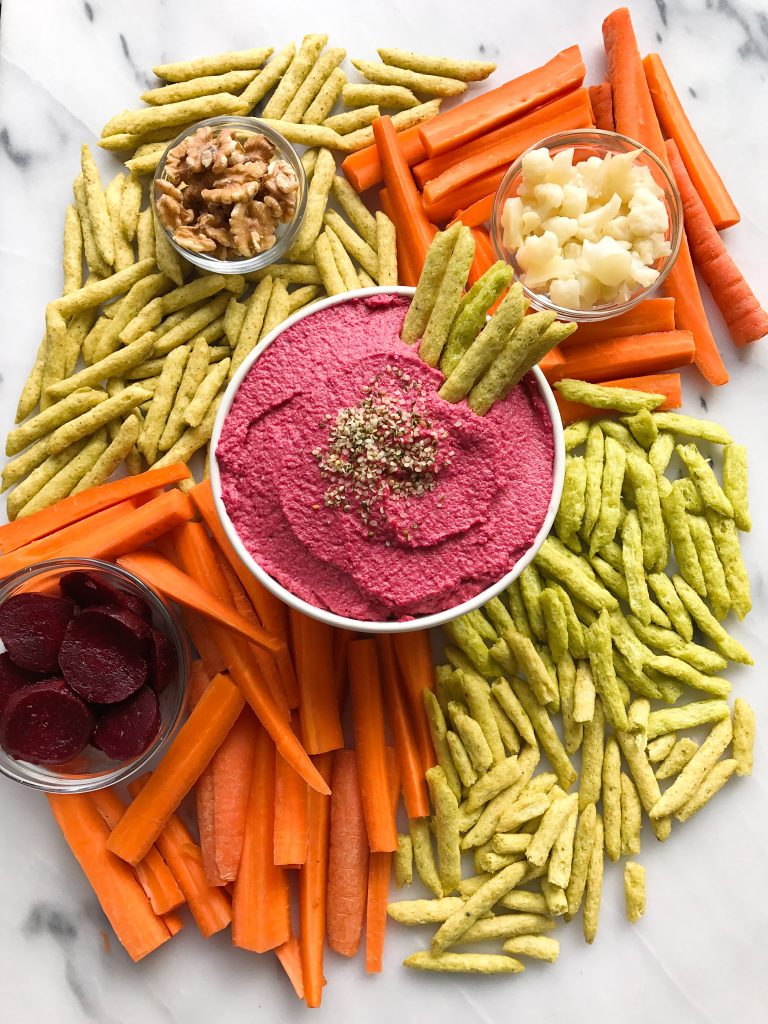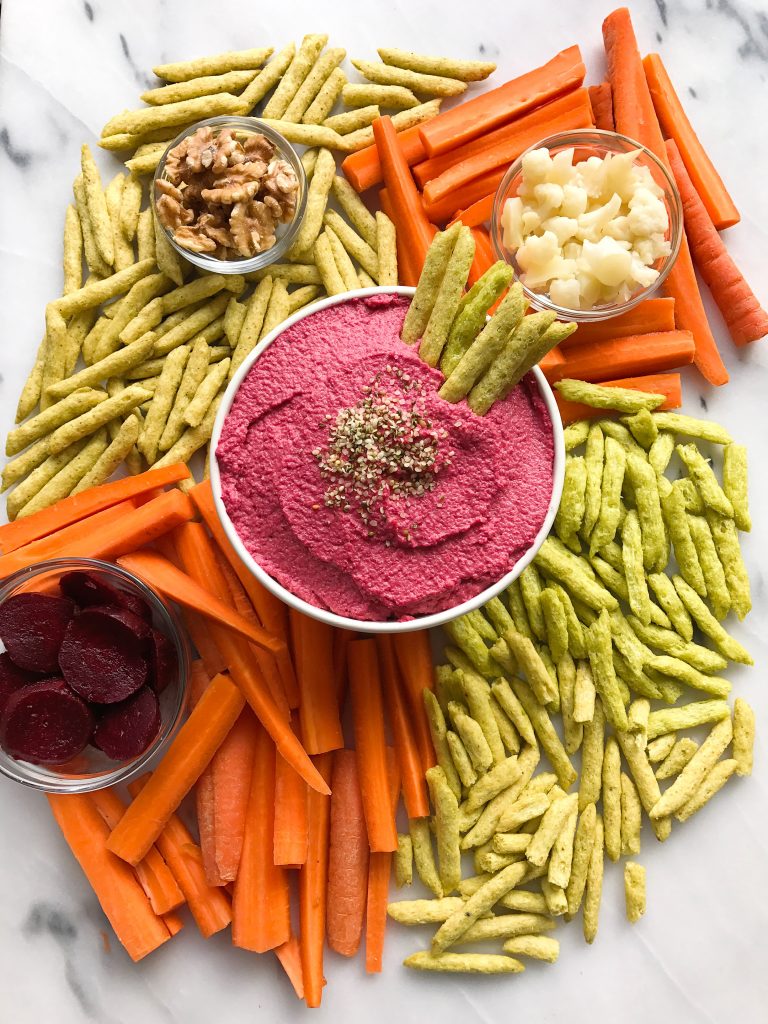 I loveeee my chickpeas. Like more than one likely should be loving their chickpeas. Hummus, falafel, chickpea pasta, in a salad, roasted, you name it. I also am lucky my body seems to react well to chickpeas too and I don't get stomaches or anything, but that doesn't seem to be the case for many.
For anyone who does not tolerant chickpeas well, this Chickpea-less Beet Hummus is for you. And if you love your chickpeas, you will still love this creamy flavorful spread. There is NO oil added in here either, so helllllooo that is shocking.
Filled with cauliflower florets, cooked beets, garlic and more, this chickpea-less hummus is SO easy to make and it is the best dip to pack for work, make for a little dinner party or just smear on your sandwich or use as a salad dressing.
I personally love dipping Harvest Snaps Snapea Crisps in this dip because the flavor combo is unreal. Like try not to eat an entire bag in one sitting, I dare you. They are a staple in my pantry and Jord brings them to work and all his co-workers go crazaaayyy!
They are high in protein compared to most savory snacks and they are gluten-free and even have a solid amount of protein and fiber. My favorite are the lightly salted and black pepper but you seriously can't go wrong with any. Plus they even have lentil brand AND black bean crisps!
I also love using their products instead of croutons in my salads for an extra crunch (remember this Crunchy Green Goddess Salad with Tahini Dressing? so good).
When you make this dip, you will 100x dye your hands red from the beets, you have been warned my friends. I promise it is worth it. I even dyed my marble accidentally while doing this (luckily it came right out with baking soda and water!)
WHAT YOU NEED
Cauliflower florets
Cooked beets
Garlic
Tahini
Walnuts
Lemon
Harvest Snaps Snapea Crisps
QUICK NOTES
This dip stays pretty well in the fridge after making for up to 5 days and you can freeze it too. I made this when it was just me home and froze half of it (key to not overeating) for later

I used steamed cauliflower as I digest that a bit easier but if you prefer using raw, it will still work. It just may not be as creamy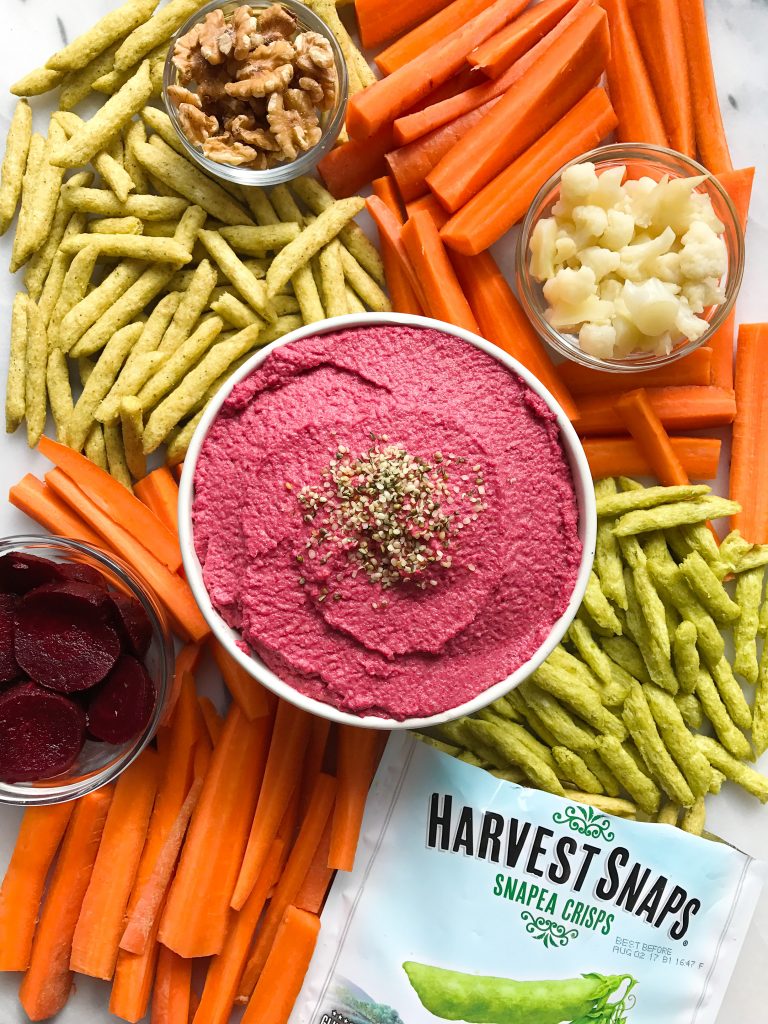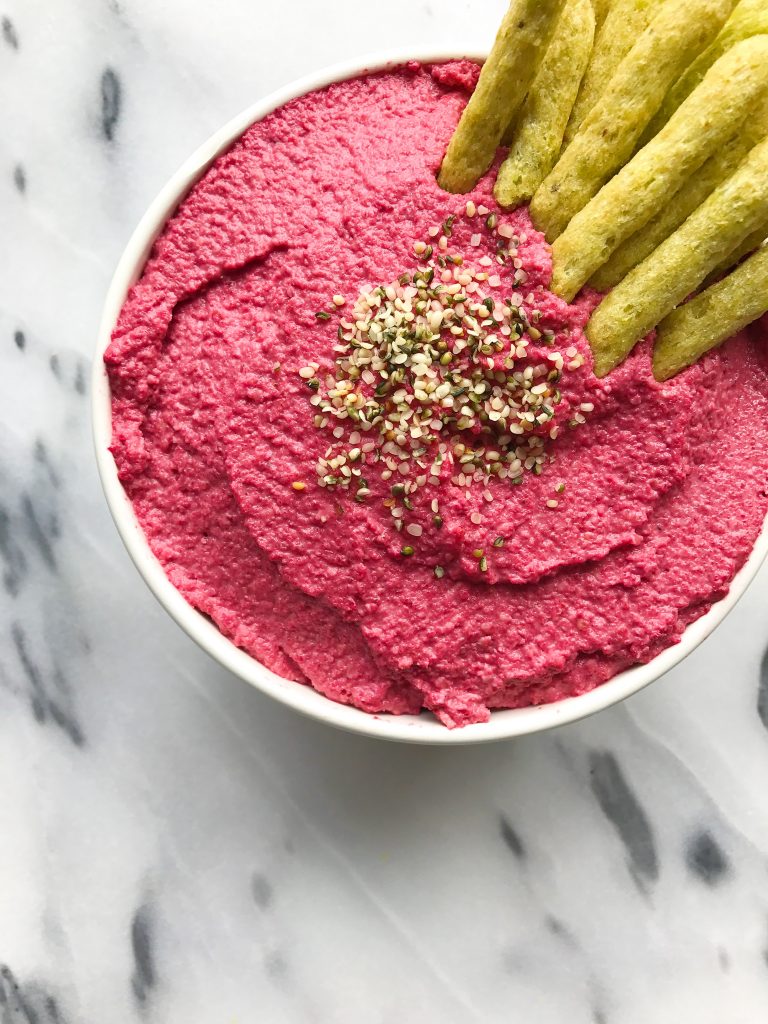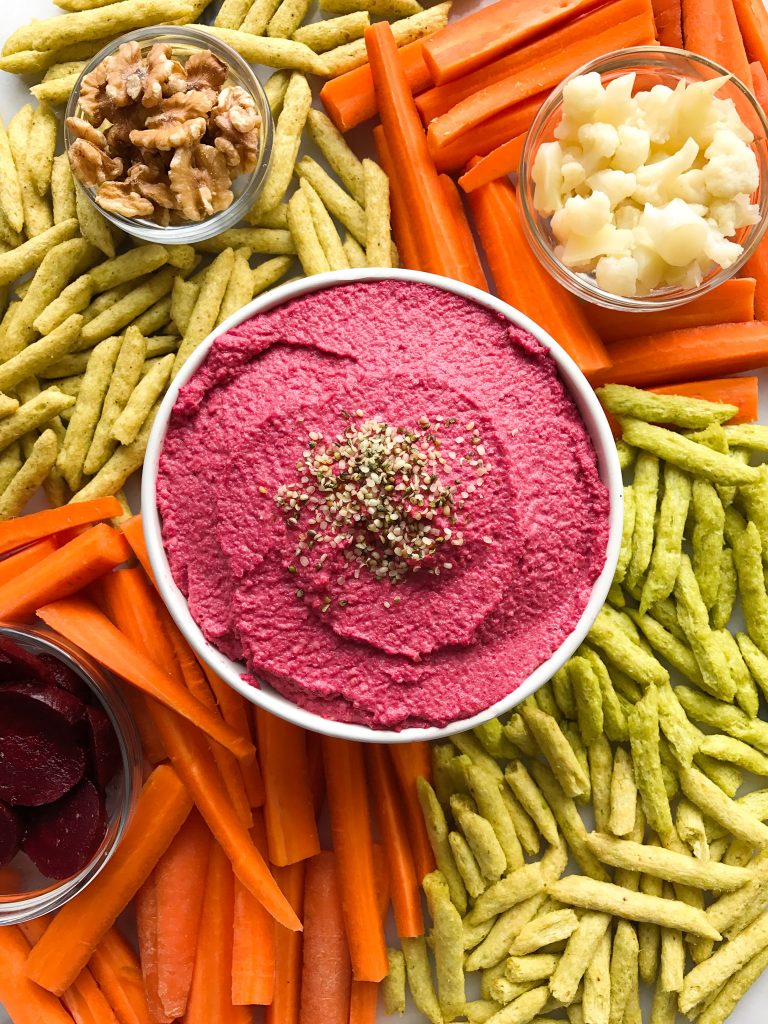 Print
Chickpea-less Beet Hummus (oil-free)
Prep Time:

5 mins

Cook Time:

5 mins

Total Time:

10 mins
1 cup

cauliflower florets, steamed

3

small cooked beets (roasted or steamed)

2

garlic cloves

1/3 cup

tahini

1/3 cup

raw walnuts

Juice from

1/2

lemon

1

bag of Harvest Snap Snapea Crisps
Instructions
In a food processor combine all ingredients (except the Harvest Snaps)
Keep pulsing until ingredients are blended together and creamy (if it isn't getting creamy, add more tahini)
Enjoy with Harvest Snaps Snappea Crisps, Lentil Bean or Black Bean snacks!
*Beet hummus will stay good in fridge for 5 days
Author:
Category:

paleo, grain free, vegan

Cuisine:

snack, dip
xx, Rach


Thank you Harvest Snaps for sponsoring this post. It means so much to me to work with brands that I love and who support rachLmansfield!