This Oven Fried Chicken is one of our all time favorite dinner recipes! It is juicy, flavorful and crispy and you'd never know it is gluten-free and also dairy-free.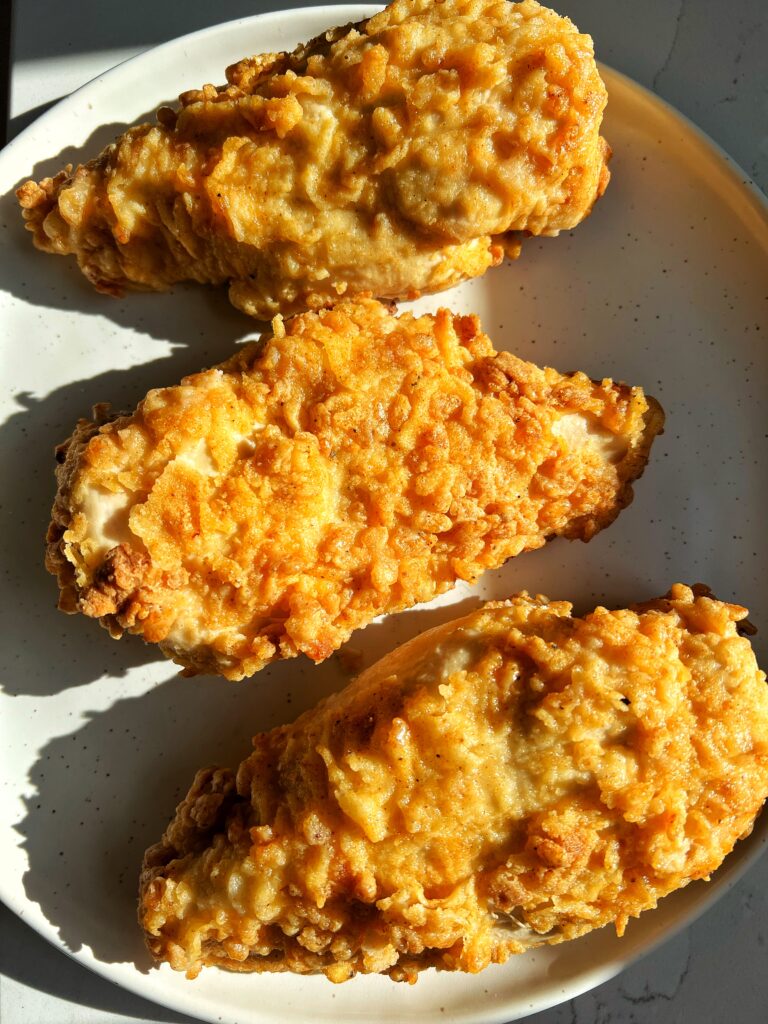 Oven Fried Chicken is the ultimate recipe to make for you and your family! And one of the easiest dinner recipes that taste like your are eating out at a restaurant.
Now in order for me to call a recipe a family favorite, it HAS to be easy and delicious and approved by everyone. And that is exactly what this chicken is. It is ready in 30 minutes and is so flavorful, healthier than other fried chicken recipes since we aren't frying it. Instead we are making it in the oven. It still gets super crispy and the breading is absolute perfection.
This recipe tastes just like picking up your favorite fried chicken but it's homemade and healthier. It comes out the oven super crispy – my kids devoured it and were asking for more after. The liked dipping it in some ketchup. I loved it with honey mustard.
Tip: this is the kind of recipe that can please everyone – you can also double the recipe to make a larger batch!
What ingredients you need to make oven fried chicken:
Boneless skinless chicken breasts – if you prefer chicken thighs, you can use them too but the cook time will vary
Egg – I haven't tested a egg replacement
Milk of choice – anything unsweetened works and can be dairy or non-dairy
Apple cider vinegar – since I don't use buttermilk, we add in some acv instead!
Gluten-free flour – if not gluten-free, use regular all purpose flour
Brown rice crisp cereal – I love using this instead of breadcrumbs for a crunch
Paprika, garlic powder, onion powder and salt and pepper for spices
How to make oven fried chicken:
Preheat oven to 425 degrees F and grease a large baking sheet
In a medium bowl, whisk together the egg, milk and acv
In a separate bowl, mix the flour, cereal, baking powder and spices
Toss the chicken into the flour, coating evenly, shaking off any extra flour
Dip each piece into the egg mixture then dip again into flour mix and coat very well
Add chicken to baking sheet and repeat for remaining chicken pieces
Generously drizzle with avocado oil on top then bake in oven for 10-12 minutes, carefully flip and drizzle again with oil then bake for another 5-10 minutes (time will vary based off thickness of your chicken pieces)
Allow the chicken to cool for a few then enjoy with desired sides like this Creamy Brussels Sprout Bake and Maple Bacon Wrapped Carrots (gluten-free)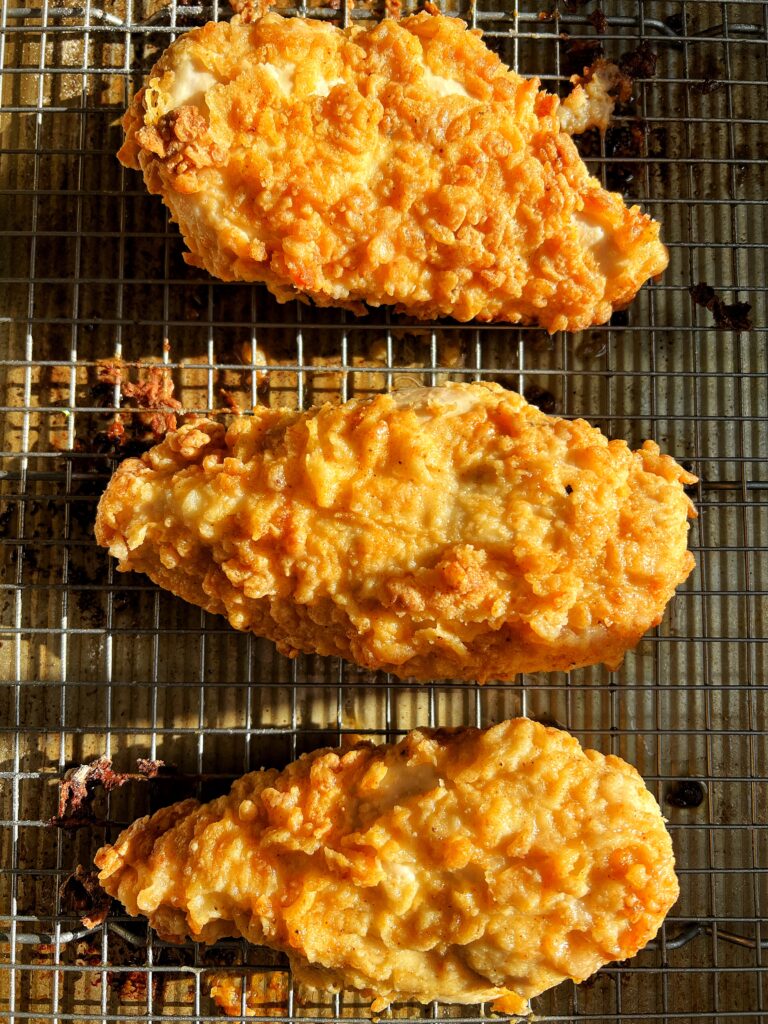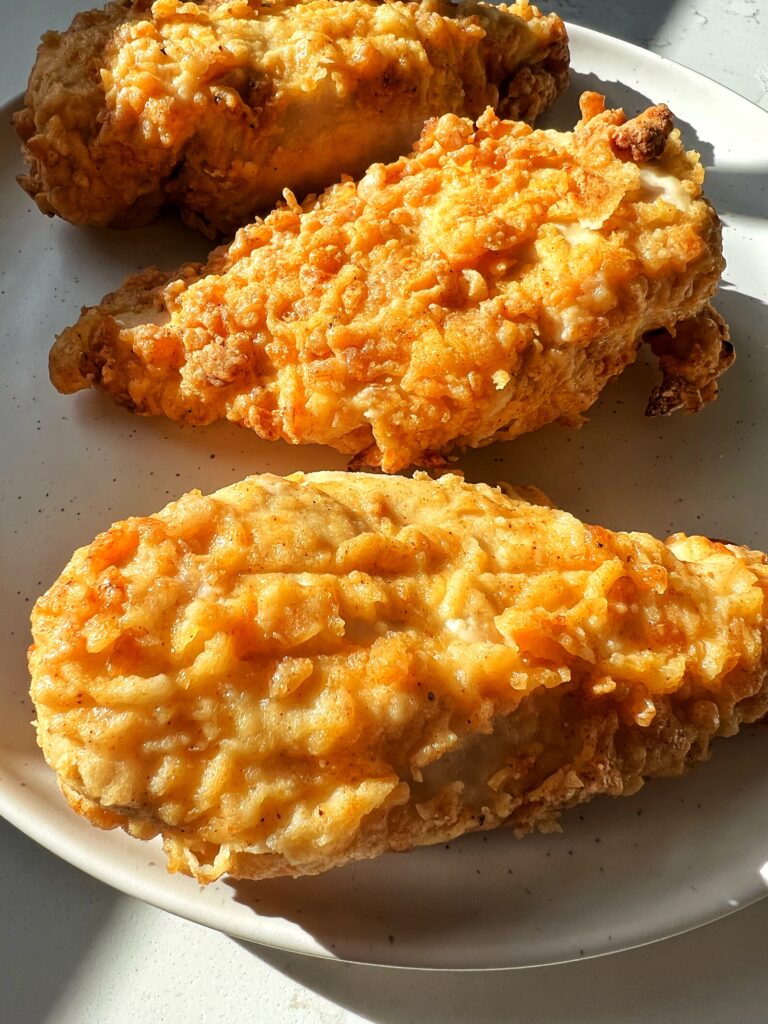 Tips for success:
Make sure you fully submerge and cover your chicken with the egg mixture and flour! The chicken should be fully covered in the flour mixture when you add to baking sheet
When you add the chicken to the preheated oven, make sure it is fully preheated to 425 degrees
I bake the chicken on a baking sheet with a wired rack on it. This helps the chicken get extra crispy!
Don't forget to flip the chicken half way through for best results
This chicken is best served straight from the oven to ensure crispiness. If you have leftovers, reheat in skillet to crisp again
If you want to double up the recipe to make more fried chicken, you can too
A few other comfort food recipes to make:
Gluten-free Stromboli with Veggies
The Best Paleo Buffalo Chicken Nuggets (Whole 30)
Pesto Lasagna Roll Ups (gluten-free)
Delicious Cheese Stuffed Meatballs!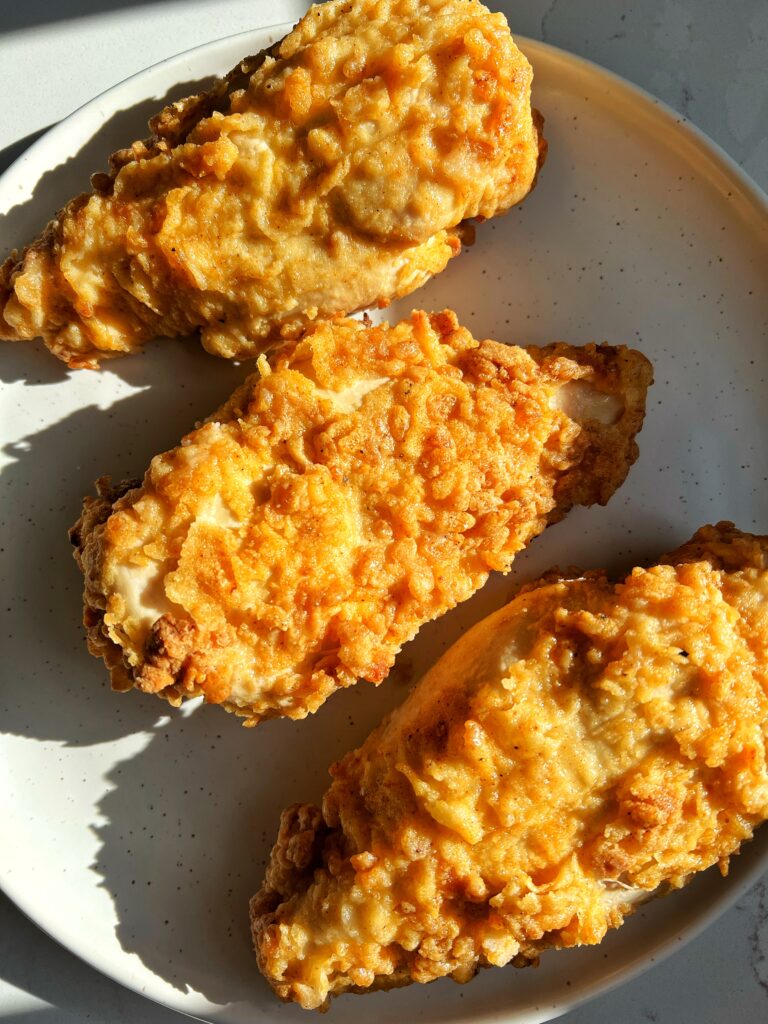 Print
Crispy Oven Fried Chicken (gluten-free)
This Oven Fried Chicken is one of our all time favorite dinner recipes! It is juicy, flavorful and crispy and you'd never know it is gluten-free and also dairy-free.
Prep Time:

10 mins

Cook Time:

20 mins

Total Time:

30 mins
For the egg mix:
1

large egg

1/3 cup

milk of choice (anything unsweetened)

1 teaspoon

apple cider vinegar
For the breading:
Chicken:
2

lbs boneless skinless chicken breasts, pat dry
Instructions
Preheat oven to 425 degrees F and grease a large baking sheet
In a medium bowl, whisk together the egg, milk and acv
In a separate bowl, mix the flour, cereal, baking powder and spices
Toss the chicken into the flour, coating evenly, shaking off any extra flour
Dip each piece into the egg mixture then dip again into flour mix and coat very well
Add chicken to baking sheet and repeat for remaining chicken pieces
Generously drizzle with avocado oil on top then bake in oven for 10-12 minutes, carefully flip and drizzle again with oil then bake for another 5-10 minutes (time will vary based off thickness of your chicken pieces)
Allow the chicken to cool for a few then enjoy with desired sides like this Creamy Brussels Sprout Bake and Maple Bacon Wrapped Carrots (gluten-free)
Notes
*Store leftovers in fridge for 5 days and reheat in microwave or skillet when ready to eat