Double Chocolate Peanut Butter Brownie Loaf made with gluten, dairy and grain-free ingredients! A sweet and healthier dessert recipe!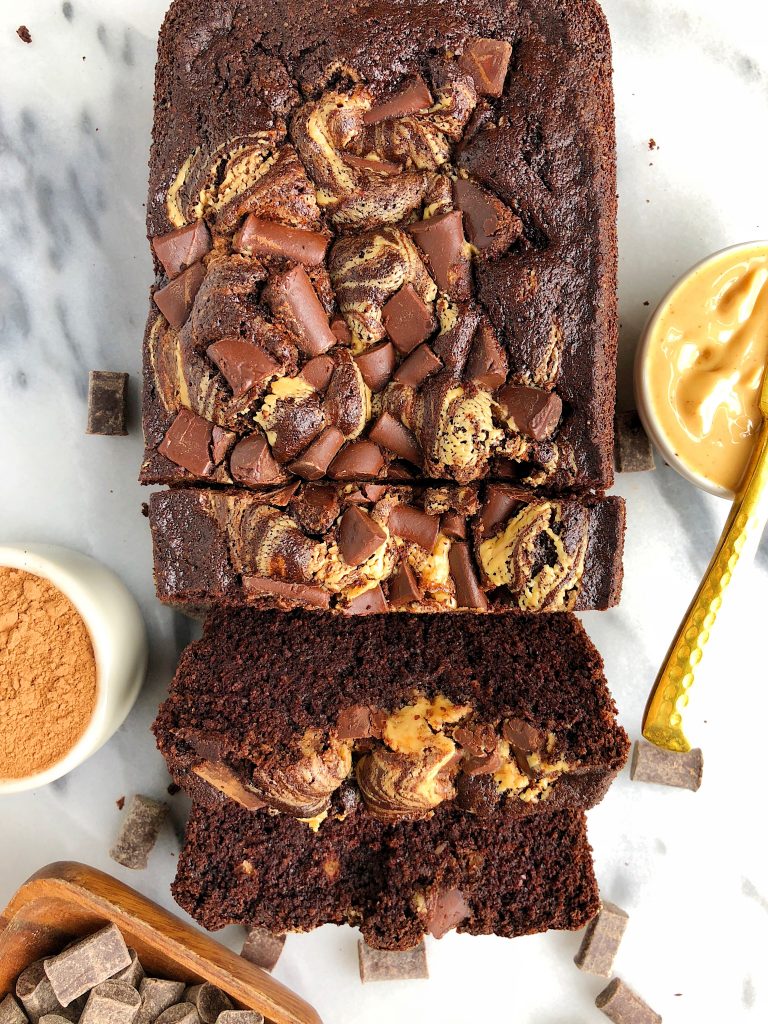 Currently sitting at my kitchen table eating a fat slice of this brownie loaf and loving life.
There are a few things I have zero self control over. For anyone who thinks I portion my desserts and don't overeat, you cray. I am someone who cannot say no to anything chocolatey and this brownie loaf is unreal and hits the spot every single bite.
Brownie loaf sounds pretty weird if you ask me, but that is the best way to describe this recipe. It tastes like a brownie but in a bread/loaf form. It has that moist-ness that cake has but the fudge-like taste and texture that brownies have too.
The creamy dreamy peanut butter swirl on top and melt chocolate chips, while they look aesthetically pleasing, are the cherry on top of this epic loaf.
The best part? I used Simple Mills Chocolate Muffin & Cake Mix as the base. The coconut sugar-sweetened, grain-free baking mix that is a staple in my pantry. I love love love Simple Mills everything (have you tried the new soft-baked cookies?!) but their cake mixes are the way to my heart. Anytime I make them for someone's birthday or any occasion really (who needs a birthday to eat cake anyways), people are obsessed.
I brought some of this Double Chocolate Peanut Butter Brownie Loaf to my brother-in-law's for dessert one night and it was a hit with my family too. Dip some of this into almond milk or spread some coconut yogurt on top and you are golden!
You can also turn this recipe into muffins by using a muffin tin if loaf isn't your style or you don't have a bread mold.
I hope you guys love this recipe as much as I do. Don't forget to tag me if you make it and share on Instagram! Here are a few of my other favorite recipes featuring Simple Mills on the blog. Or you can be lazy and bring these snickerdoodles from Simple Mills because they are AMAZING!
WHAT YOU NEED
Simple Mills Chocolate Muffin & Cake Mix
Eggs
Almond flour
Coconut Sugar
Almond flour
Creamy peanut butter
Dark Chocolate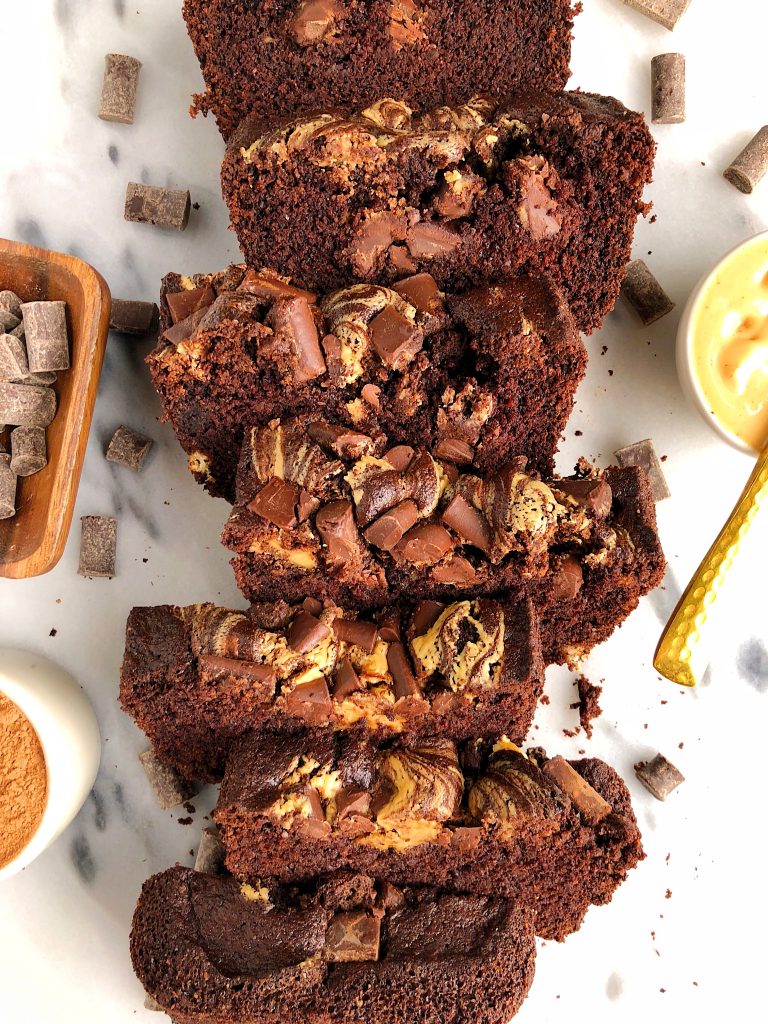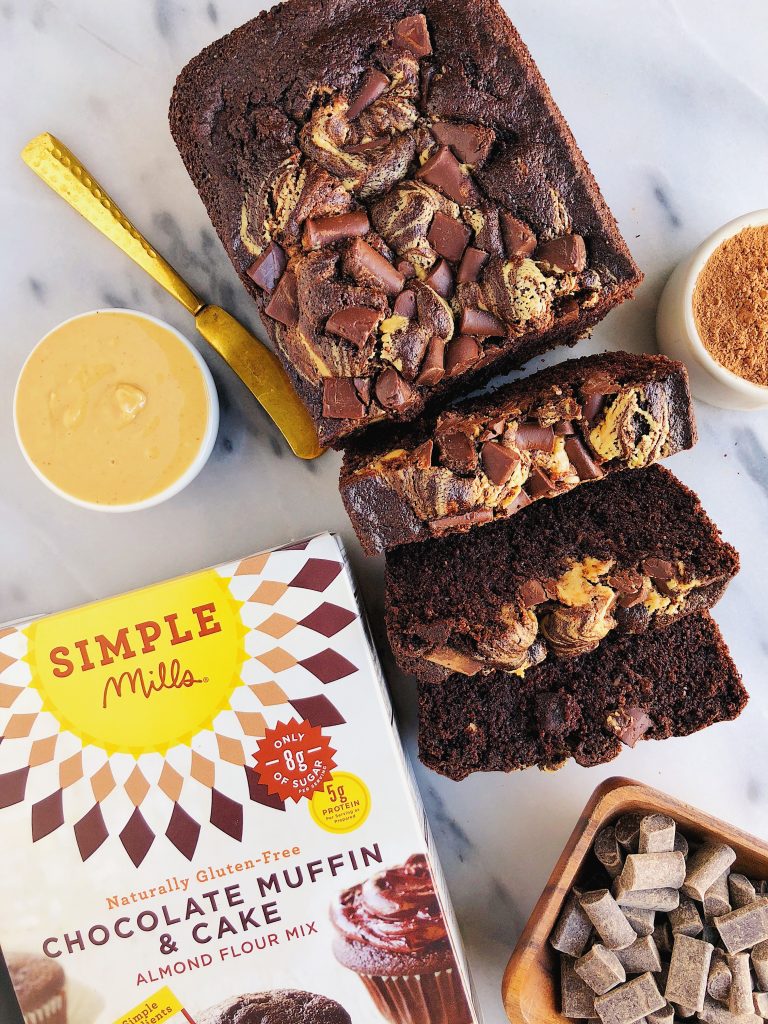 SaveSave
SaveSave
SaveSave
Save
Save
Print
Double Chocolate Peanut Butter Brownie Loaf
3 eggs

1 teaspoon vanilla extract

1/2 cup water

1/4 cup liquid coconut oil

1/4 cup coconut sugar

1/2 cup almond flour

3 tablespoons creamy peanut butter (I used this one – code RACHL)

1/4 cup chopped dark chocolate (I used this one – code rachLcoconutcups)
Instructions
Preheat oven to 350 degrees and spray a loaf pan with coconut oil or line it with parchment paper
Whisk together 3 eggs, vanilla extract, water and coconut oil
Add in the coconut sugar, Simple Mills mix and almond flour and mix well
Fold in the dark chocolate chunks
Pour into the loaf pan then add spoonfuls of peanut butter on top in 3 different parts of the loaf
Take a toothpick and swirl the peanut butter to make a marble look
Bake in oven for 45-50 minutes
Store on counter in airtight container for a couple of days or fridge for 5 days!
xx, Rach
Thank you Simple Mills for sponsoring this post! It means so much to me to work with brands I love and believe in!
SaveSave