Here is how to make the easiest unsweetened applesauce using your favorite apples, water and spices in a saucepan.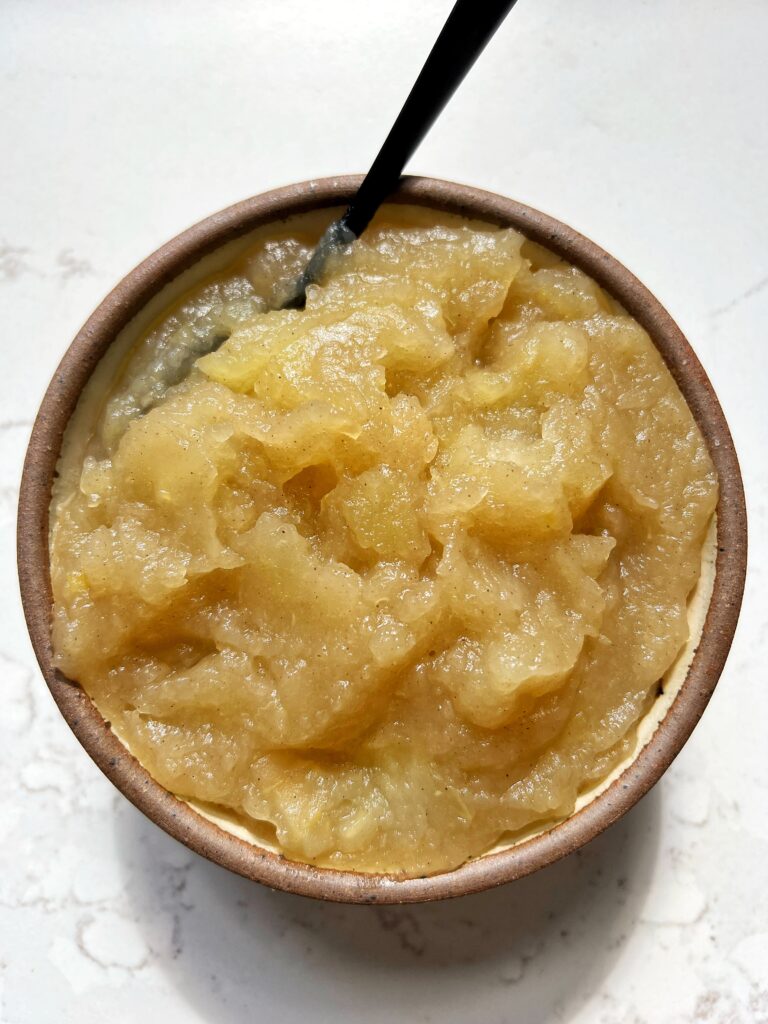 Have you ever made your own applesauce?! It is so incredibly easy to make. You don't need any fancy kitchen equipment to do it and it takes just about 20 minutes to make it.
I also love that you can use a mix of any apples you love or have on hand. Using some sweet and some tarty apples is my favorite kind of mash up. I also love using any of the apples we pick during apple picking season in this recipe too. We used some from the farm last weekend and it turned out amazing. My kids devoured this and it has been really great for baking. It stays good in the fridge for up to 7 days!
This is also a great recipe to make for Thanksgiving, for babies starting solids or for Rosh Hashanah. It's so easy to make your own applesauce, that once you start, you will want to keep making more.
Tip: mix and match your apples in this recipe! Use a mix of sweeter apples like McIntosh with ones that are more tarty like Granny Smith.
What ingredients you need to make unsweetened applesauce:
Large apples, peeled, cored and chopped. I usually use a mix of sweet and tarty apples. Granny Smith, McIntosh or Honeycrisp apples work really well. Or when we apple pick, I use whatever we took from the farm
Water – tap water or filtered water works
Cinnamon – and any other spices you want like nutmeg or pumpkin pie spice
How to make applesauce in 20 minutes:
Add the apples and water to a medium pot and bring to a boil
Cover with lid and cook on medium/low heat for about 10 minutes, stirring every few minutes
Stir in cinnamon and other spices if using then cover and cook for another 10 minutes or until apples are soft
Remove from heat and mash the apples using a potato masher, fork, wooden spoon or immersion blender if you have until desired consistency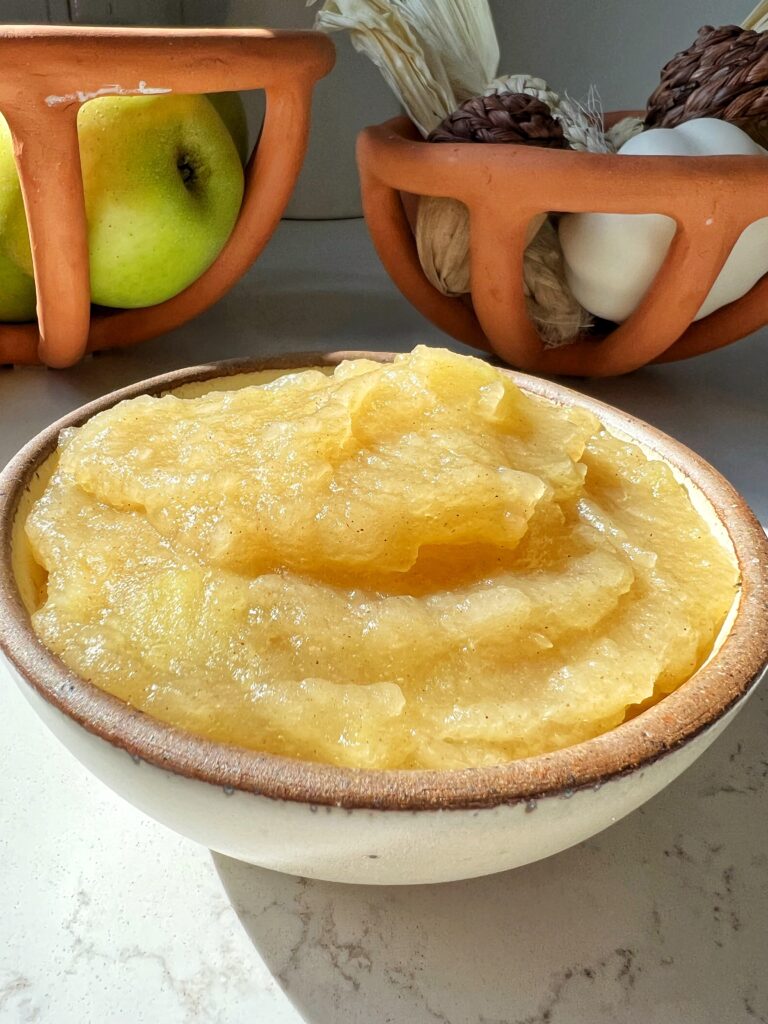 Tips for success making unsweetened applesauce:
If you want to double or triple this recipe – feel free! You can make a much large batch if desired
You can also make a large batch and then freeze this in freeze-friendly container for up to 2 months
I like that this is an unsweetened applesauce recipe. Many store-bought versions have added sugar, but this is naturally sweetened by apples. You can of course add a sugar of sorts if you want sweeter
Applesauce is one of my favorite things to use in recipes or eat as is. You can also use it in baked goods to replace half the oil content as well
A few other delicious apple recipes to make:
Chocolate Caramel Apple Bark (vegan)
Gluten-free Apple Pie Stuffed Snickerdoodle Cookies
The Best Healthy Apple Bread Ever (vegan + gluten-free)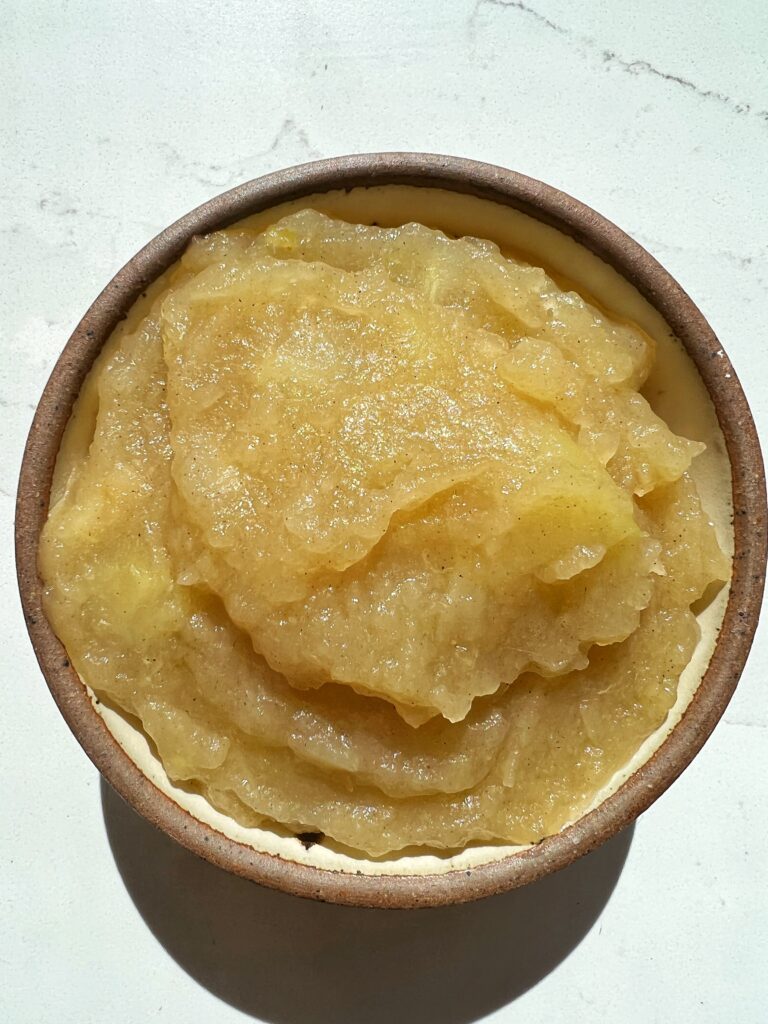 Print
Easy Unsweetened Applesauce
Here is how to make the easiest unsweetened applesauce using your favorite apples, water and spices in a saucepan in 20 minutes.
Prep Time:

5 mins

Cook Time:

20 mins

Total Time:

25 mins
Yield: Makes about 3 cups 1x
4

–

5

large apples, peeled, cored and chopped (I usually use Granny Smith or Honeycrisp apples!)

1/2 cup

water

1 teaspoon

cinnamon (and any other spices you want like nutmeg or pumpkin pie spice)
Instructions
Add the apples and water to a medium pot and bring to a boil
Cover with lid and cook on medium/low heat for about 10 minutes, stirring every few minutes
Stir in cinnamon and other spices if using then cover and cook for another 10 minutes or until apples are soft
Remove from heat and mash the apples using a potato masher, fork, wooden spoon or immersion blender if you have until desired consistency
Notes
*Store leftovers once cooled in fridge for up to 7 days
**If you want this sweeter, add some maple syrup or honey if desired when you mix in cinnamon