This Chocolate Caramel Apple Bark is the ultimate sweet and salty snack to make for fall! It's vegan, gluten-free and with a homemade caramel sauce.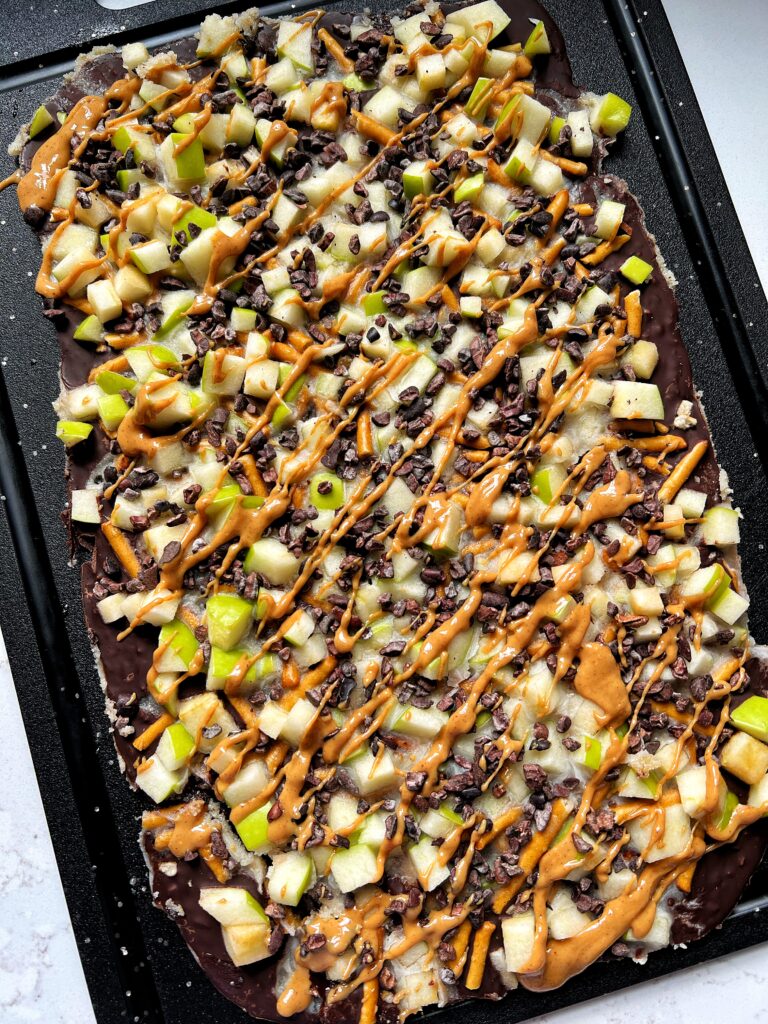 This recipe is coming in reaaaallll hot this fall. And full credit to my husband for requesting it. I thought this sounded absolutely amazing and the flavor and texture combo here is unreal.
A chocolate base (you can use dark or milk chocolate) then some pretzels, apples and the homemade caramel sauce drizzled right on top. It takes about an hour to set in the fridge then you can break it up and enjoy! I also like to keep this in the freezer so the apples don't get too soggy if we don't eat it all within a day or so.
I shared this recipe with friends too as a pre-Halloween snack and everyone was *hooked*. I cannot wait to hear what you think!
Tip: feel free to get creative with other toppings too! I added some cacao nibs and peanut butter on top for an extra something!
What ingredients are in apple caramel bark:
Honey – one of the sweeteners in the caramel sauce
Maple syrup – I use this with the honey to make the caramel bark!
Coconut oil – since the oil needs to be solidified, I wouldn't recommend another oil but you could use butter/ghee
Pretzels – cut into pieces and I use a gluten-free pretzel brand to keep these gf
Dark chocolate or milk chocolate – your personal choice! I love using dark chocolate here
Granny smith apples – chopped into smaller pieces so it doesn't way the bark down too much!
How to make apple bark with homemade paleo caramel sauce:
First make the caramel by adding ingredients to pot and bring to simmer over medium heat
Continue to simmer stirring frequently
As the mixture cooks, you'll notice that it first darkens in color and soon after, the caramel will start to lighten

in color a bit, and that's when your sauce is just about done (

usually 15-20 minutes)
Remove caramel from heat and begin making the bark

Melt chocolate in microwave or stovetop

Line a cookie sheet with parchment paper and use a spatula to spread the melted chocolate into the shape of a rectangle on baking sheet

Sprinkle the crushed pretzels evenly on top of the chocolate followed by apple

Drizzle caramel on top of the apples

Refrigerate for at least an hour before cutting into pieces

Refrigerate until ready to serve! I like to keep in the freezer so the apple pieces don't get soggy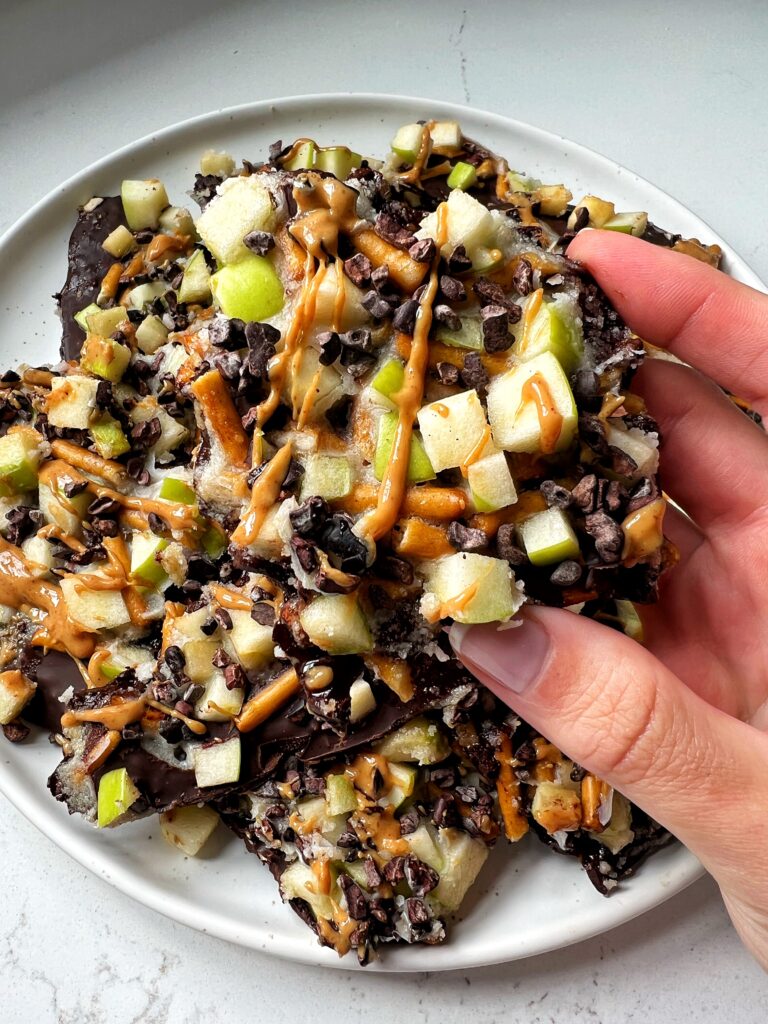 Tips for success making caramel apple bark:
Feel free to add any more toppings you'd like on the bark! I also added some extra cacao nibs and peanut butter too
This is a great recipe to make for a Halloween party or just a fall snack to have on hand. We keep ours in the freezer too so the apple doesn't get soggy
You will have leftover caramel too. I love dipping apple slices in it or drizzling it on top of popcorn!
If you don't want to make caramel sauce you can buy some caramel from the store and melt it so it drizzles nicely
A few other delicious fall desserts to make:
Copycat Vegan Butterfingers (gluten-free)
The Best Vegan Cinnamon Sugar Pumpkin Donuts
4-ingredient Reese's Pumpkins! (vegan)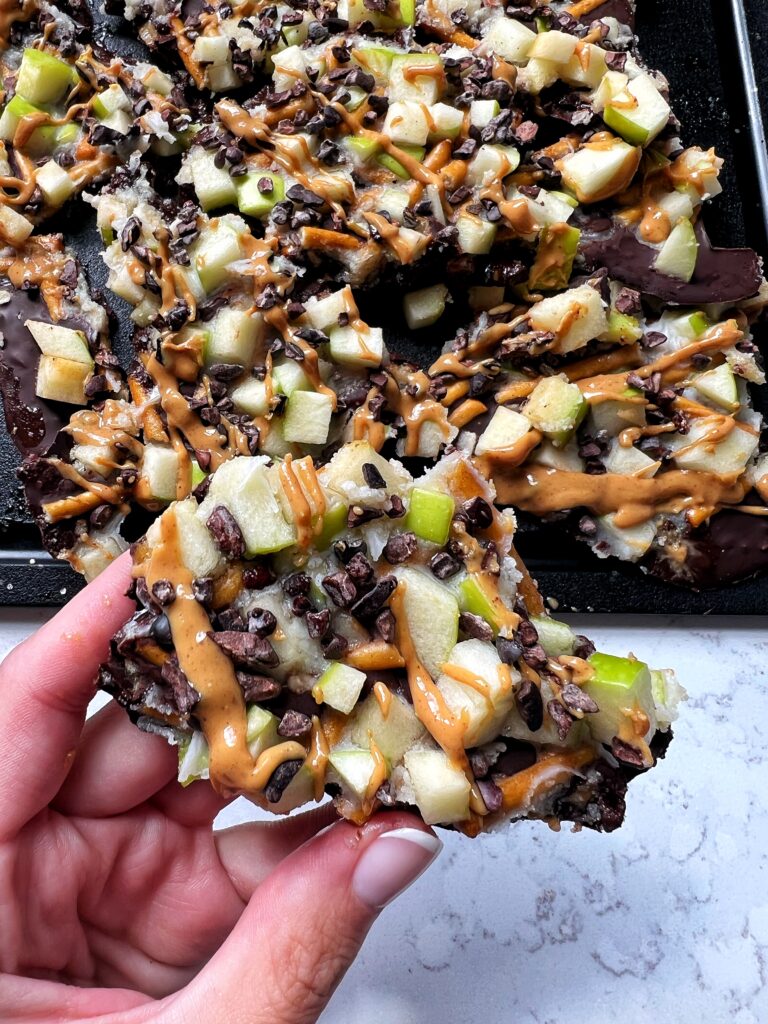 Print
Chocolate Caramel Apple Bark (vegan)
This Chocolate Caramel Apple Bark is the ultimate sweet and salty snack to make for fall! It's vegan, gluten-free and with a homemade caramel sauce.
Prep Time:

20 mins

Cook Time:

60 mins

Total Time:

80 mins
Homemade caramel sauce:
1/3 cup

honey

1/3 cup

maple syrup

1/4 cup

coconut oil

2 tablespoons

water
Caramel Apple Bark:
Instructions
First make the caramel by adding ingredients to pot and bring to simmer over medium heat
Continue to simmer stirring frequently
As the mixture cooks, you'll notice that it first darkens in color and soon after, the caramel will start to lighten

in color a bit, and that's when your sauce is just about done (

usually 15-20 minutes)
Remove caramel from heat and begin making the bark

Melt chocolate in microwave or stovetop

Line a cookie sheet with parchment paper and use a spatula to spread the melted chocolate into the shape of a rectangle on baking sheet

Sprinkle the crushed pretzels evenly on top of the chocolate followed by apple

Drizzle caramel on top of the apples

Refrigerate for at least an hour before cutting into pieces

Refrigerate until ready to serve! I like to keep in the freezer so the apple pieces don't get soggy
Notes
*Store in fridge for up to 5 days or freezer for 2 months