Healthier Copycat Vegan Butterfingers made just 4 ingredients. These are the easiest to whip up and they're made with all gluten-free ingredients.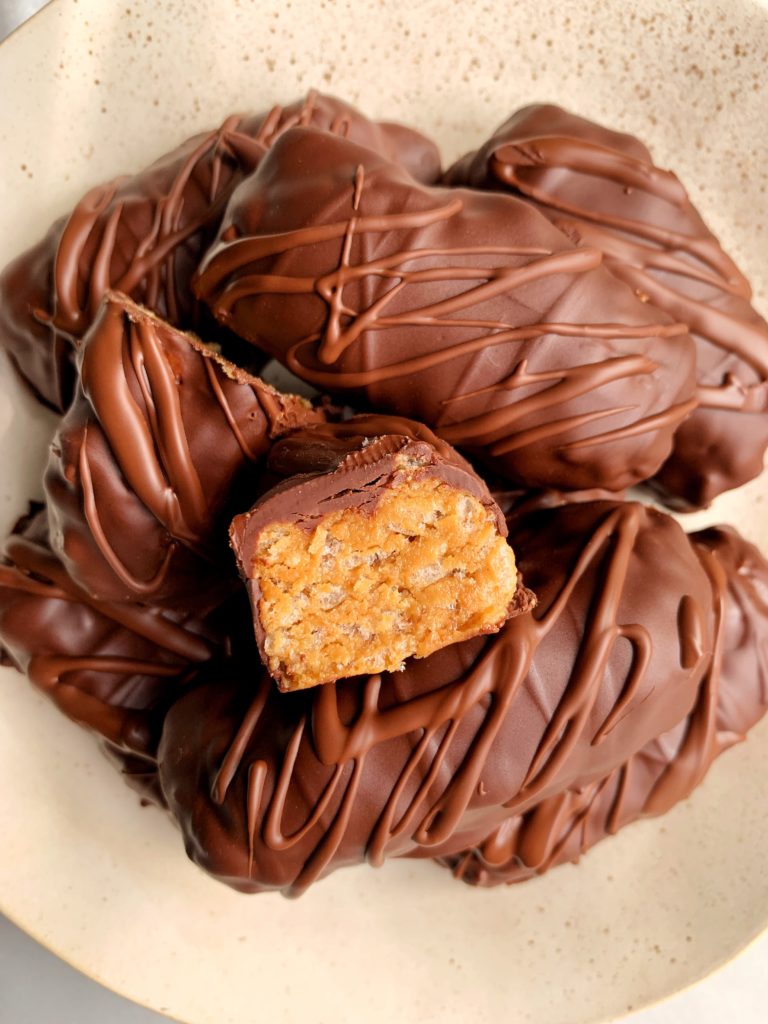 I first made these a couple weeks ago to bring out to my birthday weekend with my family. And needless to say they were gone after 2 days.
These butterfingers are a game changer you guys! SO simple and easy to make and they have the best crunch to them. You will be able to whip these up in no time and have a stash in the fridge or freezer for days (if they last that long…)
You guys know I love making our favorite candies into healthier versions. We have also made Healthier Copycat Reese's Eggs (vegan + gluten-free), Homemade Paleo Dark Chocolate Twix Bars + my "snickers" from Just the Good Stuff.
You'll only need honey, nut butter, brown rice cereal and dark chocolate to make these vegan Butterfingers.
Honey or maple syrup – of course only use maple syrup if vegan/don't eat honey but either ingredient works here
Creamy nut butter – I have used peanut butter and almond butter! Anything works consistency wise but I do think these two work the best from a flavor standpoint.
Brown rice crisps cereal – these add the best crunch to the recipe and give them that butterfinger consistency.
Dark chocolate – melted or you can also use milk chocolate if you prefer too
If you make this recipe, share it with me over on Instagram!! I love seeing what you guys make at home 🙂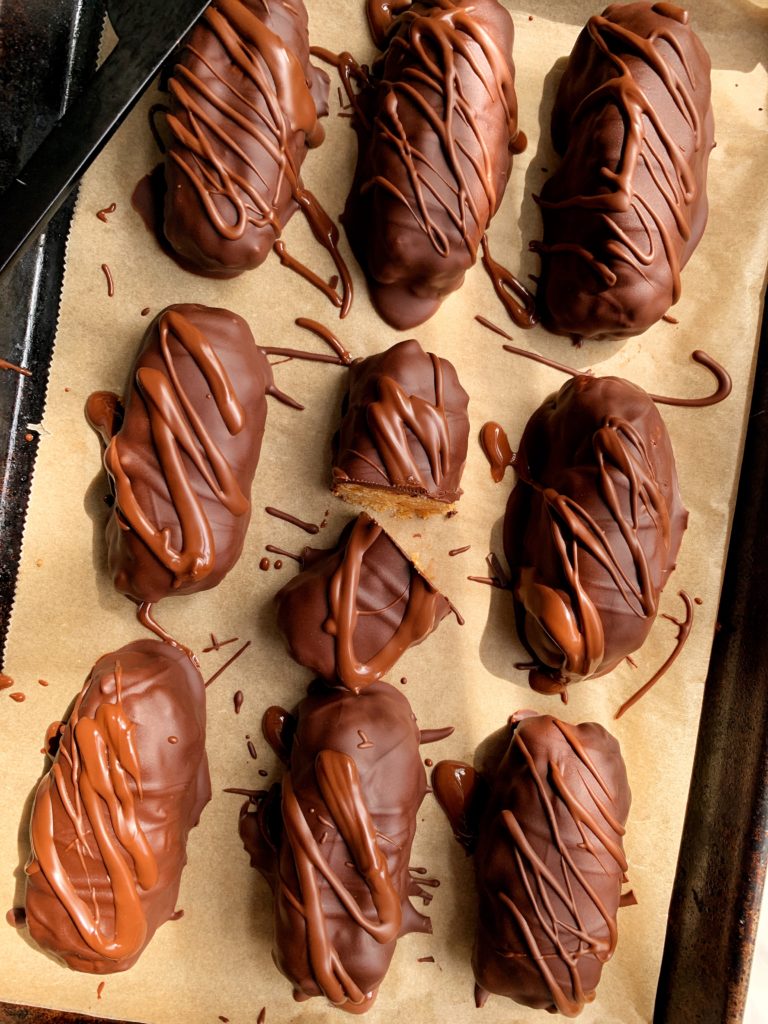 Tips for success making vegan butterfingers:
Depending on the brand peanut butter you use, the batter may be thicker to mix! It will still work well but just may be harder to mix. If it is too tough then add a splash of oil or more maple syrup
These are *amazing* to keep in your freezer for an easy crunchy and sweet snack. We are always snacking on them and my 3 year old is obsessed!
You can use any nut butter you want for the base like almond or peanut butter. Even a cashew butter or sunflower seed butter works well
Try to find a brown rice crisp cereal that doesn't have too much added sugar! It is silly to have the added sugar in my opinion and the maple syrup and honey add just the right amount of sweetness
For all of my favorite healthy candy recipes head on over to this blog post!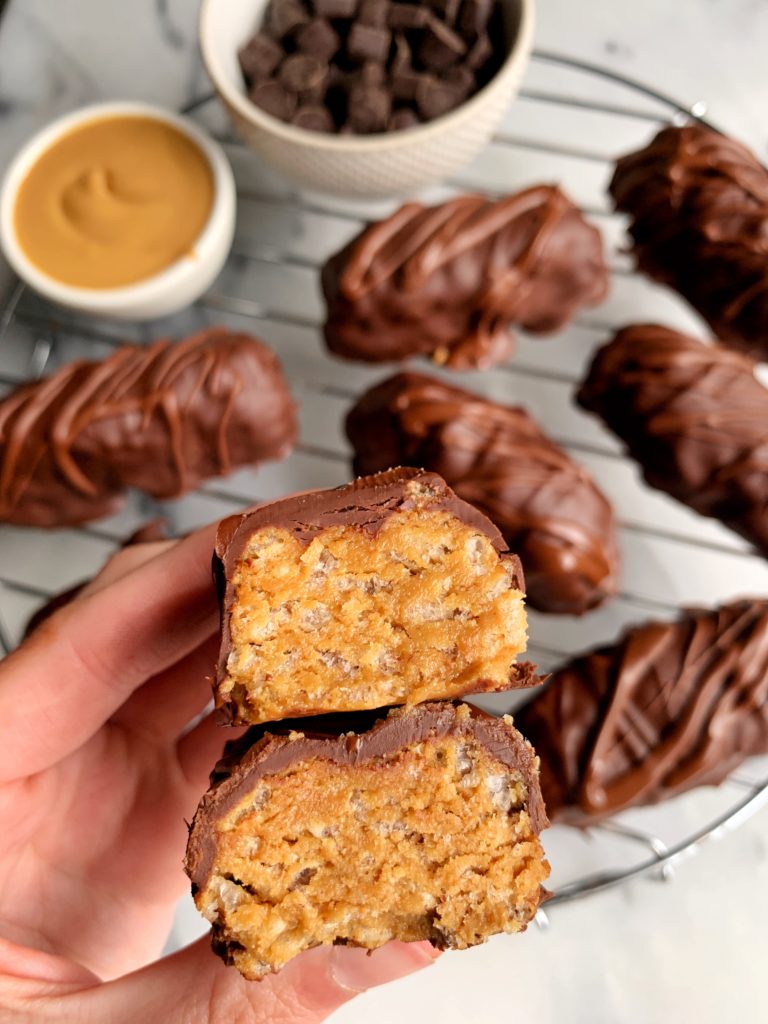 Print
Vegan Butterfingers
Healthier Copycat Vegan Butterfingers made just 4 ingredients. These are the easiest to whip up and they're gluten-free.
Prep Time:

20 mins

Total Time:

60 mins
Instructions
Warm the honey and nut butter over medium/low heat in a small sauce pan
Mix well until well combined (only about 1-2 minutes)
Pour into medium bowl then mix in the brown rice cereal and mix to fully combine
Add mixture to fridge for about 15 minutes to firm a bit
Begin melting chocolate in microwave or stovetop
Form the butterfingers by taking about 2 spoonfuls into your hand and form into a bar shape and add to baking sheet lined with parchment paper and repeat for rest mixture
Add to fridge to set for another 10-15 minutes
Dip each into melted chocolate (I use a fork and spoon)
Add to baking sheet and allow them to set a bit in the fridge or freezer
Store these in the fridge for up to a week or freezer for longer
Notes
*Store in fridge for 7 days or freezer for 2 months