Flourless Pumpkin Bread made with Simple Mill's mix and topped with homemade Dark Chocolate Streusel!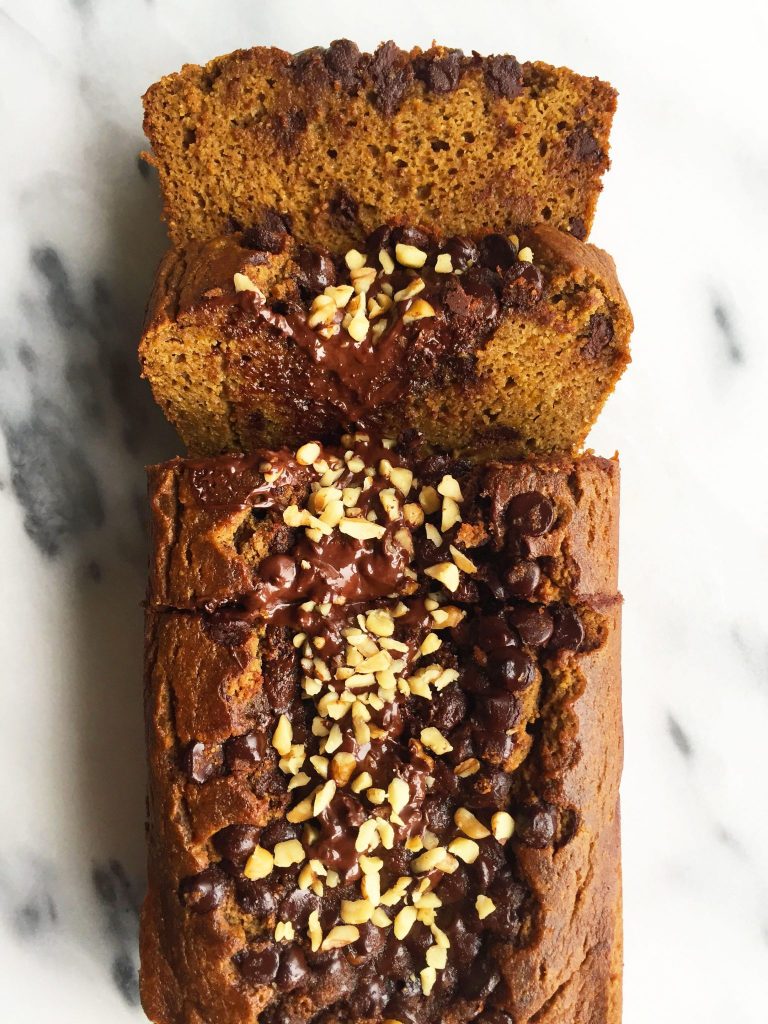 Banana-less Pumpkin Bread is here my friends. And the amazeball-ness doesn't stop there either. It is topped with a Dark Chocolate STREUSEL cause ya girl is streusel obsessed right now. Did you see the Paleo Cinnamon Apple Streusel Bread and Paleo Cinnamon Streusel Banana Bread. Plus it is completely refined sugar & grain-free making this Flourless Pumpkin Bread with Dark Chocolate Streusel my new favorite recipe for Fall, like ever.
Let's chat more about why I love Simple Mill's baking and cooking mixes..
Full disclosure before drooling that you will need Simple Mill's Pumpkin Muffin mix for this. Or if you are like me, you have anxiety when you don't have ever mix on hand so you should be set. Simple Mills is a game changer in the baking and cooking world. You are probably familiar with them by now if you read the blog or follow along Instagram because the addiction is REAL.
The other day I realized I ate Simple Mills in 4 different ways in 1 day. Like that is not normal but I am 100% OK with it. I had their pancake mix earlier then crackers as a snack, pizza mix with dinner and the chocolate chip cookies mix for dessert. There is really nothing not to love about it, in fact I would call that a golden day of eating.
The easiest healthy pumpkin loaf mix..
But back to this Flourless Pumpkin Bread with Dark Chocolate Streusel. If you love pumpkin or if you hate pumpkin (like Jord) you will still love this bread. J was obsessed and I was absolutely shocked when he said he liked it. There is just something about it that is addicting and so delicious.
I also topped a couple of slices with Simple Mill's new FROSTING. It is SO damn good, I found myself spooning the chocolate one a bit too much (hence why I had to use vanilla for the photos here). And to think I'm not even a big frosting kinda gal… Thanks for everything you do Simple Mills, you guys seriously kill it.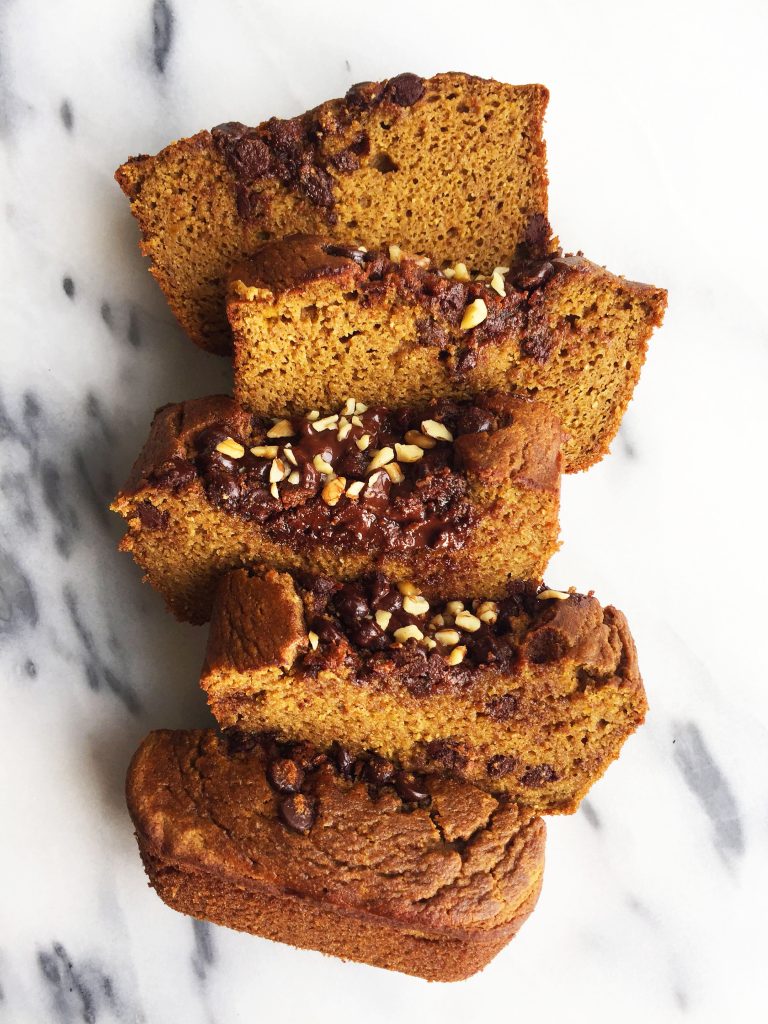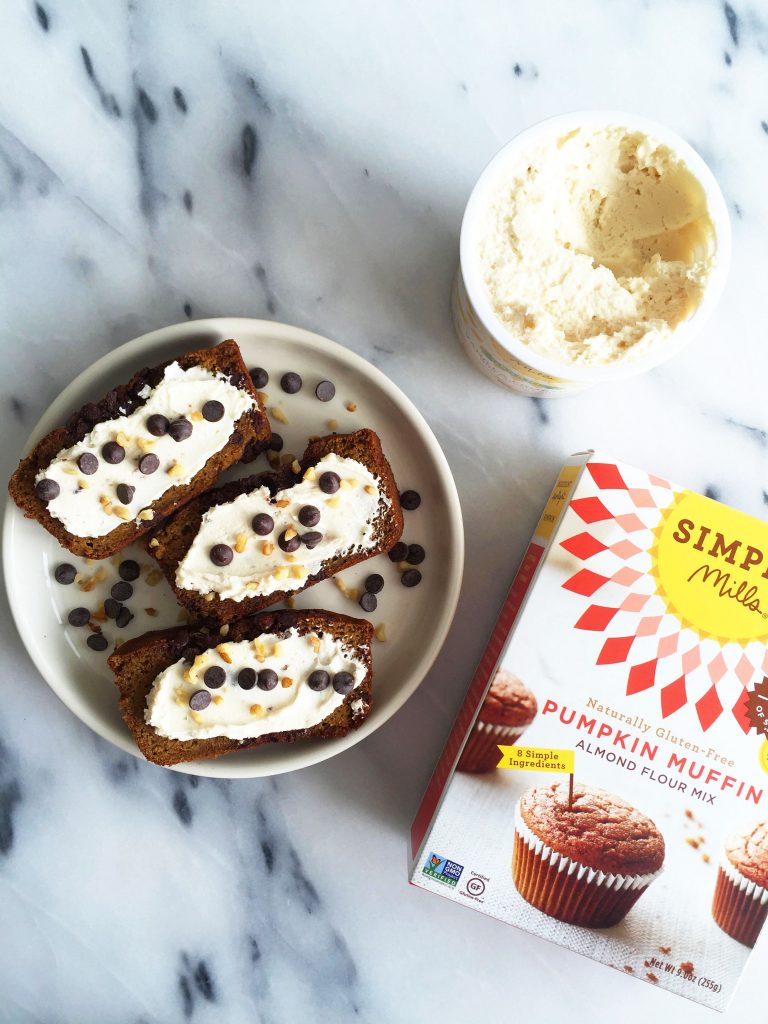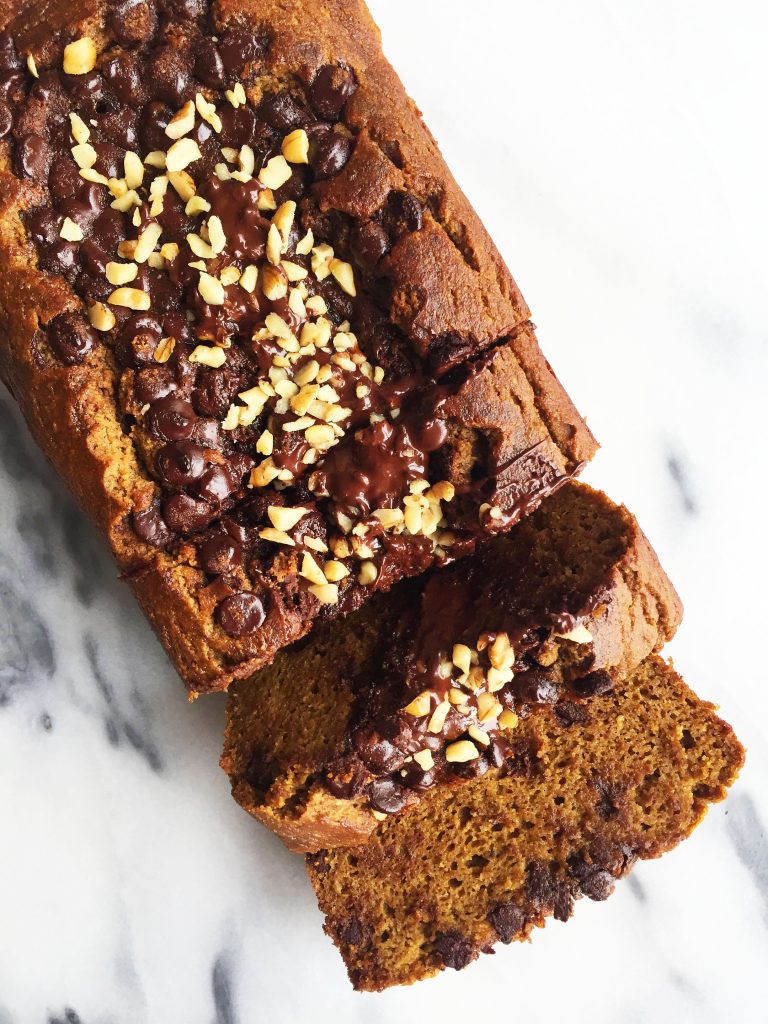 Print
Flourless Pumpkin Bread with Dark Chocolate Streusel
1

box Simple Mills Pumpkin Muffin Mix

3

eggs

1 cup

water

3 tablespoons

canned pumpkin

3 tablespoon

coconut oil (melted and cooled)

1/4 cup

dark chocolate chips

Dark Chocolate Streusel:

1 teaspoon

coconut oil, melted and slightly cooled

3 tablespoons

coconut sugar

1/3 cup

dark chocolate chips

1/4 cup

chopped walnuts

1/2 tsp

ground cinnamon
Instructions
Preheat oven to 350 degrees and place baking rack on model rack
Whisk together eggs, water, coconut oil and pumpkin
Stir in Simple Mills mix and mix well
Fold in dark chocolate chips
Pour into a grease bread dish
Combine streusel ingredients and set aside
Bake Flourless Pumpkin Bread in oven for 20 minutes then add streusel topping and bake for another 15-20 minutes (or until done)
Let cool for about an hour then enjoy!
Will stay good in fridge for about a week or freezer for a couple of months*
Author:
Category:

grain-free, dairy-free

Cuisine:

dessert, breakfast, snack
xx, Rach

Thank you Simple Mills for sponsoring this post. It means so much to me to work with brands that I love and who support rachLmansfield!