This Gluten-free "Cinnabon" Cinnamon Roll Cake is a personal favorite. Made with all plant-based ingredients and it is a healthier spin on a cinnamon roll in cake form.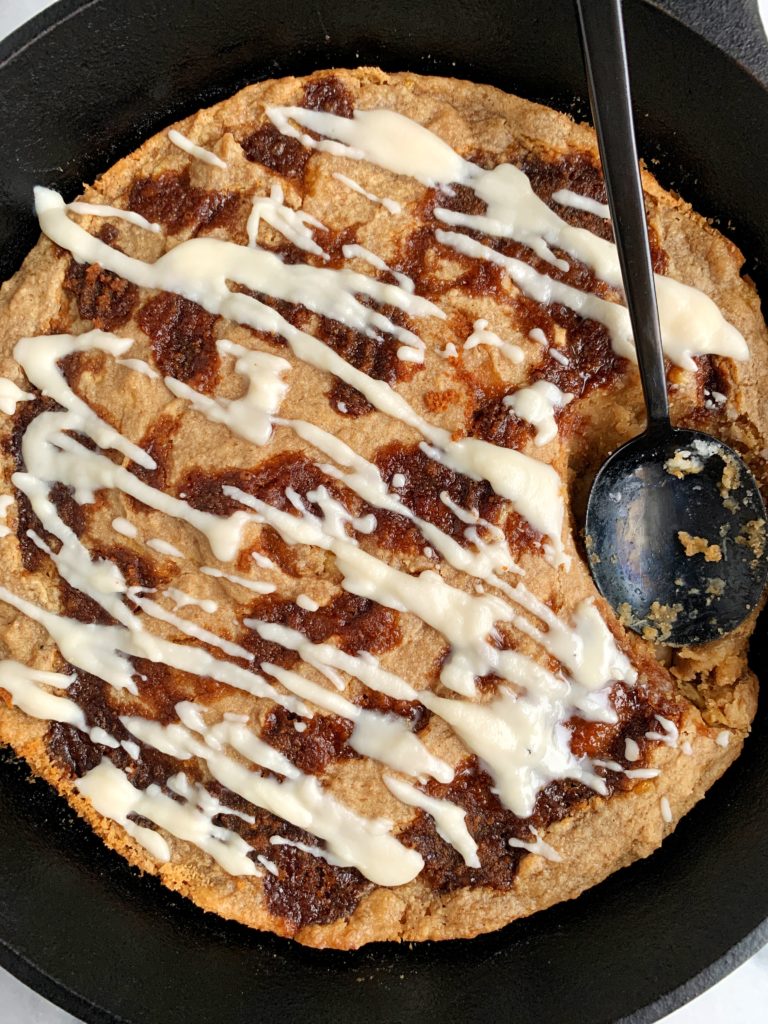 This recipe is absolutely life-changing!
I know – that is a bold comment to make guys but this actually is such an insane recipe. Especially for all my friends out there who live for a good cinnamon roll. Especially the kind from Cinnabon that I used to get when I was younger every time we went to the mall with friends. And now when we stop at rest stop on the highway and there is a Cinnabon, I purposely walk by it just to smell their amazing cinnamon buns.
This Cinnamon Roll Cake is gluten-free, nut-free, vegan and it reminds me of eating a delicious "Cinnabon" cinnamon roll.
This recipe really only happened because I was craving actual cinnamon rolls, but was too lazy to make them. Yup, believe it or not even I get lazy in the kitchen. I didn't want to make a huge mess and roll out dough etc. so instead adapted this recipe from my Vegan Cinnamon Roll Banana Bread
You pour the batter into a skillet or baking dish, sprinkle some of the cinnamon coconut sugar mixture on top it goes right into the oven.
This recipe is also lower in sugar than your usual cinnamon roll or bun recipe and is ready in just 25 minutes!
What you need to bake this cinnamon roll cake:
Mashed banana or unsweetened applesauce – of course using bananas, makes it more banana flavored but to me that is a good thing! Either works in this recipe.
Coconut oil – I melted this one and cooled it.
Flax eggs – you can also use 2 eggs.
Koia Vanilla Bean Protein – oh my gosh!! This non-dairy milk/protein drink is one of the best drinks you can find. You guys likely see me drinking them all the time over on Instagram but now we are baking with Koia. Jordan actually got me hooked on Koia when he found it in the fridge at the grocery store. He first tried the Coffee Cold Brew flavor and then we went through and tried all of them. Falling more and more in love with them each flavor. Koia has 3 different lines of beverages: Keto, Protein and Coffee. The vanilla bean flavor we are using here tastes like a vanilla milkshake in a bottle and in milk form. I love that Koia is all plant-based, non-GMO, soy-free and only 4 grams of added sugar and it has 18 grams of plant protein in a bottle! Totally recommend trying these in the store next time you see the.
Gluten-free oat flour – you can also use spelt flour too but I haven't tasted another flour here.
Cinnamon – and lots of it!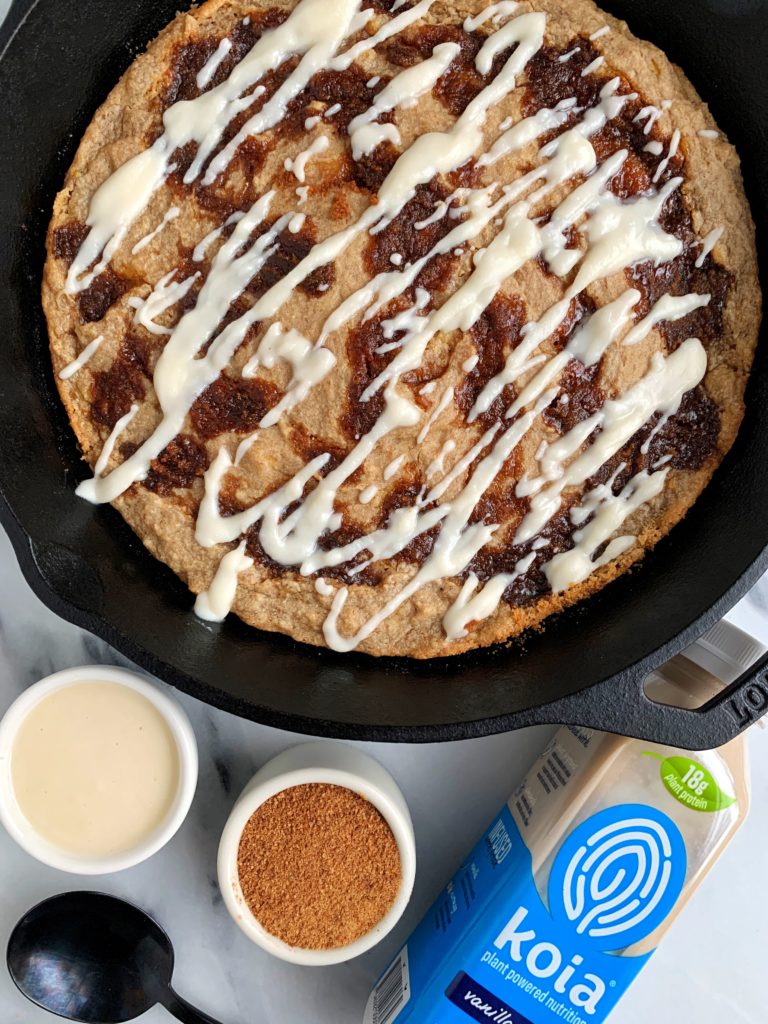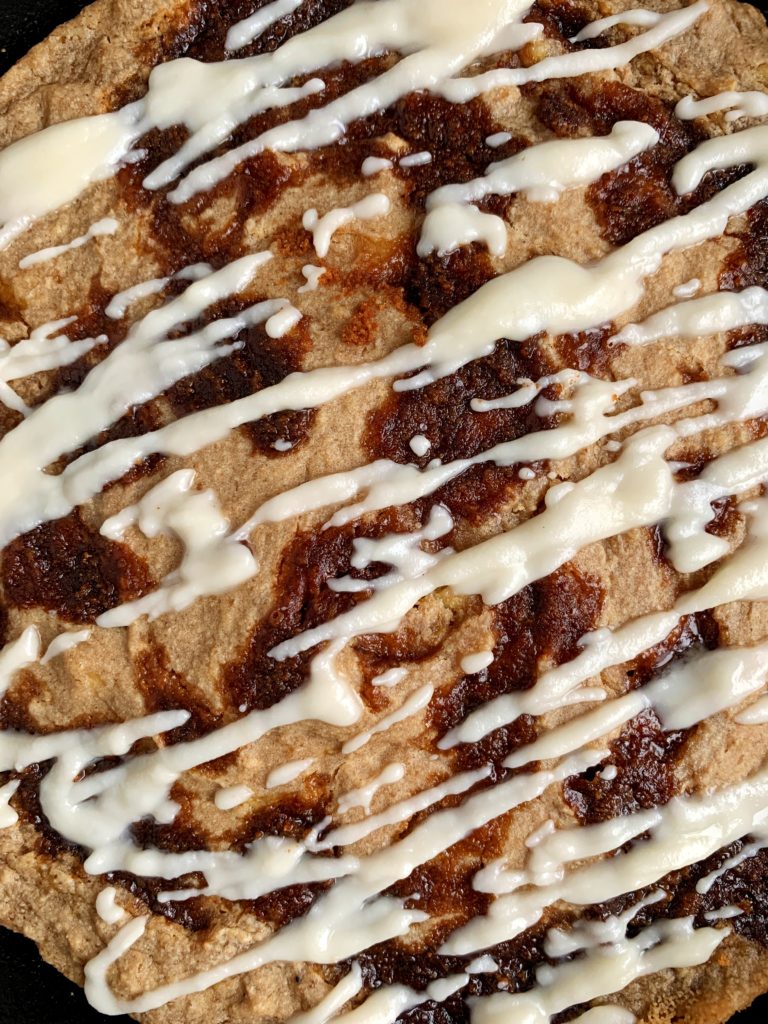 Print
Gluten-free "Cinnabon" Cinnamon Roll Cake
The best gluten-free Cinnamon Roll Cake that tastes like a healthier version of a "Cinnabon" cinnamon roll. Made with all vegan ingredients.
Cinnamon roll cake:
2

flax eggs (

2 tablespoons

ground flaxseed +

5 tablespoons

water OR sub 2 pasture-raised eggs)

1/4 cup

coconut oil, melted and cooled

1 cup

mashed banana or unsweetened applesauce

1/4 cup

coconut sugar

1/4 cup

Koia Protein Vanilla Bean*

1 teaspoon

vanilla extract

2 1/4 cups

gluten-free oat flour

1 teaspoon

cinnamon

2 teaspoons

baking powder
Cinnamon roll topping:
2 tablespoons

melted coconut oil

1/4 cup

coconut sugar (I recommend this over honey/maple syrup so you have a grainy base)

1 tablespoon

cinnamon
Instructions
Preheat oven to 350 degrees and grease a large round baking dish or skillet (anywhere from 8-10 inches work)
In a large bowl cream together the flax eggs, banana or applesauce, coconut oil, sugar, koia or non-dairy milk and vanilla extract until smooth and creamy
Mix in the oat flour, cinnamon and baking powder until smooth
Add to the skillet or baking dish then mix together cinnamon roll toppings in a smaller bowl and sprinkle on top
Bake in oven for 25-28 minutes or until ready
Drizzle some extra coconut butter on top if desired (that is what is pictured!) then slice and enjoy!
Notes
*Sub another non-dairy milk. I haven't tested this recipe with other subs!
**Store leftovers in airtight container for 5 days or freezer for longer
Thank you Koia for partnering with me for this recipe!