The best vegan Cinnamon Roll Banana Bread made with all gluten-free and nut-free ingredients for an easy banana bread recipe with a cinnamon roll twist!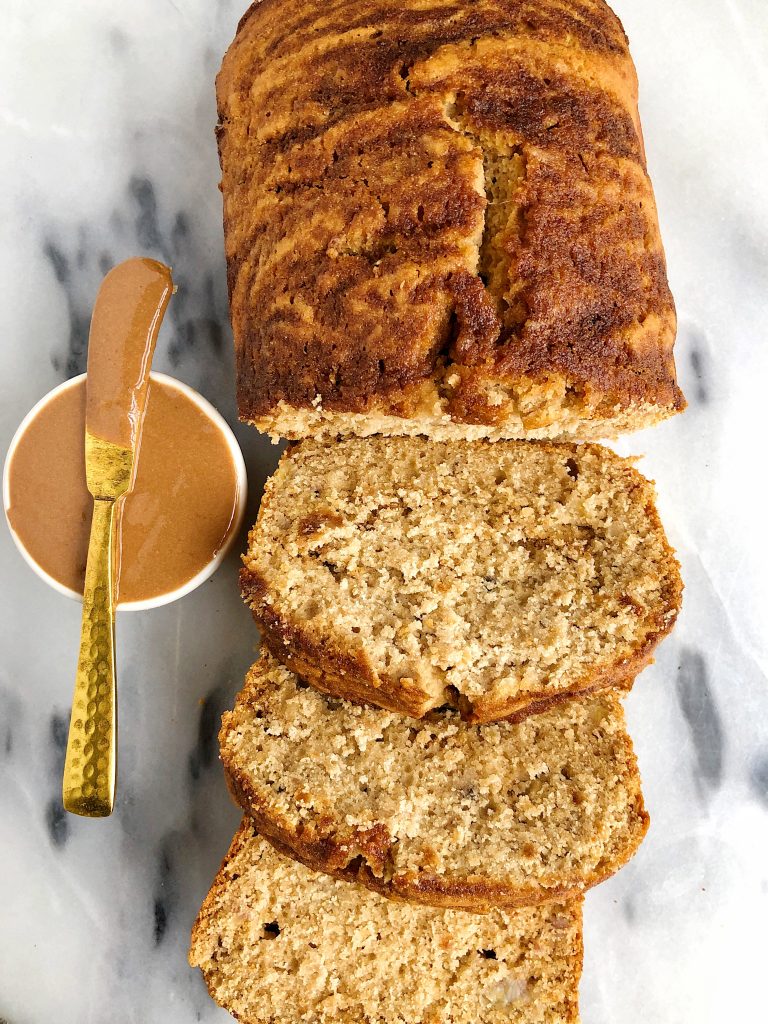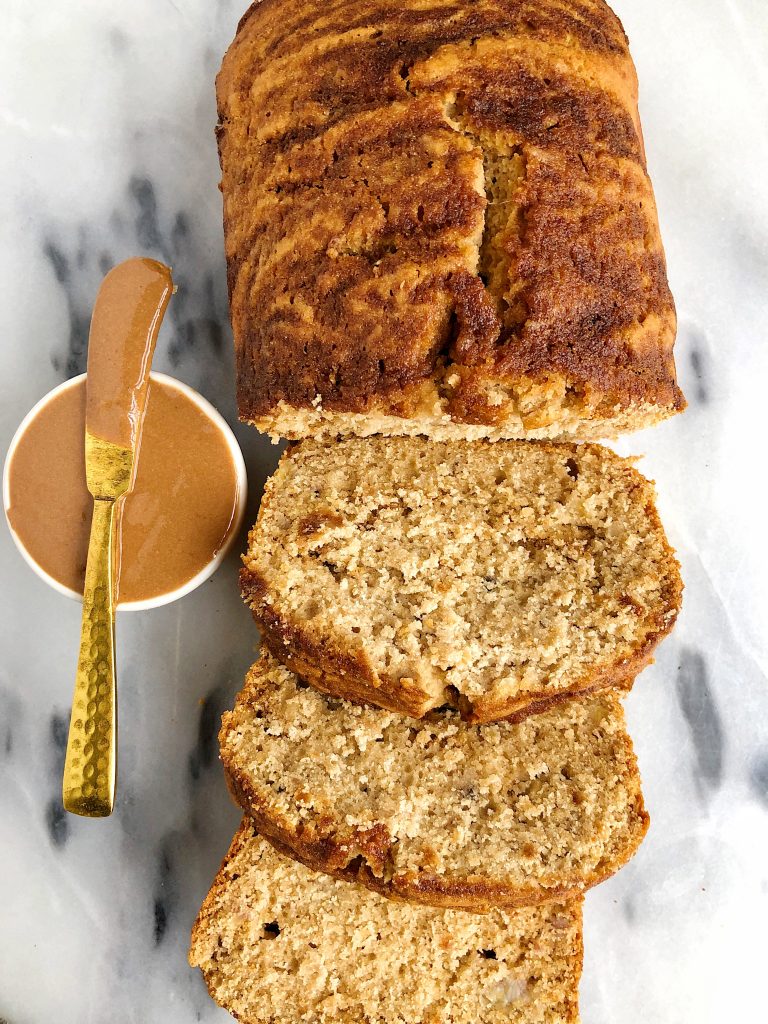 Are you guys ready for a marathon of recipes the first couple weeks of February?
We are quickly approaching the due date of our little dude (2/22) and I have front loaded a month's worth of recipes into the first couple of weeks of the month. Sure, he could make his arrival tomorrow for all I know but at least I know my friends (aka you) have some delicious eats to keep you satisfied!
I'm planning to take a "maternity leave" from 2/1-4/1, but TBH I have no idea what that means when you are working for yourself. Hopefully no emails (or limited emailing) and no new recipe development. Just eating as fuel, posting content that I prepped for you and just in the moment eats and loving with our bub. We shall see.
But let's get to this healthy Cinnamon Roll Banana Bread..
I have been oh so excited to share this recipe with you guys since I first tested it last month. I truly think this is my favorite banana bread recipe on the blog ever and that is a very bold statement, I know. That's for a few reasons though…
This banana bread is unique compared to the others here on the blog. It is a bit more cake-like and has just the right amount of "moist" texture to it. The edges of the bread have a little crispy crunch and the flavors of banana bread swirled with cinnamon coconut sugar truly make me swoon. We are combining two of the best kind of breakfast recipes into one, what is not to love?
This Cinnamon Roll Banana Bread is also gluten-free, nut-free and plant-based so it is very allergy-friendly for most. I use brown rice flour (one of my faves for gluten-free and nut-free baking!). I also bake this with flax egg and extra virgin coconut oil from Garden of Life. By now, you guys know that those two items are staples over here in the kitchen. I use them in so many recipes every week and the ground flaxseed is super versatile. You can sprinkle it on top of yogurt, blend in smoothies, make flax eggs from it, anything! And you know the low down with coconut oil, so I won't bore you guys. Just be sure to melt it then let it cool before adding to the batter!
I cannot wait to to hear what you guys think of this banana bread recipe. If you are craving some more delicious banana recipes, here are a few of my other faves: Paleo Chocolate Chunk Tahini Banana Bread, Vegan Chocolate Chip Peanut Butter Banana Bread and the classic Paleo Chocolate Chip Banana Bread.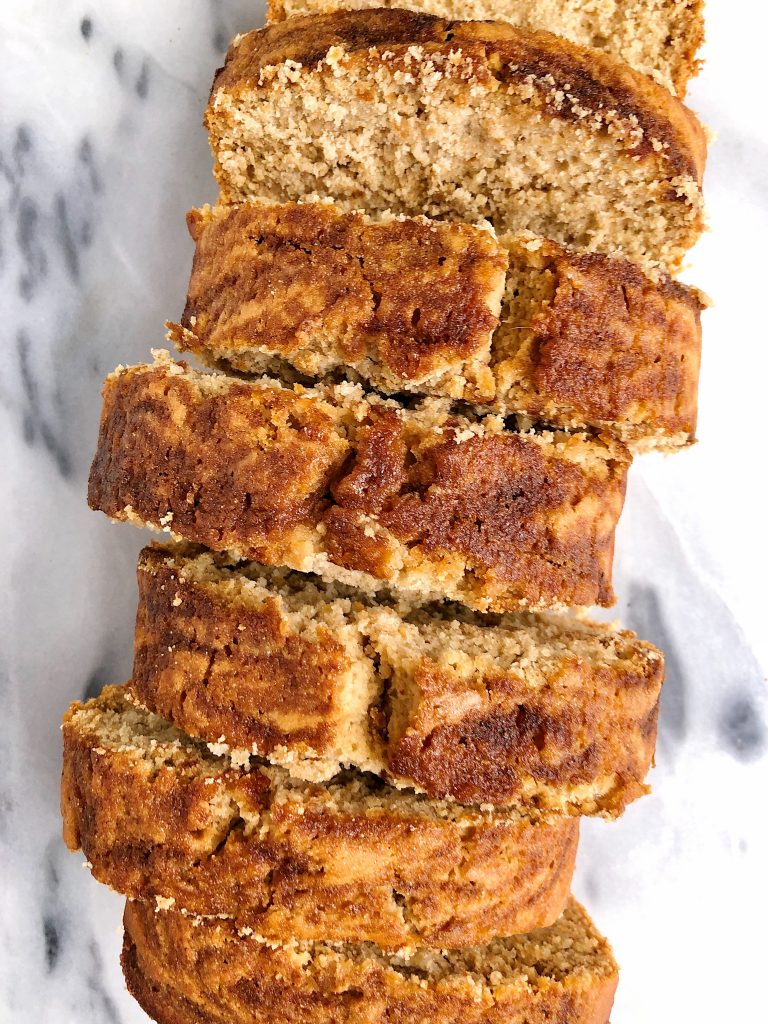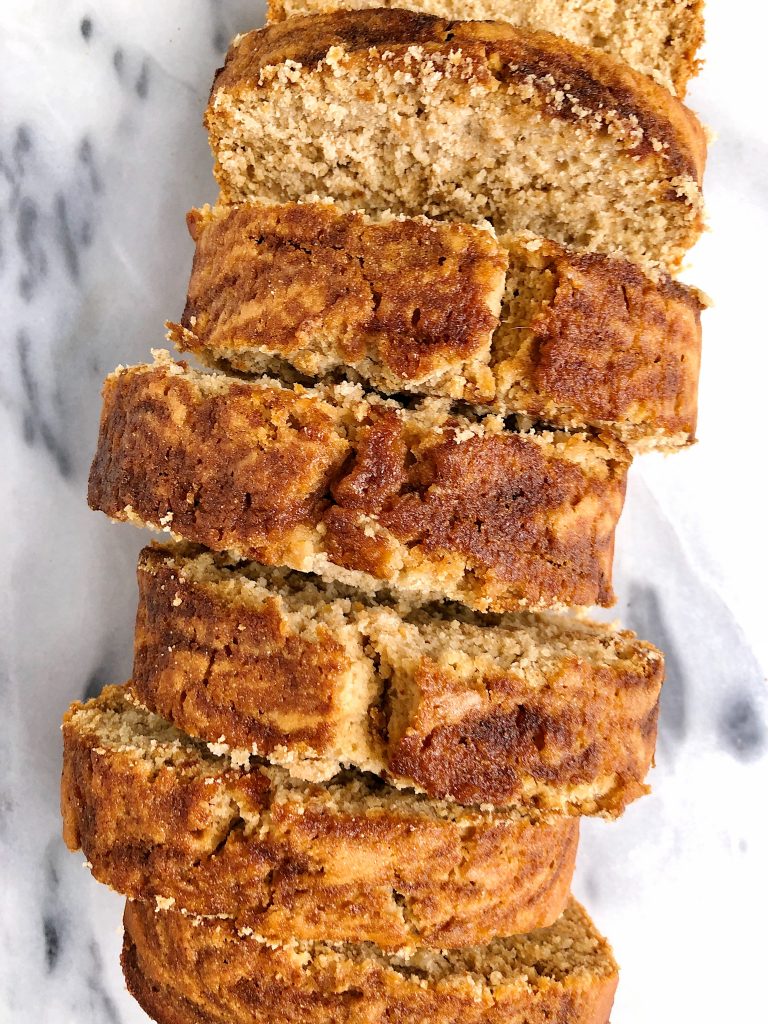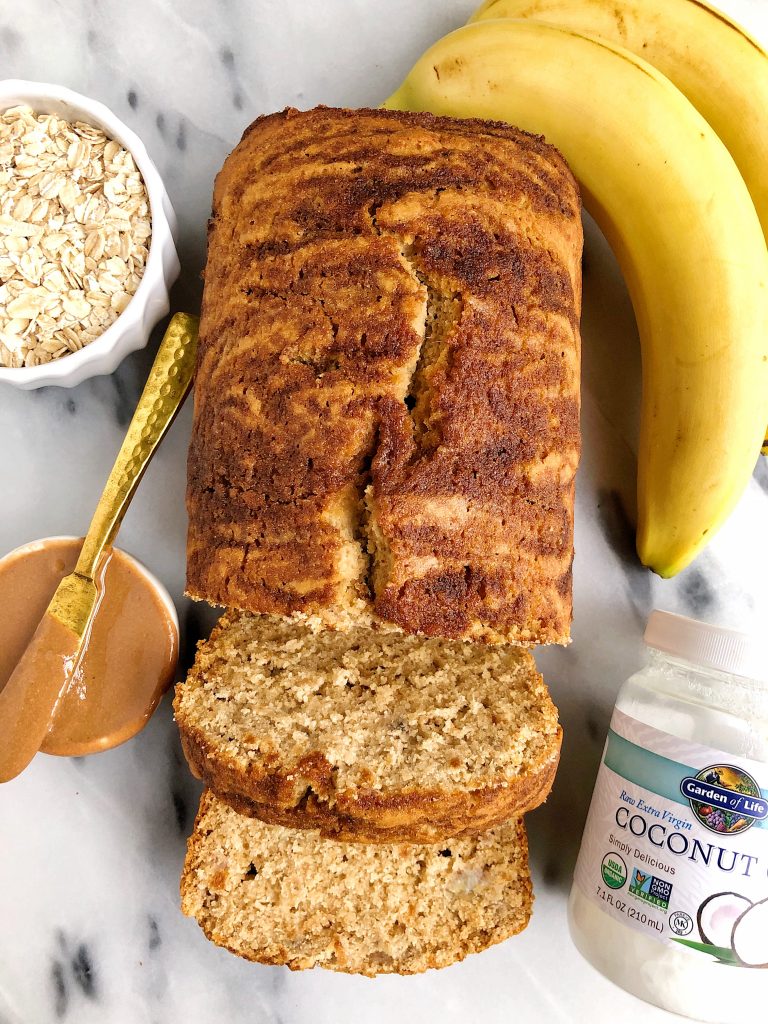 Print
Vegan Cinnamon Roll Banana Bread
Vegan Cinnamon Roll Banana Bread made with all gluten-free and nut-free ingredients for an easy banana bread recipe with a cinnamon roll twist!
Prep Time:

5 mins

Cook Time:

50 mins

Total Time:

55 minutes
Banana Bread:
Cinnamon Roll Swirl:
1/4 cup

unsweetened applesauce

1/4 cup

coconut sugar (I recommend this over honey/maple syrup so you have a grainy base)

1 tablespoon

cinnamon
Instructions
Preheat oven 350 degrees and grease a bread dish with coconut oil or line with parchment paper
In a large bowl, mix together the flax egg, banana, coconut oil, maple syrup, non-dairy milk and vanilla extract until smooth and well combined
Add in the flour, cinnamon and baking powder and mix well (make sure no clumps!)
In a smaller bowl, mix together cinnamon swirl ingredients
Add about half the banana bread batter to the bread dish then half the cinnamon roll batter and swirl with a knife or toothpick
Add the rest of the banana bread batter followed up cinnamon roll batter and swirl again
Bake in oven for 45-55 minutes (I stick toothpick in to see if it is ready!)
Allow the bread to cool about about 10 minutes then slice and enjoy!
Notes
*Store leftovers in airtight container for 3 days, fridge for 5 days or freezer for 2 months
xx, Rach
Thank you Garden of Life for sponsoring this post!