Grain-free Chocolate Chip Granola Clusters made with all vegan and gluten-free ingredients for an easy and healthy homemade granola!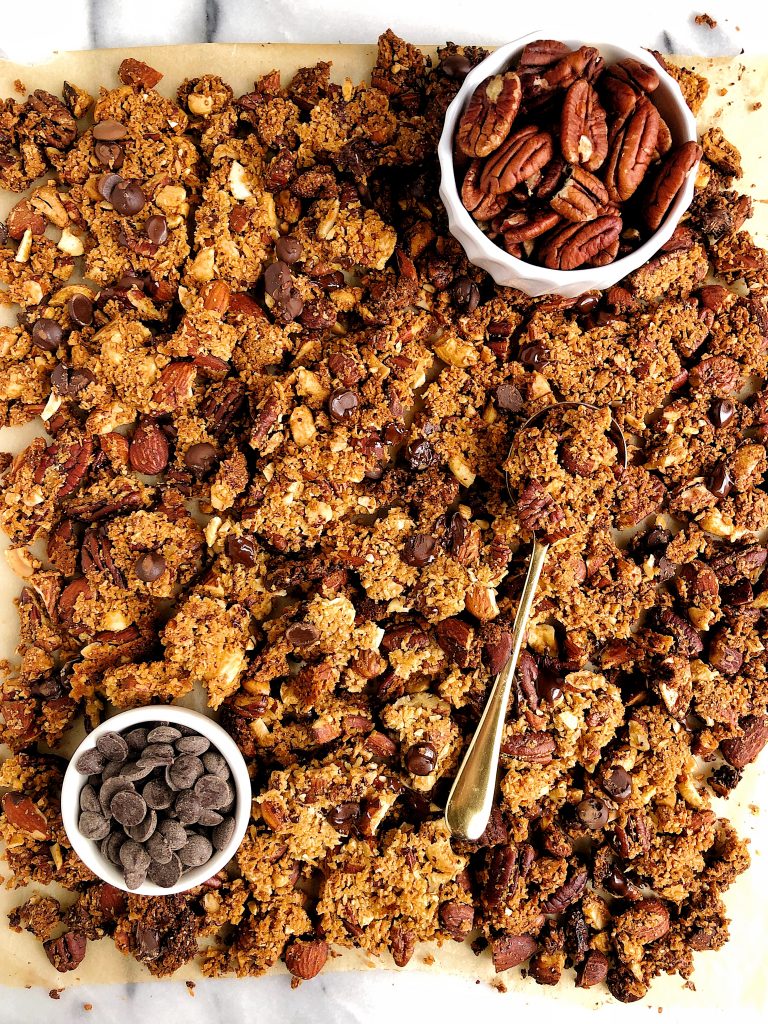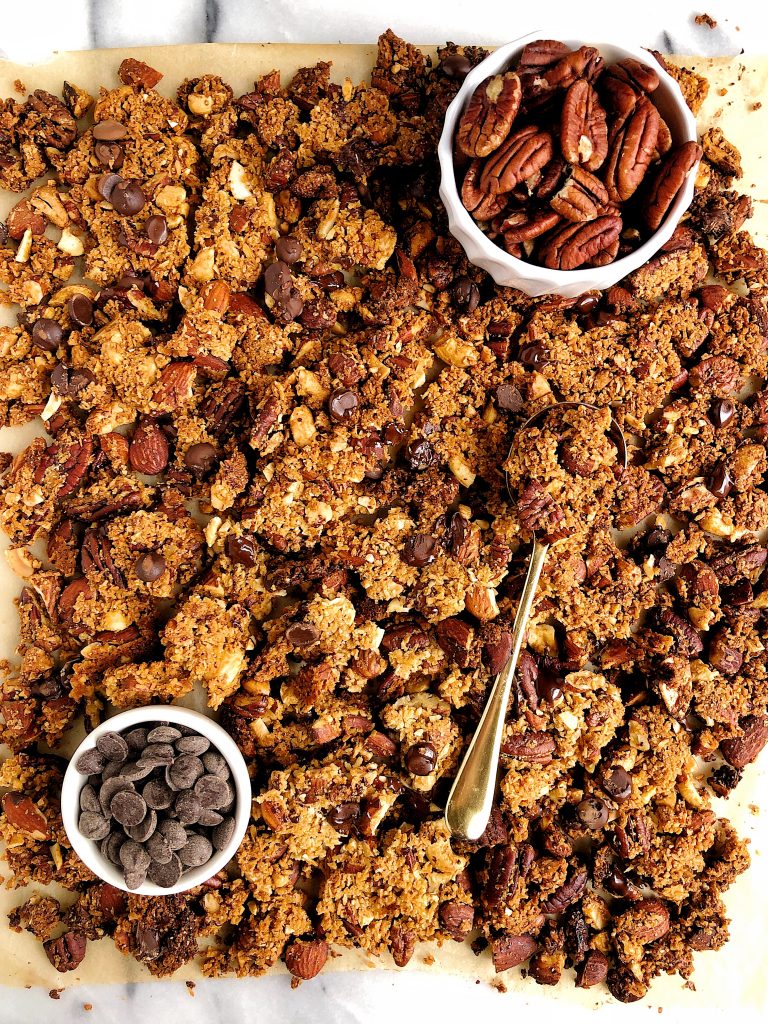 I'm the annoying person who opens a bag of granola. And then picks out every single cluster then eats the rest of the crumbs afterwards.
I live for granola clusters. They're my favorite snack (dipped in nut butter). Every time I need a little nosh or something crunchy to snack on, I pull out a bag of granola and go to town.
The granola love affair likely isn't coming as a surprise to you guys as you see me post on Instagram daily about 'nola. Whether that's sprinkling it on my breakfast or dessert bowls or just snacking on it during the day, it is my go-to always. Ever since Quaker was one of the only brands making granola. I used to snack on that one constantly. And in the dining hall in college, they had a huge tub of it and I would always get some to go in a coffee cup (I'm crazy, I know).
I'm not biased when it comes to grain-based or grain-free granolas. I usually spice things up a bit and mix them together in fact. My fridge constantly has a few bags opened. You may be wondering why the heck I store granola in the fridge and it is to make it extra crunchy! I find some brand's granolas tend to get soggy if not. I do buy granolas more than make them (guilty since it is easier), but I do love making some homemade clusters when I can.
And now I finally have a homemade GRAIN-FREE granola recipe to share with you! With CLUSTERS!
The number one most requested recipe is finally here. This Super Chunky Grain-free Chocolate Chip Granola is going to be your new BFF, I can promise you that. It bakes in one big mama cluster and then you break it up into smaller pieces. This recipe is so easy to make and it is even plant-based and relatively lower in sugar compared to most granolas in the store.
I use a base of raw nuts, coconut flakes and seeds and sweeten it with a little maple syrup and of course the dark chocolate chips.
Enjoy Life Food's Dark Chocolate Morsels are the ultimate melty chocolate chip to add to this granola. As you know, their baking chocolates are a staple over here in my kitchen. I love using them in desserts, breakfasts, snacks, anything. Plus they are free of all the top allergens. You likely have seen Enjoy Life Food's products in most grocery stores. They're not too sweet (especially the semi-sweet ones) and add the most perfect sweet crunch to this clustery grain-free granola recipe!
A few FAQ about my Grain-free Granola with clusters
Why do you make grain-based granola instead of one with oats? I make all types of granola! I personally love mixing grain-based granola and grain-free granola when I make some. Some follow a paleo diet, where oats aren't paleo-approved. Granola is too good not to eat so a grain-free one is a great option. Grain-free granola also adds a ton more healthy fats with more nuts than your usual granola.
How do you get the clusters so big? Following this recipe exactly is key in getting epic-sized clusters. You need to perfect mix of coconut oil, maple syrup and nuts.
Where do you store your granola? I LOVE keeping my granolas in the fridge. They stay extra crunchy that way and I love granolas with that extra crunch. You can also freeze this!
If you make this Super Chunky Grain-free Chocolate Chip Granola at home, don't forget to tag me on instagram. I hope you guys LOVE!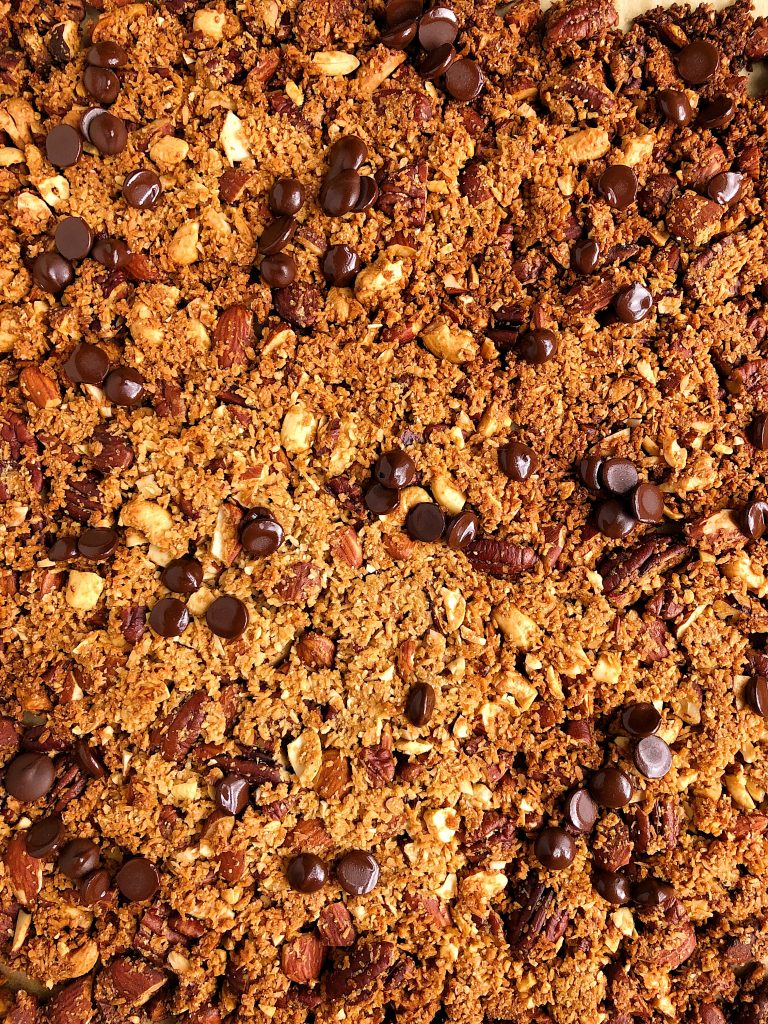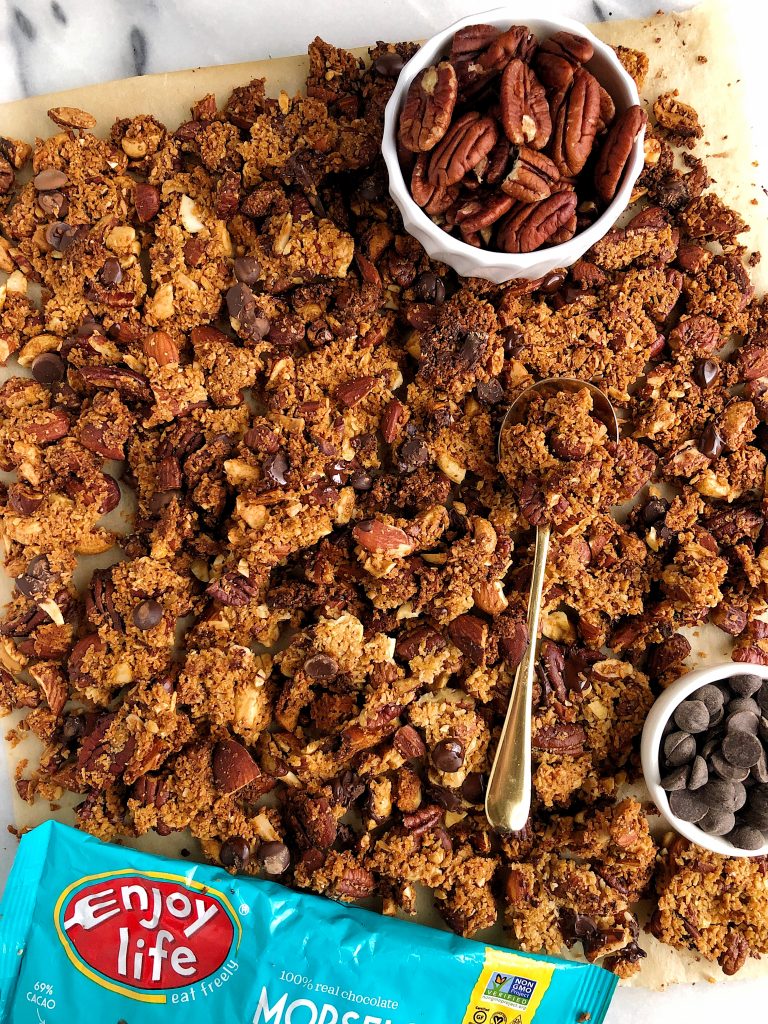 Print
Grain-free Chocolate Chip Granola Clusters
Super Chunky Grain-free Chocolate Chip Granola made with all vegan and gluten-free ingredients for an easy and healthy nut-based granola recipe!
Prep Time:

5 mins

Cook Time:

25 mins

Total Time:

30 minutes
1 cup

raw almonds, roughly chopped

1 cup

raw pecans, roughly chopped

1/2 cup

raw cashews, roughly chopped

1 cup

unsweetened coconut flakes

1/2 cup

ground flaxseed

1/2 teaspoon

cinnamon

1/4 cup

maple syrup

1/4 cup

liquid coconut oil

2 tablespoons

hot water
Instructions
Preheat oven to 350 degrees and line a large baking sheet with parchment paper
In a large bowl, mix together the almonds, cashews, pecans, coconut flakes, flaxseed and cinnamon and evenly toss
In a small bowl, mix together the maple syrup, coconut oil and water then pour on top of the nut mixture and mix well to evenly combine
Pour the granola on the baking sheet and press down into the sheet forming a large rectangle, filling up the sheet (this is to help make clusters)
Bake in oven for 15 minutes then rotate the baking sheet and bake for another 10 minutes
Remove from oven (it should be one large cluster) and allow the granola to cool for a few then toss the dark chocolate chips on top
Break the large cluster into smaller pieces and enjoy!
Notes
*Store granola on container for 5 days, fridge for 2 weeks or freezer for 2 months
xx, Rach
Thank you Enjoy Life Foods for sponsoring this blog post!