Healthy Dark Chocolate Granola with the biggest clusters made with all vegan and gluten-free ingredients.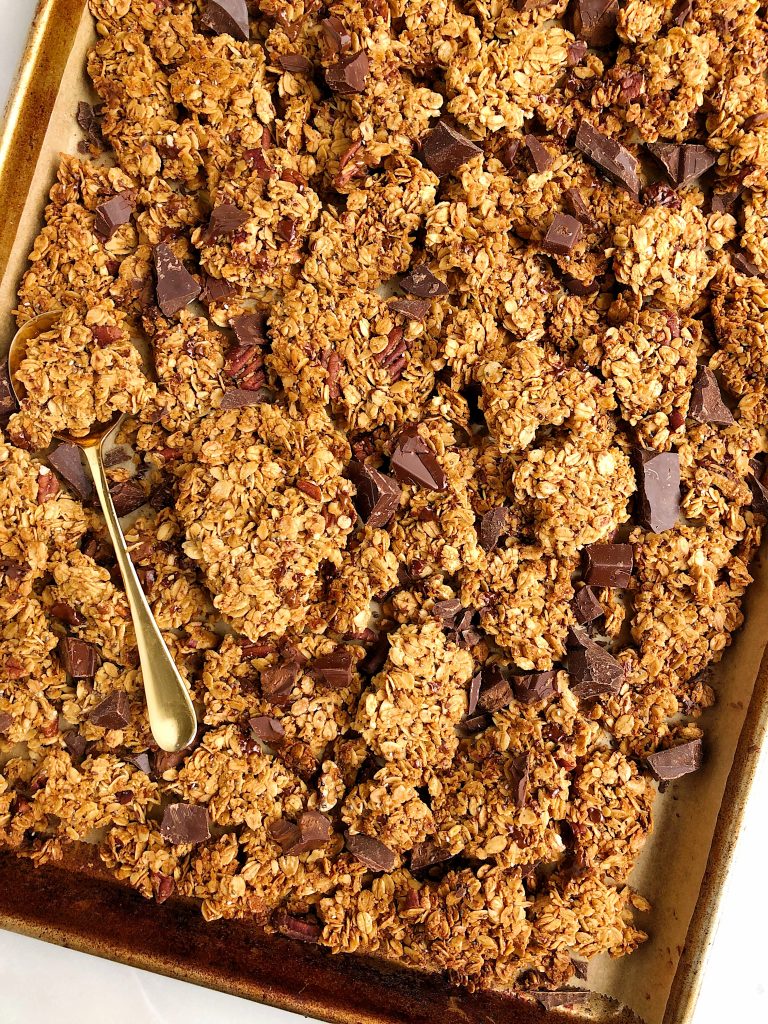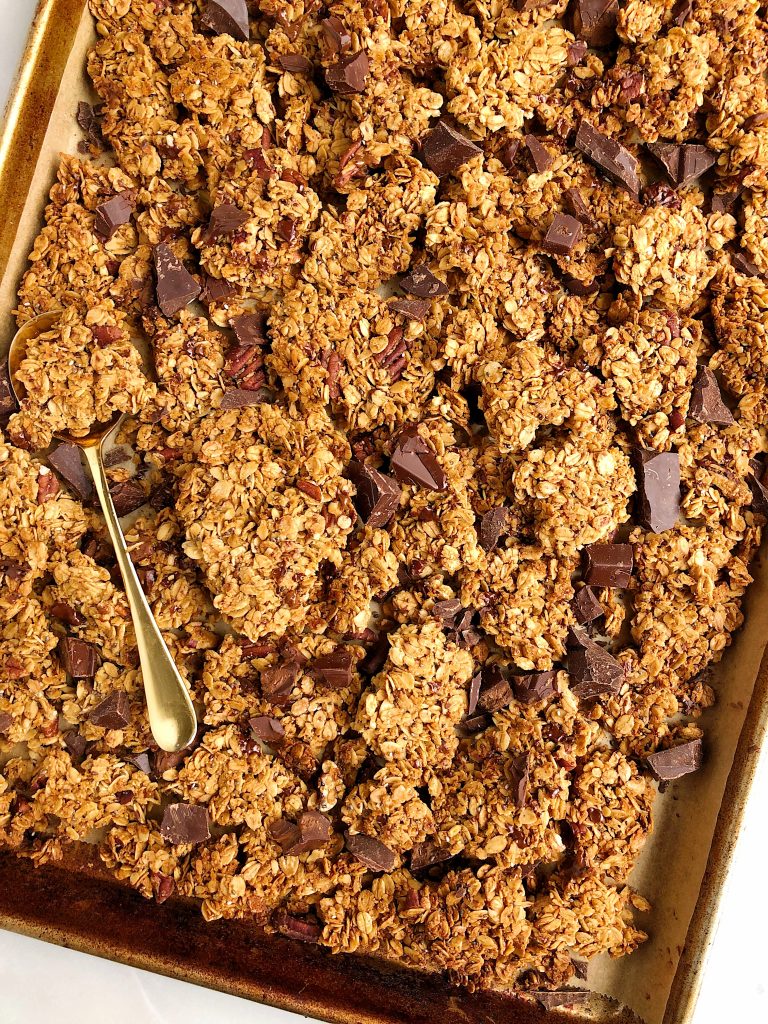 It has taken me approximately 3 years to perfect a granola recipe with extra large clusters.
Ok ok, it's not like I test this too often since I just buy granola at the store (aka lazy).
But the day is here and we finally have a healthy granola recipe with CLUSTERS. Lots and lots of big mama clusters. In fact this granola comes out of the oven in one ginormous cluster, ready for you to break it a part. It is SO good!!
I eat granola for the clusters. I pick them out first and then make my way to the crumbs. Or really just give them to Jord because he doesn't get as excited as I do over a big a$$ granola cluster..
The easiest homemade granola recipe ever.
Homemade granola is something that is so easy to make once you have a good recipe you love. I have made a few granolas here on the blog but none have ever compared to store bought ones (in my opinion). This granola is made of all vegan and gluten-free ingredients and has a base of gluten-free rolled oats, coconut shreds, pecans and various seeds.
I sweeten it with some maple syrup and coconut sugar (so delicious paired together) and I add in some dreamy dark chocolate chunks after it is done baking from Hu Kitchen.
I buy Hu Kitchen chocolate religiously. The cashew butter flavor is truly the most dreamy when it is melted (as is the hazelnut!). I love using those two in this recipe but truly anything works. Hu makes all paleo and vegan dark chocolate and it is sweetened with coconut sugar.
Have you guys made the Paleo Deep Dish Double Chocolate Brownie, Paleo Brownie Bread or The Best Paleo Chocolate Sheet Cake? Ya as you can see, their chocolate and I are attached at the hip in the kitchen! And if you are looking for a grain-free granola, here is my favorite grain-free granola with CLUSTERS on the blog!
Enjoy this granola in your breakfast bowl, with yogurt, on your oats, or just hand to face as I am doing as I write this blog post. It is SO CRUNCHY!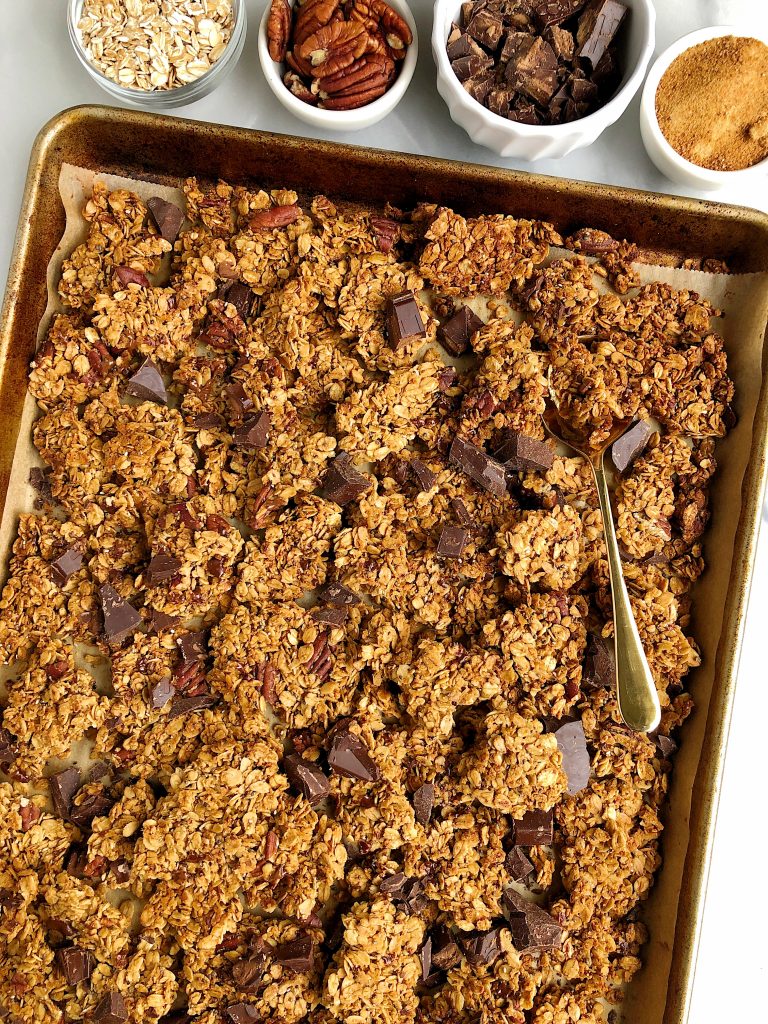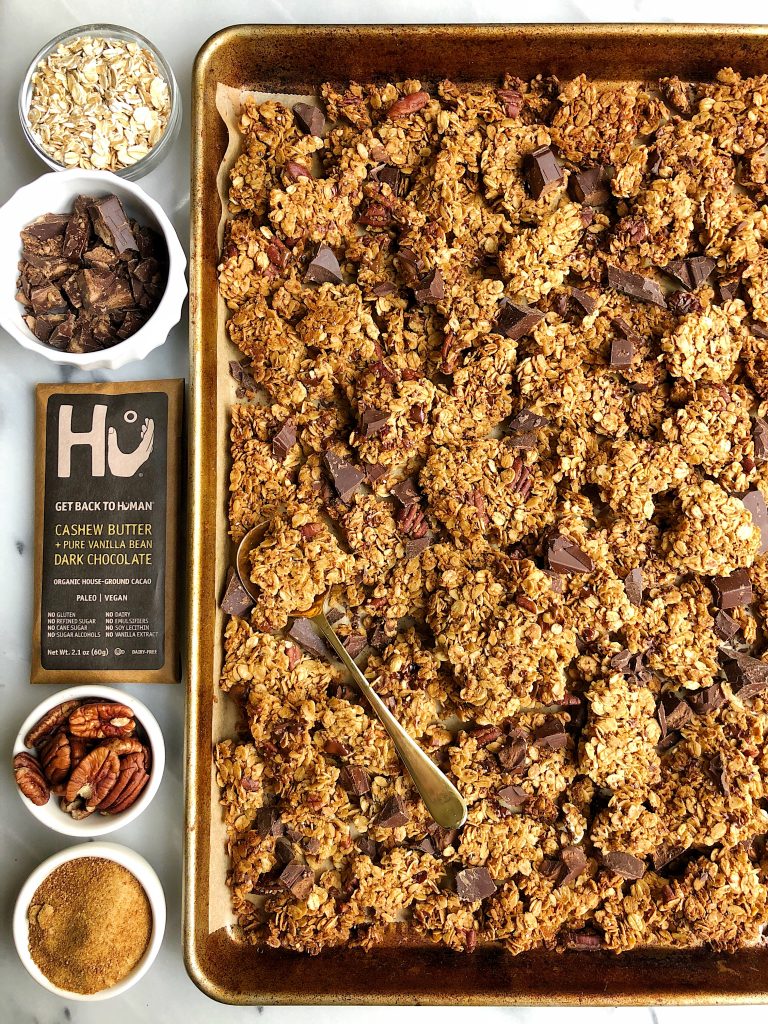 Print
Healthy Dark Chocolate Granola with Clusters
Healthy Dark Chocolate Granola with Clusters made with vegan and gluten-free ingredients for an easy and healthy homemade granola recipe!
Prep Time:

5 mins

Cook Time:

30 mins

Total Time:

35 minutes
3 cups

gluten-free rolled oats

1/2 cup

unsweetened coconut shreds

1/2 cup

chopped pecans (or any nut)

1/4 cup

flaxseed meal

3 tablespoons

chia seeds

1 teaspoon

cinnamon

1/3 cup

coconut sugar

1/3 cup

maple syrup

1/3 cup

liquid coconut oil

2 tablespoons

hot water

2 teaspoons

vanilla extract

1 cup

Hu Kitchen Dark Chocolate (code RACHL for free shipping), chopped
Instructions
Preheat the oven to 350 degrees and line a large baking sheet with parchment paper
In a large bowl, mix together the oats, coconut, pecans, flaxseed meal, chia seeds and cinnamon
In a small bowl, mix together the coconut sugar, maple syrup, coconut oil, hot water and vanilla extract
Pour the wet ingredients onto the dry ingredients and mix well to evenly coat
Add the granola to baking sheet and press down so the ingredients are in one layer, stuck together
Bake in oven for 15 minutes then rotate tray and bake for another 15 minutes
Allow the granola to cool for 15 minutes then add in chocolate chunks
Break the large cluster into smaller pieces and enjoy!
Notes
*Store in airtight container for up to a week on counter or a month in the fridge
xx, Rach
Thank you Hu Kitchen for sponsoring this post. It means so much to me to partner with brands I love and believe in!